Styling tricks you can learn from AW 2021 fashion shows
Watching the fashion show can be a baffling experience.
How are those wonderful looks to be worn outside of a catwalk?
I admit you won't pull out a sequin embroidered transparent dress under a grandpa wool jacket on a daily basis… but you can get inspired even from the most intricated silhouettes. What about taking those sequins out on top with rough wool carrot pants? The fancy/ coarse combination remains the same but you have organized the ingredients in your own way.
Today, I decipher the seasons main trends to make them wearable.
And, who knows, you may have the ingredients to copy the look in your closet already!
I/ Upgrade your collar
Such attention paid to the neck area frames the face which appears more radiant than ever.
Pussy bows where the stars of the shows whether attached to a blouse or worn by themwelves.
Slightly on the side over a crew neck sweater…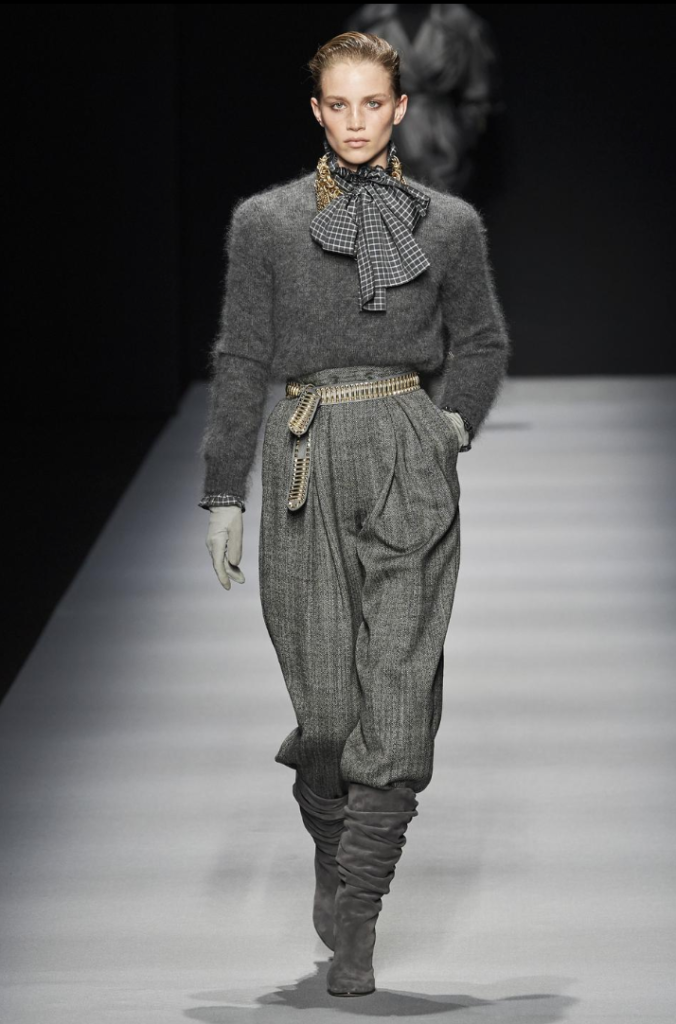 Alberta Feretti. 
Oversized and centered over a waistcoat for a dramatic evening outfit…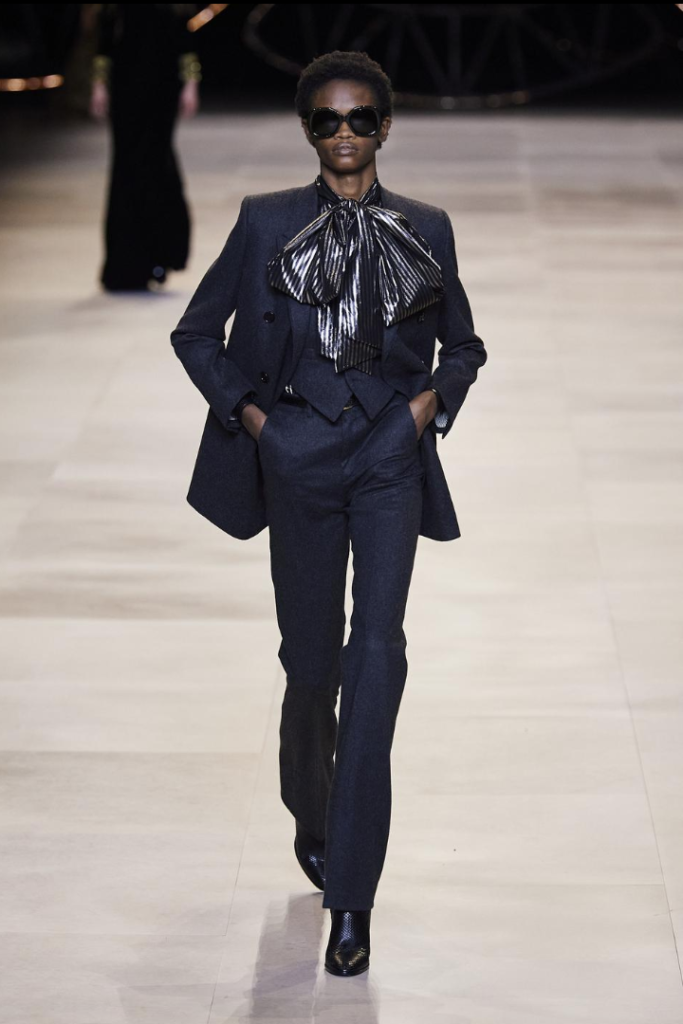 Céline
A scarf knotted a la Beau Brummel under a same colored jacket…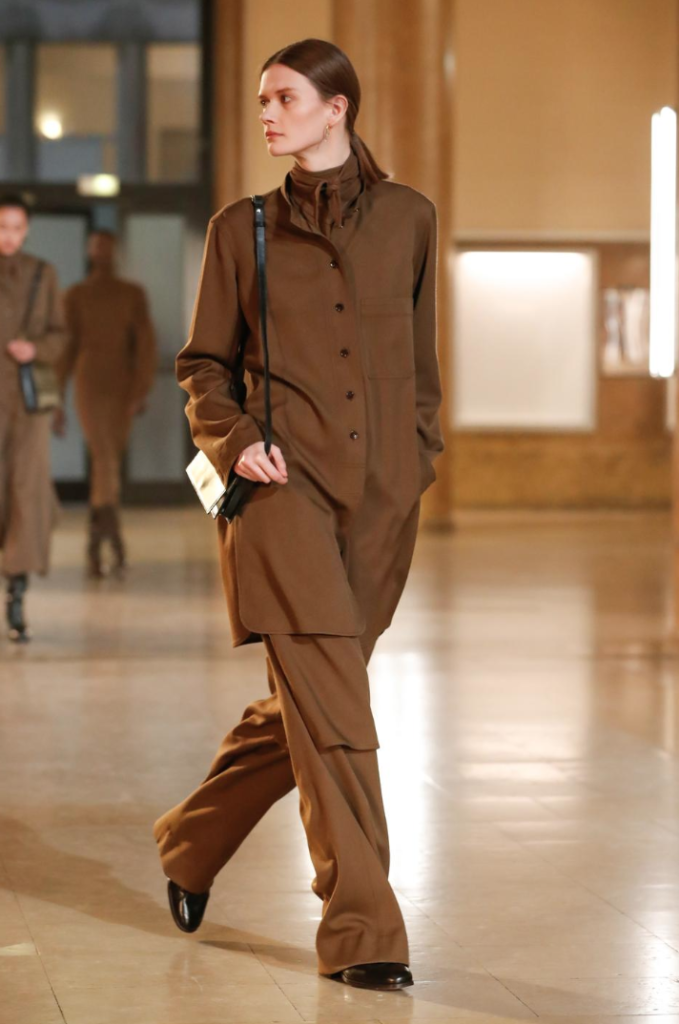 Christophe Lemaire
Grandma's ruffle collar and wrists over a navy blue communicant like dress…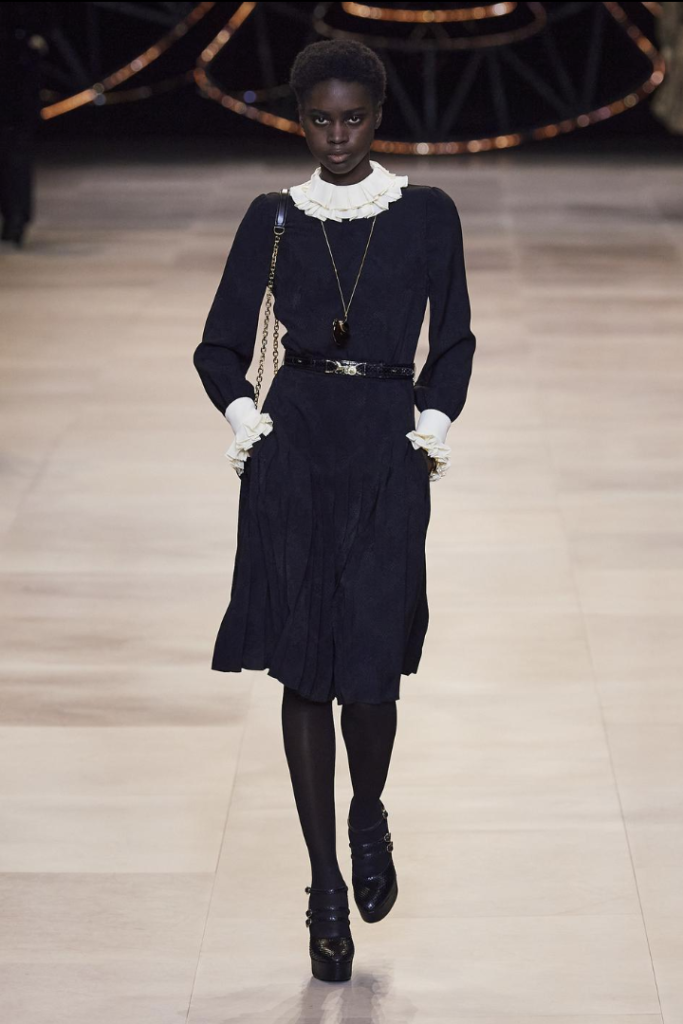 Céline
The classic button up shirt collar is back, here worn same color different texture over a crew neck…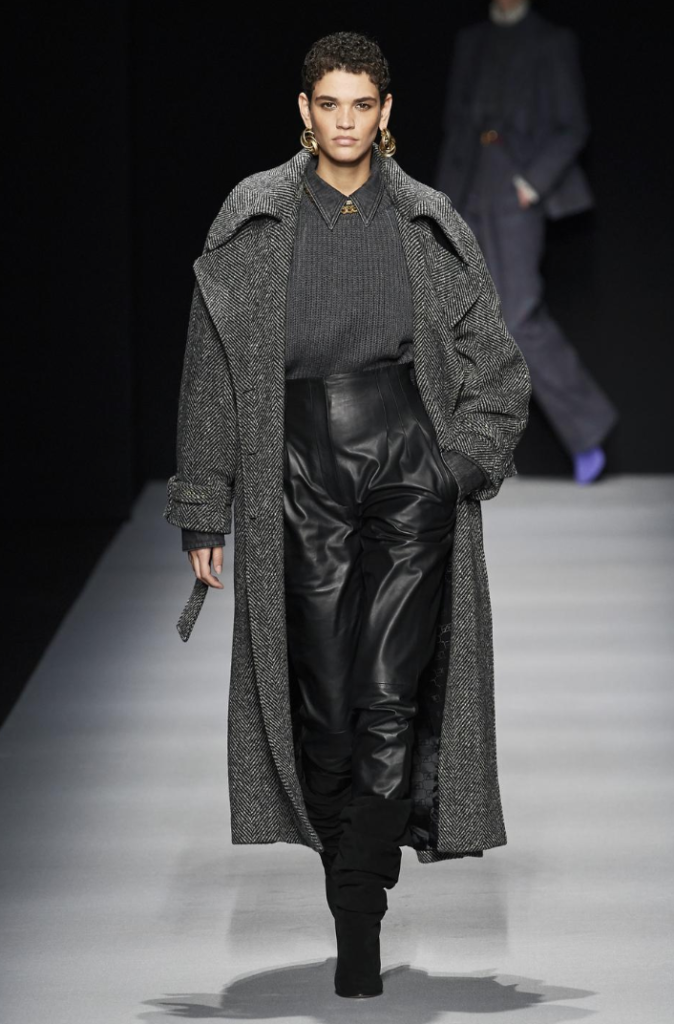 Alberta Feretti
Another trend is to tuck the collar's tips inside the outer layer…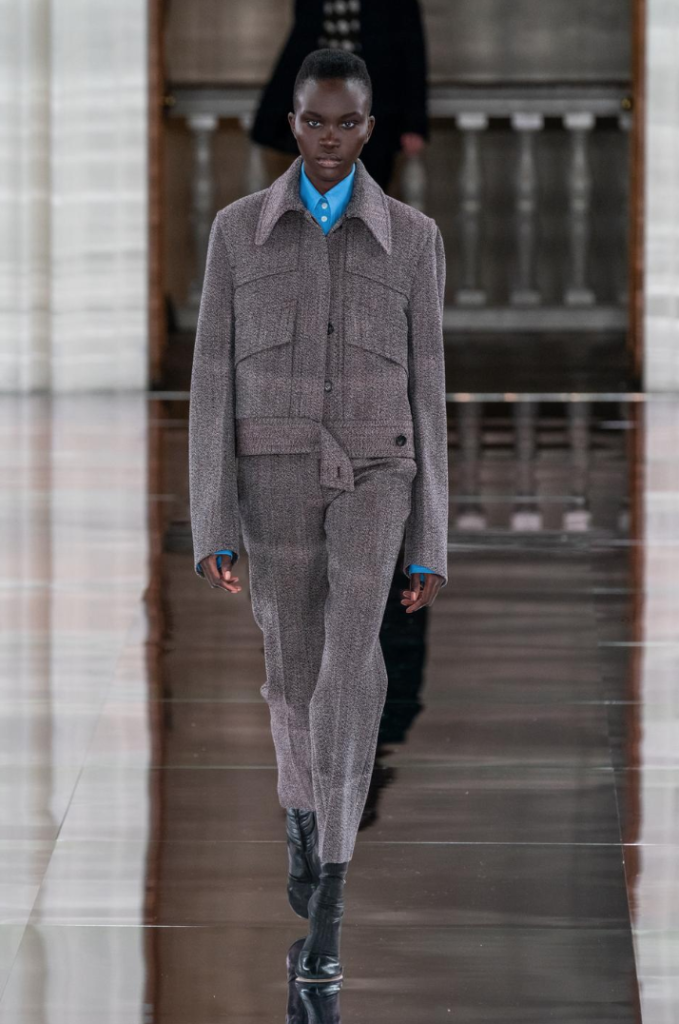 Victoria Beckham
Add it a bow. Black on white is a must…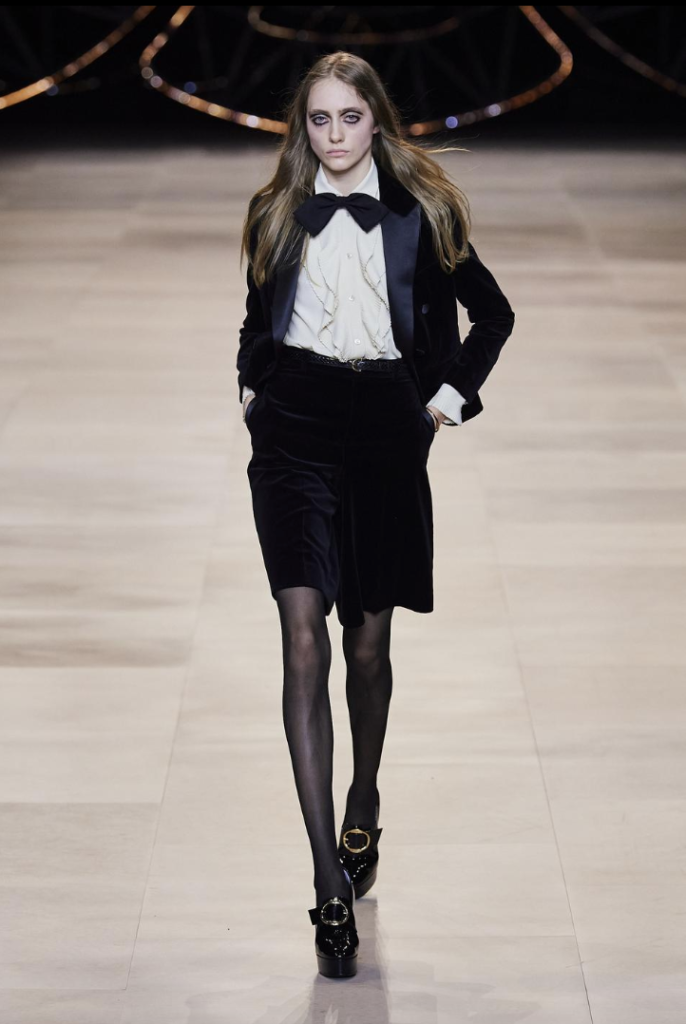 Céline
Ties have also been seen on many shows (no interpretation has convinced me though)…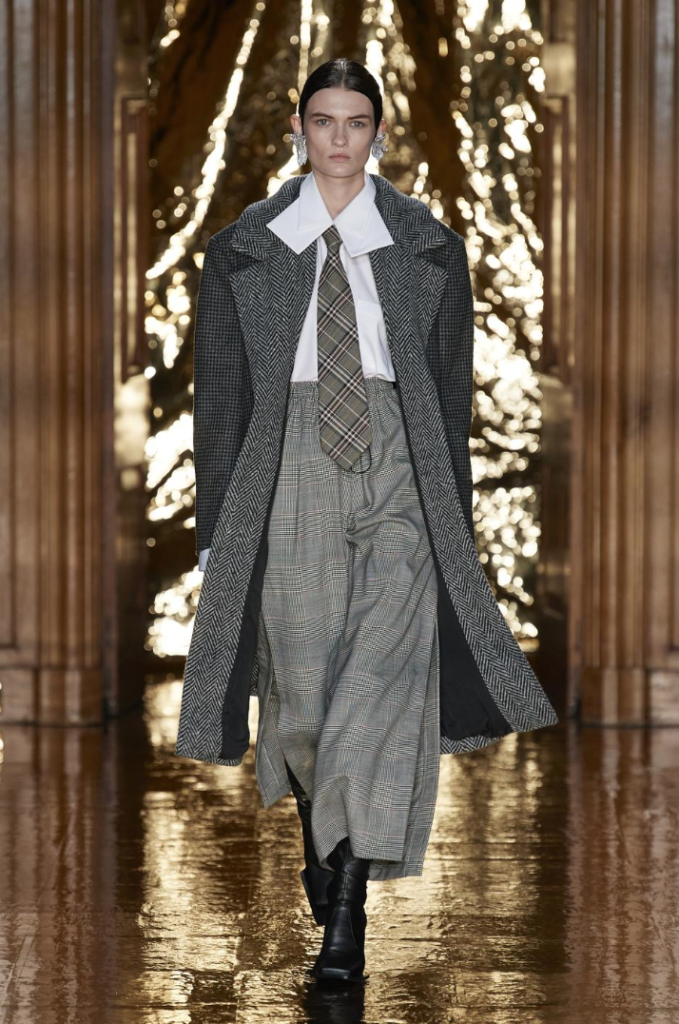 Preen
The turtleneck is still a must to replace the scarf…
Match it to your beanie to frame your face like it's 1200…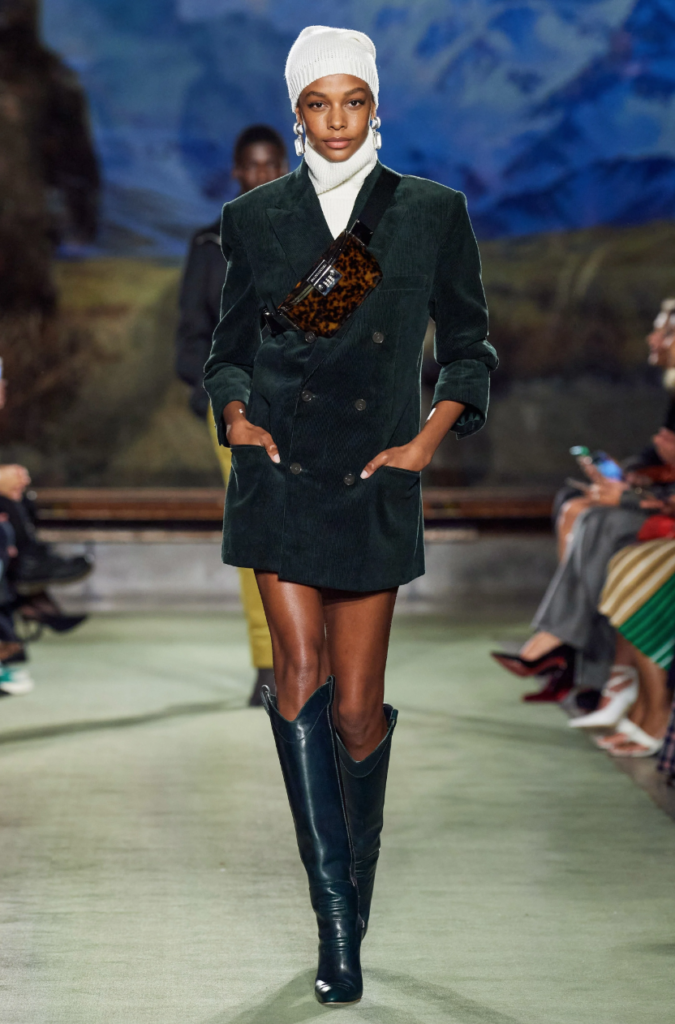 Brandon Maxwell
Top it with a necklace…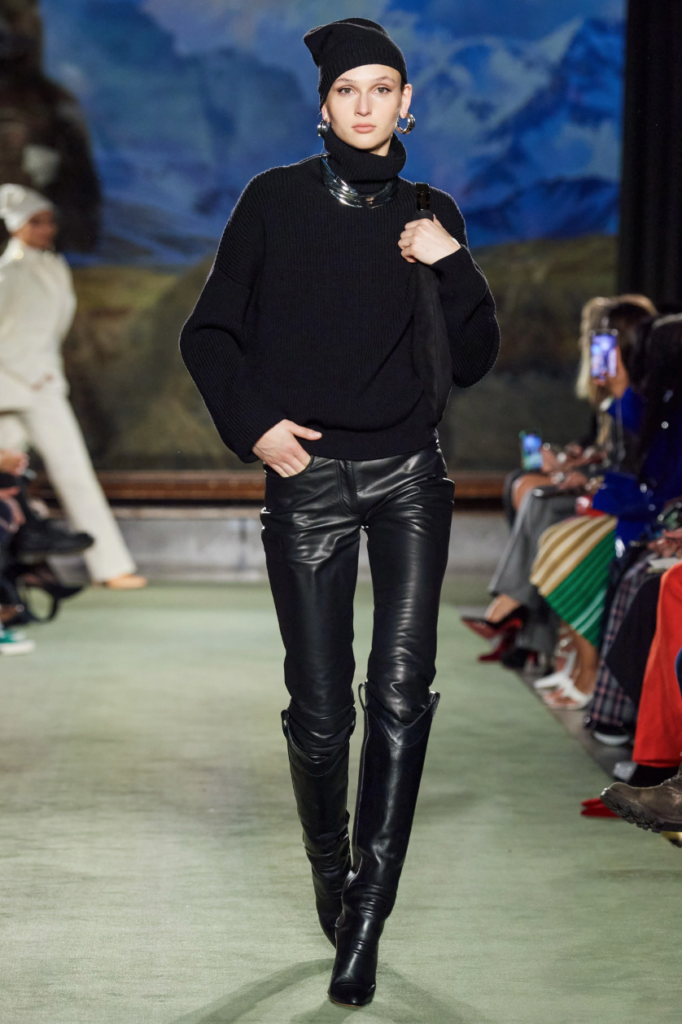 Brandon Maxwell
Wear it under a perfectly matching shirt…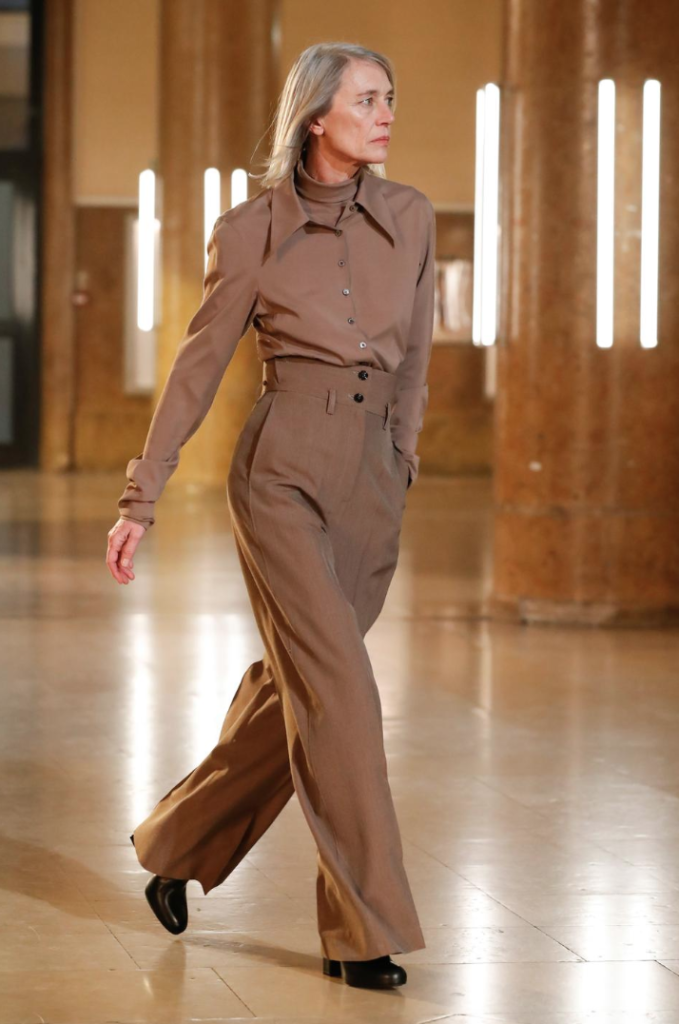 Christophe Lemaire
Make it the jewel of your outfit…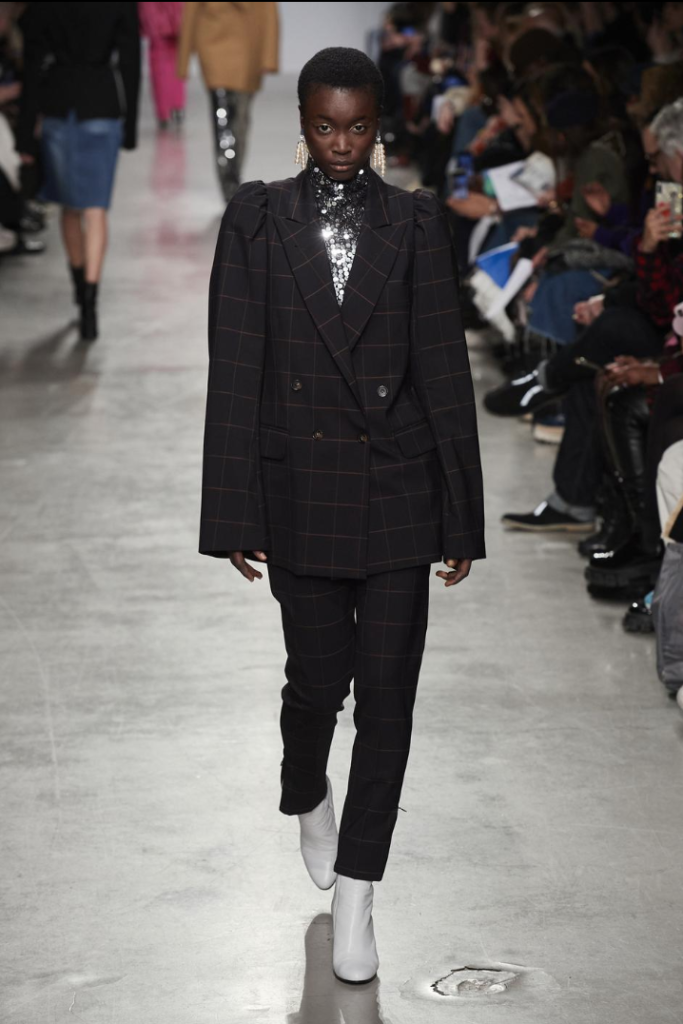 Lutz Huelle
Or use it to make your evening dress more demure (and warmer)…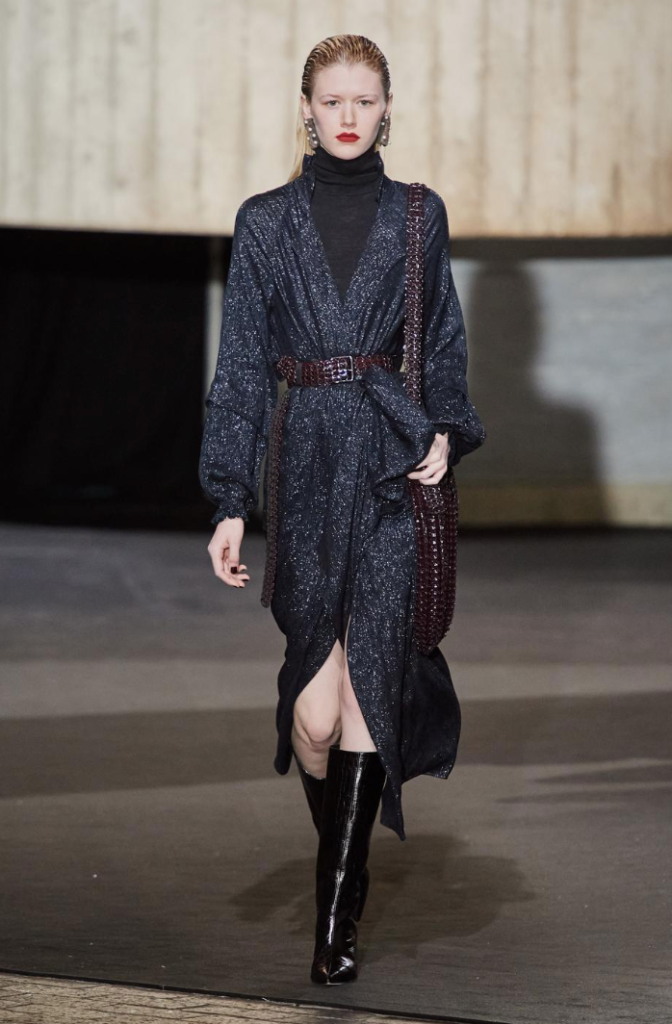 Roland Mouret
Try unusual collar shapes and make sure they are noticed by wearing them under a constrasting layer…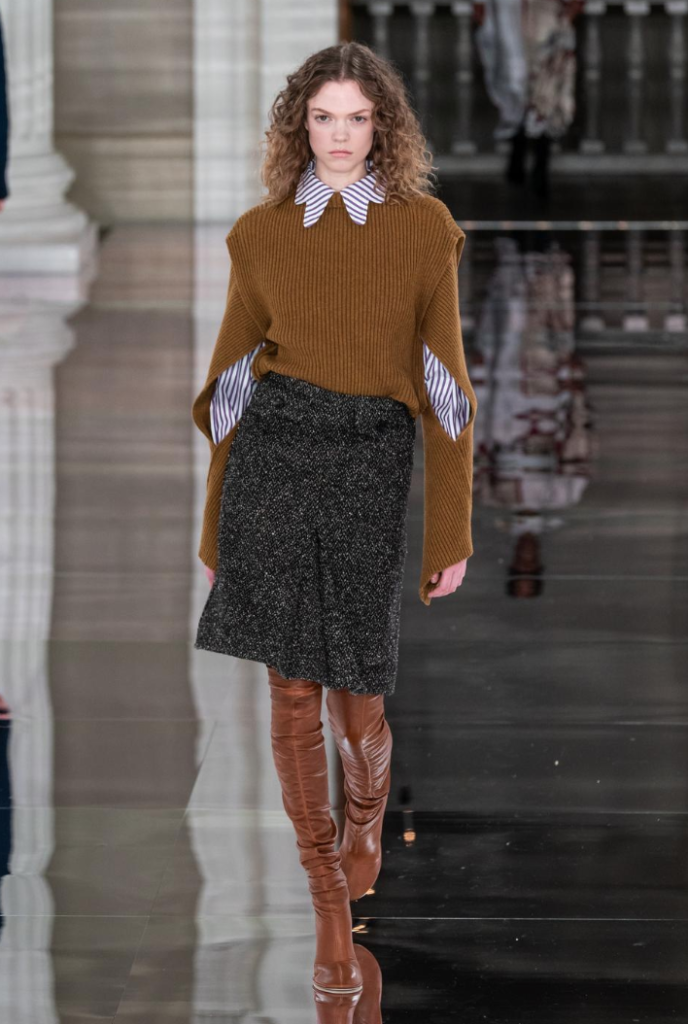 Victoria Beckham
II- Wear an oversize jacket
To transform you silk slip dress into day wear…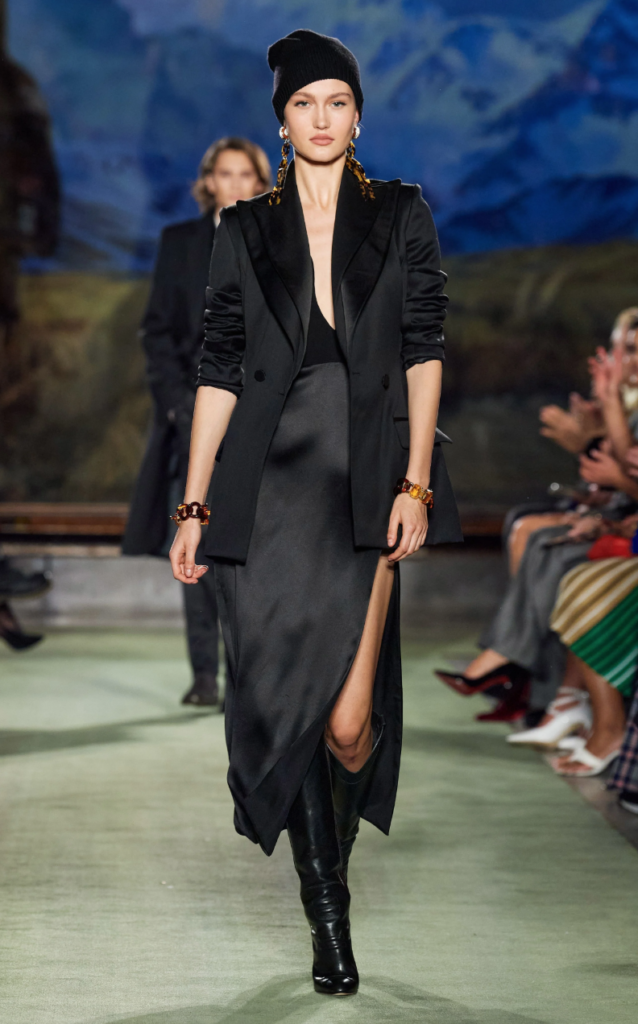 Brandon Maxwell
When you belt it, wrap it around you…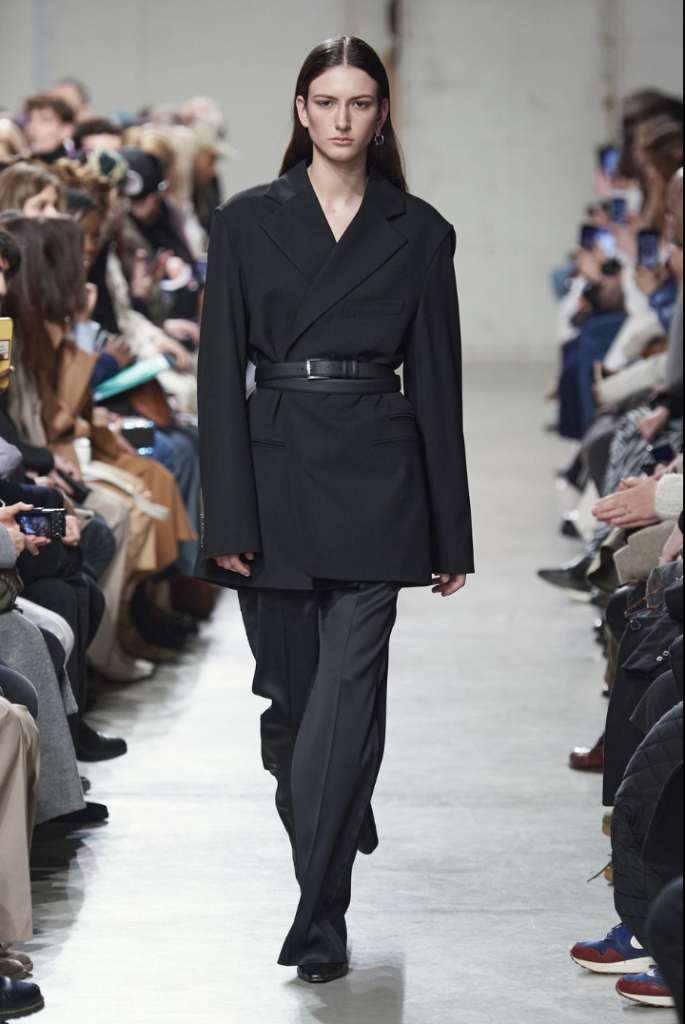 Gauchère
III/ Make the belt stand out
Wear a jewel like belt on a neutral background at night…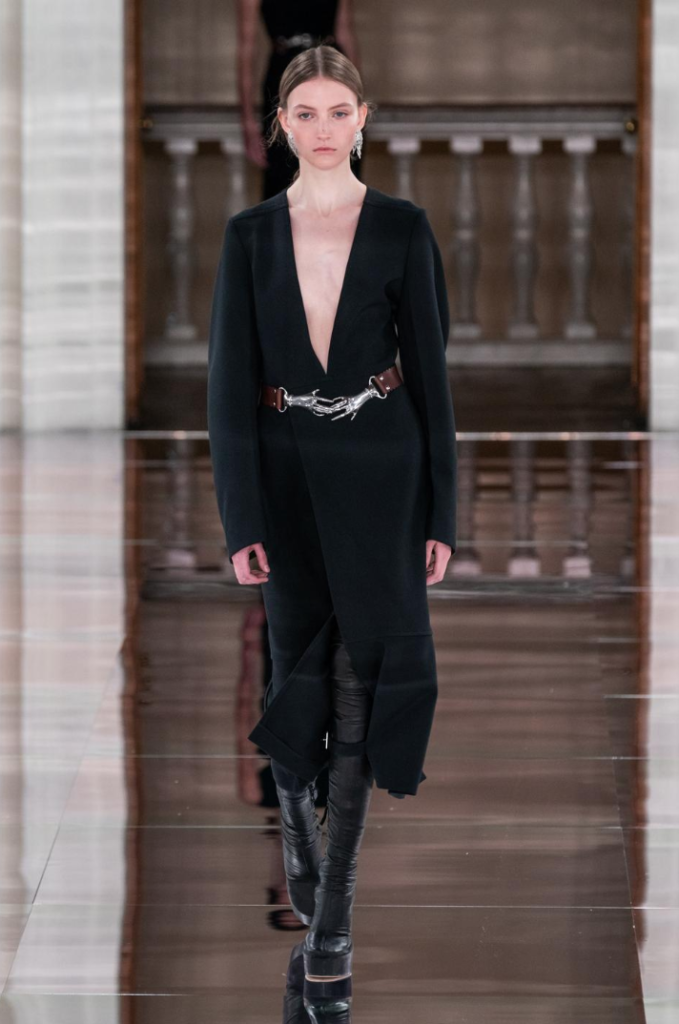 Victoria Beckham
And during the day…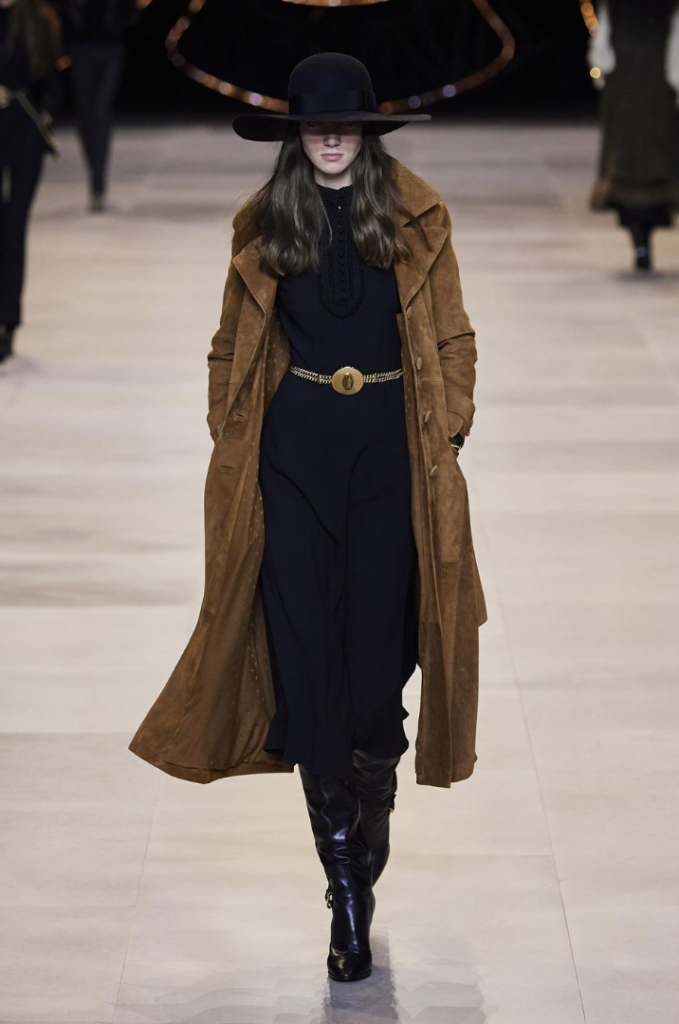 Céline
Make your constrasting belt the focal of the outfit…
Isabel Marant
IV/ The waistcoat is back
Oui oui, those are facts. Maybe you still own one from the late nineties?
Wear it over your pussy bows…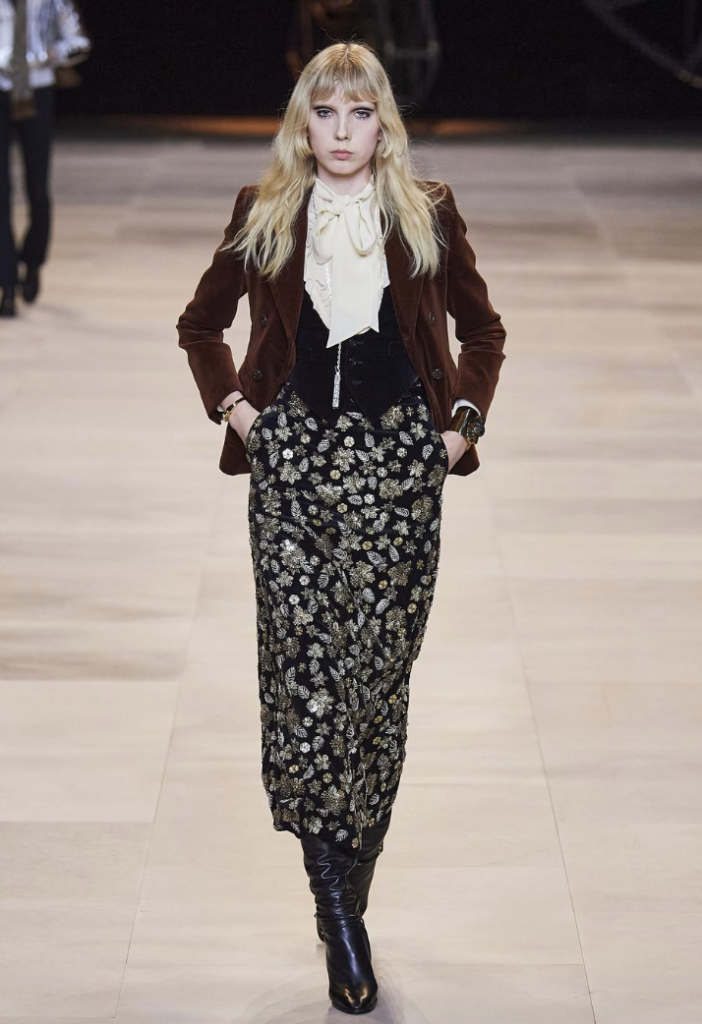 Céline
Or like in a men's suit over a classic button up and under a blazer…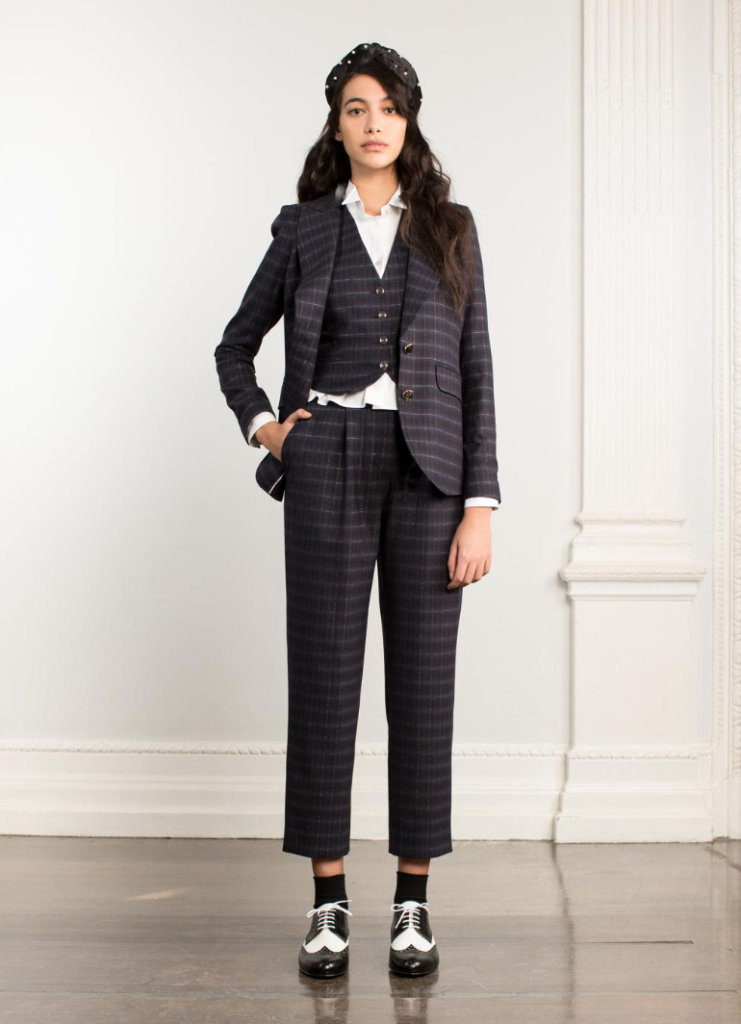 Temperley
Or alone, to replace a top…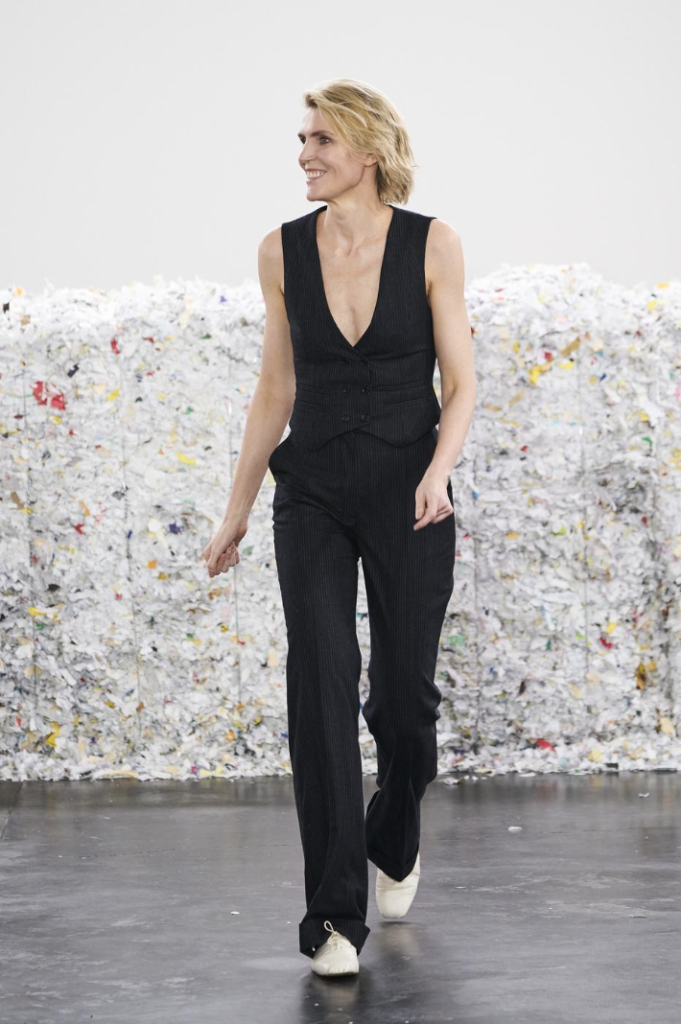 Gabriela Hearst
V/ Try ruffled blouses
Like a modern day pirate with high waisted pants (like I did in this outfit)…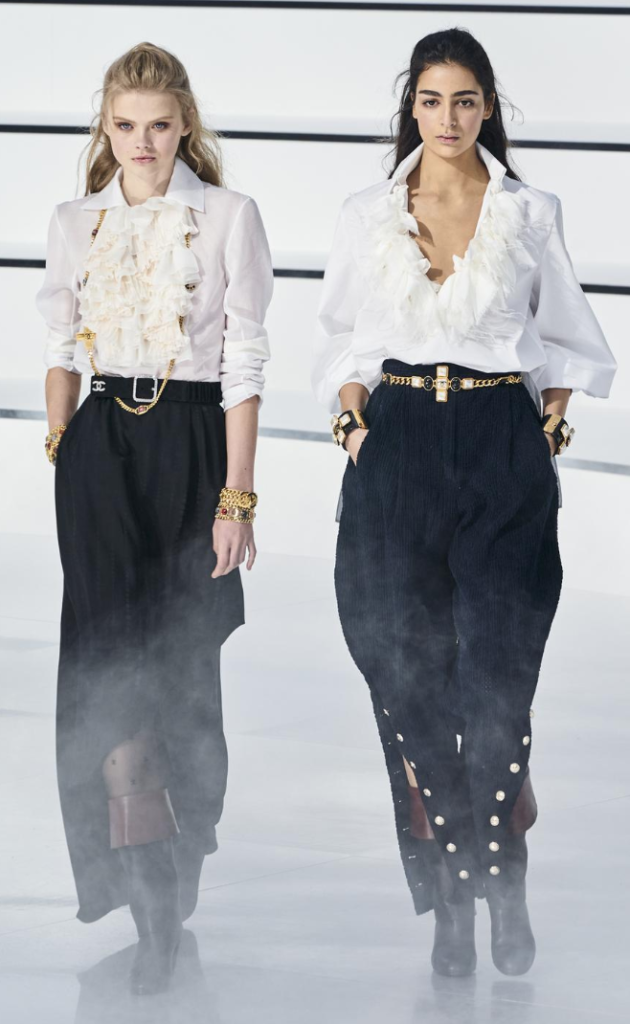 Chanel
Or like a Rive gauche bourgeoise under a chic blazer…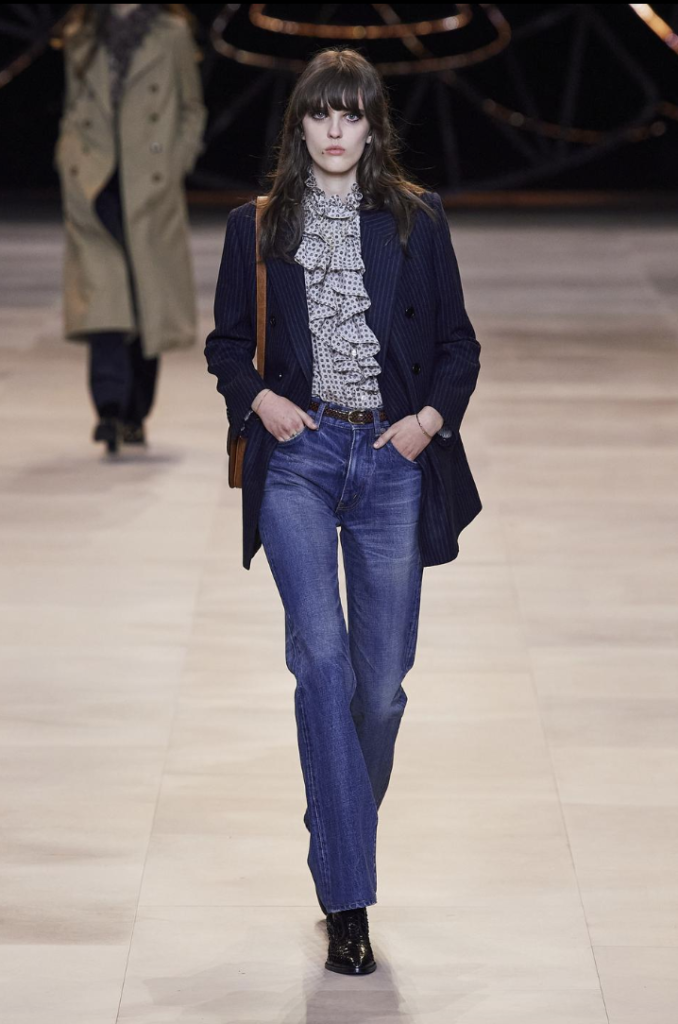 Céline
VI/ Tuck your suit in your boots
There are all kind of tucking in boots going on at the moment and apparently still will be next season.
Suit up combat style with flat boots and androgynous T-shirt.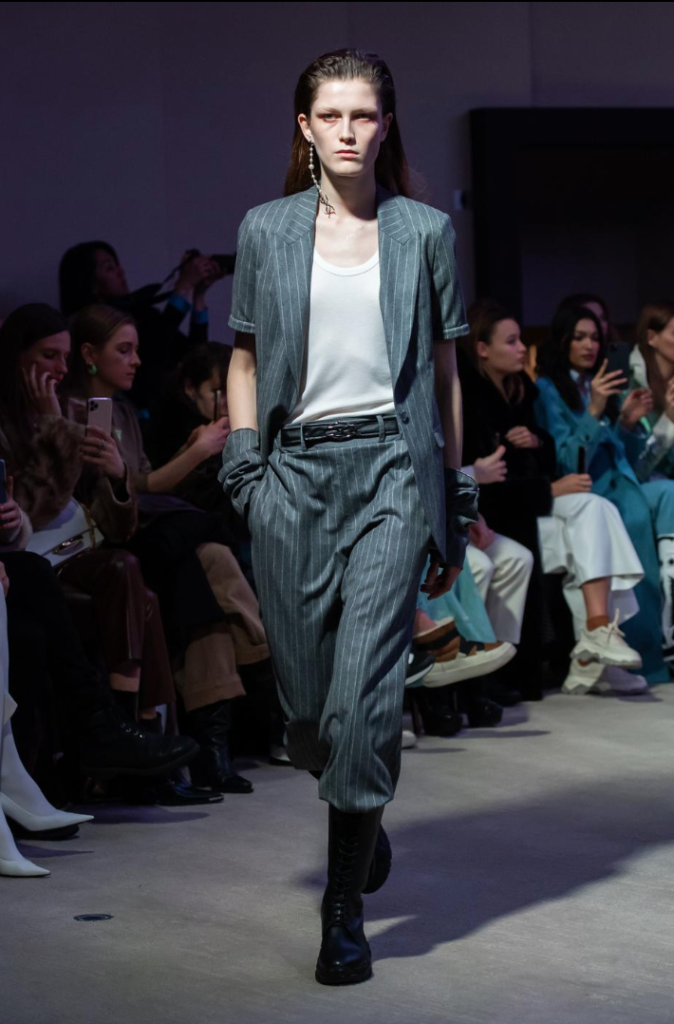 Each and other
Or fancy western with heeled santiags…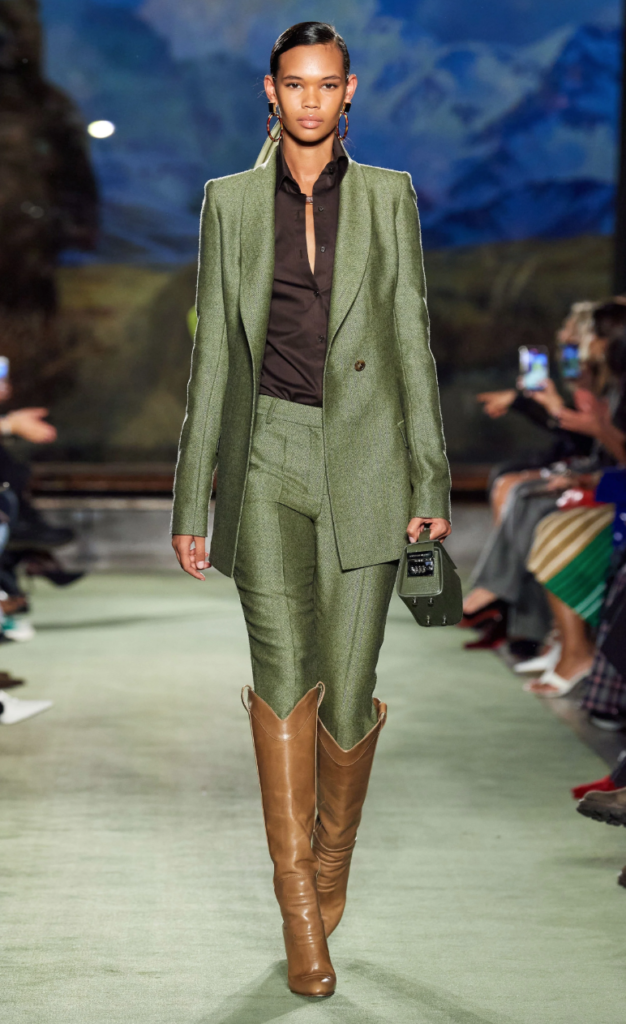 Brandon Maxwell
VII/ Match your lipstick to an outfit detail
Matte lips with soft leather…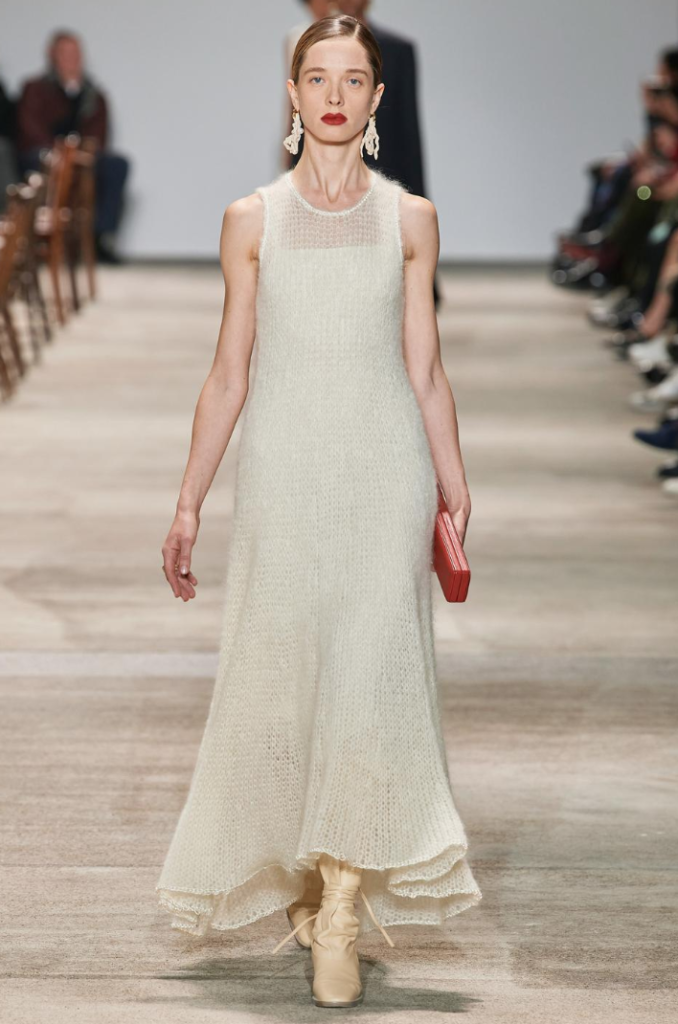 Jil Sander
Shiny lips with velvet…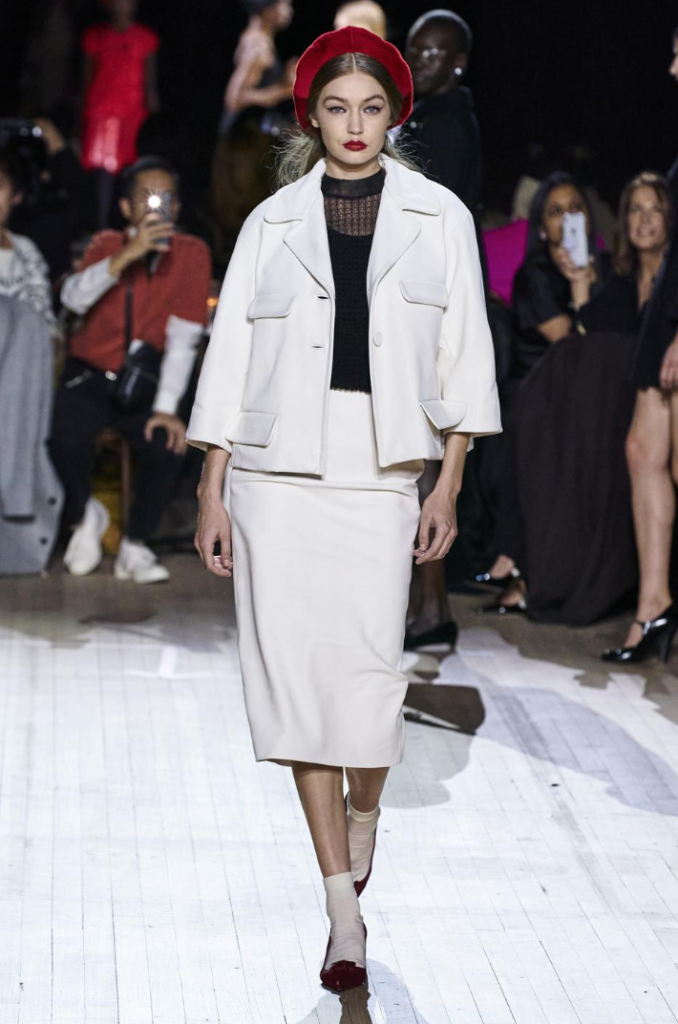 Marc Jacobs
VIII/ Revisit historical fashion
Those demand a bit of shopping.
Frock and culottes in the spirit of 17e menswear…

Ann Demeulemeester
A minimalist take on frock…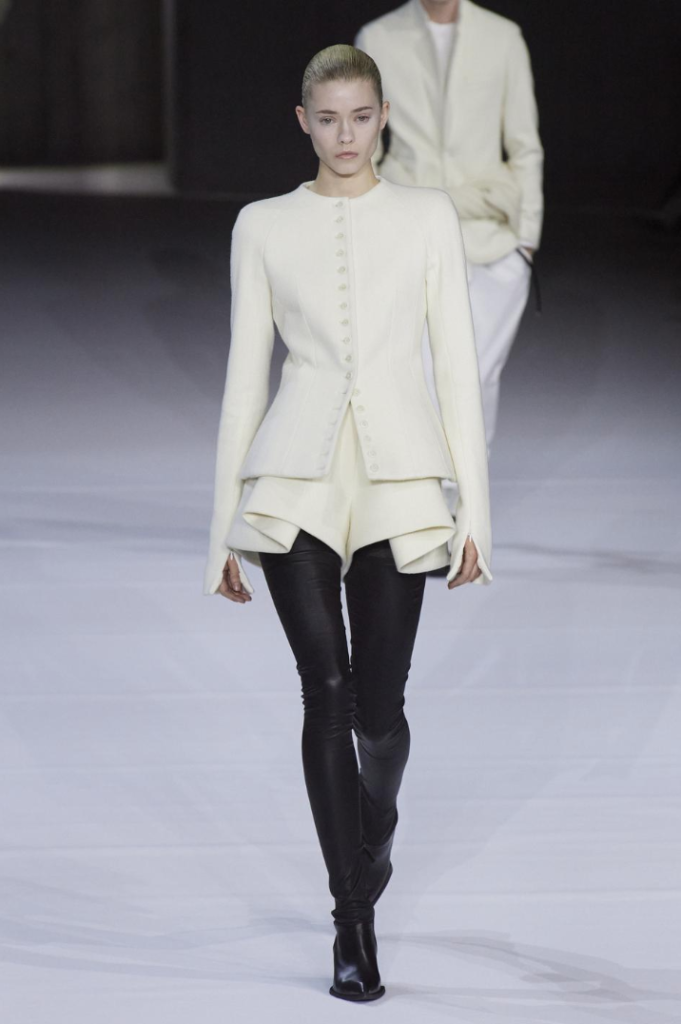 Haider Aickermann
Medieval princess…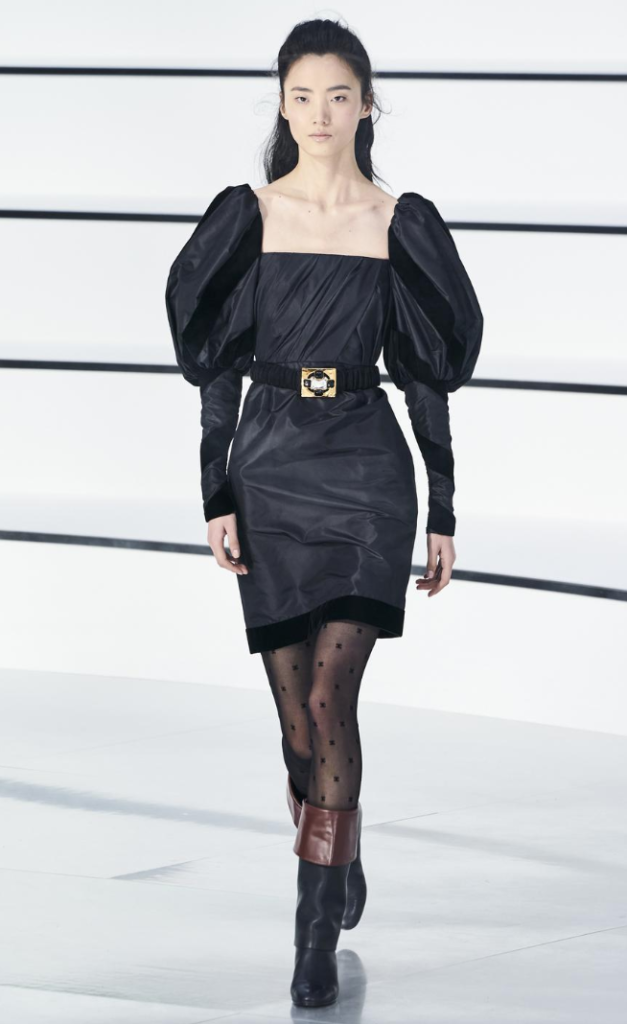 Chanel
Medieval priestress…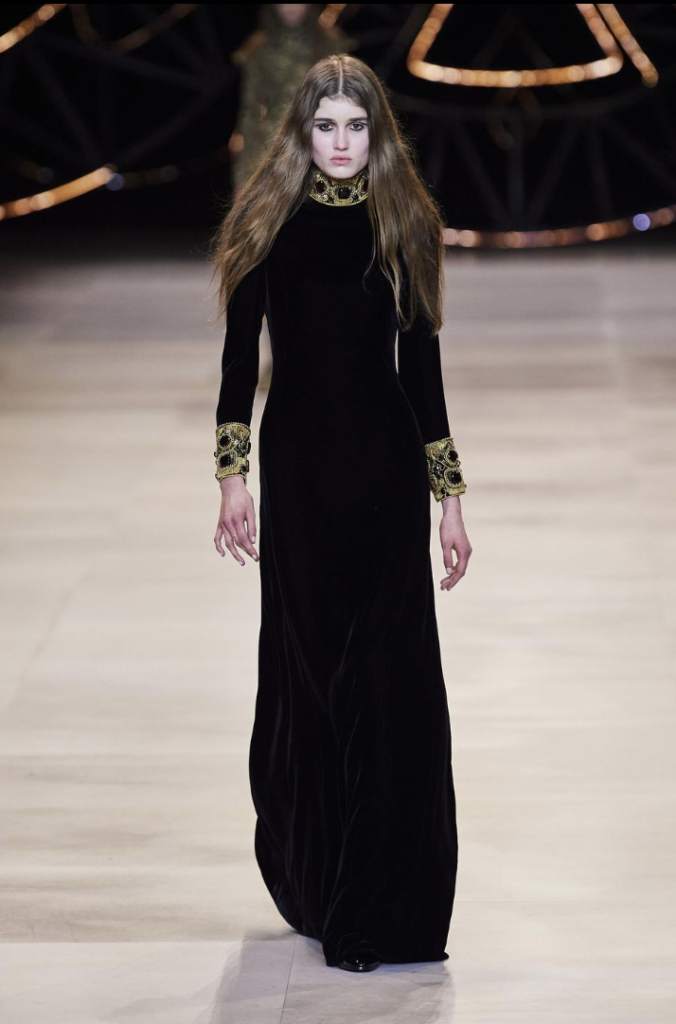 Céline
Lost in time hangover medieval princess…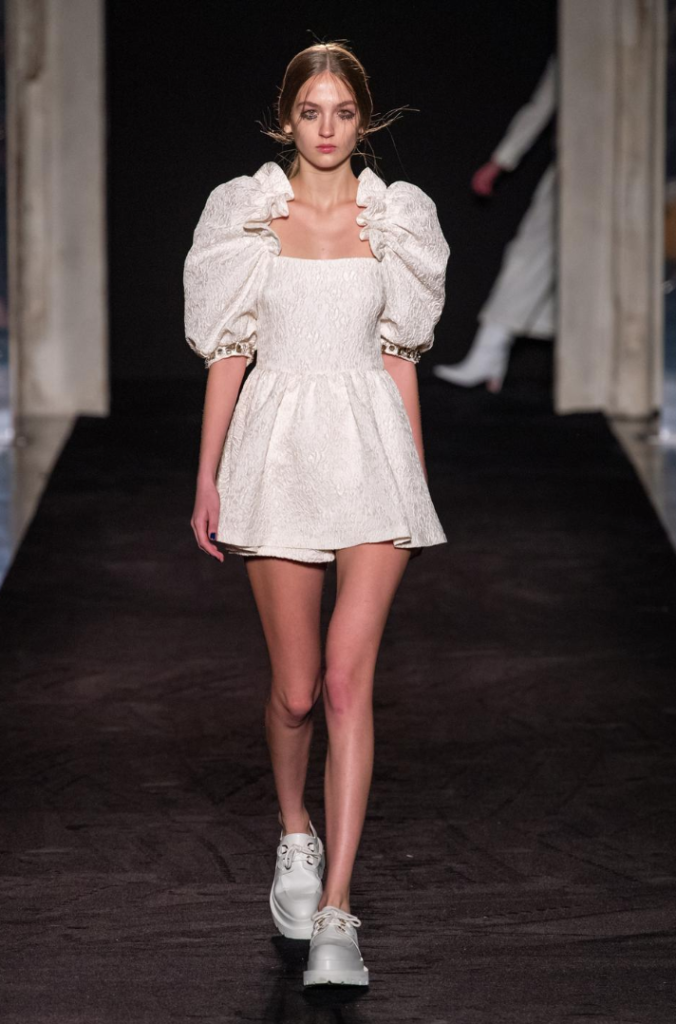 Vivetta
IX/ Misceallenous trends
Those may not be the easiest to copy but I loved them and had to share
There is a trend of matching printed clothes and accessories that requires buying the whole outfit in the same place: clever marketing guys.
Floral tapestry allover with frock and matching boots…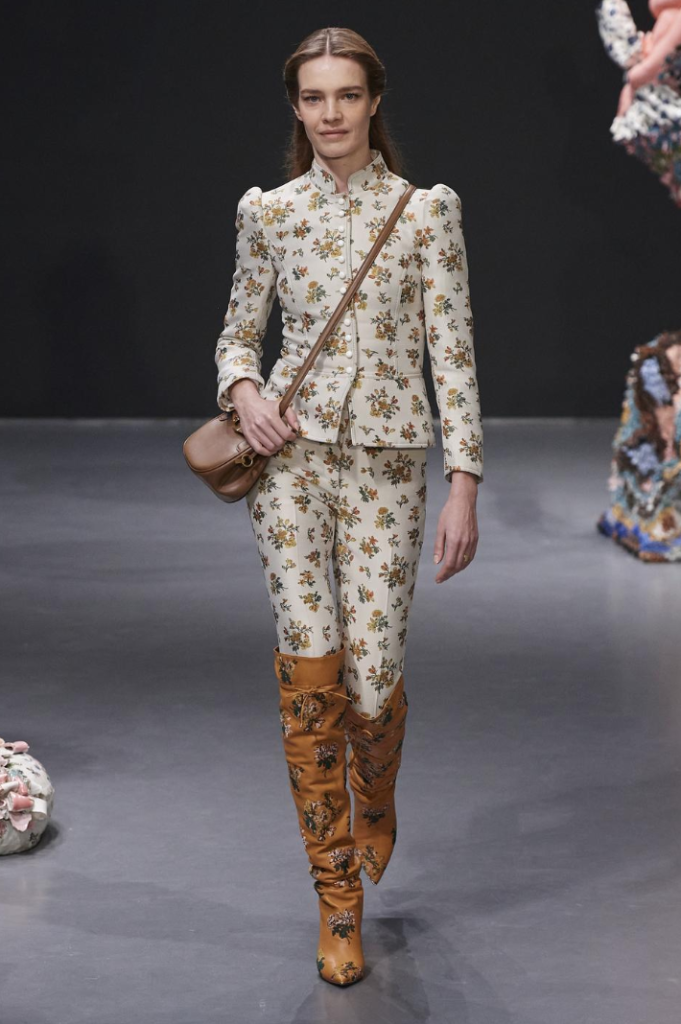 Tory Burch
Floral printed dress, turtleneck, tights and boots (and fierce pose!). I am in awe…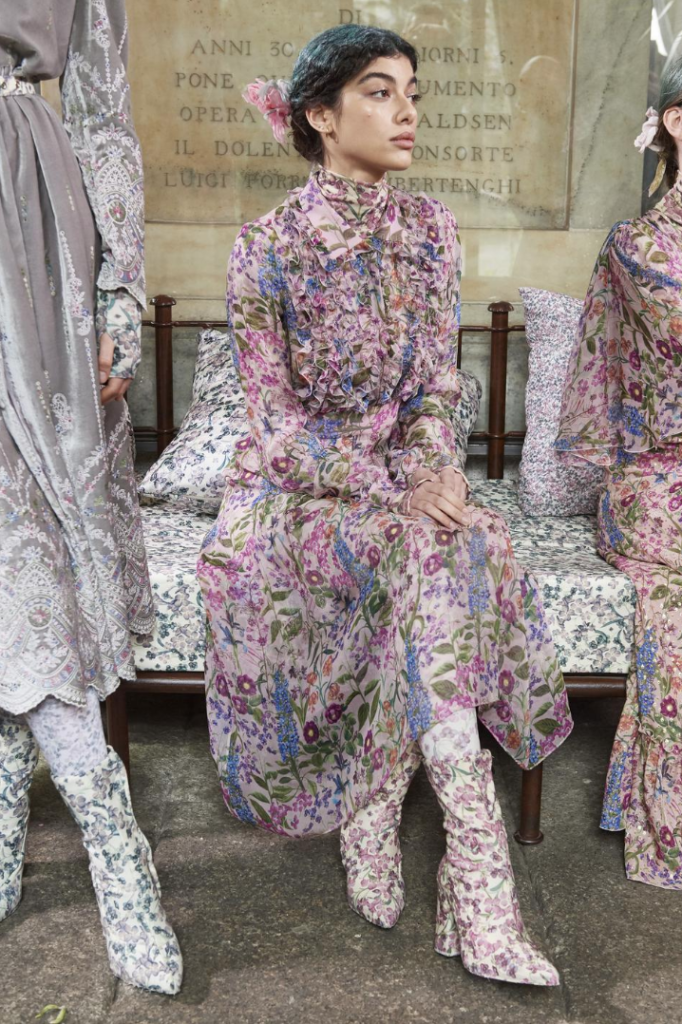 Luisa Beccaria
Half square, half corset neckline for a PERFECT sweater…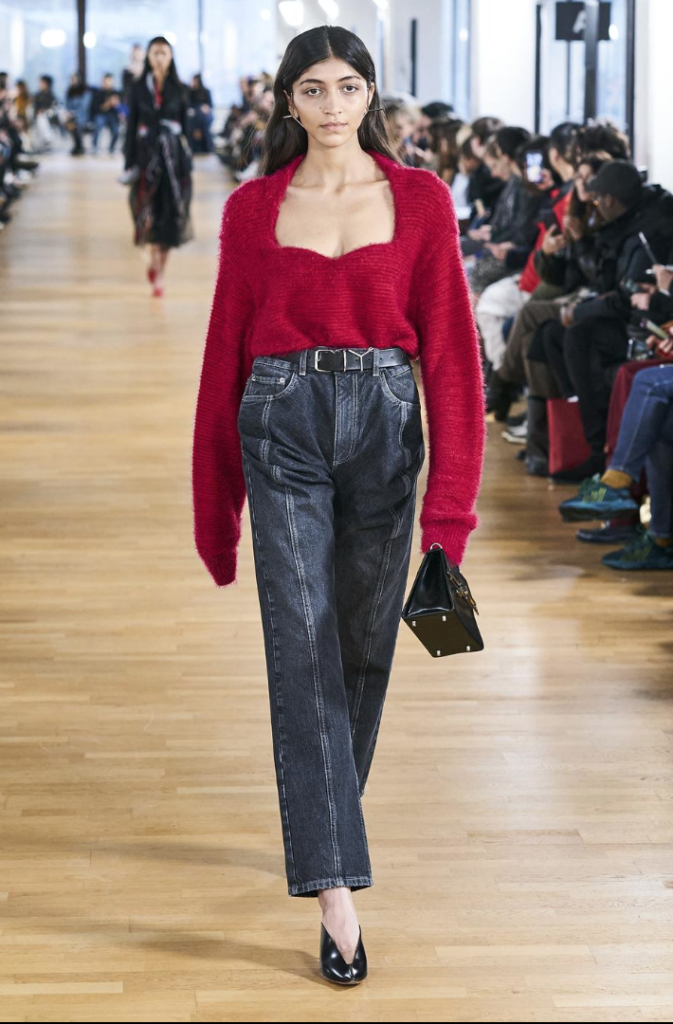 Y/ Project
All over wonderful silk print with a turtleneck as a base…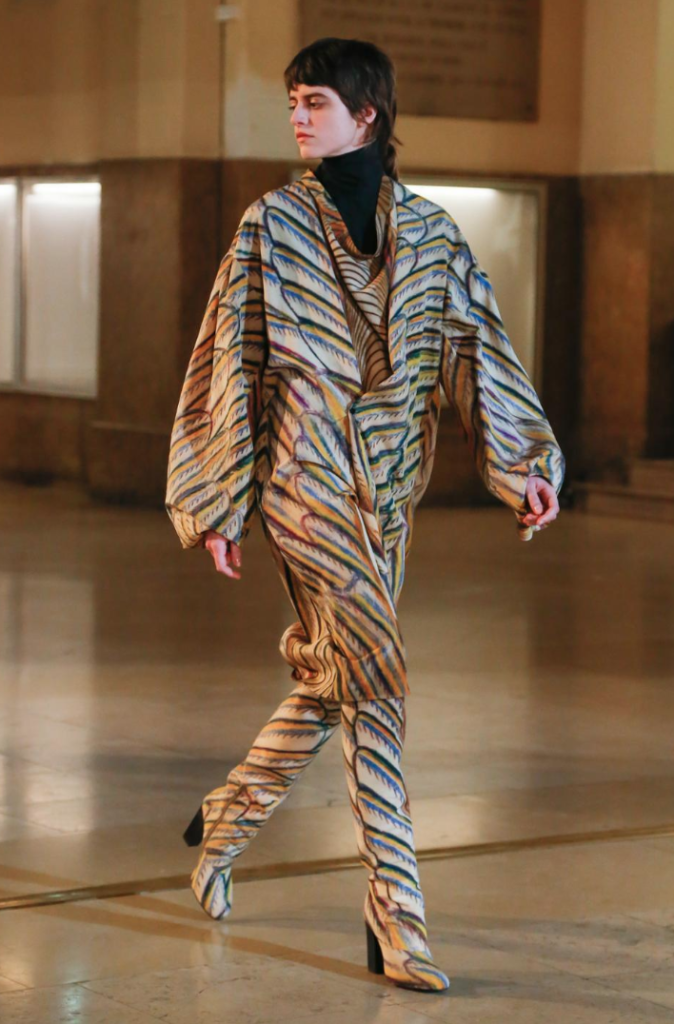 Christophe Lemaire
Can we talk about how perfect the Lemaire show was? From the model's cast to every damn single clothes. This is the most perfect show of the season. Take a look!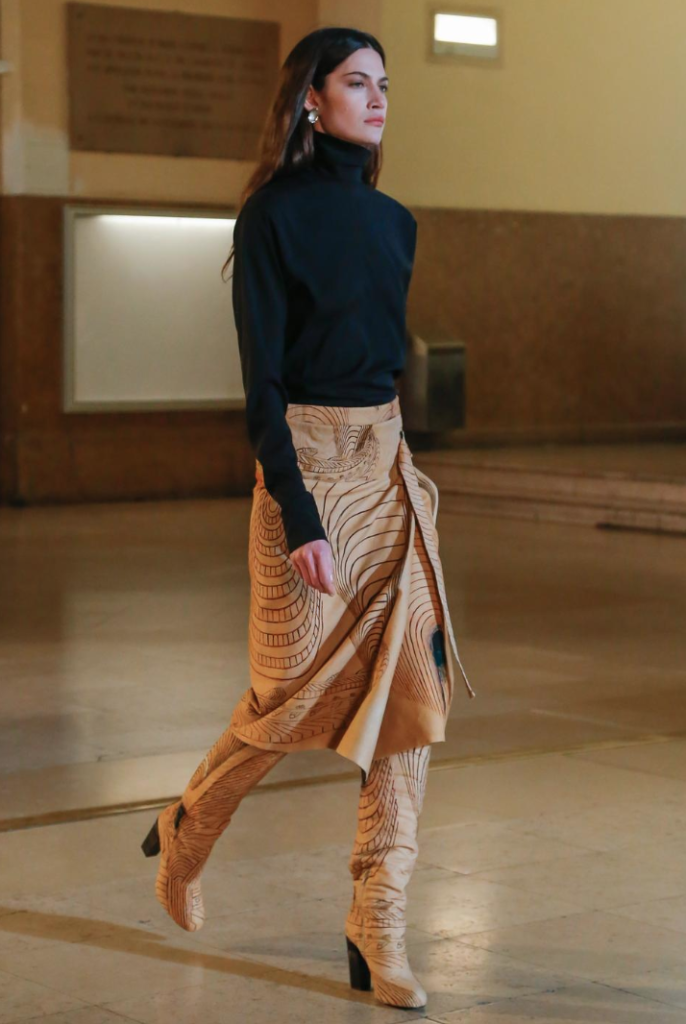 X/ Catwalks gazette
The models have sometimes been walking together like at Chanel or Marc Jacobs.
Larger models and older models (not the two combined … except at Lemaire) where present of many shows. Although there was often "just the one" in the cast, it becomes normalized.
As you have maybe noticed looking at this recap there were many models with natural afro hair.
Statement earrings are still everywhere. Muscle your lobes or buy big but light ones.
And you? Which catwalk trend are you willing to adopt? Let me know in the comments below!