How to wear skinnies in tall boots
In the late noughties, we used to channel our inner Kate Moss wearing skinny jeans tucked inside tall boots.
One decade later, this trend seemed to have completely disappeared… except for some ladies who did not let go of the past trends.
Good news for them, they could now be considered as trendsetters (better than trendlaters)… the look is back!
In October, I woke up feeling like tucking my black skinny jeans inside my tall green boots. So I did!
It looked so cool I wondered why I stopped doing it… And then started wondering why  I suddenly had the inspiration to do so since I did not remember having seen the look back in the street recently. So I searched my head to find out where the trigger came from and… found! The last Céline show by Hedi Slimane of course! Those so classic outfits twisted by dramatic knee hight boots got printed somewhere in my mind.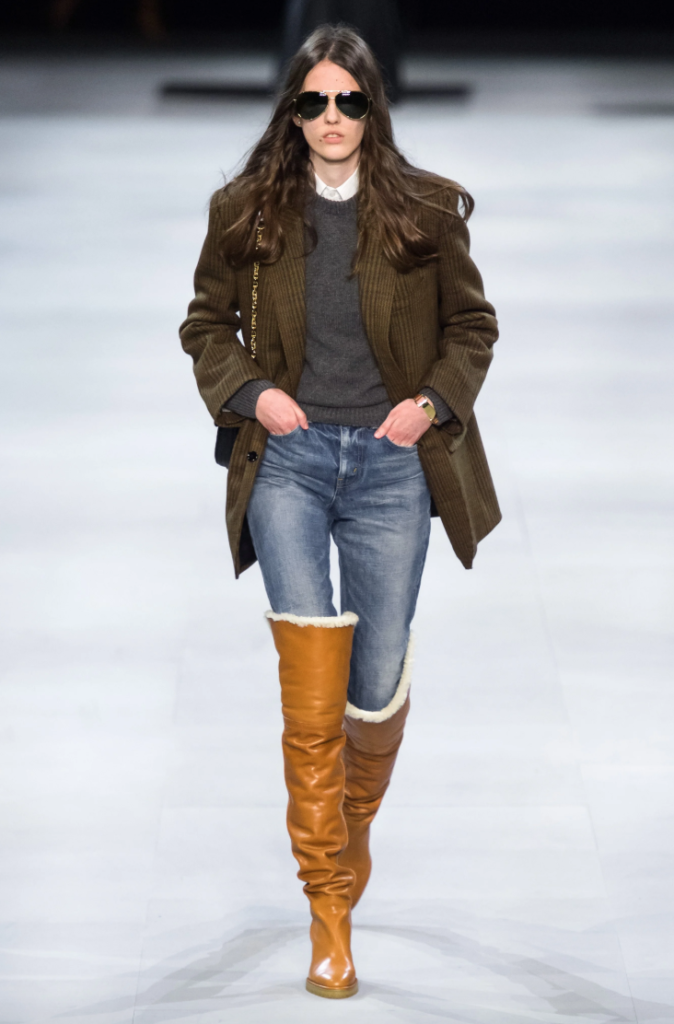 Why shall you wear this mix in 2020? Because it create the best legs ever whilst being practical.
1/ Choose pants that match the boots
Black on black is timeless.
Perfect to make everyone believe you have endless legs.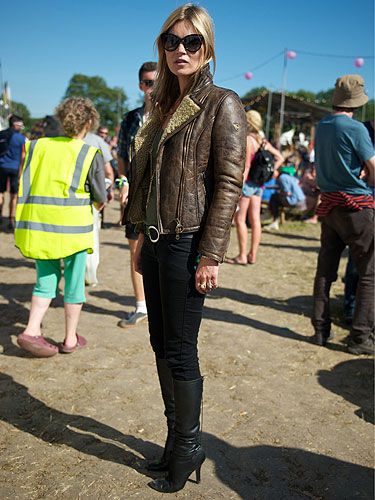 Kate Moss looking soooo 2008. But also so now with the pilot jacket! A bit more oversized and the ressemblance with 2020 would be baffling.
2/ Avoid matching your top with your boots
If you do so, make sure there not too much of a contrast: the "sandwich" effect would cut the silhouette.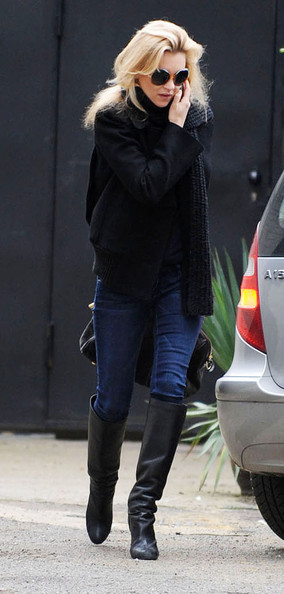 Kate Moss from the past again: her dark jeans do not contrast much with her black boots.
She ALSO did use the big contrast sandiwich outfit BUT she is Kate Moss so everything suits her. 
3/ Use shades close to another
For a soft style.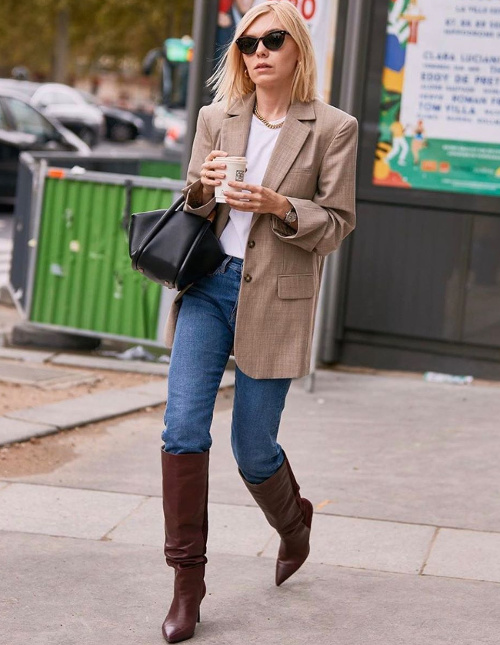 Like in this outfit where the burgundy boots echo the light brown jacket over soft blue jeans and a neutral white Tee. 
4/ Choose shades that are on the same brightess level
Again, our aim is to lenghten the silhouette.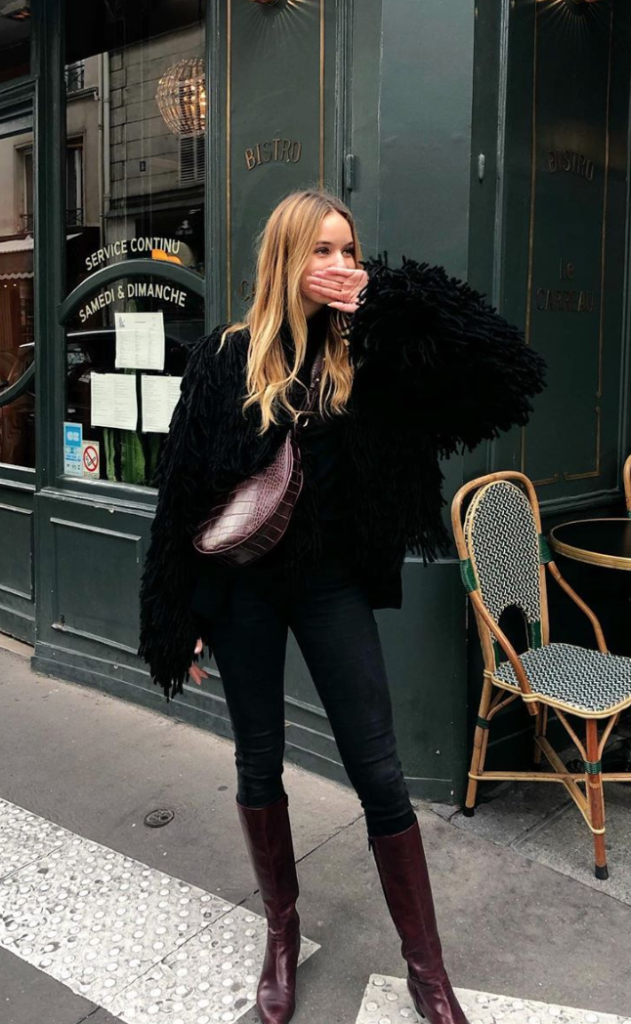 Marion Lietout wearing dark burgundy with black.
5/ Wear almostnochrome
Where the base is the same color but the boots are different.
This way, the silhouette is only cut in one part.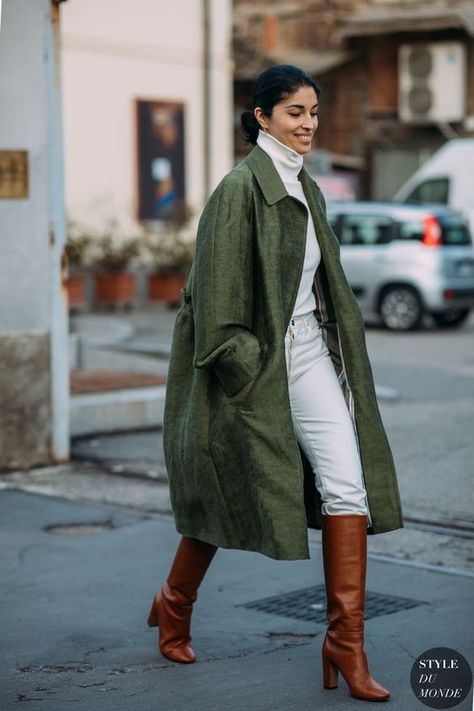 Caroline Issa for Style du monde: the coat layer also beautifully styles this almostnochrome. 
6/ Make your boots the statement piece of your outfit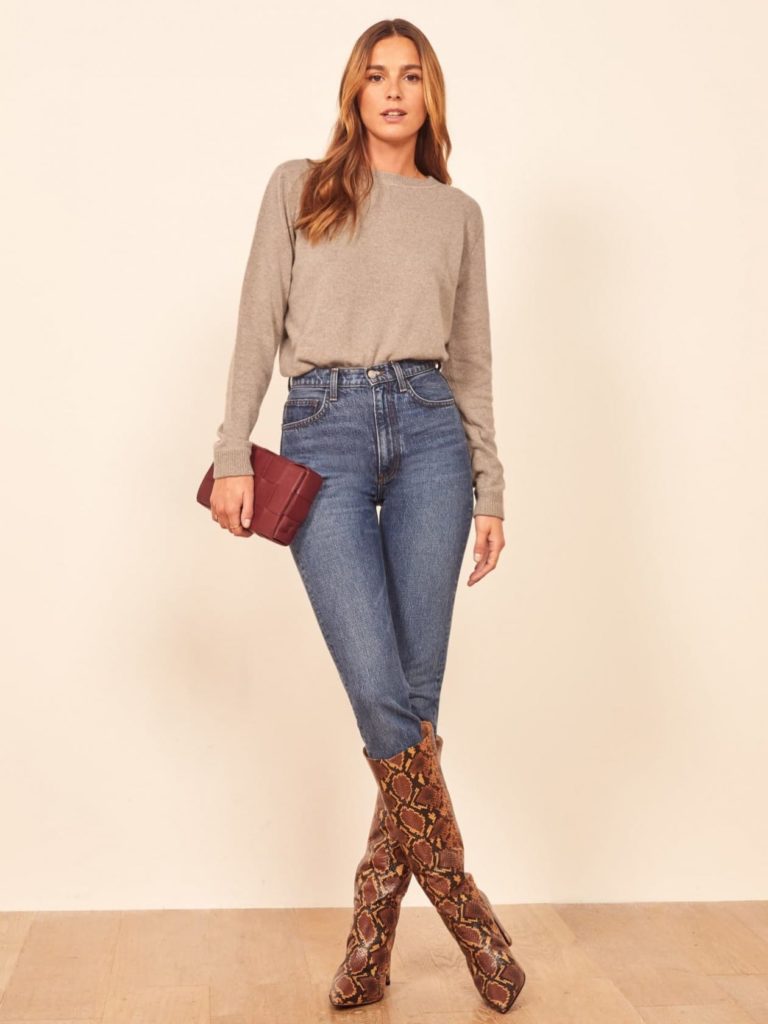 Reformation
How to choose your tall boots? 
The simpler the shade the better.
I recommend to stay away from superfluous details as always (buttons, zips, etc…) except if those really are a statement (like an all over lacing).
Then leather texture and colors depend of your liking. Suede, smooth, texture… there are many options available!
As the trend is currently ongoing, you'll find good designs in shops… or look into second hand and vintage shops. You can find some stunning seventies or eighties boots starting from 40 euros!
And you? Are you ready to wear this trend? Or shall it remain in the past? 
Bises de Paris,
Aloïs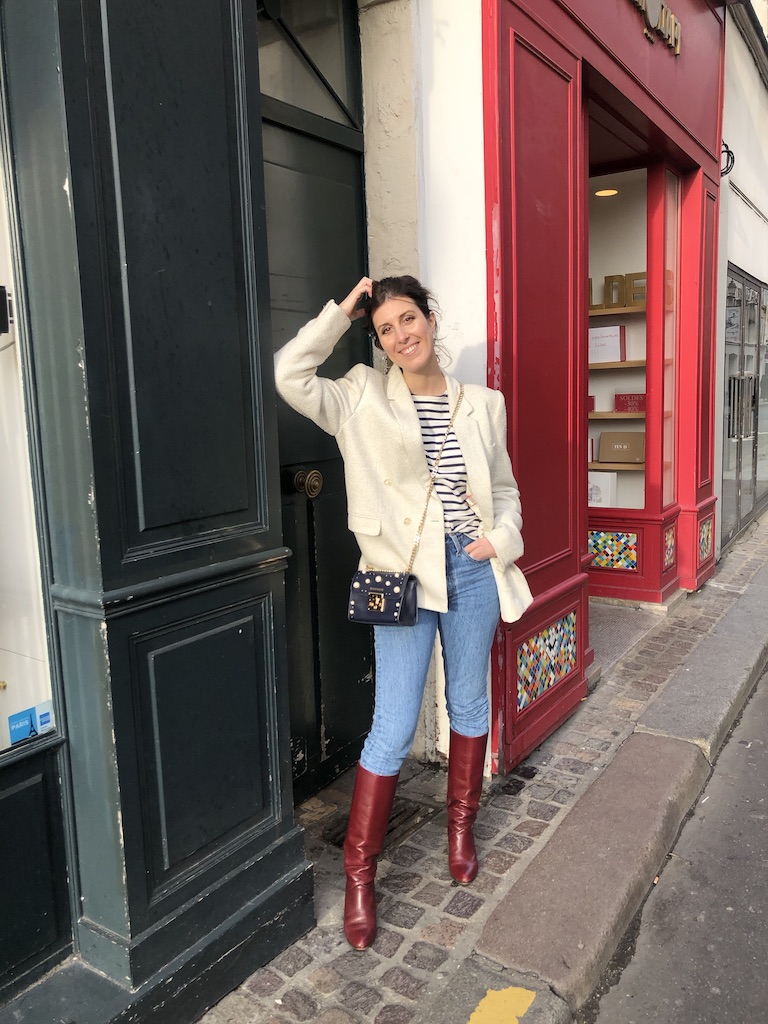 My take on jean in boots with a statement boot along soft colors
Cover collage: vintage Kate Moss, the Sartorialist