How layer a thin turtleneck?
Some would say I am one year behind the trend. Others would appreciate my dedication to observing the evolution of a trend before rendering a complete advise guide.
The best part? By looking at the last fashion-week collection the trend is faaar to be over and I predict it a glorious career.
Of course, high necklines as a base layer of outfits is not a new thing.
Déjà-vu in Belle époque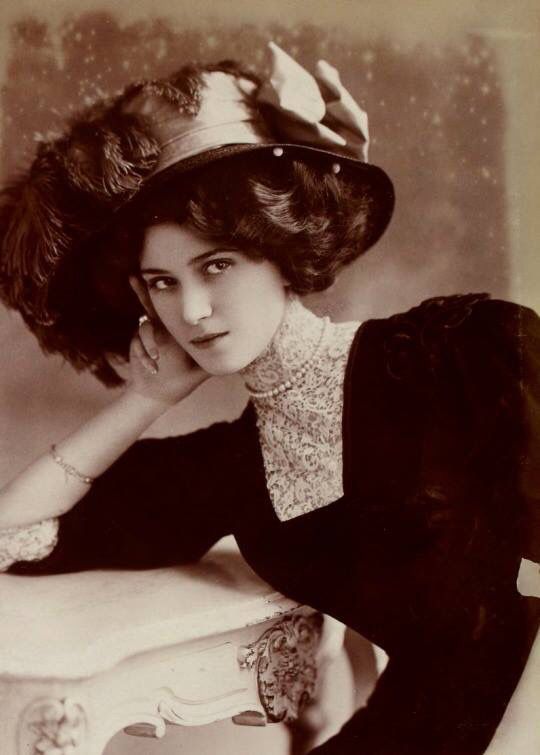 And in the seventies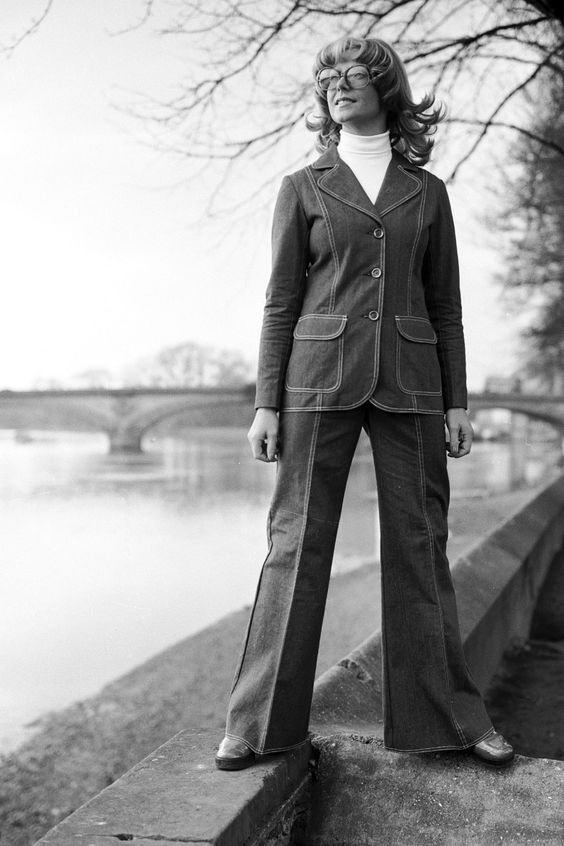 Maybe you already own one or several thin turtlenecks, chimney neck or high necks in your wardrobe?
Maybe you are considering purchasing one?
Here is how to make the best out of them by layering creatively.
I/ Which turtleneck to choose for layering?
A/ Shape
It does not matter if turtleneck, chimney neck or else as long as the collar is high.
The thinner and the tighter the turtleneck, the easier it will be to layer it.
Parallelly, the looser and the stiffer the outer layer, the bulkier you can go as a base.
For easier pairings, go for a plain simple shape.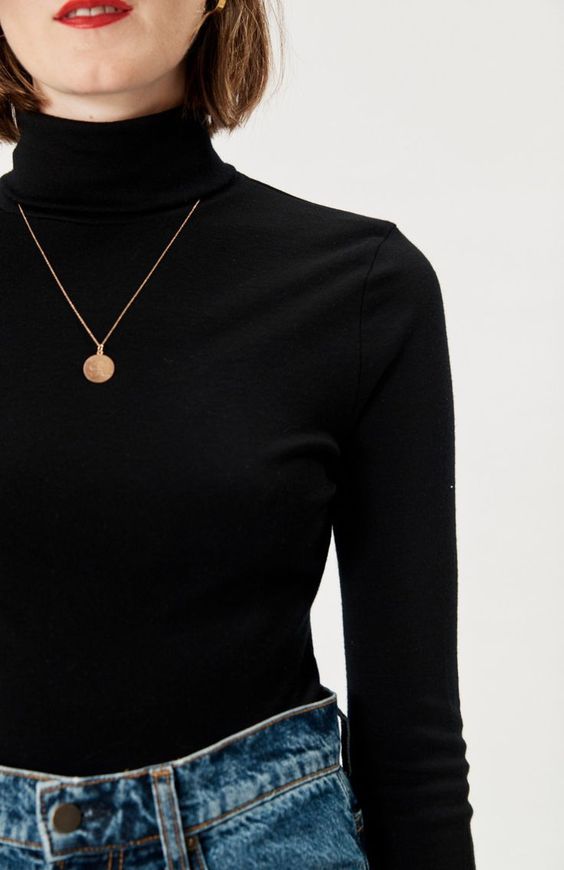 Wellmadeclothes
To add some refinement around your face, dare trying more sophisticated collars.
Draped collars, ruffles, embellishments all is possible…
B/ Color
Black and white are the ultimate classics to maximize your pairing options.
Neutral colors like nudes (your shade of it), beige and cream are also top choices.
On the opposite, you could make your turtleneck the color pop of your outfit by going super bold (there is a niche neon trend going on at the moment).
Or add a hint of color more subtly with subdued and dark shades.
As the high neck frames your face, it needs to be complexion flattering.
C/ Fabric
Smooth and tights fabrics will be easier to layer.
If you want to be creative, why not opt for transparency, shine, lace, rhinestones…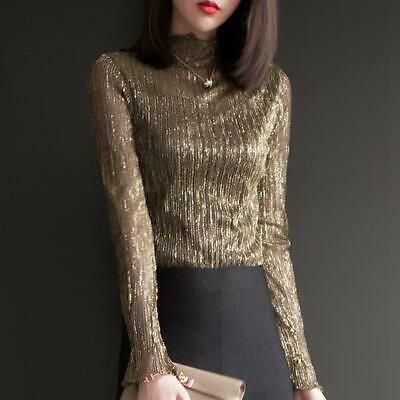 D/ The clinging issue
Some fabrics will make the upper fabric "cling" to them, creating some unwanted folds and maybe (gasp!) creating the illusion of a fatter you.
I just tried to layer a Belle époque style lace high collar under a gangsta local T-shirt (yes, I own both, questions anyone?) BUT as fun was the style combination, the result was horrible as the soft cotton was clinging on the synthetic lace.
I switched for a deep V oversized thrifted cotton sweater and was much more convinced by the result.
My advice? Try and see for yourself.
The looser and the stiffer the outside fabric, the easier the layering.
If the turtleneck and/or the layer are gliding, you got it easy. The other day, I layered a silk shirt of a cotton necklace and the result was ultimate smoothness.
E/ Bodytype concerns
If you have a short or large neck, this trend won't be the most flattering as it attracts the eye on this area.
Women with big breasts can get away with the turtleneck trend by layering.
II/ Turtleneck layering options
The turtleneck
A/ Colors and prints
a. Monochrome layering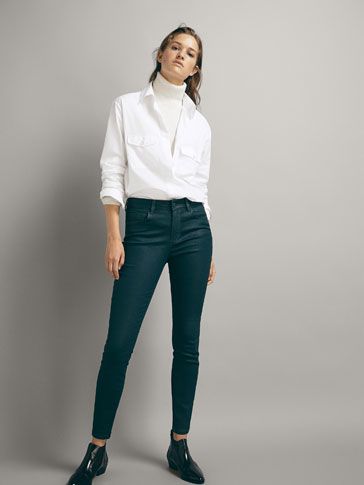 Massimo Dutti
b. Neutrals layering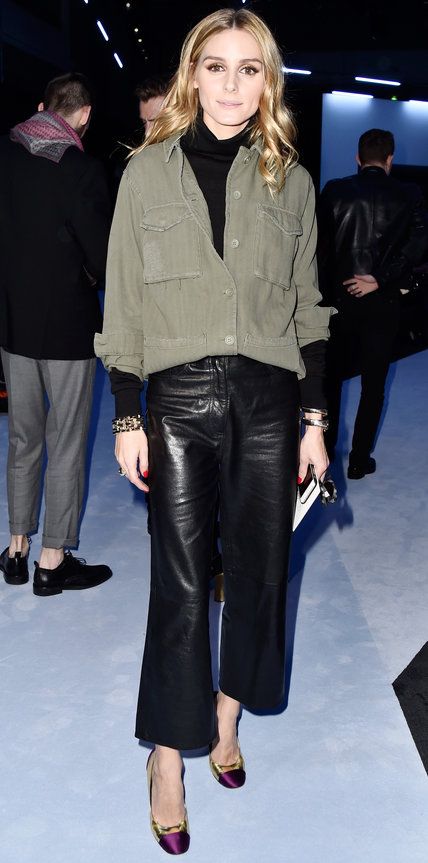 Notice how Olivia's turtleneck picks up the color of her pants? Which is an excellent option but not the only one of course.
c. Statement over neutrals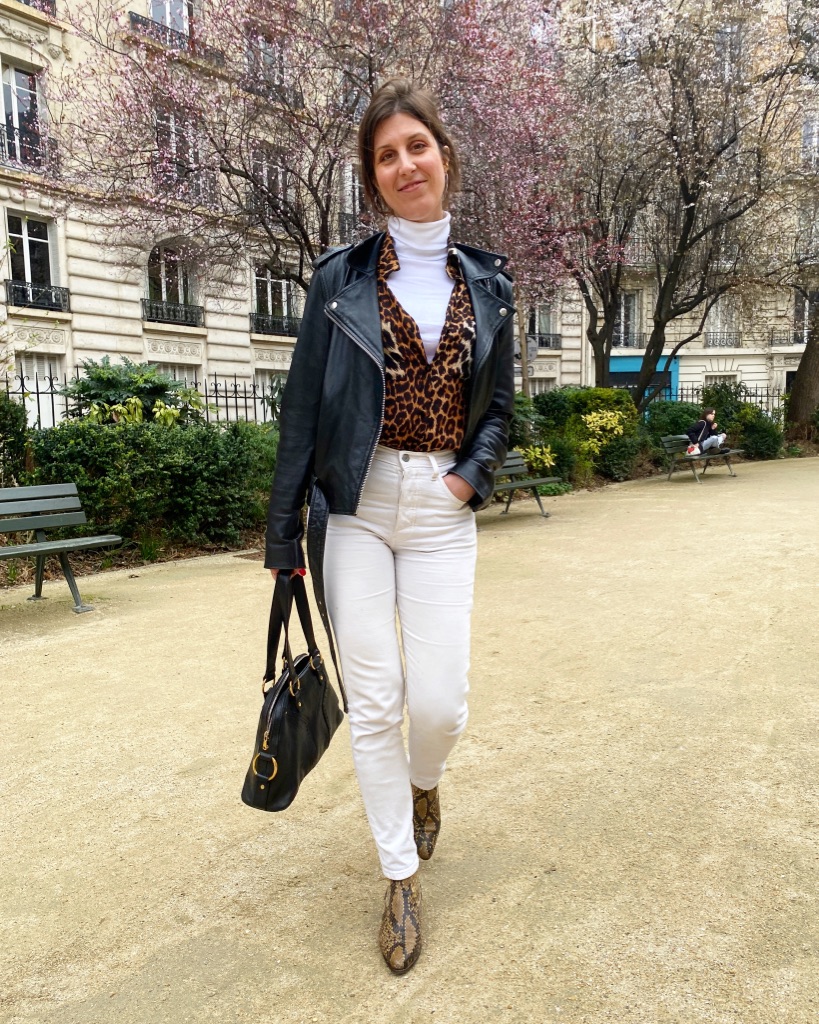 How about pairing leopard with white like I do here?
d. Neutrals over statement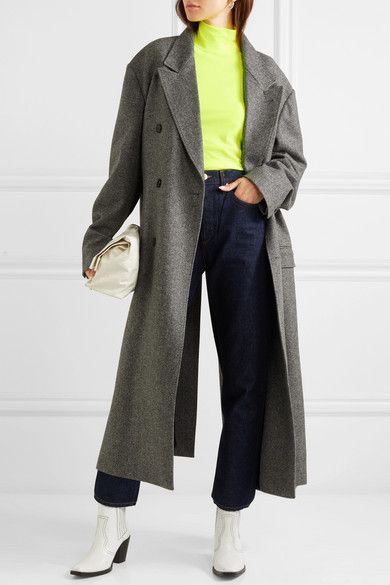 Net-à-porter
THE big trend of the moment has been seen everywhere on shows. You do not have to go as bold as neon yellow of course. A beautiful pink or saturated blue would do. Even subdued shaded as long as they are the color grabbing piece of your outfit.
e. Colors combinations
I must admit that I haven't any picture to illustrate this.
But picture the usual color combinations. Neighbor colors, opposite colors, camaïeu, etc…
As I always recommend a shade shall be softer than the other… or both shall be soft. I am not too much into using saturated colors next to another.
Red turtleneck layered with baby pink
Lilac turtleneck under tangerine
Prairie green under navy blue
f. Print matching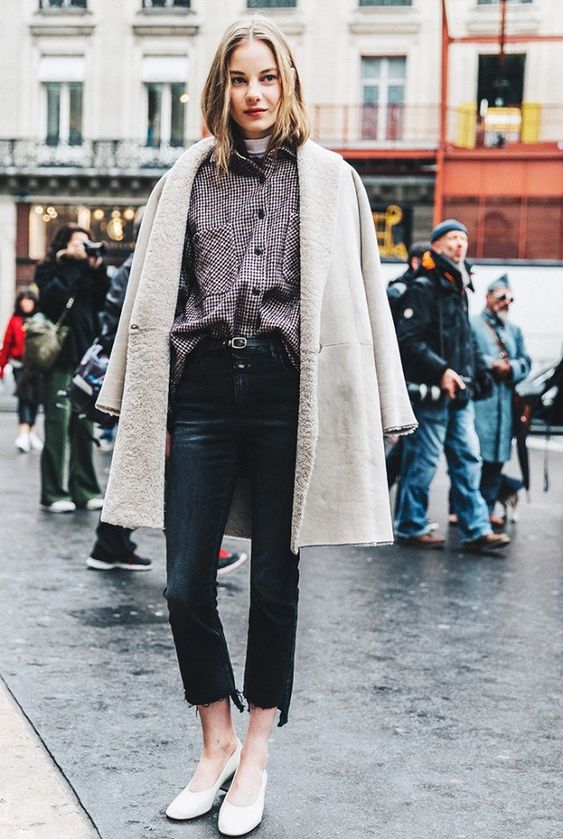 Pick one color contained in the print for your base layer
B/ Shapes
a. Opened shirts
The most seen option lately. The opening of the shirt is up to you!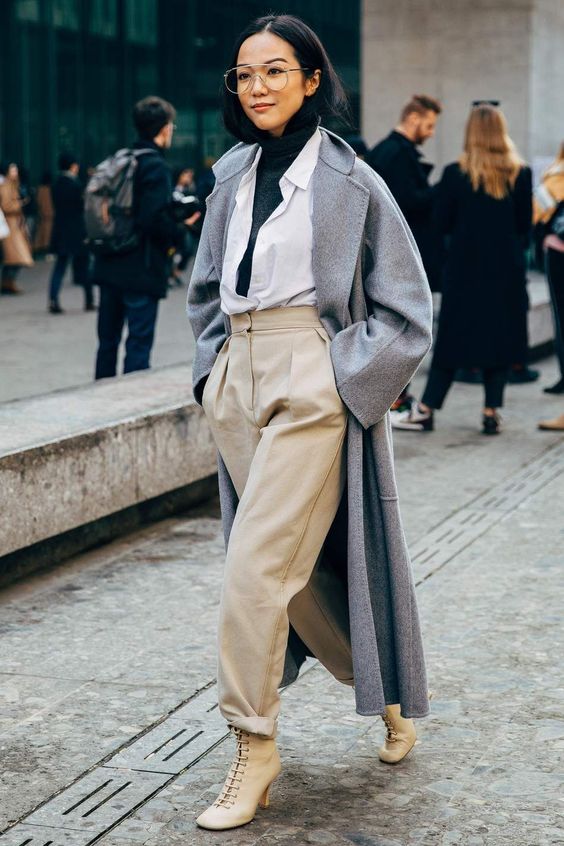 And an all neutral pairing that rocks
b. Closed shirts
This combination is giving me sexy priest vibes (love it).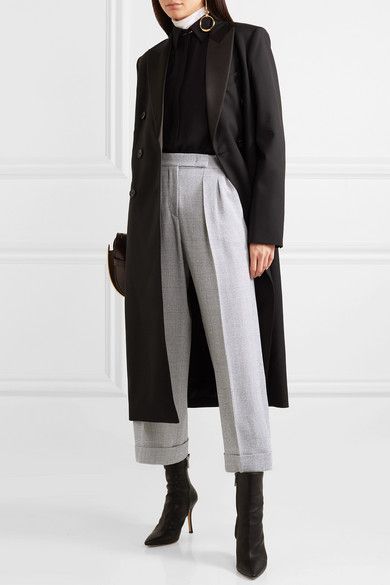 Net-à-porter stylists added a pin for that extra revisited Belle époque vibe.
c. Crew neck sweaters
I haven't found any pictures mes chéries, but you can picture it can you? Look at the T-shirt pairing below for visual crew neck/ high neck pairing.
d. V-neck sweaters
Sexy grandma meets grumpy grandpa.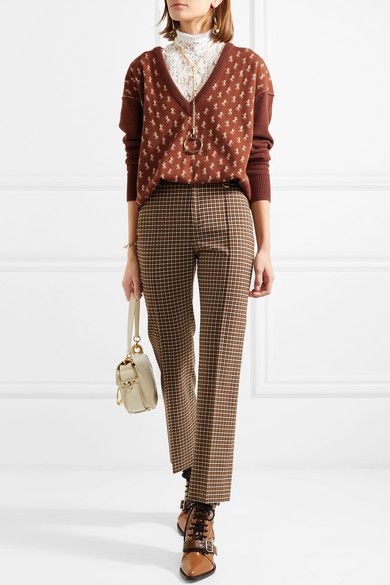 Net-à-porter killing the styling game again.
Or cardigans
e. Dresses
There are all kinds of dresses out there.
I love the idea of combining high collars with a rather closed dress for a sexy Mormon vibe (turtleneck inspire me all kinds of unusual ways to be sexy as you can see).
Some like to use turtlenecks under delicate dresses… which usually I am not into because of the fabric clinging issue… But you can try it!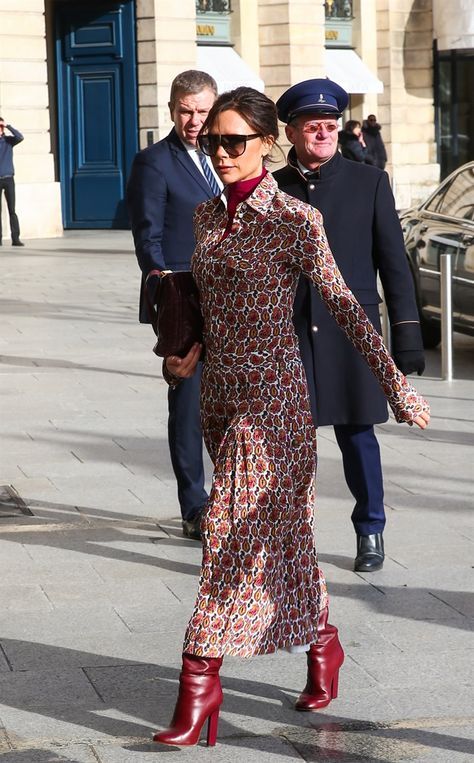 English fashion hero Victoria, wearing Victorian-inspired high collar for a queen's proof outfit. And also look at this print matching skills!
f. Jumpsuits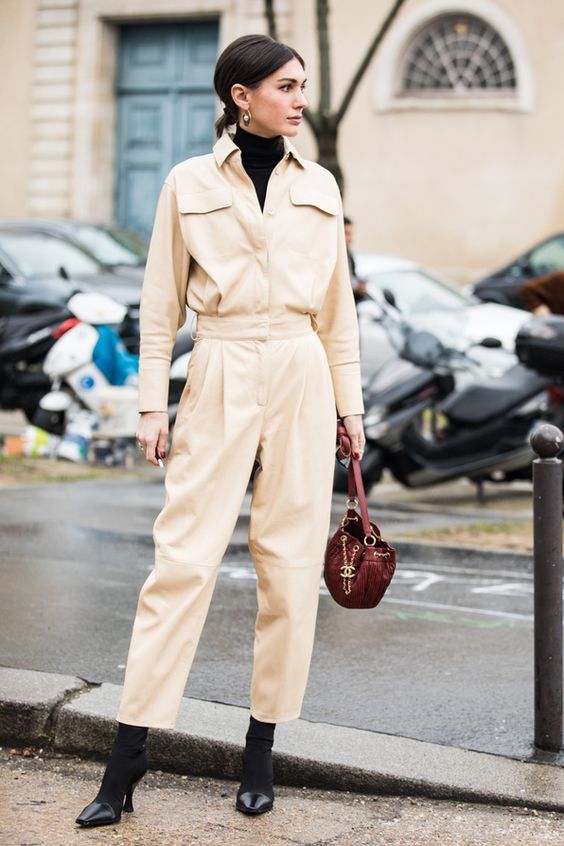 Black base + cream layer +burgundy and gold accessorizing = perfect style
Ok, I am not 100% sure it is a jumpsuit but it' LOOKS LIKE ONE OK?
f. T-shirts
Who knew Big Bang's theory's nerd Sheldon's favorite combo could be stylish?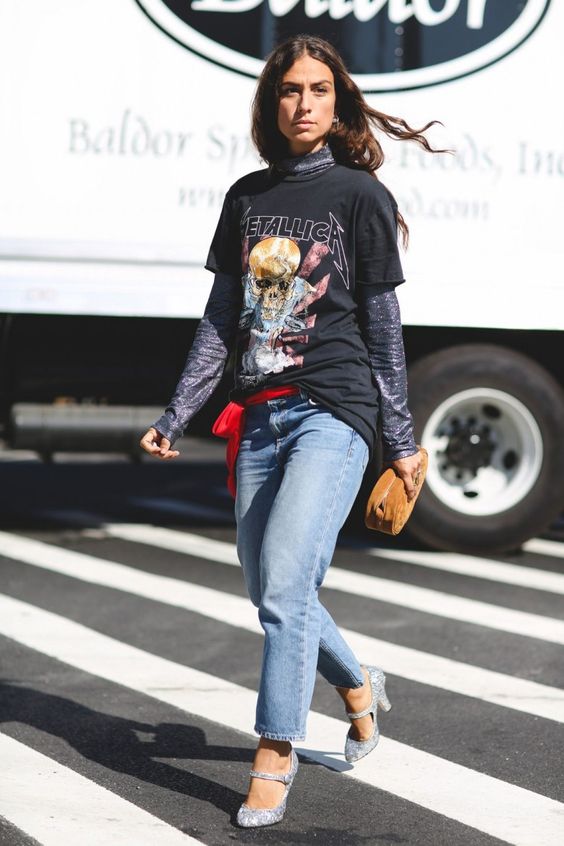 Unlike Sheldon, this beauty rocks the layered T-shirt's style thanks to the accurate choice of an oversized model. Also sporting a perfectly matched metallic high neck under her Metallica print. Next post: words matching.
We are going to talk "I am a bombshell" and "Feminist" prints over there.
g. Jackets
The easiest and most natural layering: blazers, diverse jackets, etc…
Enables you to wear bulkier high necks as a base.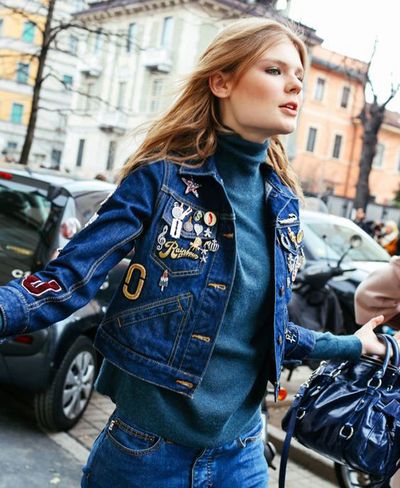 Here a short jacket over a turtleneck in shades of blue. 
Add a long coat and boom, you have a sophisticated third layer style.
h. Third layer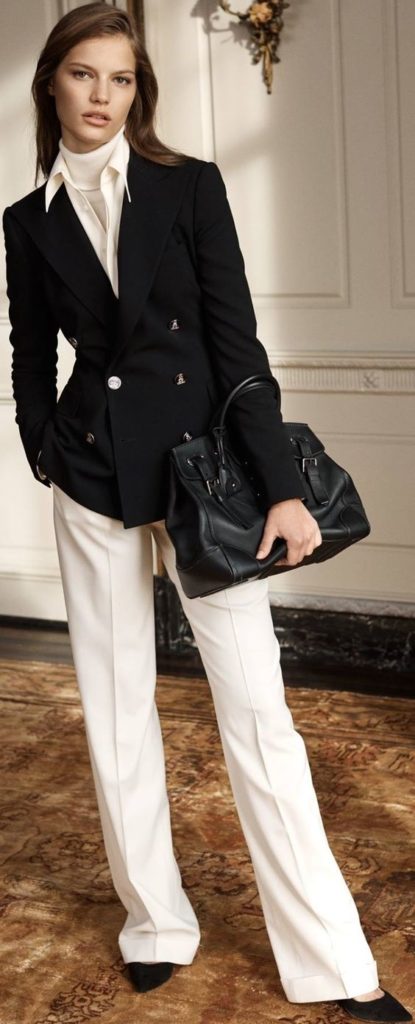 If, as a base, you have layered two thin items, there is nothing easier than adding an outside stiffer layer on top of them whilst leaving the two first ones visible. Here American perfection by Ralph Lauren <3.
III/ High necks and jewelry
A/ Earrings with turtlenecks
Earrings will contribute to framing your face whilst not interacting with the purity of the high collar.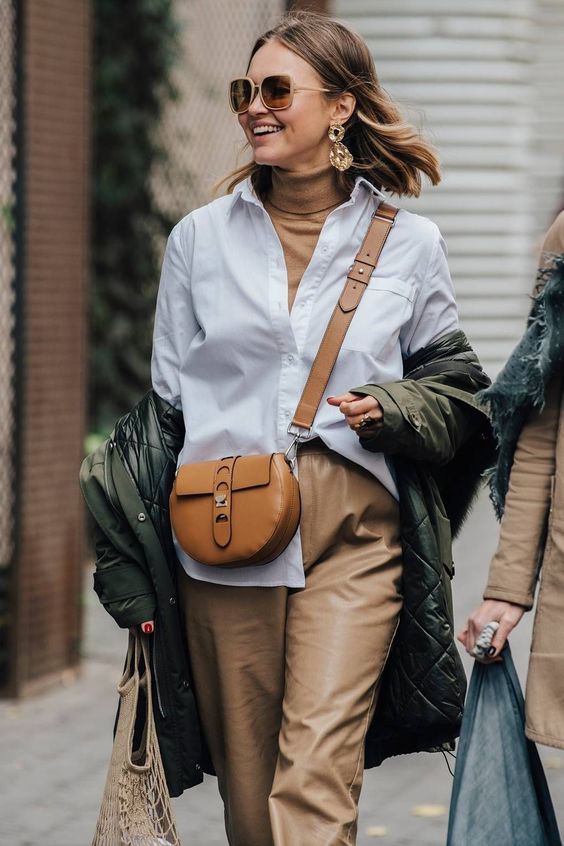 B/ Necklaces with turtlenecks
Combining necklaces with turtleneck and clothes layers requires to have enough "spare" room available in the outfit.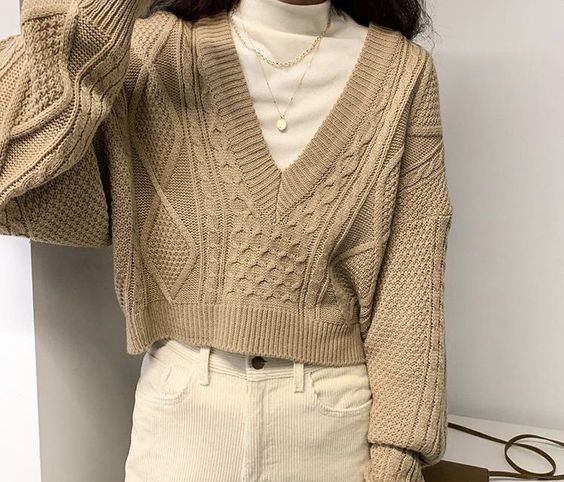 She uses her plain white turtleneck as the canvas for her jewels.
For more complicated pairing, look at the Net-à-porter grandma/grandpa style above.
C/ Brooches with turtlenecks
Because there you have space! As long as the collar is stiff enough not to be pulled.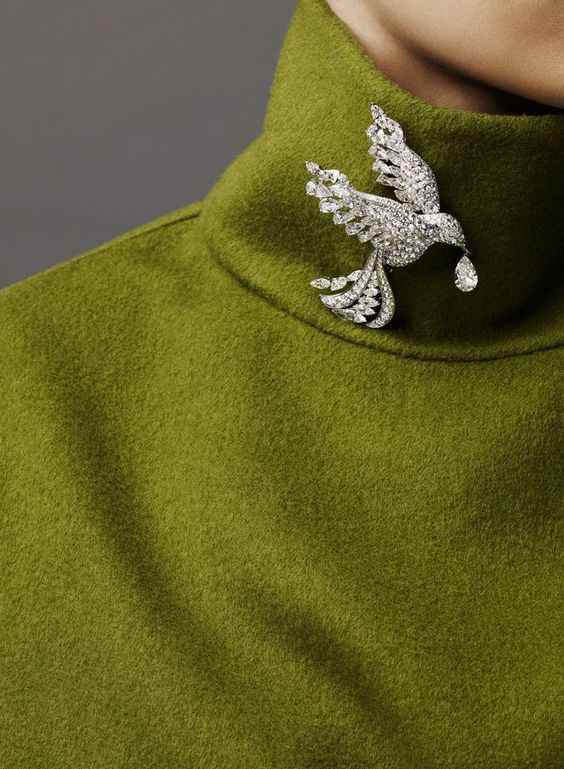 And for the Belle époque look, put the brooch/ pin on the stiff collar of a shirt rather than on the turtleneck itself.
Layering is risky…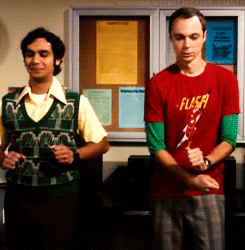 But when well-done it can be hell of (conservative) sexy.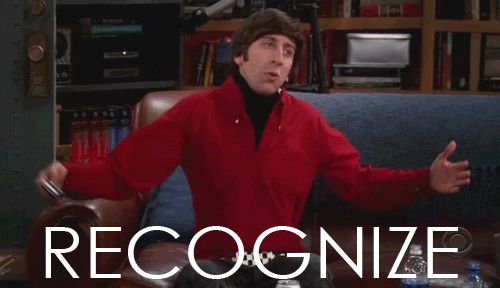 And you? Have you jumped into the turtleneck layering trend? What are your favorite layering moves?