Can we skip the makeup?
Mascara, lipstick, fondation, blush… are often part of our everyday morning routine.
Just like clothes, makeup transforms our natural body into a social body.
And just like clothes makeup is something you can have fun with.
Mat red lips worn as the symbol of our assurance, a smokey  eye for sultry glimpses, or mother of pearl polish that transforms our nails into delicate shells.
Yes, I love makeup that can upgrade our look just like any other accessory.
But if cosmetics can be jewels they can also be corsets.
Like shapewear, they design our faces in order to hide our "flaws" (dark circles, dilated pores, pale lashes, plump cheeks, wide nose, etc) from the sight of others.
It seems that the industry can not stop lauching new products and techniques meant to transform us into "perfect dolls": pore minimizers, face enlighters, and the now famous "contouring".
This technique,  popularized by Kim Kardashian, consists in reshaping our faces with lights and shadows in order to conform it to our beauty standards: high cheekbones, pointy nose, pulpy lips and arrogant brows. It is like real life photoshopping!
On Youtube, there are hundreds of videos featuring young women literally transforming themselves into someone else in front of their camera.
When I see them, I cannot help but wonder if, with the ones that share their bed or with their friend at the beach, those girls are able to remove this mask which they introduced themselves with.
I think that, just like clothes, makeup should remain something you enjoy and not be a constraint.
Almost all of us use makeup.
I do. Quite a lot actually. And love it. Sometimes I don't.
But is it socially acceptable to not wear any?
If you watch this funny Amy Schumer, clip… it seems that the mediatic world is not ready for it.
Medias are filled with "overprocessed faces" (you know, like overprocessed food? Yes I just invented this one).
Especially in the US where I think TV anchors look like barbie (and ken) dolls: too much foundation, too much blush, too much gloss, too much brushing, not enough natural!
See for yourself: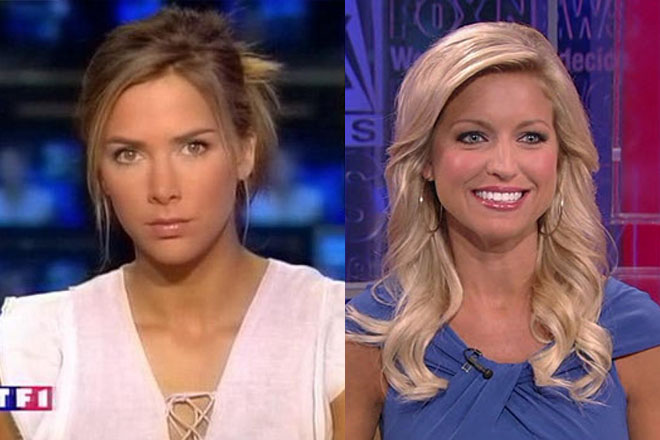 Melissa Theuriau and Ainsley Earhardt (ok Melissa is the most beautiful TV anchor ever but still.)
Therefore, no doubt women, especially north american, who are confronted everyday with such images on TV, feel that they have to wear the same amount of makeup.
And if they don't, they feel bad about themselves… which is not normal right? You should not be ashamed of showing the world you real face? Men are not are they? That is what this youtuber explains in this great video.
So, where am I going with that? Because I am still a personal stylist right?
I am not telling you that makeup is rubbish. I love makeup, it can enhance your natural beauty or make a fashion statement.
No, I am just saying that makeup face is only one way of being beautiful.
That you should be comfortable with you "unprocessed face" as well.
As long as you look clean, there is no reason why someone should judge you for this.
You should be able to go out without foundation if you feel like it, to wear flashy red lipstick the same night and cateyes the day after.
In France, I think the pressure is not as strong as in other countries. You see a lot of women without makeup in the streets or even in the fashion industry.
Isabel Marant goes bare face for instance.
And she is considered a style icon!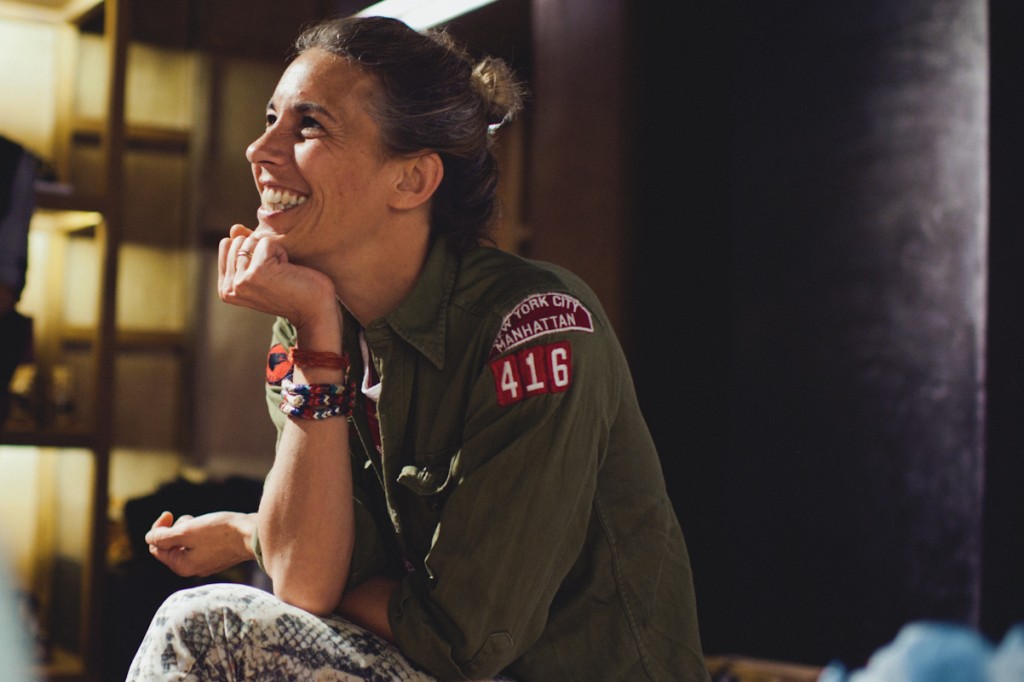 Wear makeup because you enjoy it and not because you want to hide yourself.
And you? How do you wear makeup?

PS: pssst, go read some makeup free beauty routines on Garance Doré's blog here, here and here too.
Cover collage: photo by Garance Doré et la mannequin Heather Kemesky