Why I don't believe in the three colors rule
Popular opinion has a lot to say about fashion.
"Red does not suit blondes", "do not mix black and navy blue together", "gold and silver don't match", and, above all "DO NOT WEAT MORE THAN THREE COLORS IN AN OUTFIT".
"Otherwise you'll look like a clown or a parrot" (ooouuh frightening).
"You talkin' to me?"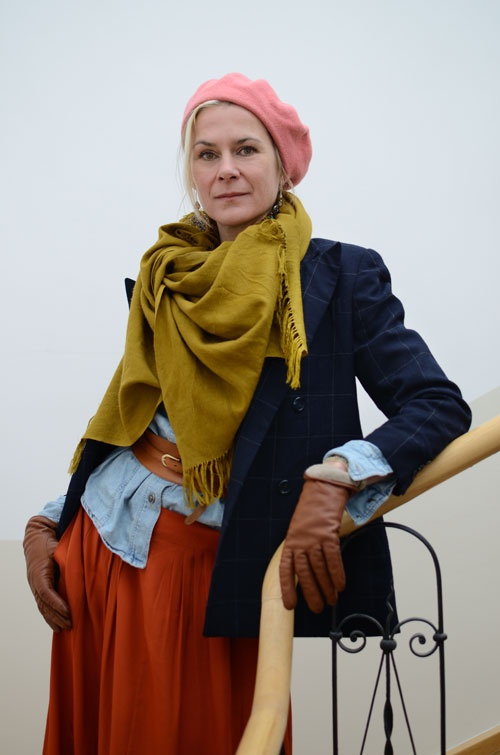 Julia Richter by A personal style
"Erm, no madame, you look très chic with all that colors on you!"
So proof that more than three colors in an outfit CAN look amazing, right?
Even though Julia Richter clearly is talented at color matching, she is helped by her clever choice of color shades.
Instead going for bright colors, she preferred subtle hue.
Because indeed, more than three bright colors together can be overwhelming.
So before we start, here are examples of what I think you should avoid
– Have a look at this young lady who is pushing a bit too much with primary colors (yellow + green + red!)… That bright green next to that bright yellow… Not very subtle, isn't it? I wan't you also to focus on the two additional colors that come from the blue jean and from the black bag. Instead of making the outfit looking more colorful, they make it look LESS colorful because they are not as bright.
– This went heavy handed on the flashy colors. Pasture green + shocking pink = my eyes are crying. Here, the problem is the choice of the colors rather than their number.
– And even there where she managed a better color mix, I think the outfit puts too much bright colors at once (brigh red + mustard yellow + pale blue… But again, the problem is the choice and the width of the color surface rather than their number. I think that without the pale blue, the outfit would be even more overwhelming. And that if she used a bright bleu, it would have been worth.
Conclusion: yes, you can wear more than three colors in an outfit as long as you choose them wisely
And here is how.
1. Temper the bright colors in both quantity and number.

Three is a good maximum number for bright colors in an outfit.
Prefer to wear little flashes of bright colors rather than big color blocks next to each other.
– one bright green vest + one bright yellow blouse + one red skirt = hello Harlequin even though you DID respect the "rule"
However
– one bright green bag + bright yellow shoes + bright red lipstick and nailpolish + pale blue jean + a white blouse = classy! Even though your are actually wearing two more colors which makes five.
Fashion is not math.
2. Include some neutral colors into your mix

I call neutrals white, black, greys and also beige and navy blue cause they tend to match with every other color.
Mixing some into an outfit is a good method to wear lots of colors while staying elegant.
Furthermore, they make bright colors look chicer as we just saw in the introduction.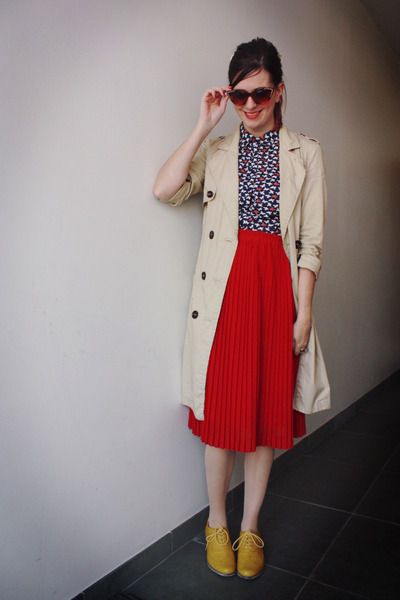 Red + yellow + beige + black and white print = 5 colors for a spruce look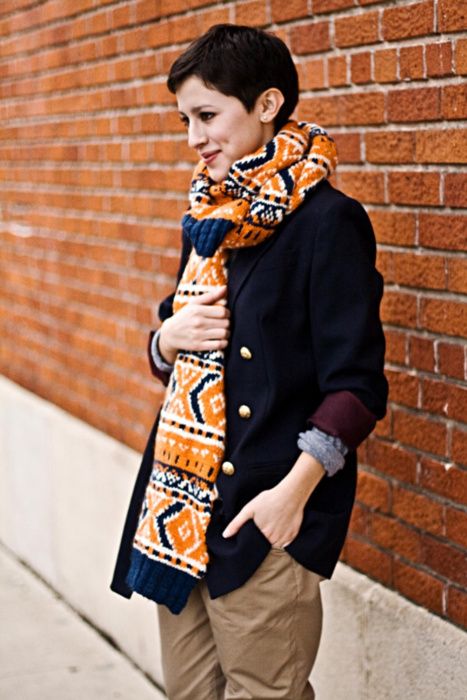 Orange + Cobalt blue+ purple + camel + navy blue + grey = 6 colors. But not over the top isn't it?
3. Choose subtle colors

We noticed that bright colors worn with no subtleties can look rather tacky.
So if you want to wear lors of different colors, prefer subtle ones.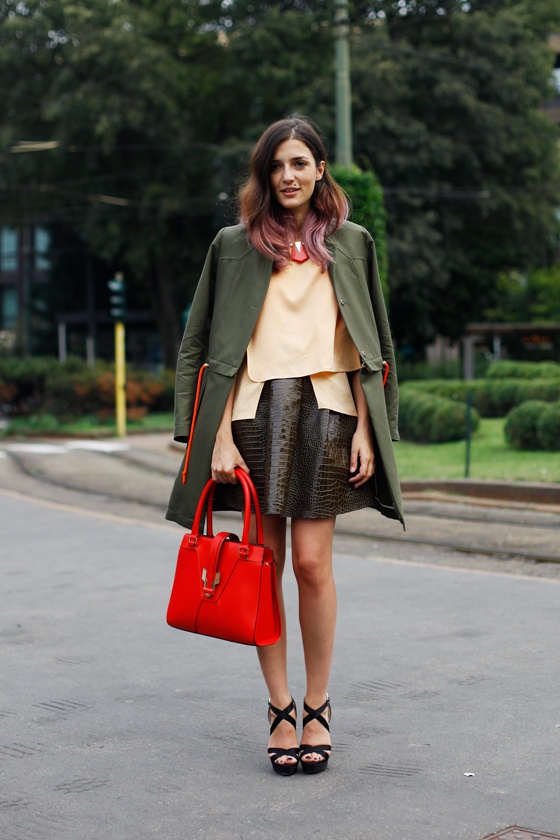 Eleonora Carisi is wearing kaki, a rather dark color, pastel yellow, a whitened color, brown, another dark color, black shoes, a neutral and a bright red bag, the only flashy item of her outfit. Color counter on 5.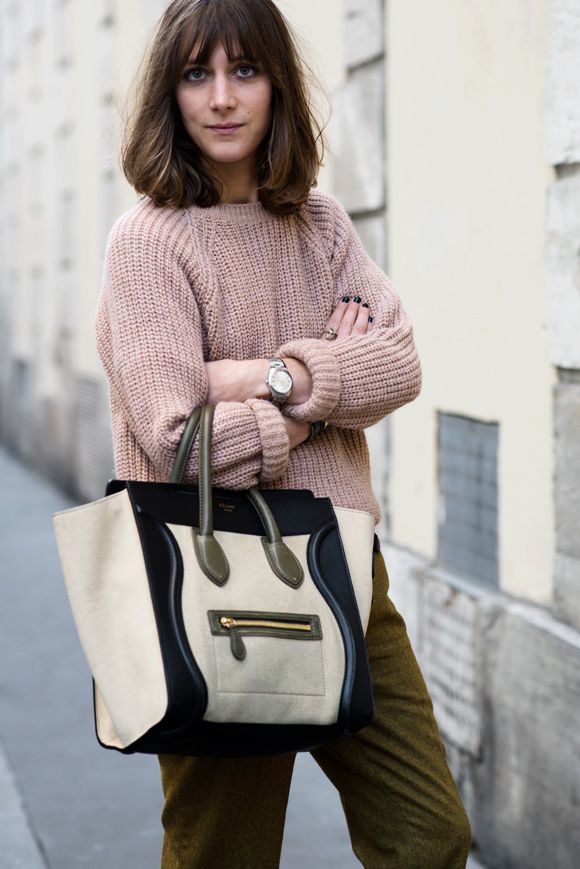 The locals spotted this well balanced color mix in Paris. Kaki pants  with dusty rose + a bag featuring three neutral shades = 5 colors for a refined result.
How to recognize subtle colors? They are those that look different from the ones you find in the basic color wheel at school 🙂
They have been mixed, whitened or darkened.
4. Play on color saturation

In order to create harmonious outfit, it is interesting to temper bright colors with whitened or darkened hues.
In this way, a bright yellow will be softened by a pale blue or navy blue item but can look overloaded with a bright blue one.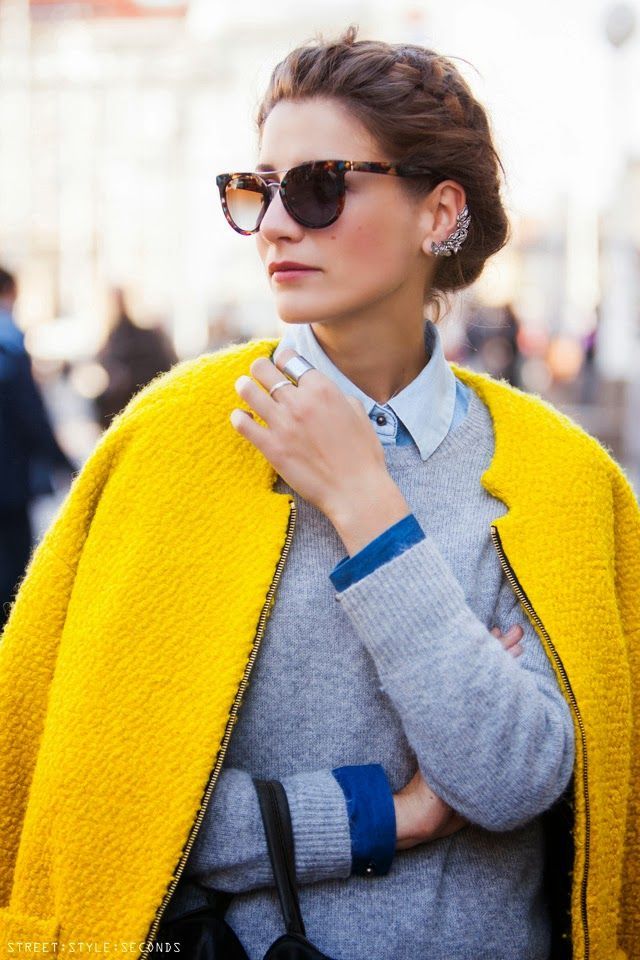 Here we see how she softens her bright yellow coat with lighter hues. Total count = 4 colors.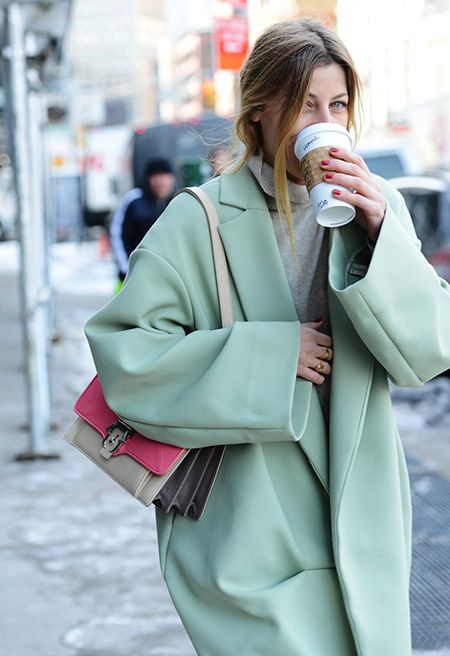 Almond green and candy pink complete perfectly. A bit of cream white and of pale grey match the harmony.  Total: 4 colors.

An outfit with only pale colors or only dark colors can look great. That's only the outfit made only with bright colors that I disaproove.
5. Think of using different hues of the same color
You can do it either:
– by mixing white or black into you basis color (pale blue, dark blue)
– by mixing other colors to your basis color (turquoise blue, lavender blue, etc.)
When worn together this colors are so close that it does not feel like wearing several colors.
And therefore it is a good way to pile lots of colors together.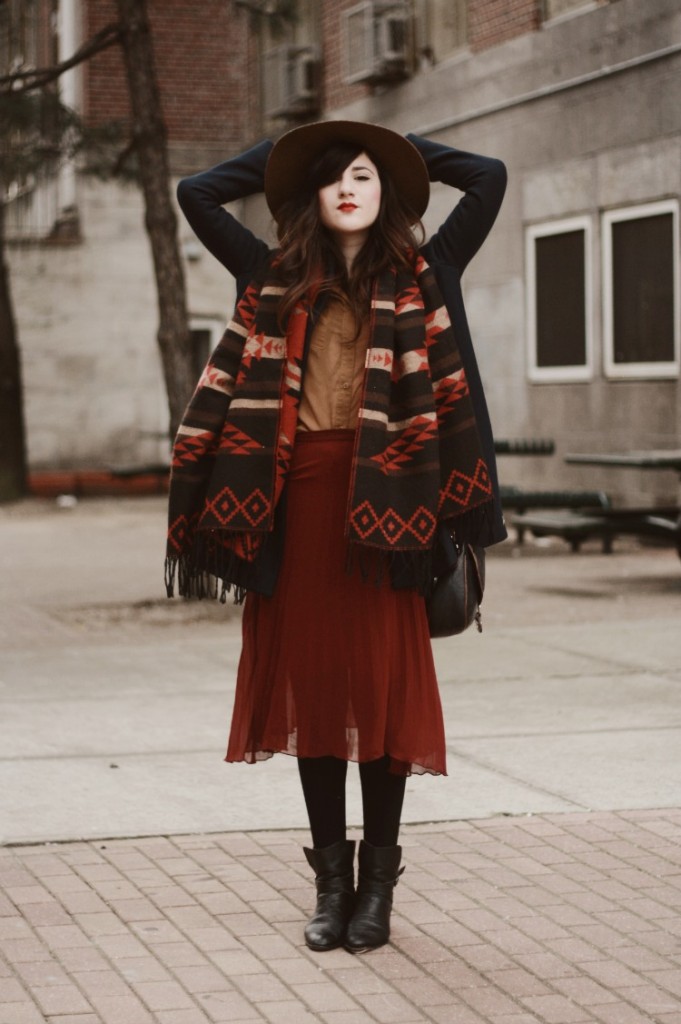 Flashes of style wears shades of brown and red.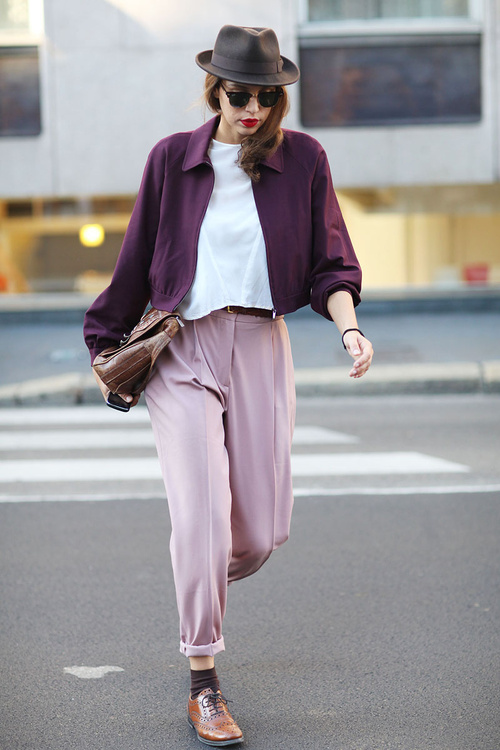 Lynchpinchofnonsense.Shades of purple + shades of brown + white = great mix of 5 colors.

Remember that, even with using shades you should remain subtle in order to be elegant (here she wears too much neon).
6. Prints are your friends

By the way, prints itself are proof that there is no such thing as  a three color rules since lots of great prints feature more than that.
And do artists bother using such a rule when creating painting?
Using a print is a great way to create a multicolored outfit.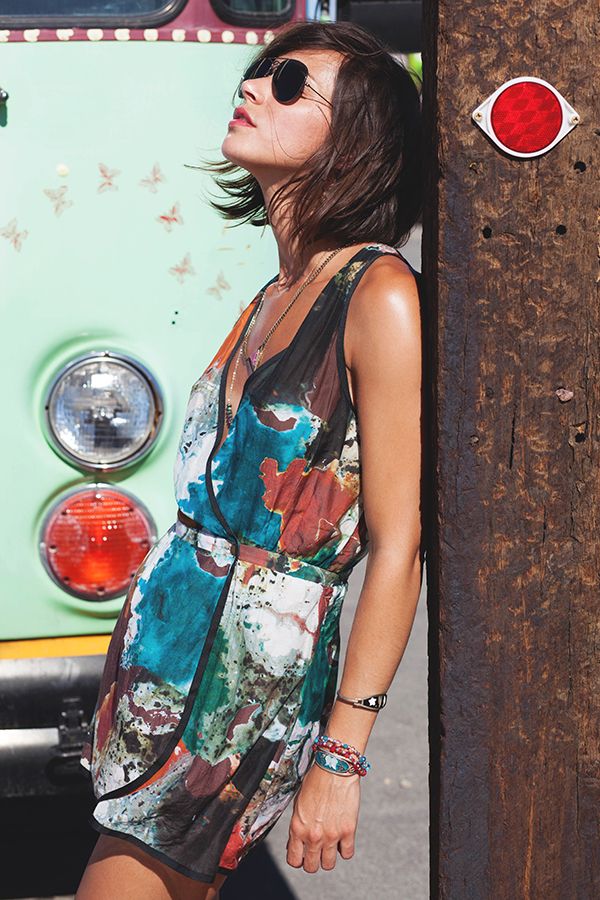 Only a dress will do it (worn by les babioles de Zoé)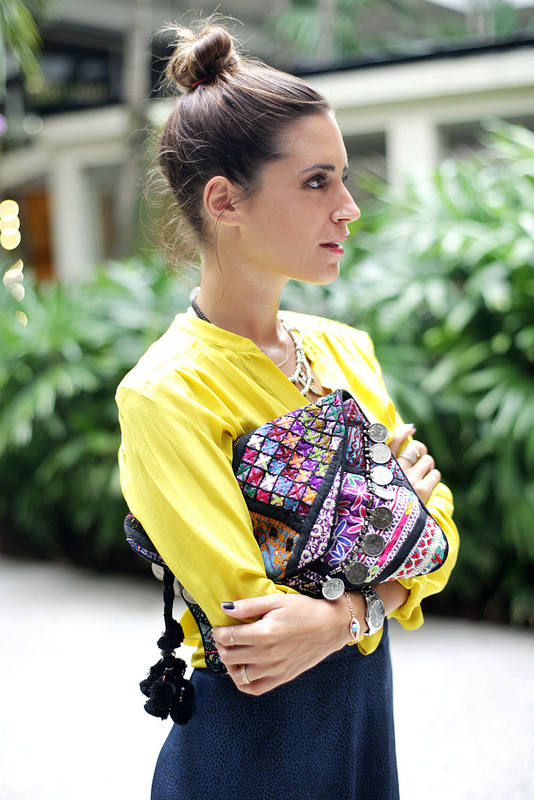 Or a great Antik Batik bag. (Gala Gonzales).
A daring print mix Valentine Gauthier.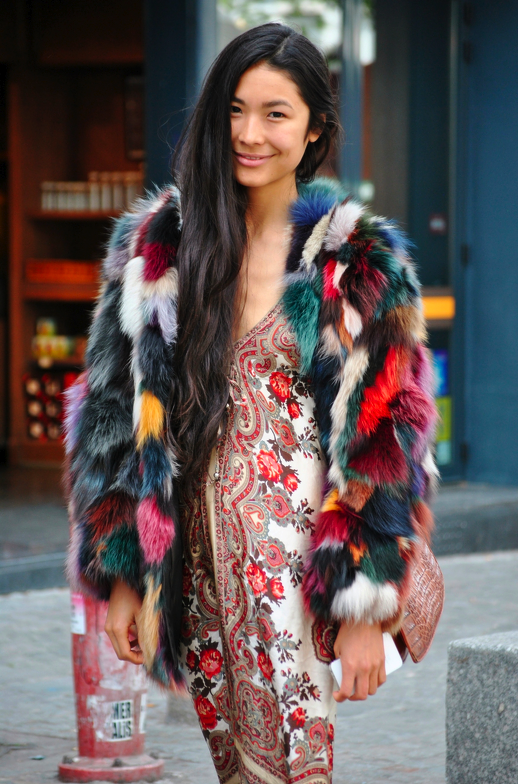 Grand finale!
And you, do you follow the three colors rule or you do not bother? 
Cover collage: Unknown, No 21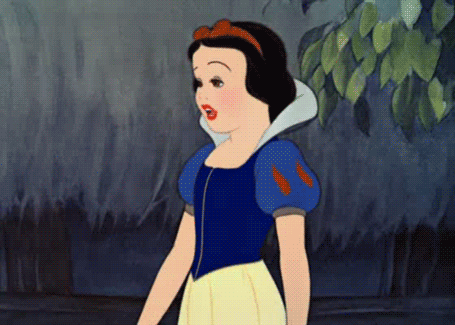 Snowhite wearing two shades of blue, a pale yellow skirt and hints of bright red.