How to wear the breton striped top?
Picture me writing this article from my native île de ré, feet in the sand, nose in the wind ("le nez au vent") and breton stripes over my bikini.
You don't believe me? Well, ok, île de ré was last weekend, and I am currently writing way too late, on my parisian bed, my laptop panting and growning whilst providing me unwanted heating, my breton striped top thrown next to me. Glam over.
Taping THE question.
What exactly are breton stripes?
"Thin horizontal stripes" says the dictionary.
Ok. In order not to write you an ocean about this, let's consider only white, cream, navy and black striped breton tops here.
Their shape will remain simple in order to make the breton stripes what it is for a french girl: an absolute wardrobe staple.
We even have a name for it: "la marinière". So from now on I'll call it this way. (Oh and I'll also call it "her" I feel so sad calling using neutral).
Even if basic, she adds some style to the most basic outfit.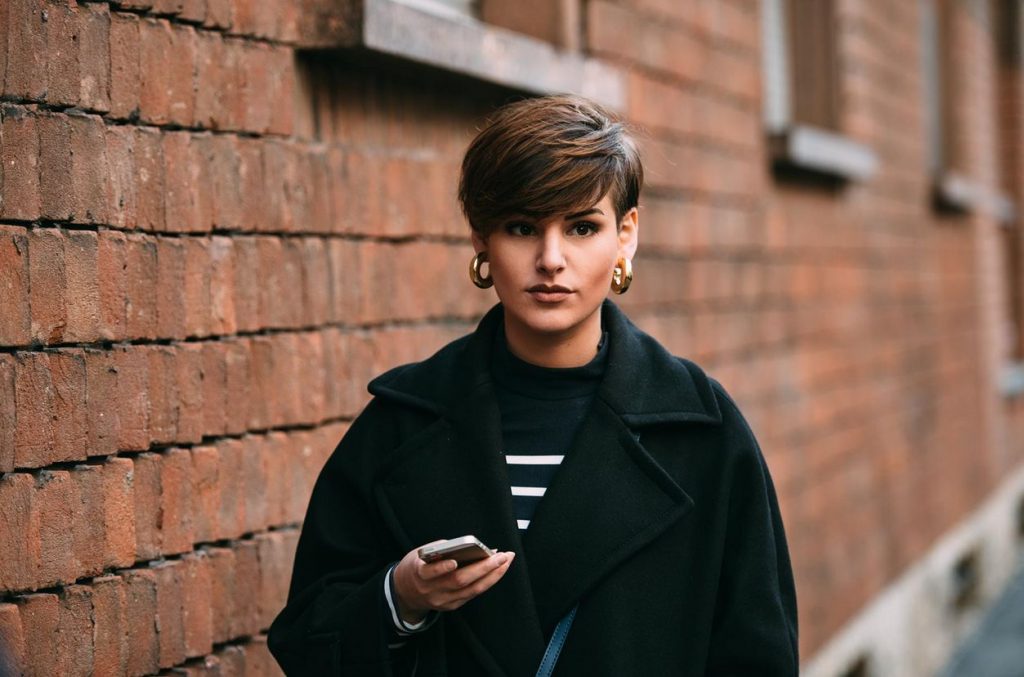 However she is striped, she matches everything: prints, colors, styles…
1/ Denim
Sure it was the first thing that crossed your mind.
To make the oh-so-easy pairing of denim and la marinière more creative, add some thin jewels, red lips or nails, a big belt, roll the sleeves, tuck/half tuck…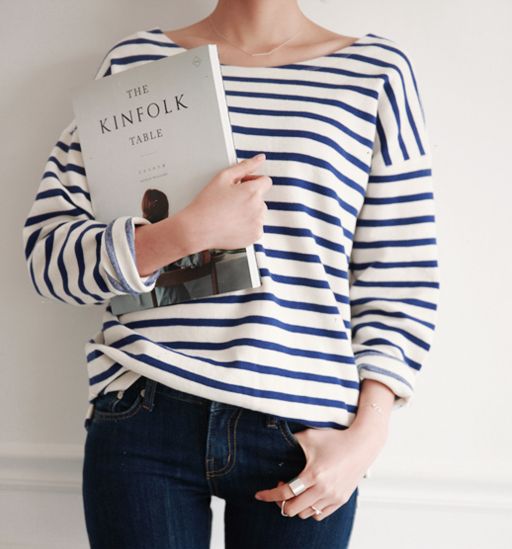 Use different colors and shapes of jeans.
2/ Black leather
La marinière has the magic ability to casualize a sexy mini leather skirt or a rock biker jacket.
Use her as a secret weapon when your outfits feel to daring.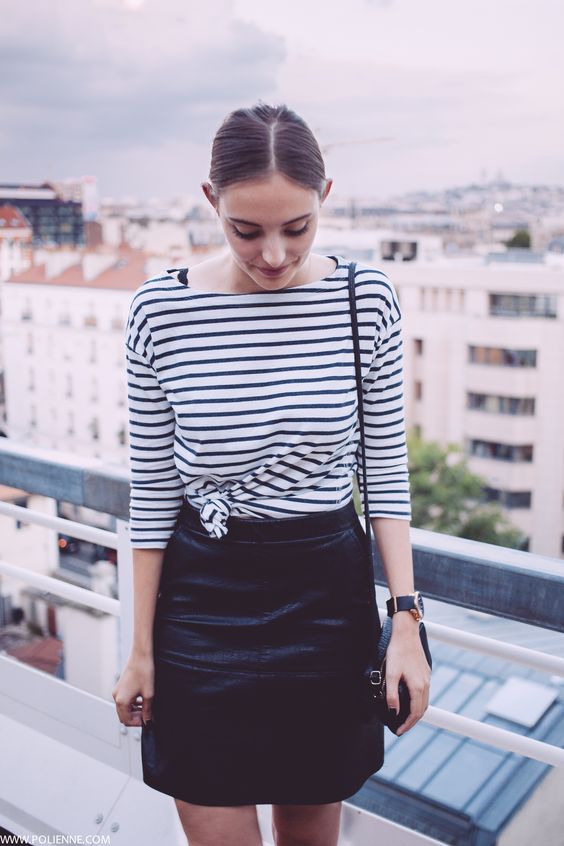 Polienne making her marinière interesting with a side knot.
3/ Natural suede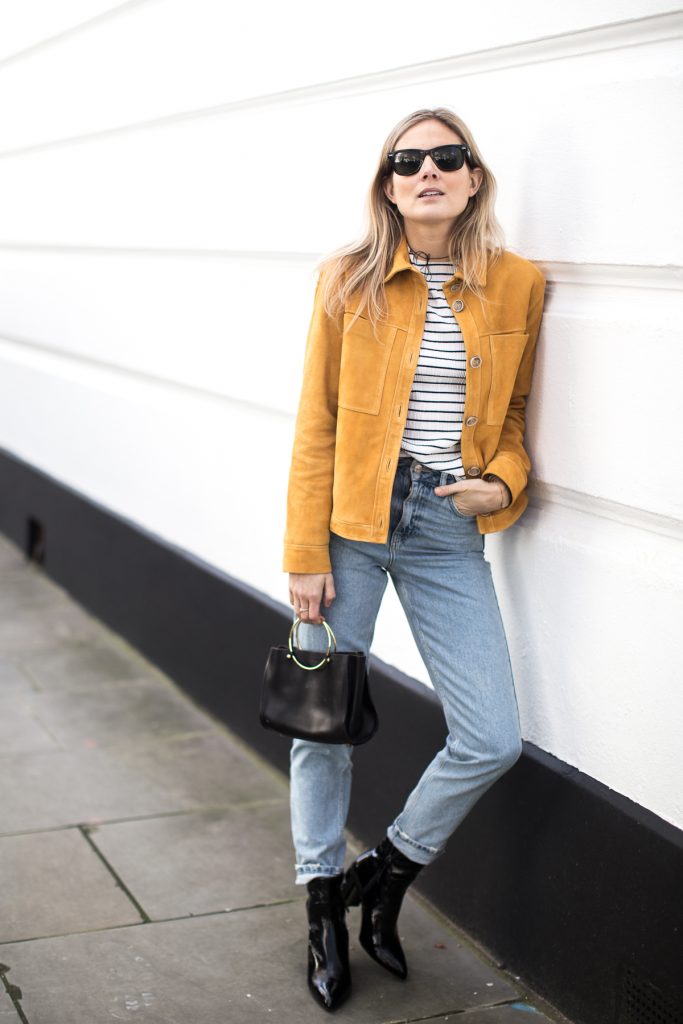 The far west suede encounter sailors of the Atlantic. Those two casual personalities are of course a match!
4/ Colors
Lucky us, the classic marinière matches ALL colors.
a/ Neutrals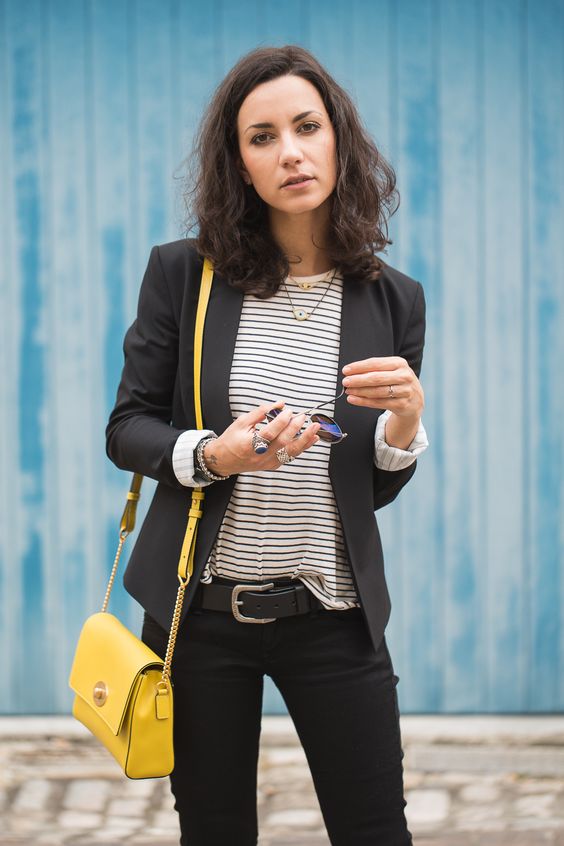 Et pourquoi pas Coline with black and a hint of yellow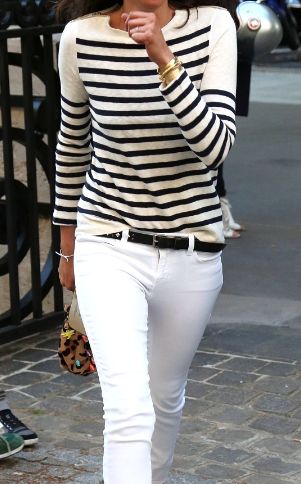 Here, note how this simple outfit is made interesting thanks to the jewels, the belt, and the funky bag. 
b/ Colors
Whether pastel or bold, warm or cold, all colors get embellished by a classic marinière.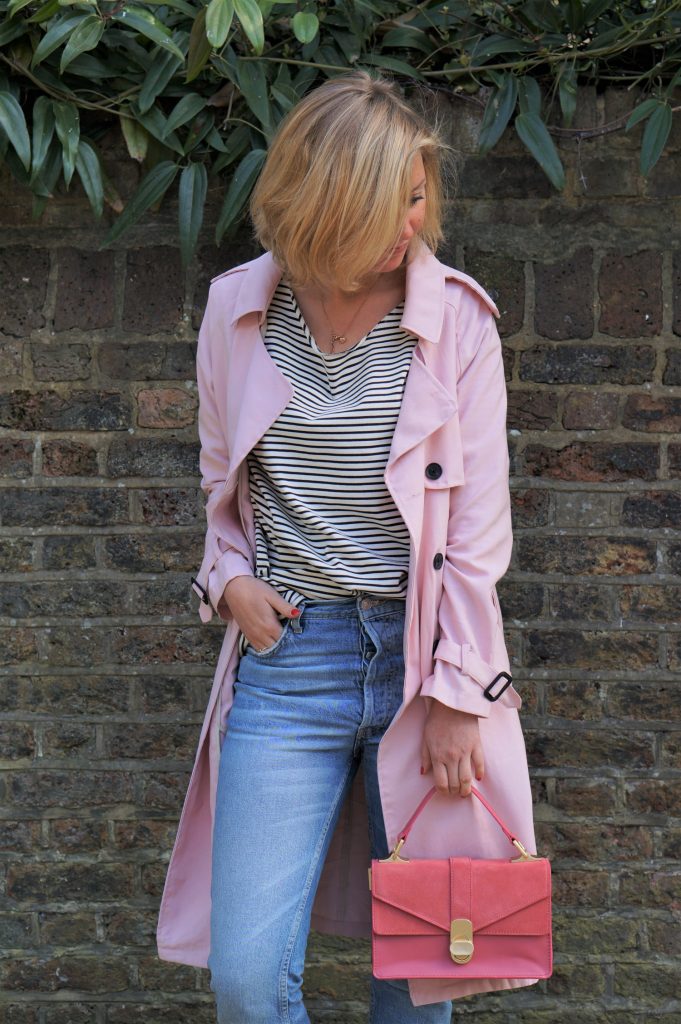 Mademoiselle Virgule making her pink look less girly with her marinière. 
5/ Jewels
The secret to make basics look designer is accessorizing!
Good news, necklace look great on stripes.
So do other jewels next to them.
Sophisticated, arty, ethnic, boho… all styles suit la marinière.
And to quote Inès de la Fressange: "wear your diamonds on your marinière rather than on your night gown" (because we all have diamonds as best friends, don't we?)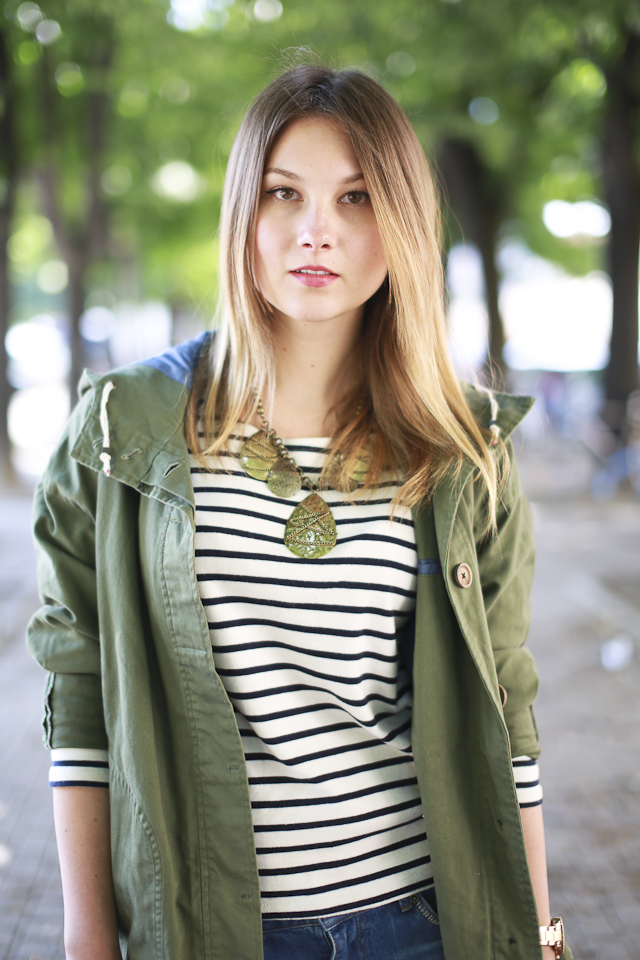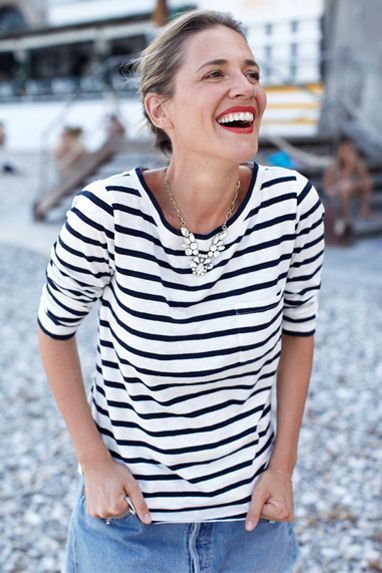 Sort of diamonds
6/ Prints
Graphic prints such as black and white stripes go with almost every other.
a/ Floral, natural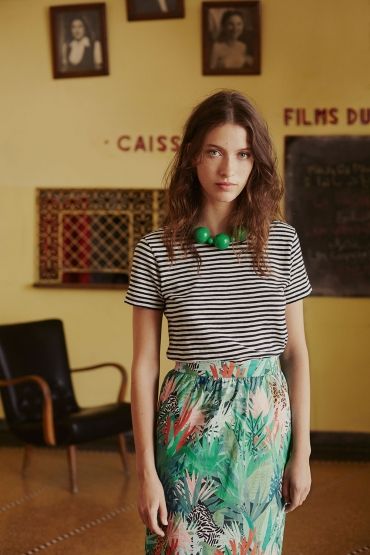 As seen at des petits hauts
b/ Leopard
When low key meets provoking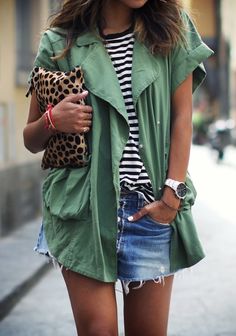 c/ Tartan
Posh prints just love family meetings.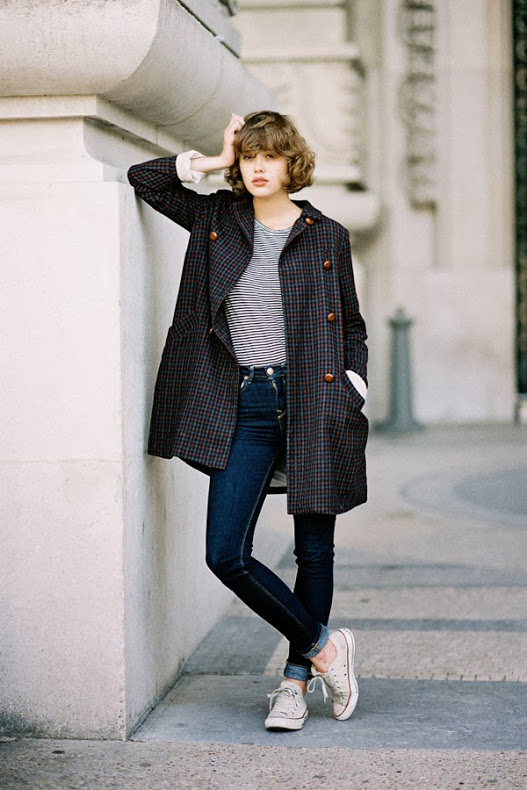 d/ Dots
So fresh, so quirky.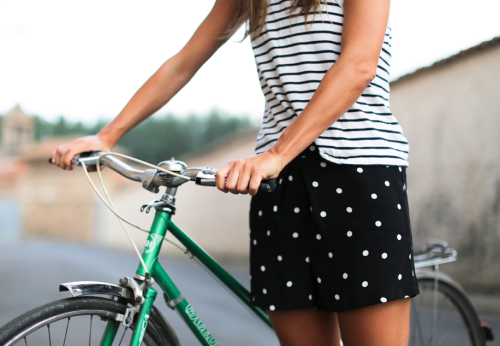 e/ Vertical stripes
Pay attention to use different width of stripes.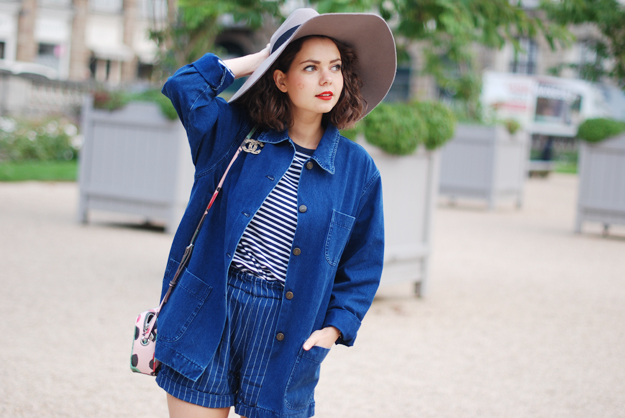 The lovely Juliette Kitsch
7/ Accessories
A colored bag, a beautiful scarf, a crazy pair of shoes, eccentric glasses… when you start with a basic, go crazy!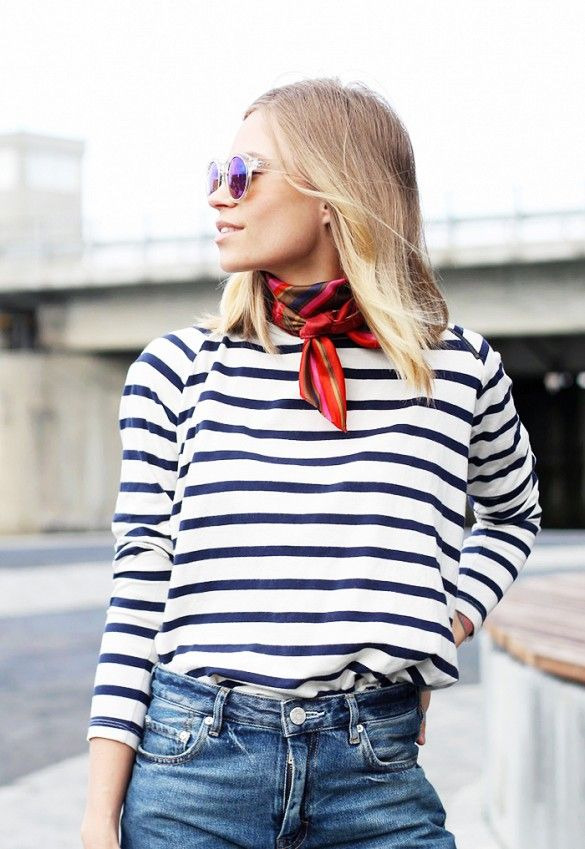 8/ Mini skirt and everything sexy
When well behaved meets flirty.
You could also layer a lace thin top over a thin marinière.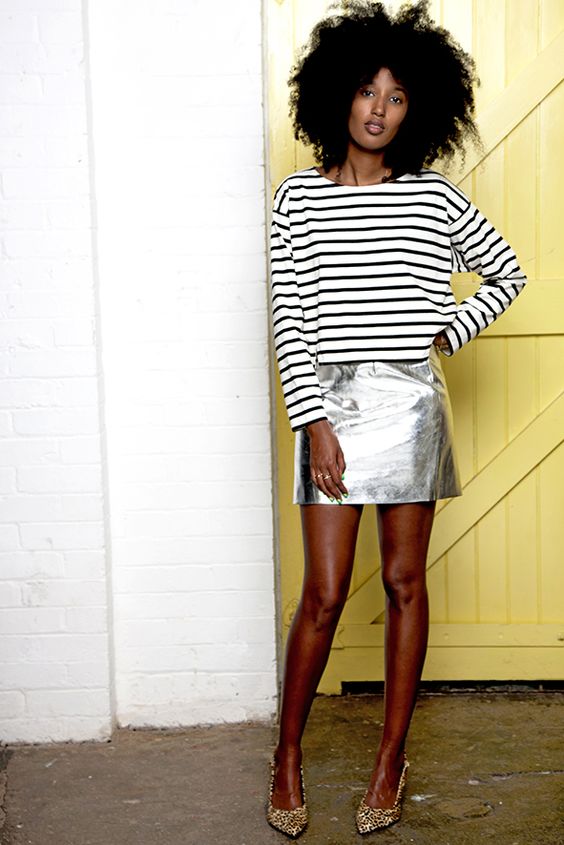 The gorgeous Julia Sarr
And if your crave for mariniere is big, you can own more than one. Why not buy a designer version?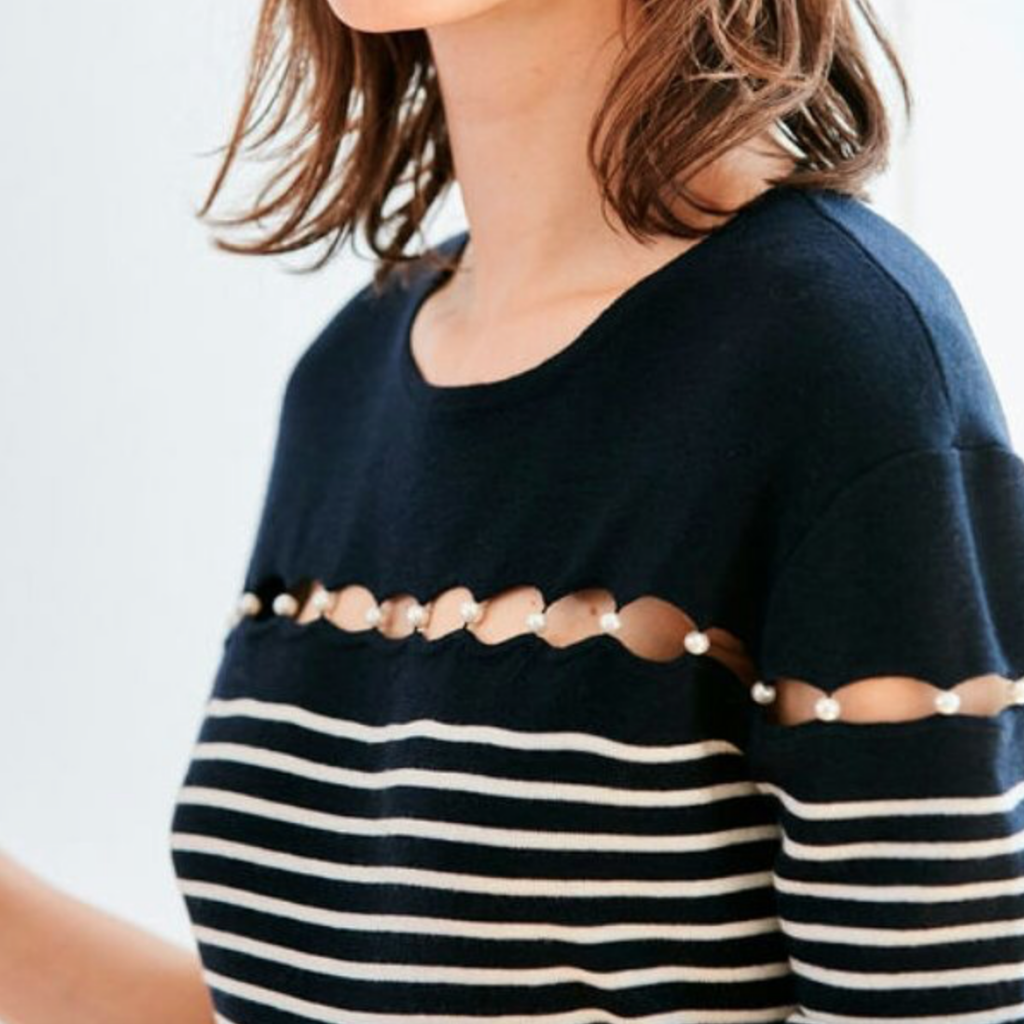 Like this cute pearly interpretation from Claudie Pierlot. 
(hey, junkies, got more marinière fix over there).
My selection:
I let Charlotte wave you au revoir!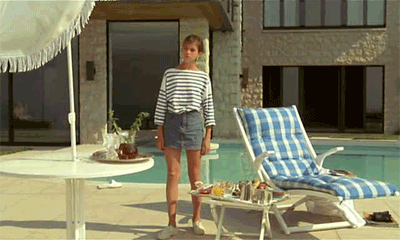 Cover collage: Juliette Kitsch, unknown