Are stylish socks a thing?
Most days, the choice of the socks is like "let's seee, what is left in my socks drawer?" "Ooooooh, a pair of hello kitty socks/black socks-with-a-little-hole-on-the-heel /grey and beige mismatched socks, but doesn't matter it no one will notice won't they?"
Indeed, if the socks remains well hidden in your shoes no one will notice except:
– your yoga classmates… but they won't judge cause they probably do the same
– your boyfriend… but he'll probably will focuss on some other parts of your body
I said "if the socks are well hidden", cause sometimes you thinks they are when you are standing in front of your mirror. But, the minute you sit, bam, your Nike socks show in between your beautiful pants and shoes. A true outfit killer.
Therefore some opt for the safe solution and buy only black quality socks. That is an option. If you consider there are no such thing as stylish socks.
If you have been looking at the fashion shows, on magazine and even in the street, you know socks are the peak of the style thoses days.
Yes, yes, but isn't this trend just for crazy fashionistas who parade during fashion week hoping to catch the attention of a street style photographer?
I think everyone can use this trend!
First stylish socks have been a thing since a long time in men fashion. Our former prime minister François Fillon, who dresses in a conventional way as his job requires, is famous for making a fashion statement by wearing red socks!
Now, in Paris, the trend is exploding for both men and women and you find very pretty socks in you corner Monoprix shop.
So here are my tips on how to make stylish socks your thing.
I. How to show your socks
1. Show the socks between your 7/8 pants and your shoes
The 7/8 pants  have been a huge trend since two years but often my clients regret that they make the ankle freeze.
Socks are the perfect way to cover that area while keeping it thin.
You can go for a masculine look with a twist: loafers, derbies and brogues paired with feminine socks like lurex, sheer or even just lightweight ones. Btw, the lurex is the biggest trend right now.
Lady Moriarty and Tokyo Banhbao, rocking the former premier ministre style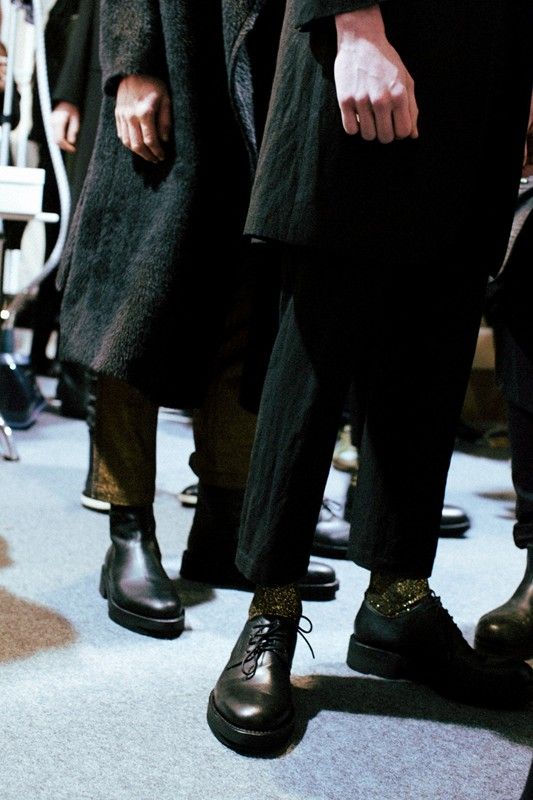 Ann Demelemeester Fall 14 menswear. Lurex socks.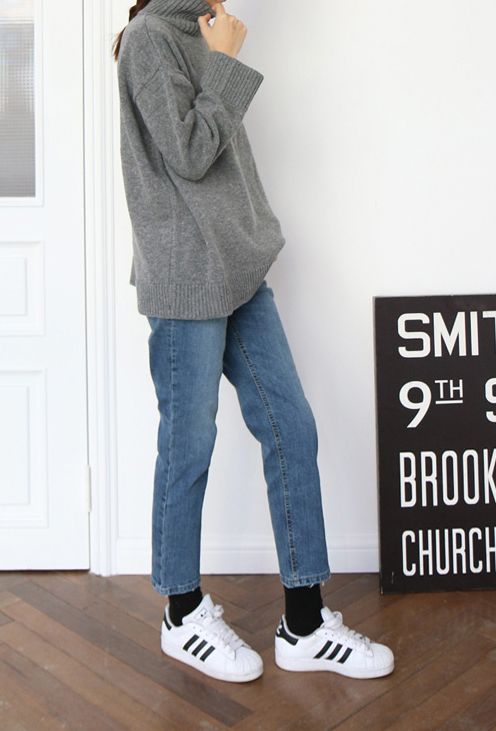 Unknown. Lightweight simple black socks with the hits of the moment: Adidas superstar and Levis 501.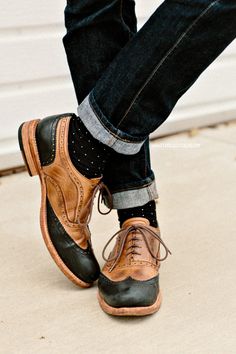 The mix can be achieved with pumps as seen at Saint Laurent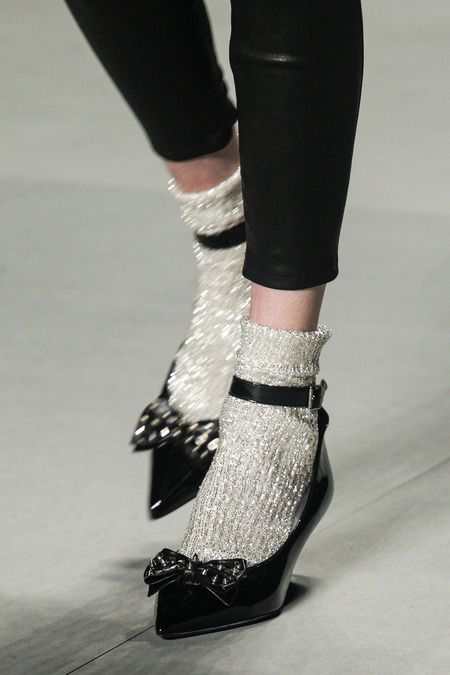 Saint Laurent
You could also do that with ankle boots or sandals.
2. Show the socks with a skirt
Any skirt lenght would be nice.
Though beware not to look frumpy if you choose the midi lenght.
I recommend to use ankle socks or over the knee socks but, even though some very daring fashionistas who would try everything do it, I do not recommend you to wear mid calf socks with skirts. Looks mumsy.
You can wear those with bare legs for mid season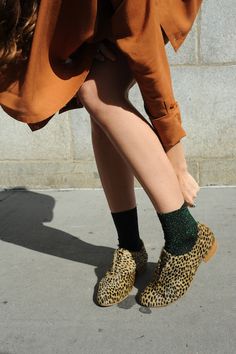 Les prairies de Paris
And over tights when it is colder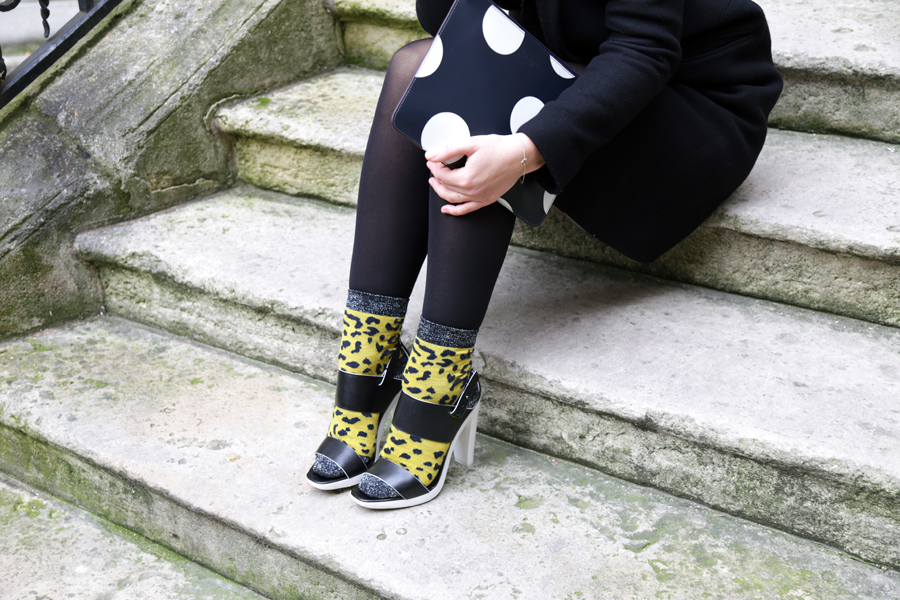 For black on black, choose sheer tights so that you can actually see the socks.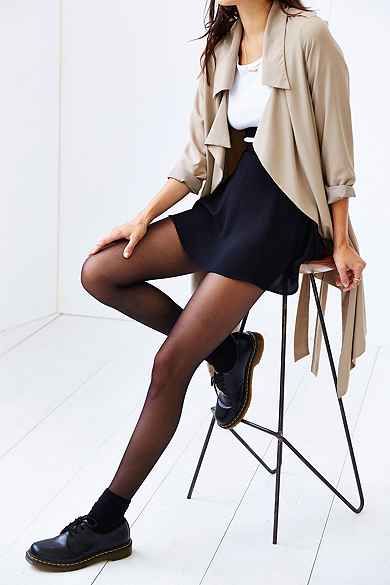 Urban outfitters.
Just a glimpse above ankle boots.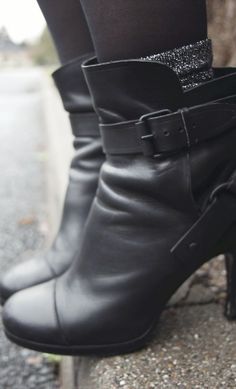 Et pourquoi pas Coline.
Wear chunky socks and frown them over your doc martens or combat boots for a cool casual look.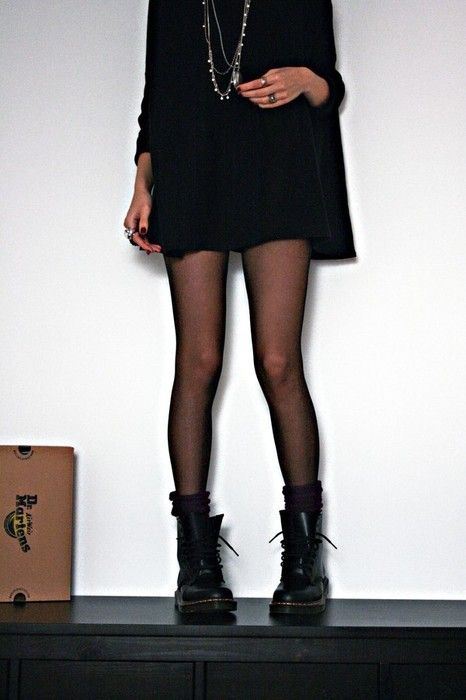 Unknown
They could be chunky shiny also.
You could wear them with flats (derbies, brogues, loafers, creepers), with ankle boots, with high boots (use over the knee boots), with pumps or with sandals.
II. What socks should I choose?
1. Silk/ lightweight socks
To show how thin your ankle is. They could be very simple and not be noticed, but always think to choose thin socks if you show the ankle.
Even though he was stylish, I do not think the Michael Jackson is flattering.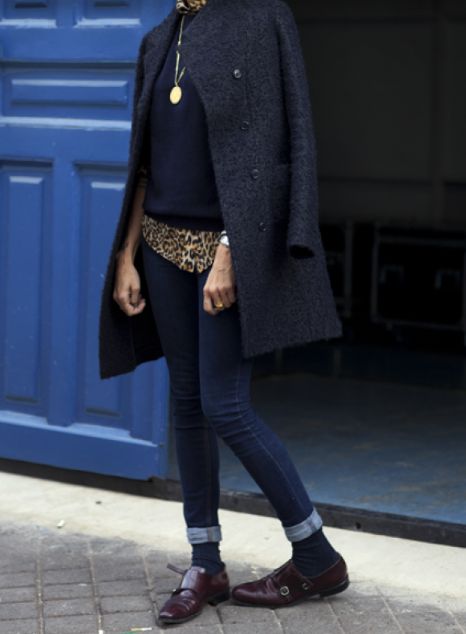 2. Sparkly socks/ metallic socks anything that shines
They shall be lightweight too.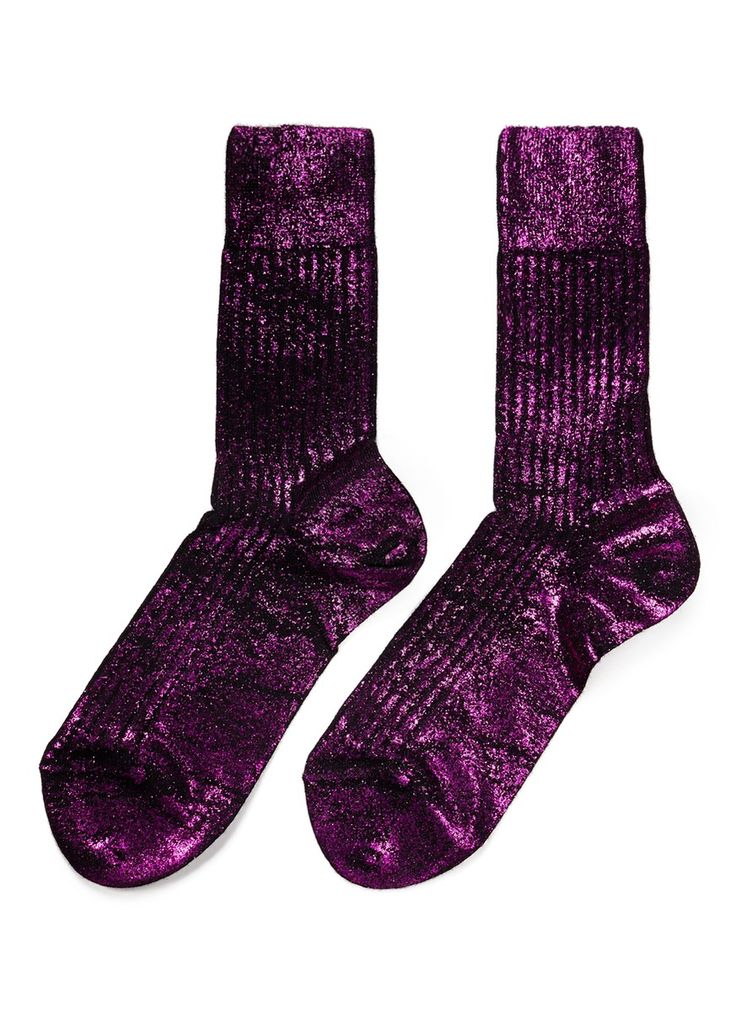 Ann Demeulemeester shiny socks
They often include lurex in the components.
You can choose them plain or printed.
I recommend avoiding the sequins socks trend. Too chunky.
3. Sheer socks
Super feminine. Not very warm.
Works on bare legs only. With flats, pumps or sandals. Skirts or pants.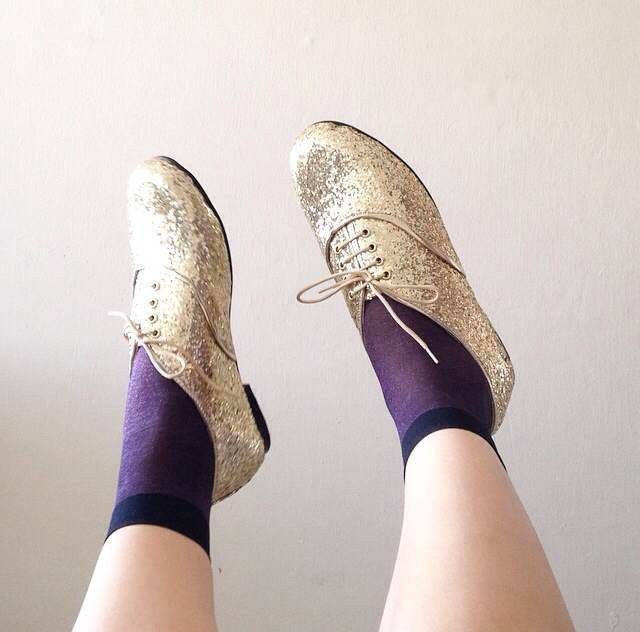 Golden ponies
4. Printed socks
That are lighweight of course. And they can be shiny too!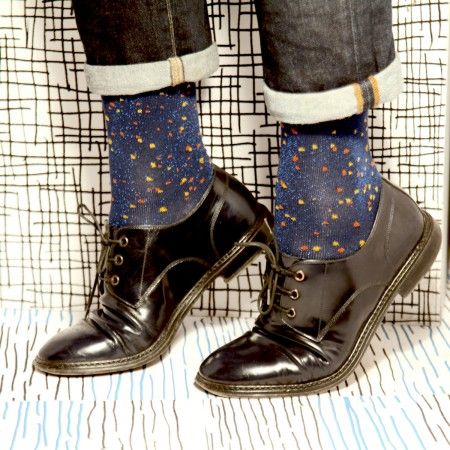 Badelaine
5. Chunky socks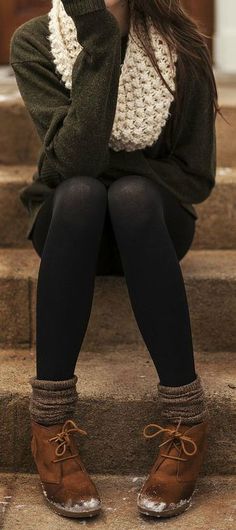 Only if the shoe covers your ankle.
More casual than the lightweight delicate socks.
There was some fashion hysteria about sport socks last year. But. Let's be honest. Erm. No.
And, you? Do you use you socks as a fashion statement or you just don't care?
Cover collage: Unknown, Lady Moriarty in Paris