How to wear scarves
Back on my series of "updated basic tips" now is… the scarf!
In the midst of a pandemic, let's try not to catch a cold on top of this, shall we?
And while we are talking covid, I suggest you buy yourself a series of black cloth masks. There are plenty on Etsy for instance! Pick local sellers 🙂
They are much more stylish than their disposable counterparts, pollute less (fishes will say merci), and go with everything.
First things first, maybe you have noticed that the trend this year is… to skip the scarf and replace it with a turtleneck or even… walk outside with a clean collar and nothing on top.
Very pretty to parade outside of the shows but not suitable for real life and sensitive throats (as far as I am concerned).
But we're french here so we do not care about trends, we care about how to dress well.
Therefore, here is how to be stylish with a scarf.
I/ Winter scarves types
Since we french people love scarves so much, we came out with a variety of names to describe them.
The silk scarf (carré de soie)
The silk scarf is very chic, you may find it at Hermès where each unique design is signed by a talented designer or in more affordable stores where the designs can be super stylish as well.
There are also plenty of vintages scarfs in thrifts and online. Prices range from super cheap (honestly ! less than 5euros in some thrifts!), to quite expensive (second hand Hermès is totally worth it!).
The big sizes are preferable to keep you warm in winter.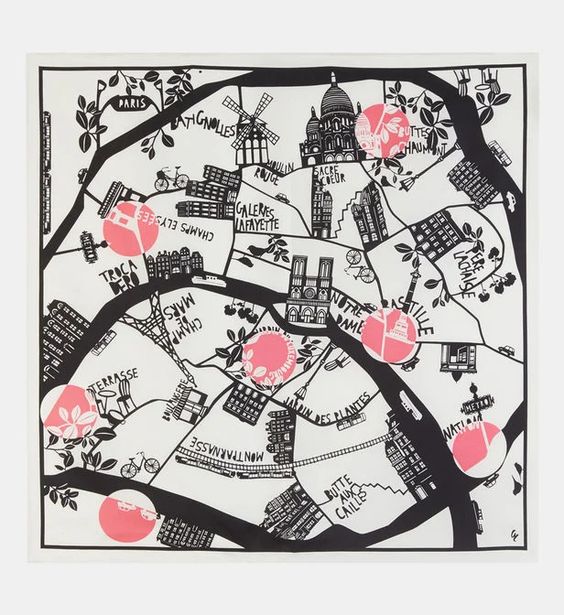 You can find this very EmilyinParisesque silk square scarf in Galeries Lafayettes
The fluid scarf is a cloth made from a warm material such as wool or cashmere. It's is woven  (and not knitted). You can also find them in lighter materials but they are not suitable for cold seasons.
It presents as a rectangle that you need to choose long and wide enough in order to style it.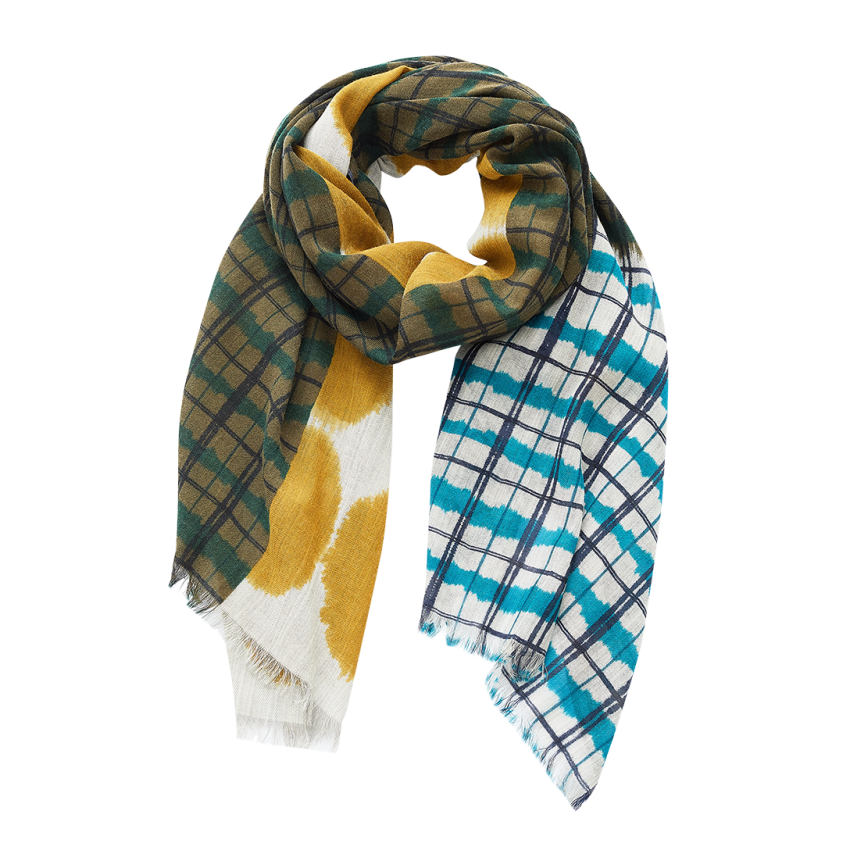 Inouitoosh has a great choice of wool fluid scarves
The wool scarf can be smooth or textured. The wool itself can differ. Cashmere is the softest (and most expensive) option.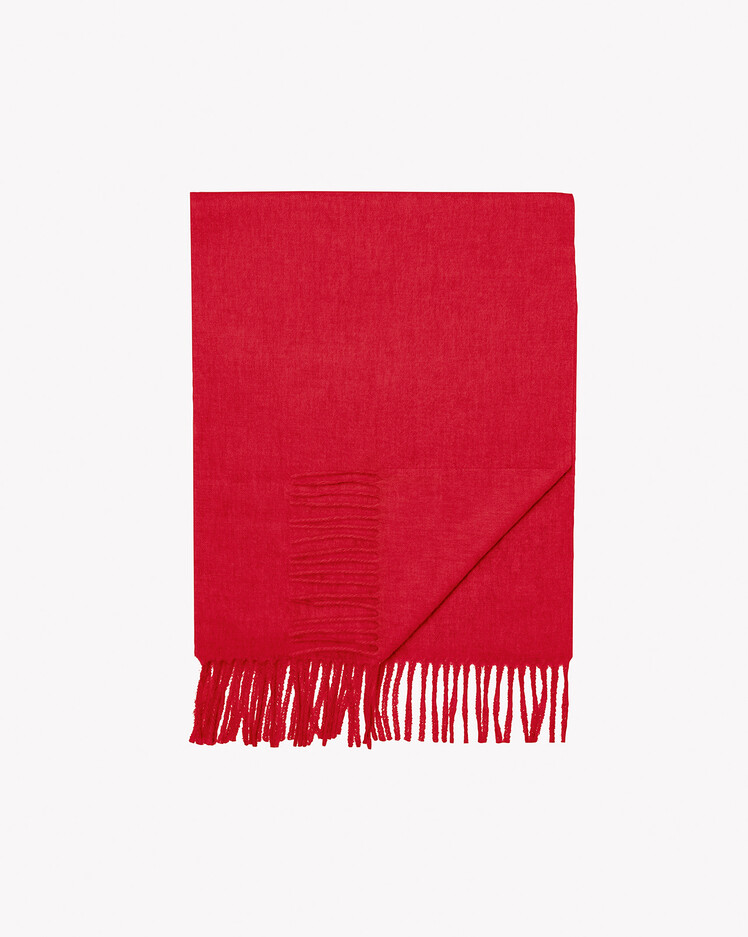 Bompard's basic cashmere scarf is super high quality, soft AND affordable
Same as above but it oversized version.
To identify it, think as a scarf that could be mistaken for a blanket (and indeed used as one).
II/ How to style a scarf?
Don't knot and let it hang.
This style is especially suited for rectangular wool scarves.
It can be asymmetrical.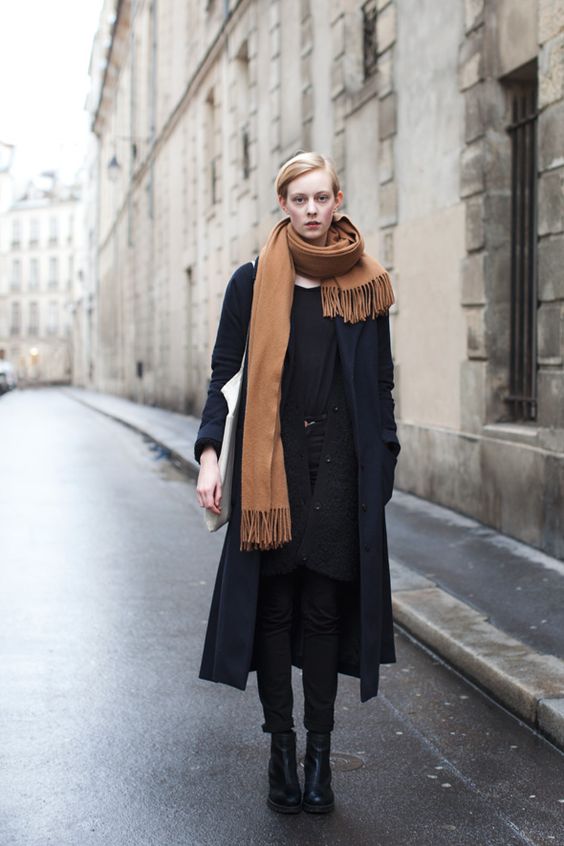 With the two ends in the front.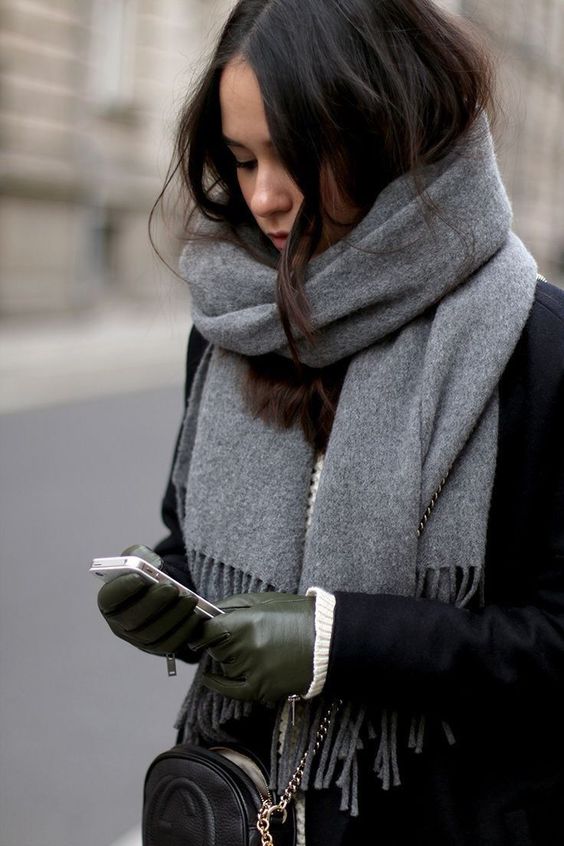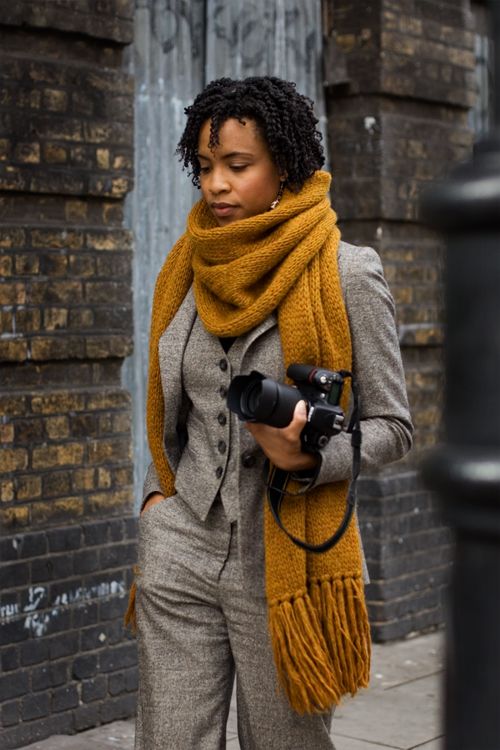 One in the front, one in the back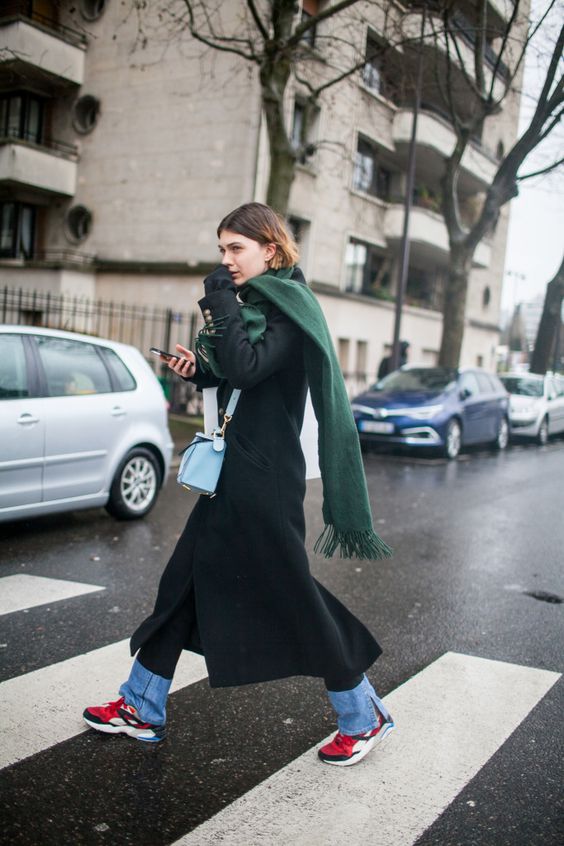 Roll your scarf and knot underneath to bring the ends together in the center.
Works with a medium wool scarf and a fluid scarf alike.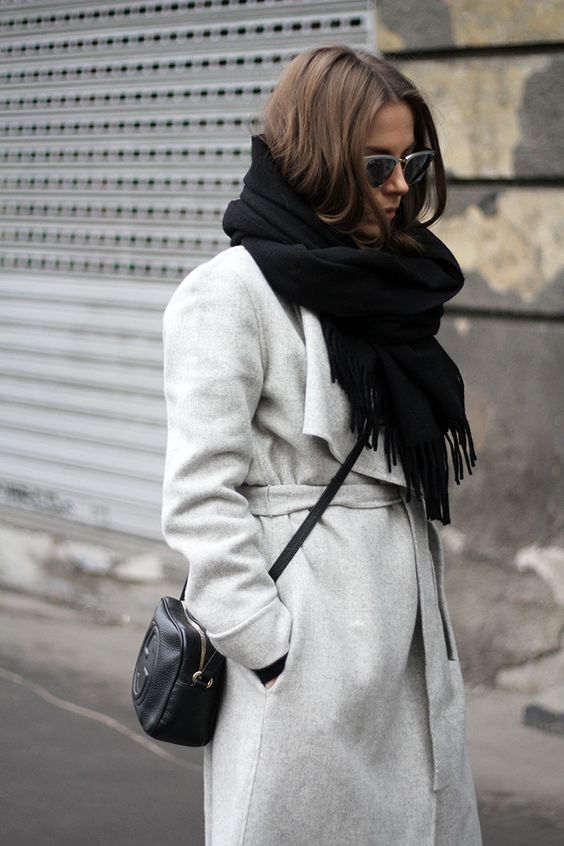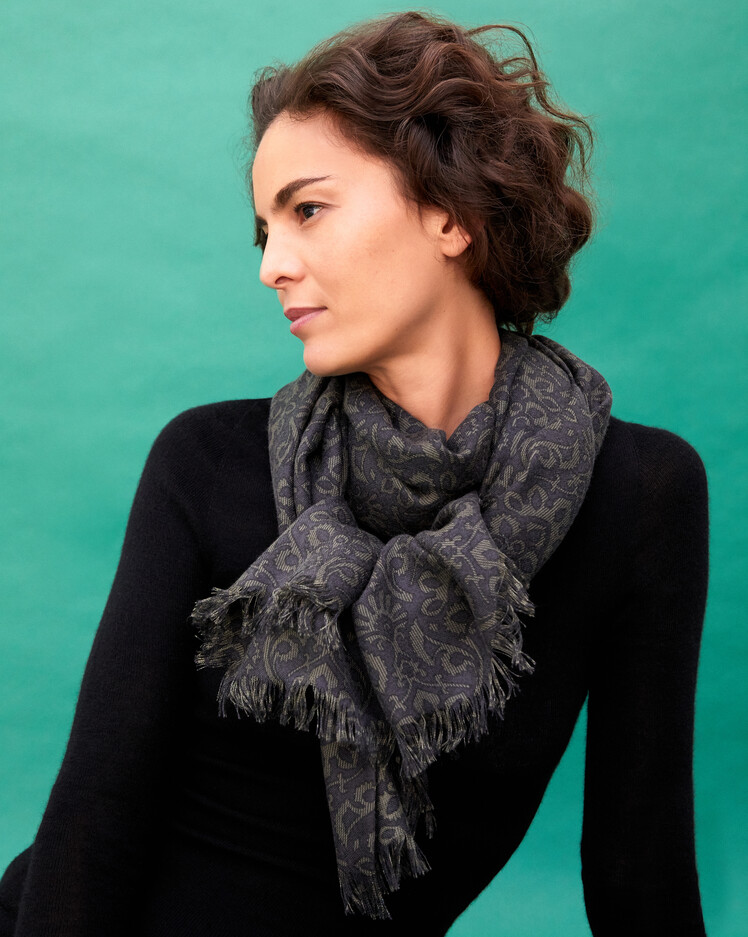 The knot can be messy and asymmetrical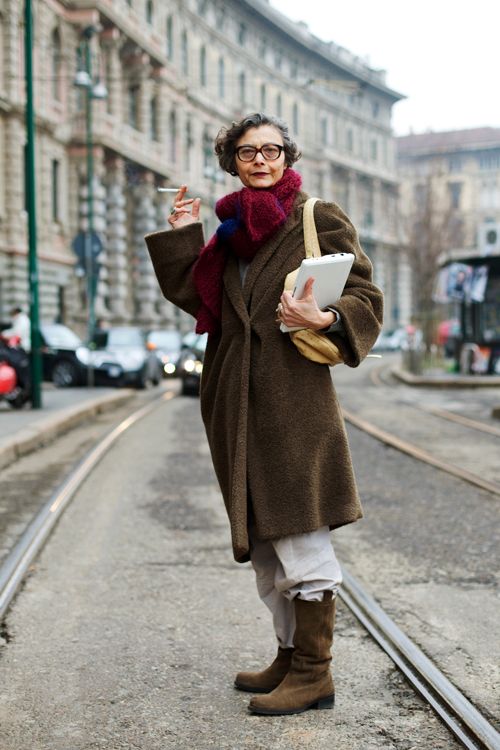 The sartorialist
With a silk square scarf, you will get a more refined look.
Fold the square in a triangle, set the angle in front, roll the hems in the back before folding them in the front.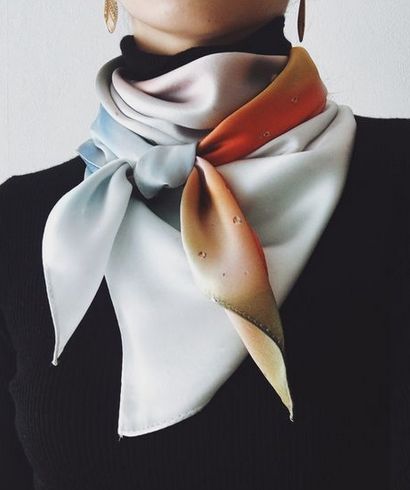 When I say "front" it does not have to be precisely in front.
You can also fold the obtained triangle in a "line". Then roll it around your neck before finishing with a front knot.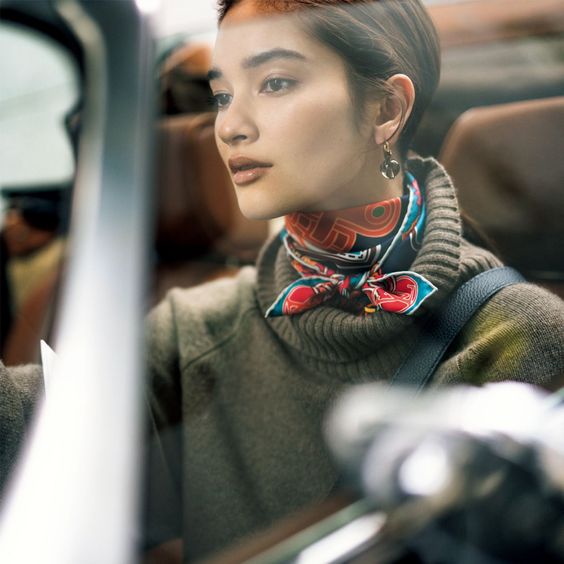 A perfect twist to the front knot, the side knot is best achieved on fluid scarves.
No matter how big said scarf is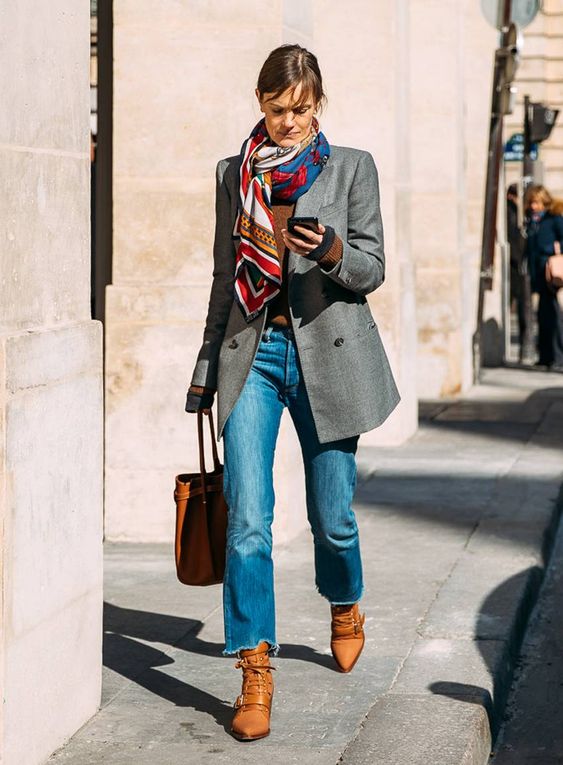 Jo Ellison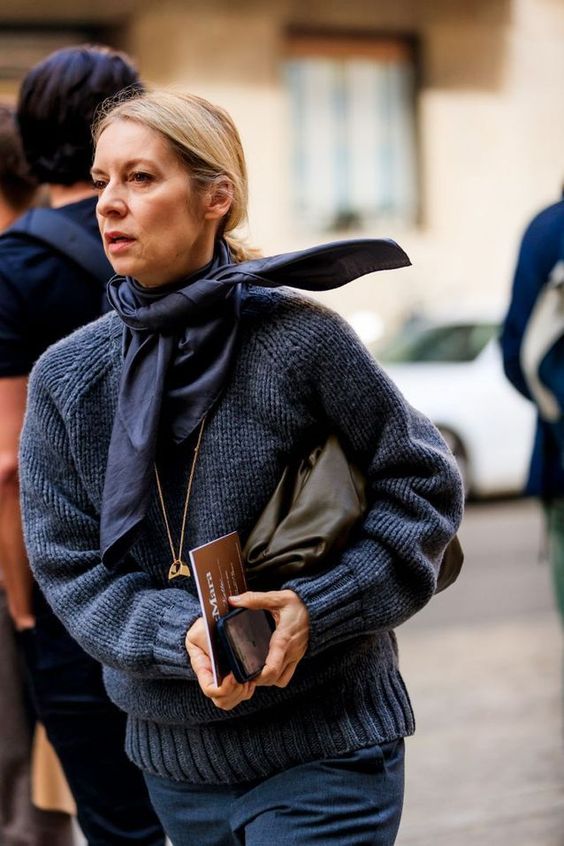 The scarf can be placed in a "line" before being knotted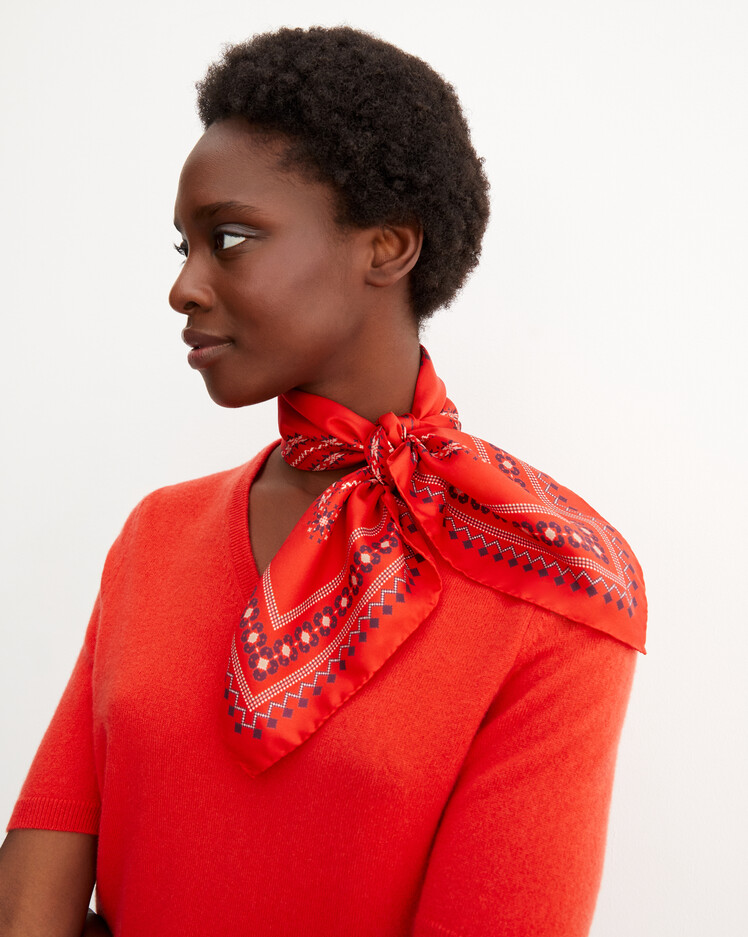 Eric Bompard
Or you can keep the triangular shape and knot on top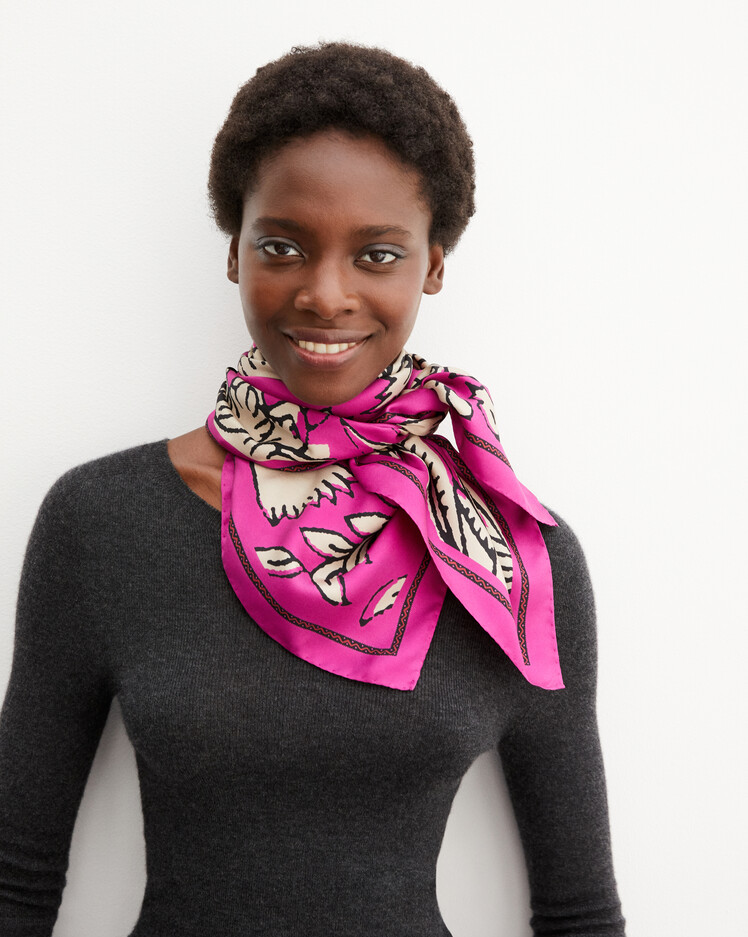 Eric Bompard
It's may sound like the boring style of basic people… but think of it as a sartorial style instead.
Create a U shape with your scarf and slip both ends into the hole to obtain a clean style.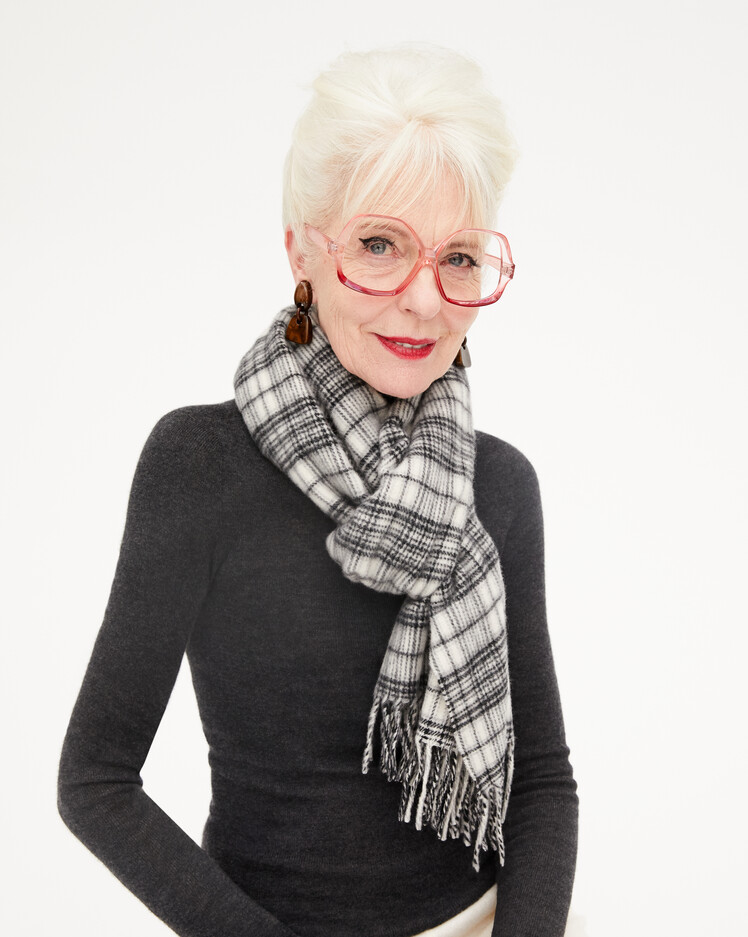 Eric Bompard
Doesn't look uptight with a fluid scarf.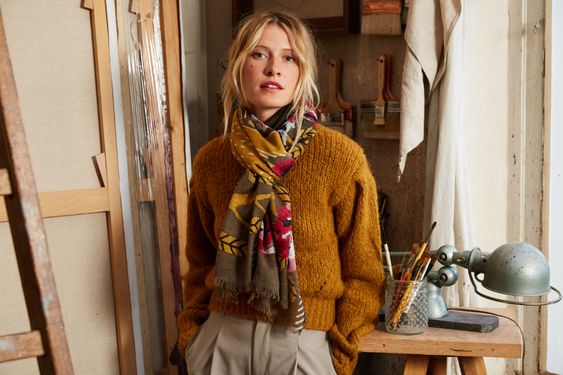 You can even make it look "messy" by leaving the end unruly.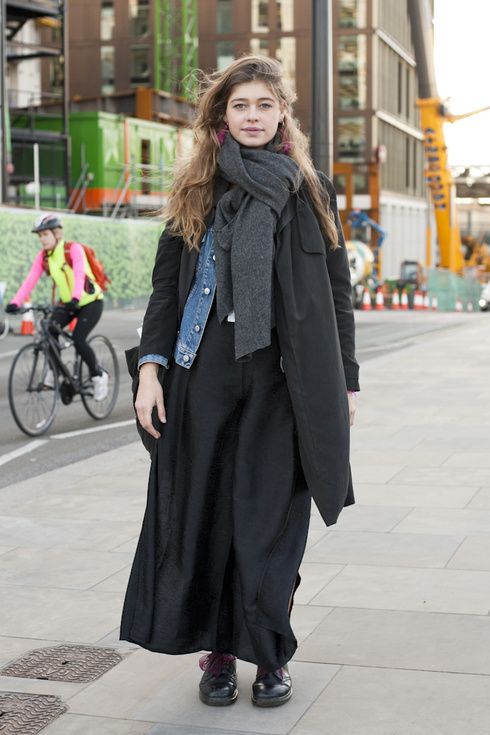 Clearly a style you can use when there's no need to cover your neck.
Perfect if you are getting warmer or… well if the scarf is just there for style!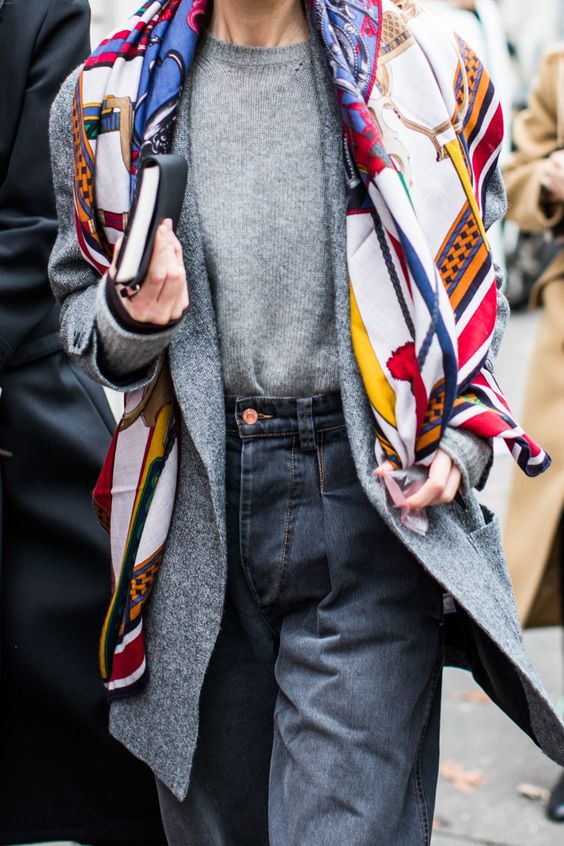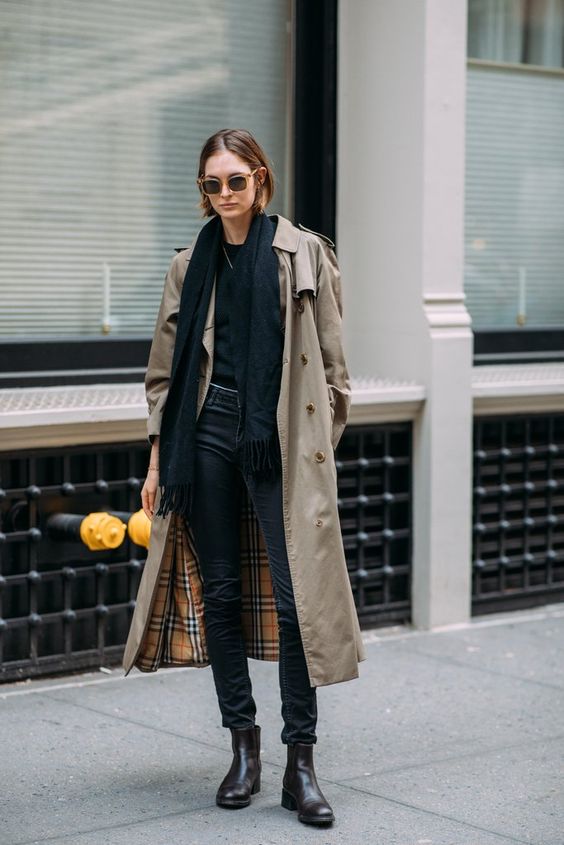 That said with a blanket scarf you can get a warm outfit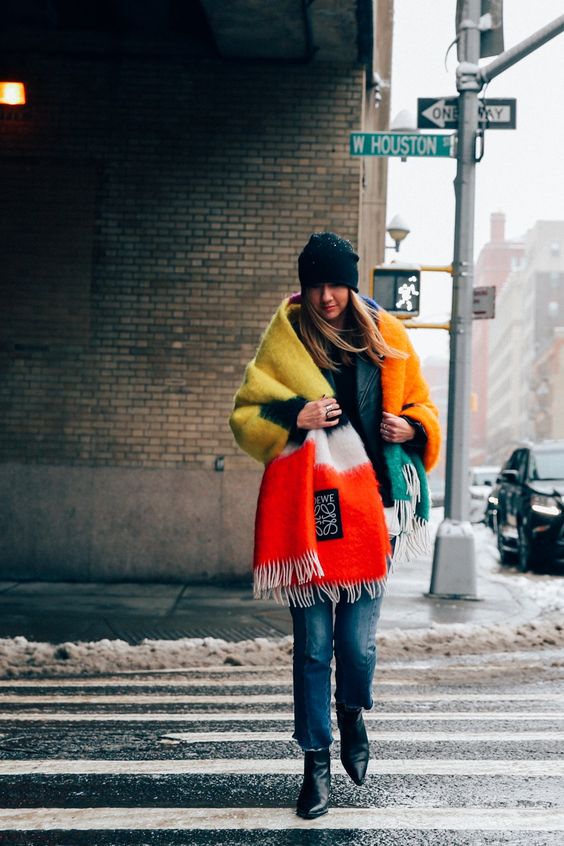 III/ Which scarf color for which outfit? 
The type of scarf is to be chosen according to the weather and style you want to give to the outfit (big knits are casual, silk and cashmere are refined).
For the color, you have two main options: blend in or contrast.
Well three, since the contrast can be bold or discreet.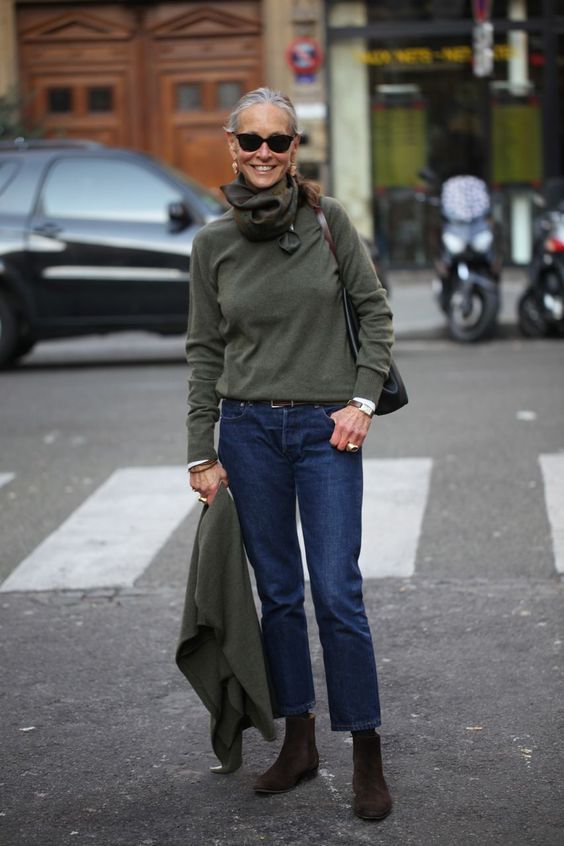 Linda V Wright with a silk scarf that matches her sweater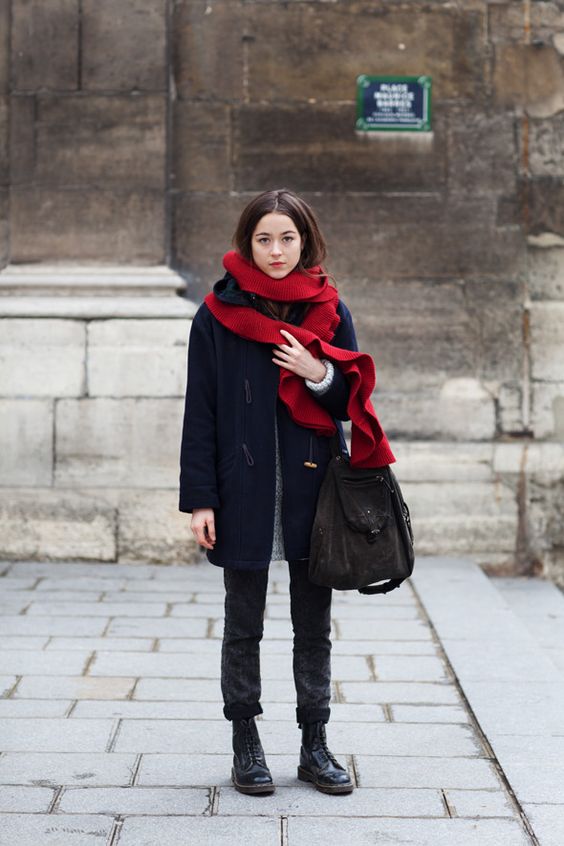 A strong contrast with this pop of red on a dark outfit spotted by the Sartorialist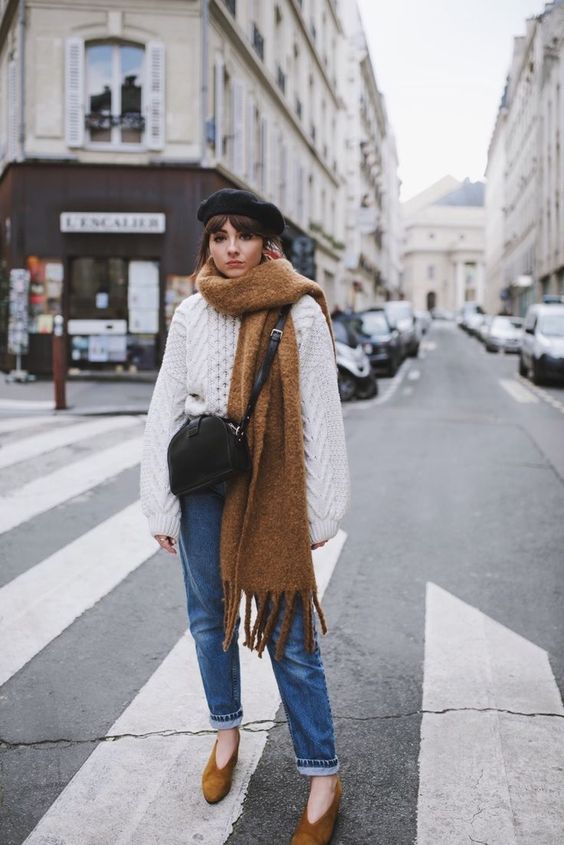 A soft contrast with a coffee colored scarf on a cream colored jumper on Alice Catherine
Voilà! Ready to scarf yourself for winter? Tell me about how you wear scarves in the comments! I am curious 🙂
For a complete guide on how to wear all wardrobe staple, get my book "Dress like a Parisian" and to improve the sustainability of your wardrobe while keeping your style fun, get my second book "Why french women wear vintage (and other secrets of sustainable style)".
Bises de Paris,
Aloïs