How to wear red at Christmas time without looking like Santa
I am talking Santa's red. It's Christmas. C'est Noël!
I know I already wrote an article about how to master bright red last year, but here it is how to wear it for a festive event such as Christmas eve.
Without looking like you just robbed Santa's Clauset.
1/With black
Classic and safe. Typically red to lighten up an all black outfit. As in red pumps with black jumpsuit.
Or black to soften a fierce red dress
You are no Christmas canapé so avoid horizontal layering: a layer of red shoes, a layer of black tights, a layer of red skirt, a layer of black top.
Prefer putting a base with something on top like red shoes and red pants topped with a black top.
2/ With a hint of gold
Red with a hint of gold… or gold with a hint of red rather than fifty fifty that may make you ressemble the Christmas tree.
3/ With silver
Less "Christmas magic" than the former, silver is easier to use with broader portions of red.
4/ With ultraviolet
Because it's Pantone of the year, festive and unexpected.
I recommend getting one as a main and the other as an accent in order to spare the retinas of other guests.
5/ With schocking pink
Those neighbour colors are super close and you can mix them in the proportions you fancy.
6/ With burgundy
Because we love camaieu.
7/ As monochrome
Not the good choice if you do not want to be the focus of all attentions.
8/ Not with green
Neither with white.
Because…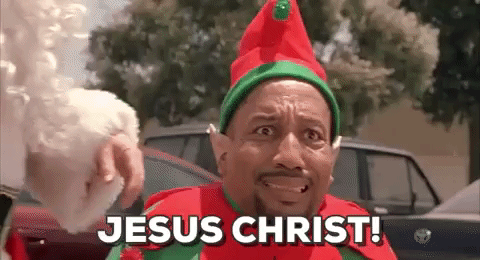 Hope to have inspired you! And ladies, I remind you that it is still time to offer a distance styling to your love ones, I'll send you a scanned personalized gift card that you will just have to print, 
Joyeux Noël!