How to wear a (faux) fur coat?
Hello les chatons,
I personally recommend to go for faux only. Faux fur are now absolutely gorgeous and can even create effects that could not exist with real fur. How cool is that? Some look just as precious as real ones. I saw a wonderful one at Vanessa Bruno. It looked like a pearly grey silky cloud…
Regarding real fur. I say no to fur pompoms on beanies or bags decorations. They are really useless. If you do not live in a country where it is freezing cold, then you also probably do not need a real fur coat at all. If you live in a super cold country and you want to buy fur to keep you warm (but there are also synthetic options for this purpose), remember that fur is meant for a lifetime. It would be a shame to buy a fur coat and toss it the season after… It is also possible that your grandma donated you a cool fur coat or that you already bought one. Since it is here anyway, figuring out what to do with it can be useful.
Now let's see how to be stylish!
1. What kind? 
Long hair, short hair, curly hair, they are super diverse and cool in a different manner.
And with faux fur, you can even have incredible effects and colors that will make you look like you belong to a virtual fashionable specie.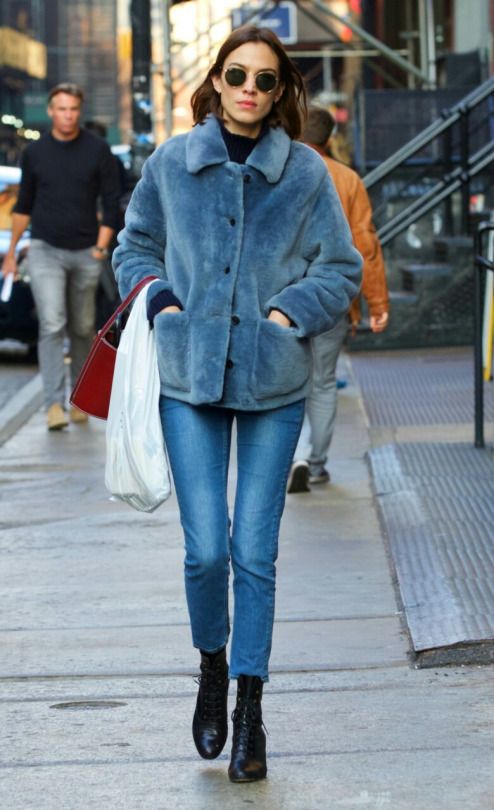 Alexa Chung sporting a blue teddy-bear coat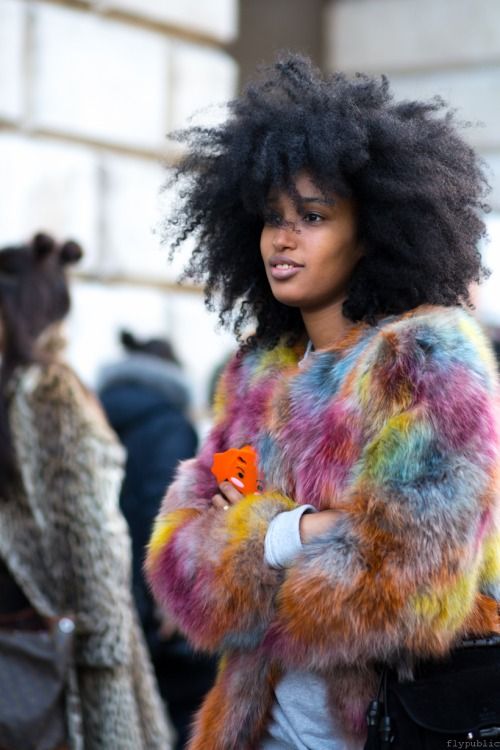 Julia Sarr-Jamois wearing Sullivan's fur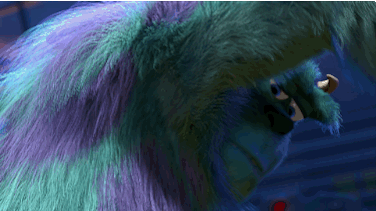 When you buy faux fur, avoid the ones that look polyester shiny. You know, like a cheap wig. They are quite tacky.
Want personalized style advices? Reach me for distance styling or personal shopping!
 2. What length for the coat?
The shorter fur coats look funky, the mid length ones look classy, the long ones look super dramatic (personally I do not like those).
Choose yours according to your style.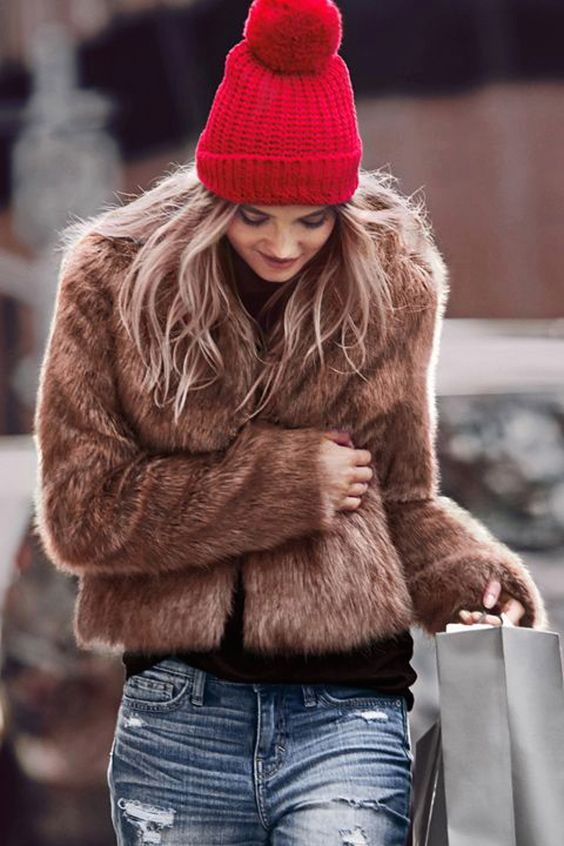 The beanie of this (so american looking) girl from the Abercrombie lookbook makes her short coat even more cool.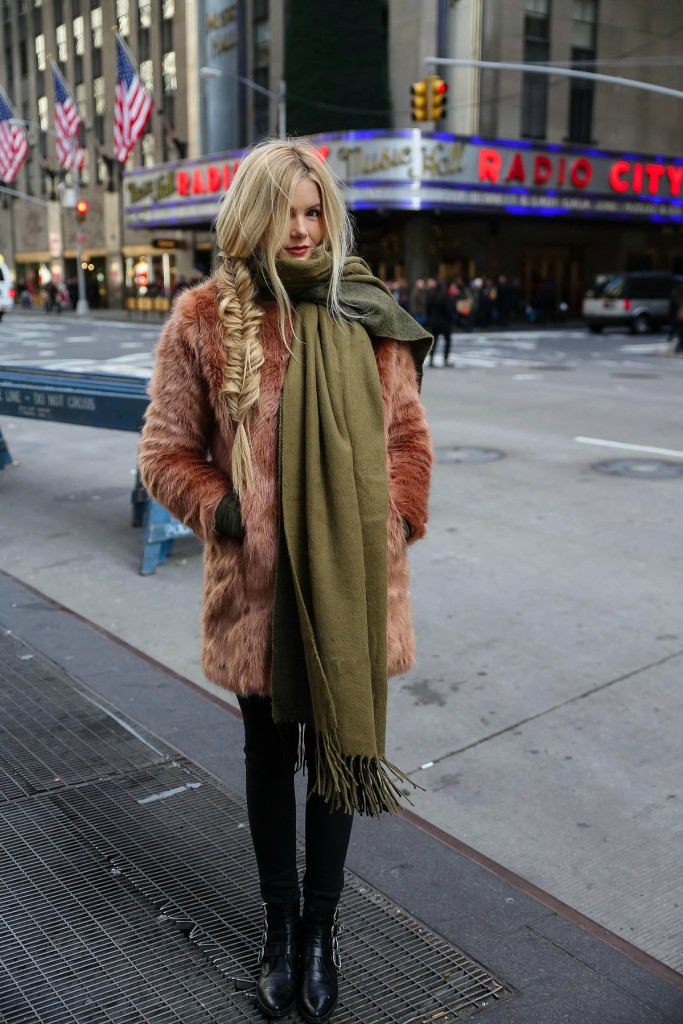 The barefoot blond with a très chic style starring a mid-length coat. Loving the color mix!
3. To scarf or not to scarf? 
Searching for the entry "fur coat", about 90% of the pics you'll find will not feature any scarf.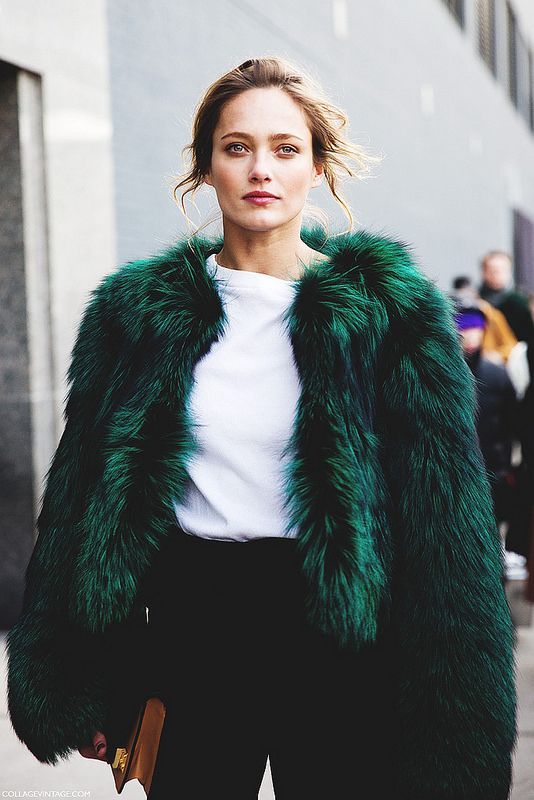 Karmen Pedaru by collage vintage
I must admit that the "I am almost naked under my fur coat effect" is quite stylish.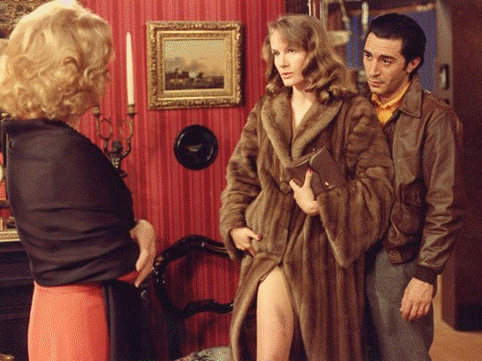 French actress Dominique Sanda, really naked under her coat in Une chambre en ville by Demy.
Problem: if you are wearing fur, it probably means you are cold. If you are cold, you probably want to cover you neck. So a scarf would come in handy.
But what scarf?
For me, the texture of it shall look "rich". I recommend cashmeres (like in the barefoot blond pic), pashminas, silk or wool.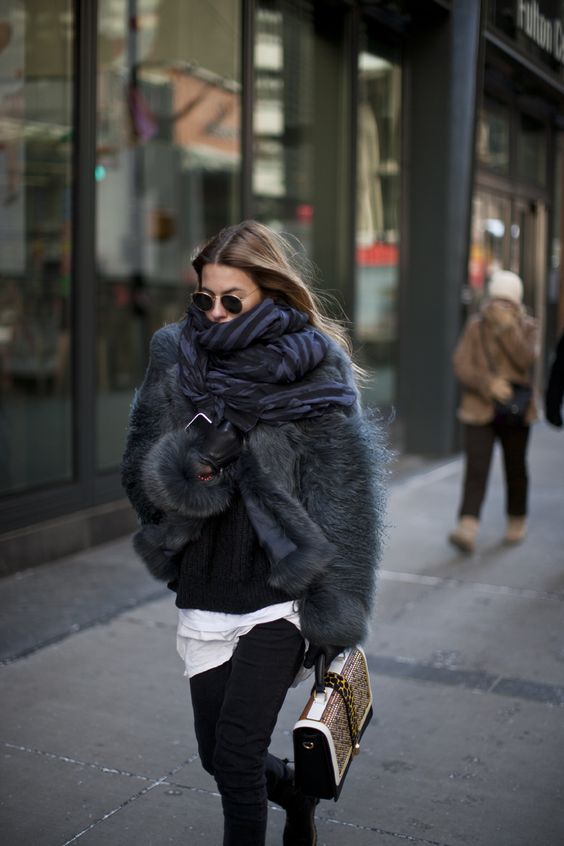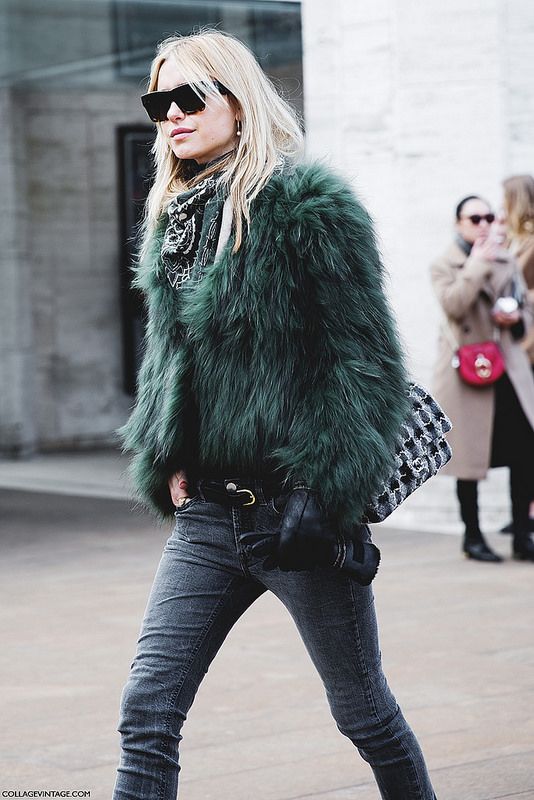 Pernille by Collage vintage
Want personalized style advices? Reach me for distance styling or personal shopping!
4. What style with it? 
A. Casual
A casual very simple style is great, making the fur coat the star of your outfit.
As most fur coat are fluffy, jeans that are skinny on the hips will look very nice to balance the silhouette.
You could pair them with some low boots, sneakers or masculine shoes.
It is also a great way to be sure not too look frumpy.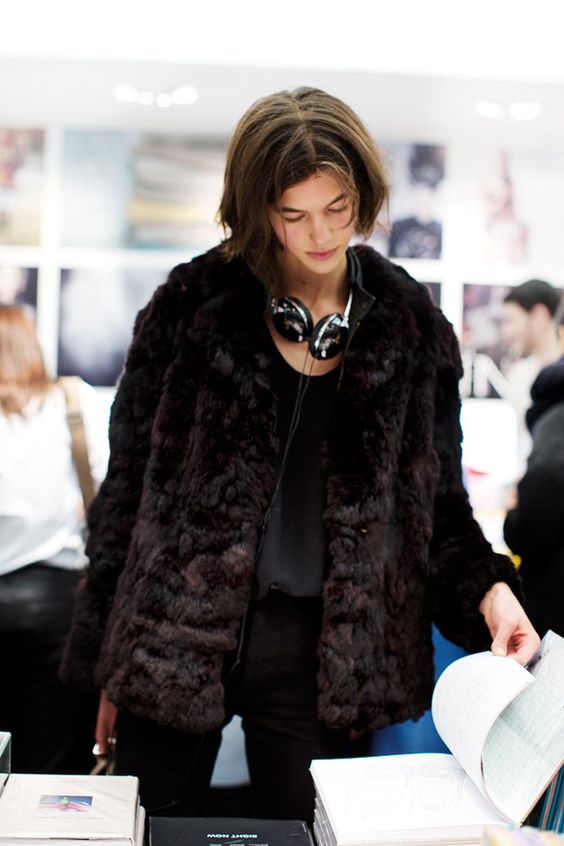 Super low key all black outfit with a fur topping. By the Sartorialist.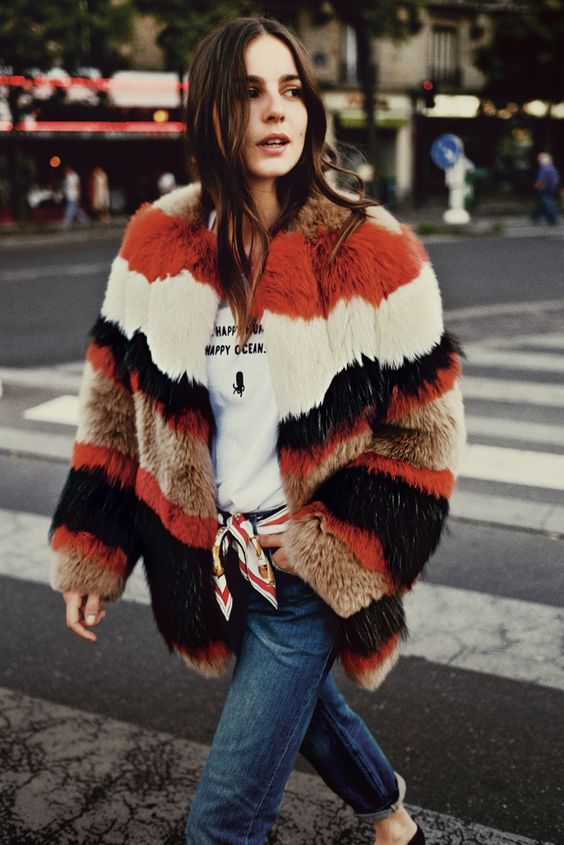 Funky accessorizing here with a printed T-shirt, a tied Hermès like scarf as belt, and loafers with rolled hem.
B. Frilly dresses
A classic. The "naked under your coat" effect again.
The lighter and the more delicate the dress, the best it works.
You are guaranteed to make quite an impression when you arrive at your party.
Pair with beautiful heels: boots, low boots, pumps or sandals.
C. Preppy
The preppy style can be tried. It balances the frilliness of the fur.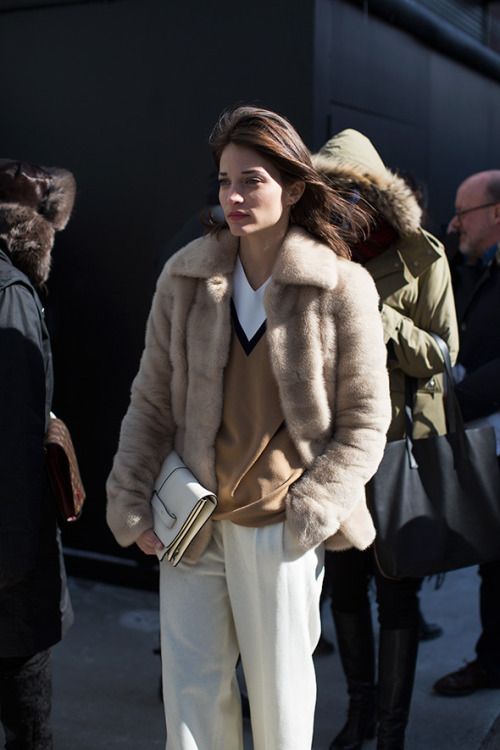 D. Tomboy
Same for the tomboy style.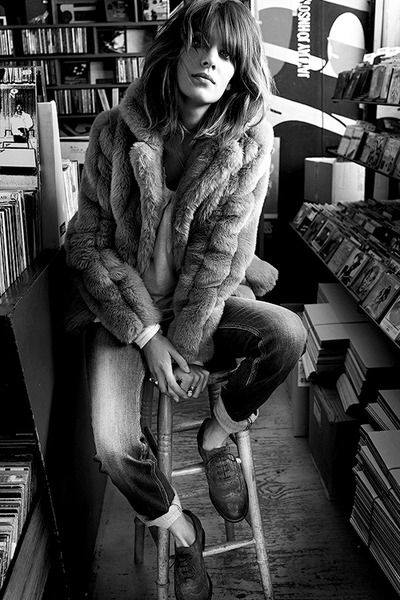 Pepe jeans
Voilà! Have fun with faux-furs!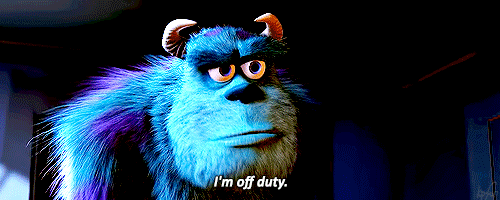 Cover collage: Unknown, The Haute Pursuit