How to wear flare trousers?
Even when the flare is supposed to be making a comeback, we never see that much in the streets.
Therefore it is sometimes hard to figure out how to wear it. Especially when we got so used to wearing skinny pants all year long.
I think you indeed have to choose the right ones for you and style them in a way that suits you in order to look great with it. Not as easy as with skinny pants.
But when you manage to do it, it is great cause they make you stand out by looking different from the crowd.
1. How to choose your flare pants?
The flare pants are NOT "wide-legged pants", they are wide-bottom pants only.
Like the ones that used to be popular in the seventies.
Therefore their upper part shall be tighter than their bottom part.
A.  Width
The taller you are, the wider your pants can be.
Flares with super large bottoms will shorten petite girls.
My advice would be to never go over the top in terms of bottom width anyway (too large here or here).
You do not need that to be stylish.
And that is often not very practical.
B. Lenght
The flare pants tend to shorten the leg, so they look best worn full lenght, almost hitting the floor (almost! It shall not touch the floor, otherwise, they'll get ripped, wet, dirty, etc.).
Calculate the lenght according to the shoes you are gonna wear the pants with. If you cut them with flat shoes and then wear heels, you'll be looking like this, which is not stylish.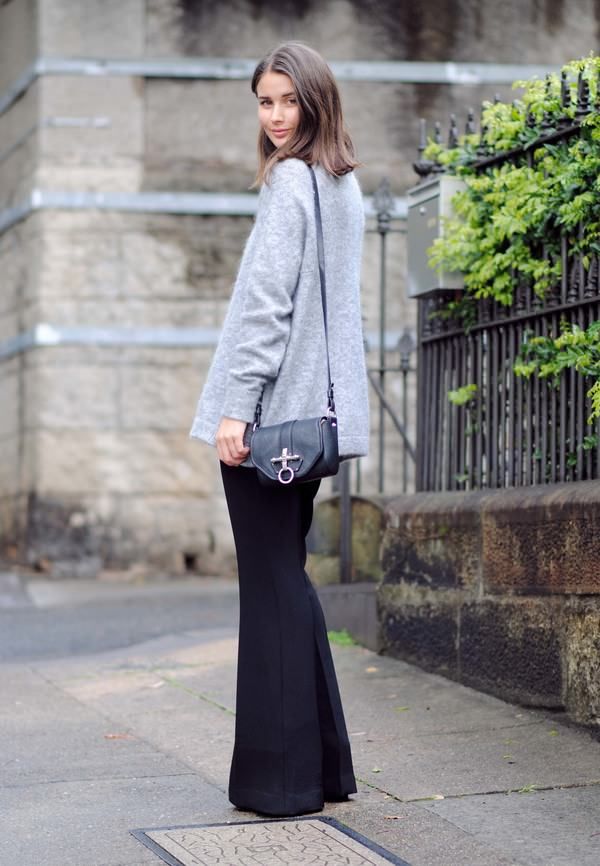 If you have short legs and a long torso or if you are just short, I advise you to wear heels under your flare pants.
Right now, there is a trend of wearing the flare 7/8 lenght.
I must say I think it will only look good if you have super long legs cause that really cuts the leg.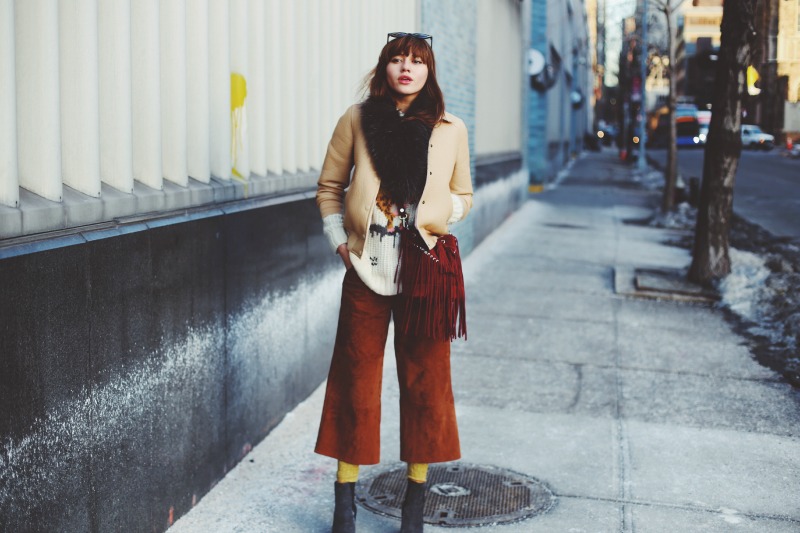 C. Waist
High or low waist are both nice looking.
Of course if you have short legs, using high waisted pants can be a good trick to lengthen them.
D. Bodytype
Flare pants look great on very different girls.
Tall and slender girls will benefit from the volume they give to the silhouette.
The broad hips from other girls will look slimmer than with skinny pants in comparison with the bottom's width.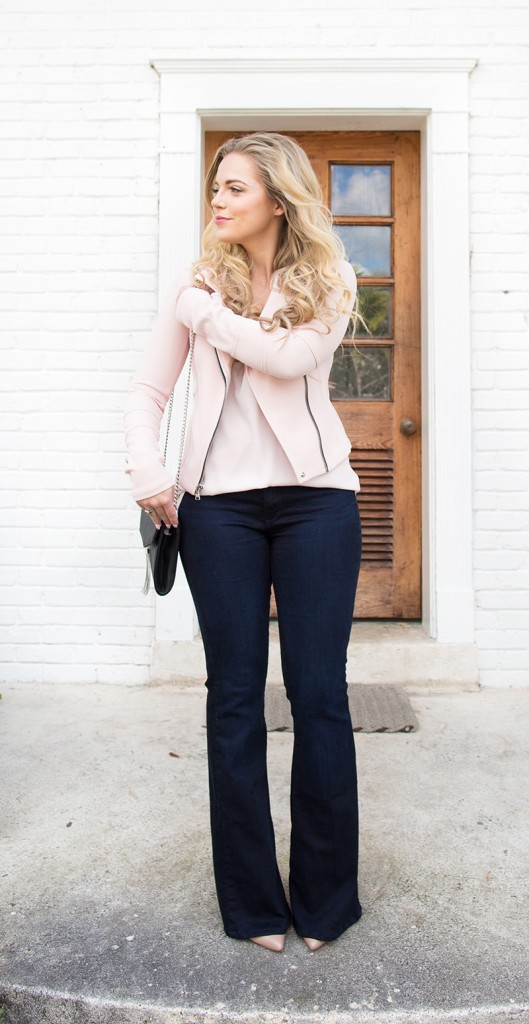 Short girls might not look their best with flare pants if they do not wear heels.
Busty girls with belly (sometimes called "apple") and narrow hips also do not look their best with flare pants that widens their slim legs and give the impression of an overall larger body.
E. Fabric, color and prints
Any fabrics, colors and prints can be cool!
The fabric shall be somehow stiff, otherwise we are talking palazzo pants.
2. How to style your flare pants?
On the contrary of wide-legged or oversize pants, flare are rather skin-tight on the top and widen only at the bottom.
Therefore both tight and loose tops look great with them.
I recommend you to stay away from stiff fabrics and square looking shapes cause they'll make you look like a rectangle.
A. With a top tucked or half tucked
Like a fluid T-shirt, a cashmere sweater, a light shirt, etc.
The tucking in of half-tucking in is recommended for ladies with flat bellies.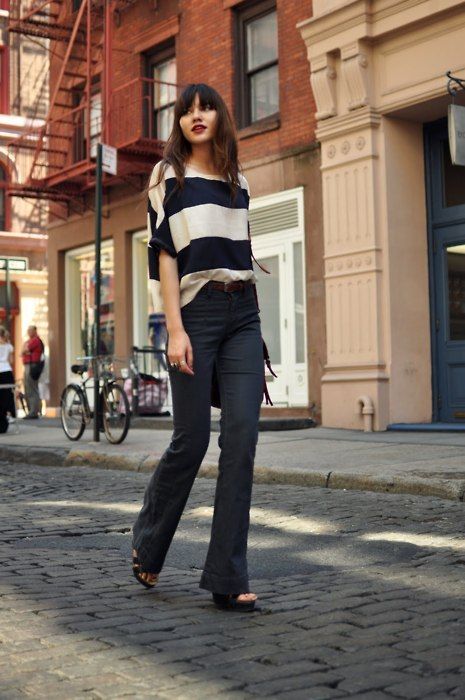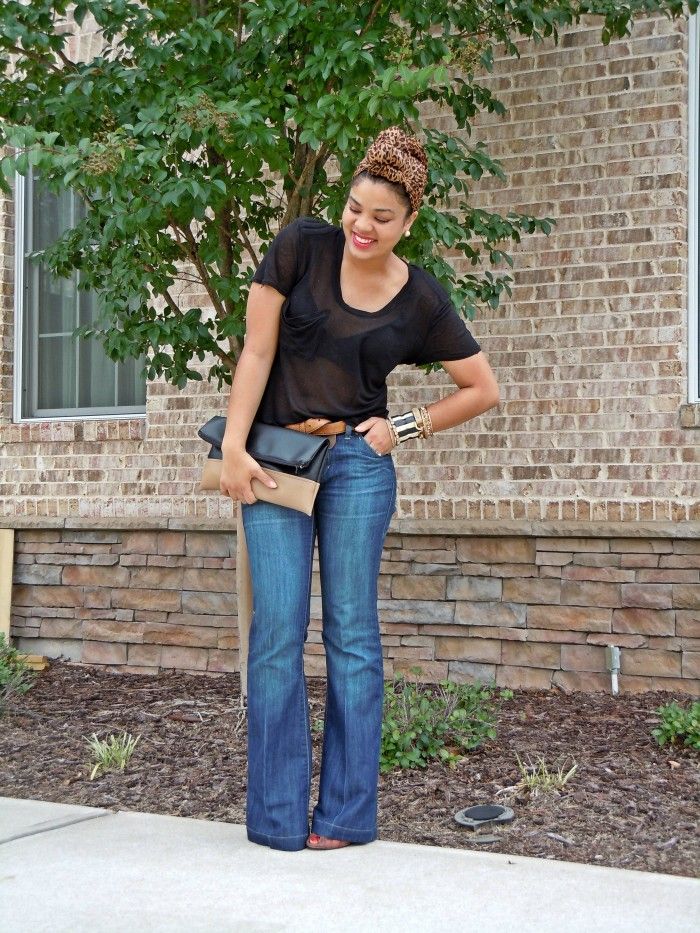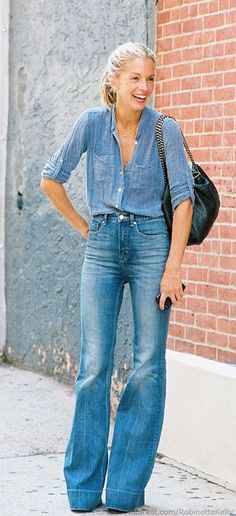 Melina Burke
Depending of the fabrics you choose it can look either casual (like the outfits above) or dressy.
Crepe silk pants with loose cashmere sweater would look sophisticated for instance.
B. With a top worn outside
If you have broad hips or wanna minimize your Kim K style bootie, wearing your top outside is the perfect choice.
For the slimming effect it shall stop right at the crotch level (but shorter can be stylish too).
Choose something fluid but not tight.
That style can suit anyone of course.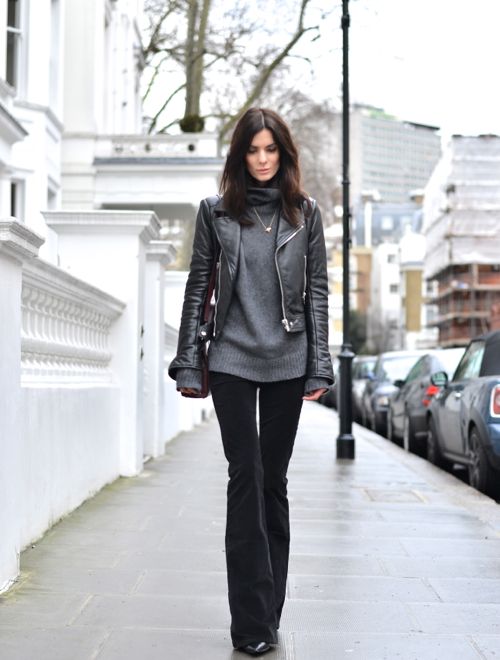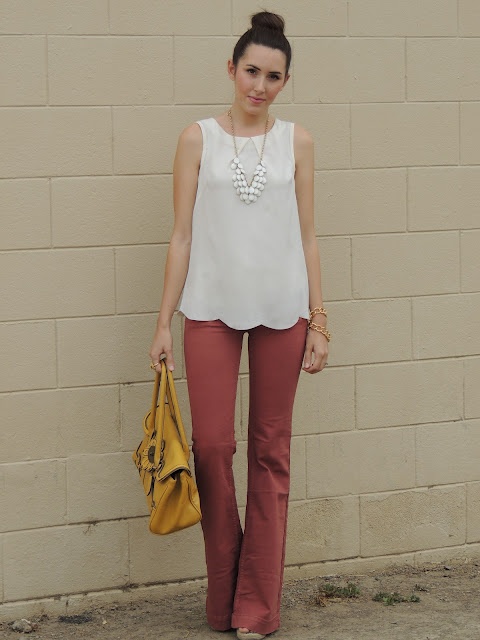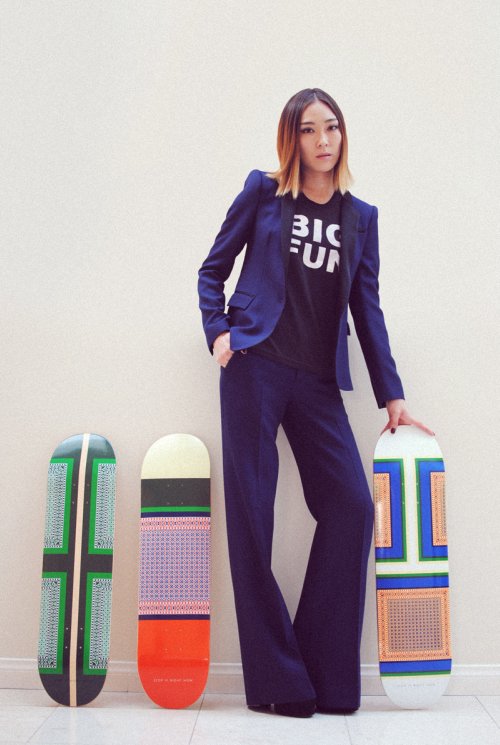 Coco+Kelley (the jacket is fluid)
This last outfits shows that flares can be nice office trousers.
D. Oversized tops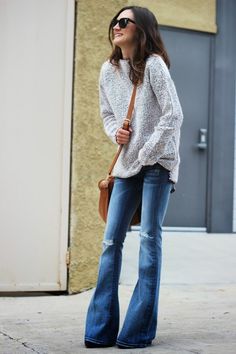 If you are tall and slim, that will make you look casual and cool for weekends.
C. With a short top
The good thing with high waisted flares is that they do not look too sexy already.
So you can add some sexyness with a top that shows a bit of your belly.
It can be either tight or wide (crop top).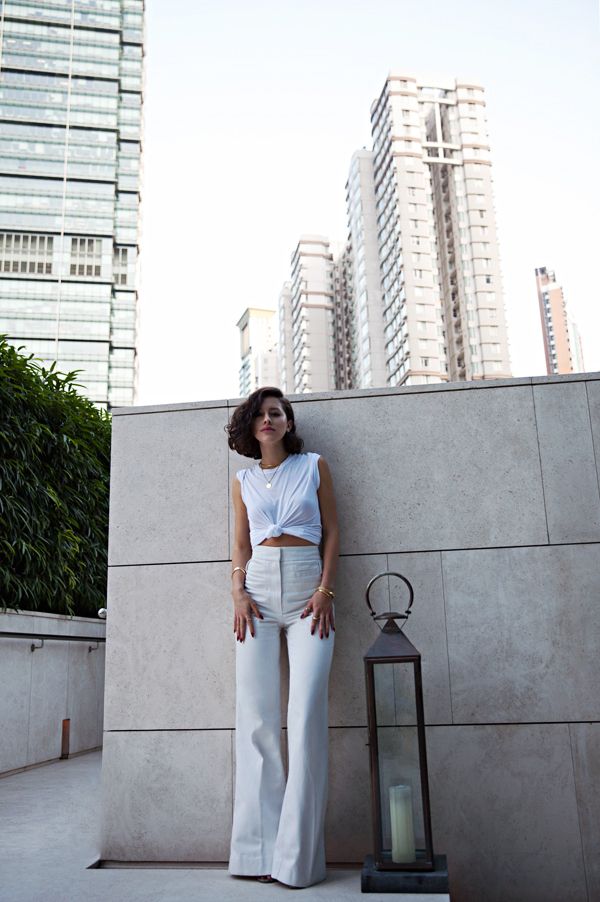 (NB: Karla has curvy hips – that I think are beautiful – so you can tell how flare pants minimize with this pic)
E. With a sexy top
As said above, the flare pants are not too sexy themselves.
So you can add something daring like a silk cami.
Perfect combo for a night out.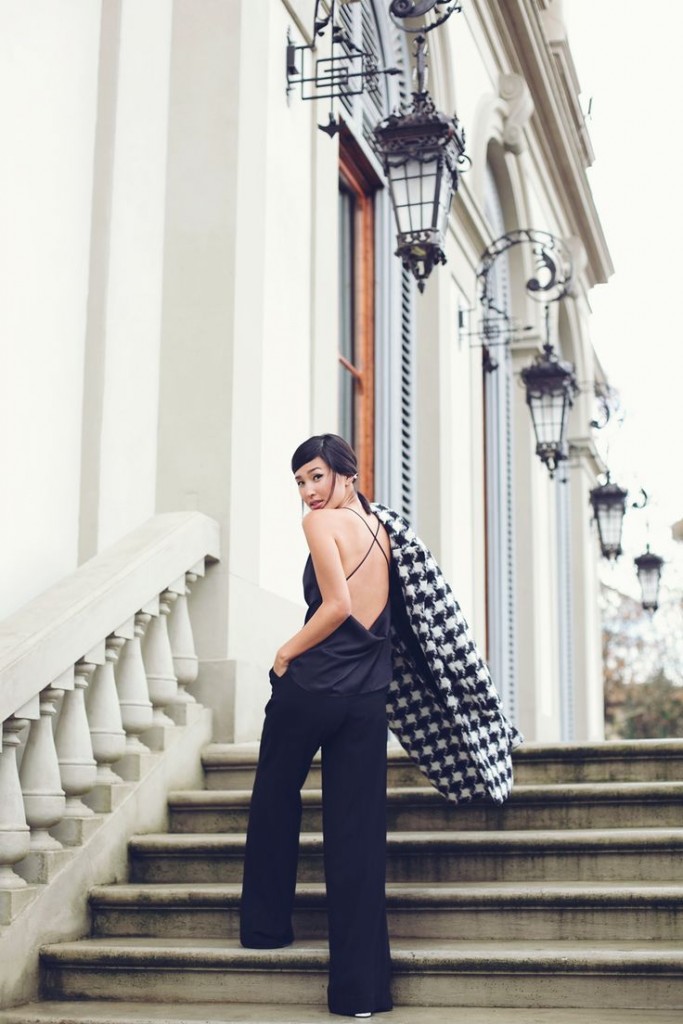 F. With tailored coats
Since wide bottoms pants, as their name implies, already have a wide bottom, I prefer to stay fitted on the upper part of the outfit.
Like with a tailored coat that falls straight.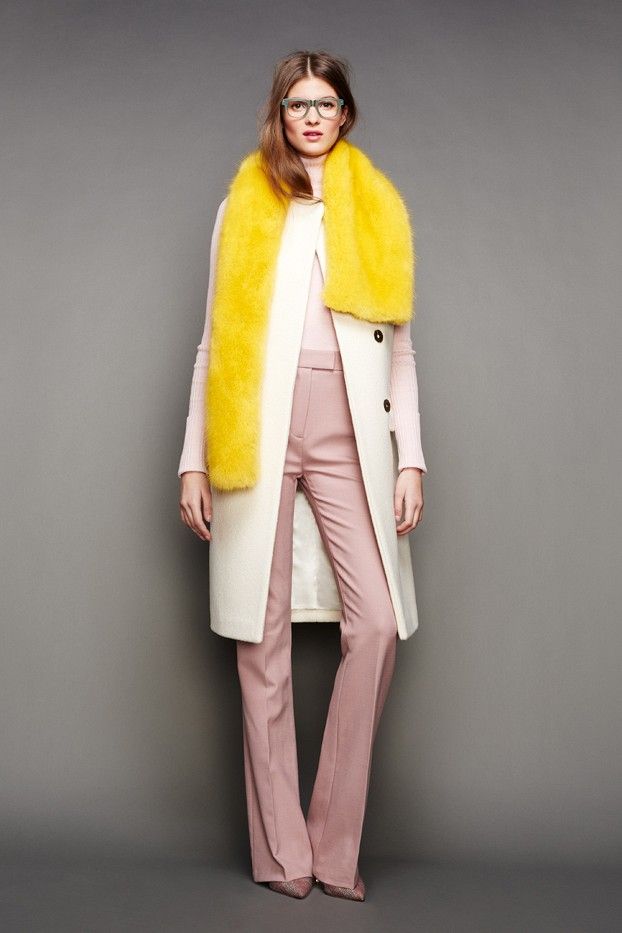 J.Crew FW 2015
Hope now you have ideas about what flares to pick and how to wear them!
And you? Do you wear flare trousers?
Cover collage: Vicky violet on chictopia, Taylor Tomasi by Phil Oh on Street Pepper, Carolyn Sandstrom