How to wear an oversized sweater?
The other day, while I waited for my client to change clothes, a woman was being advised by a salesperson who was asserting the knit she was trying on was a perfect fit. As soon as the vendor had left, the lady, who had picked up I was a stylist, asked me for advice: "isn't it too big"? "Yes it is big" I answered, "and indeed, too big for your frame, but that is what conveys style to it". She frowned as it was looking like a big square. "May I,"? I tucked the front of her jumper in her jeans, added a belt, rolled her sleeves to reveal her bracelets and "it looks great now", she said.
The point of this story is that some clothes need to be styled to reach their full potential.
Like oversized sweaters.
I/ How to choose your oversized sweater?
a. Fabric
The fabric could be thick, thin, fluid, stiff, etc… choose what inspires you!
If you are busty, prefer a fluid fabric… it does not mean it can't be warm (think of cashmere).
Women with tiny or dropped shoulders can play with from volume and stiffness.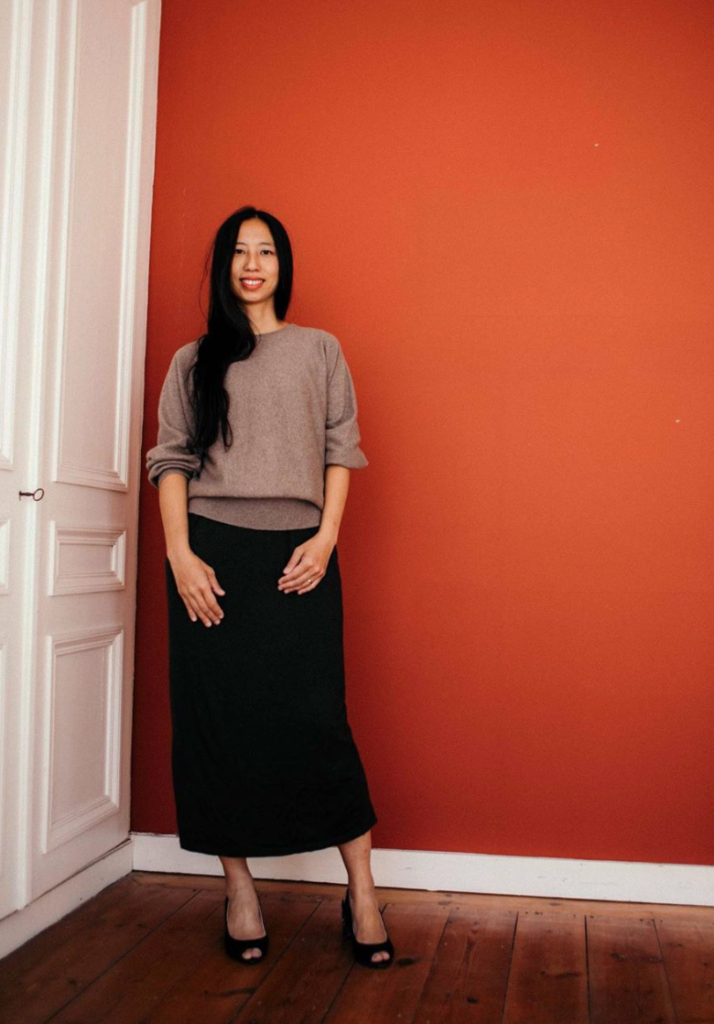 Irma wearing a thin and warm round collar cashmere
b. Collar
Chimney collar, turtleneck, round neck, V neck…
If you have a short neck avoid anything high-neck.
If you are busty, I recommend deep decolletages whether they are V, square or round-shaped.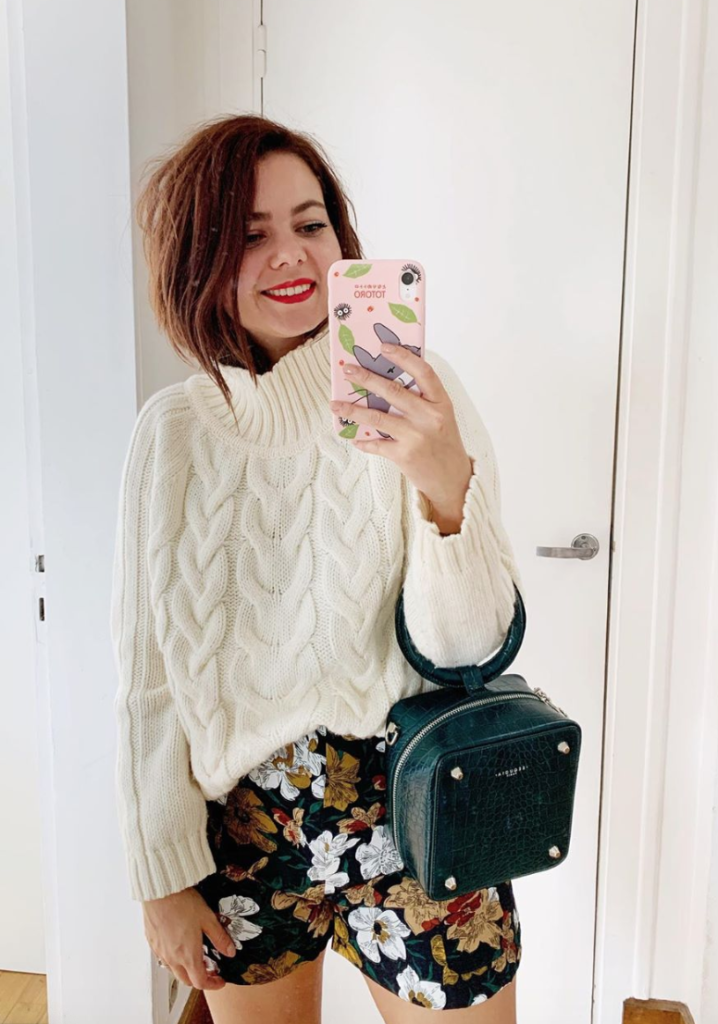 Juliette Kitsch wearing a cute chimney collar cable-knit sweater
c. Sleeves
If the sleeves are long, check if they can be rolled.
Otherwise think of 3/4 sleeves to show your wrists.
You can keep the sleeves long so that they hide your wrists. Know that it confers a cool teenage vibe rather than a grown-up one.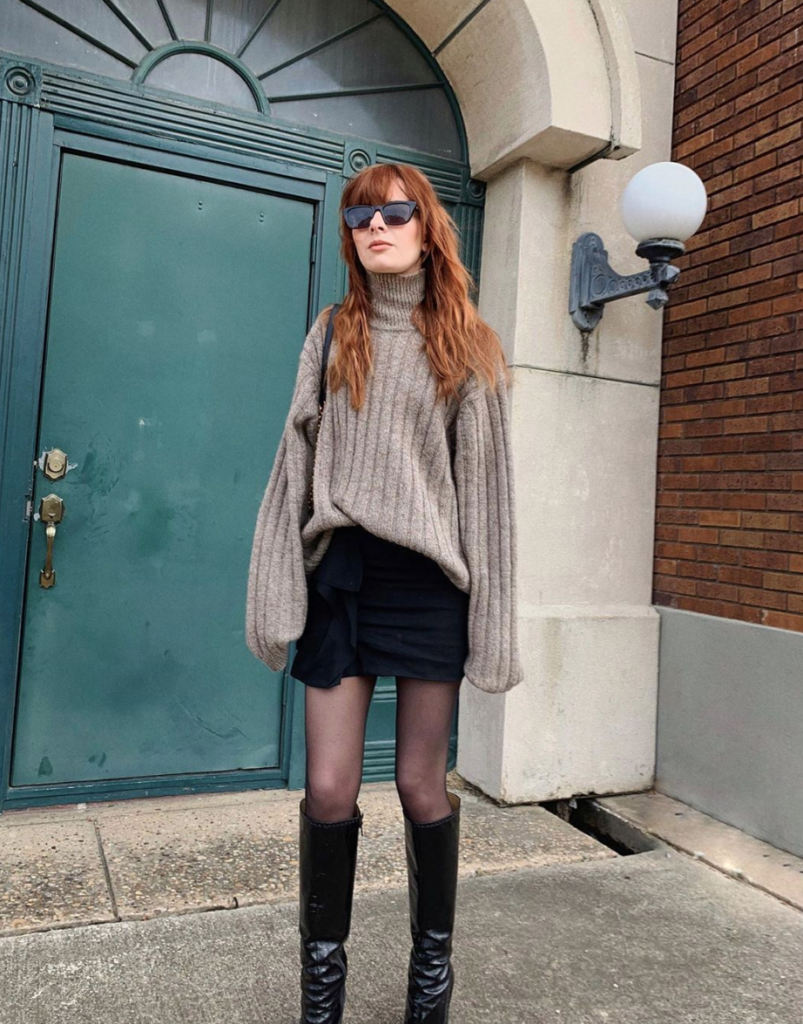 Jane Aldridge hiding her hands… while showing some legs! You've got to balance to create a good outfit. 
Skinny jeans and heels would work too here 🙂
d. Design
A unique pattern enables the sweater to be worn by itself without much styling needed.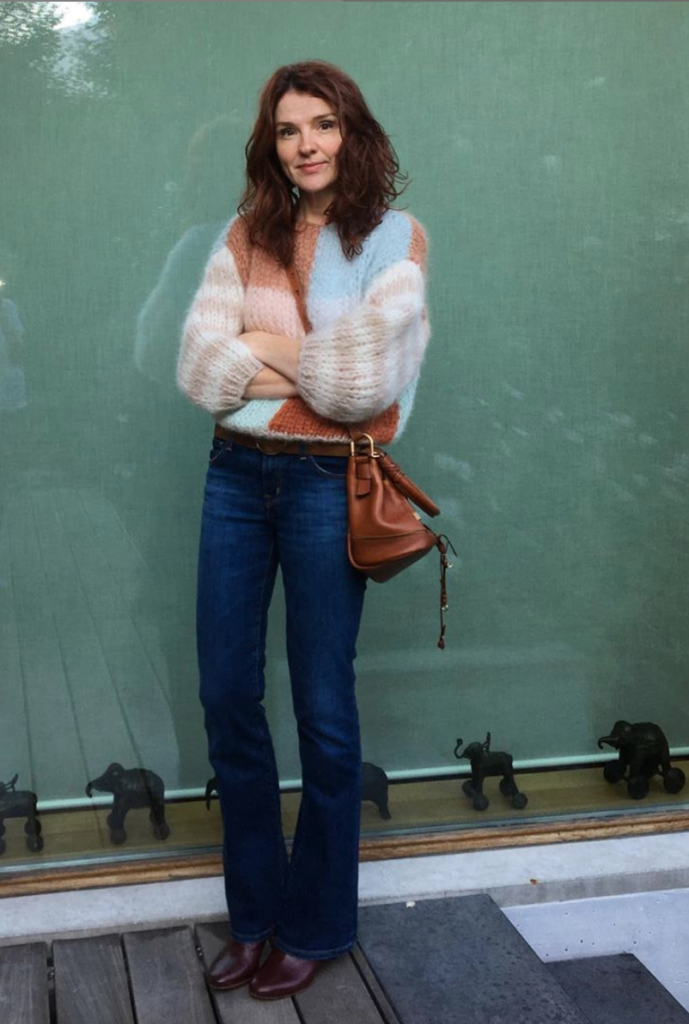 Léontine is very pretty with her soft colored graphic jumper
II/ How to wear an oversized sweater?
The aim is to give your sweater, or at least your silhouette, a shape.
1/ Tuck the front… or the whole thing
By doing so, you'll reveal your waist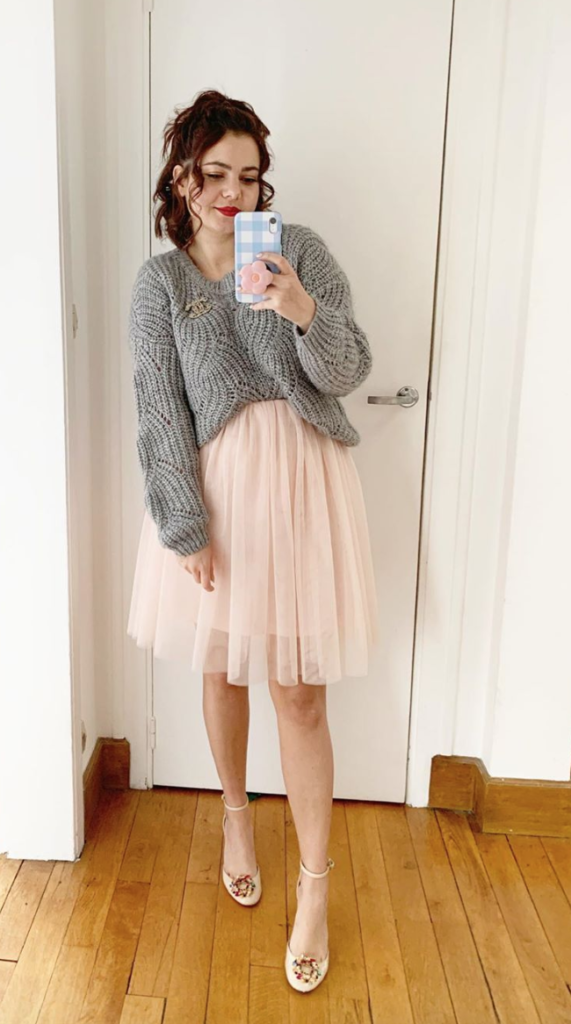 Juliette Kitsch being playful by contrasting girly and cozy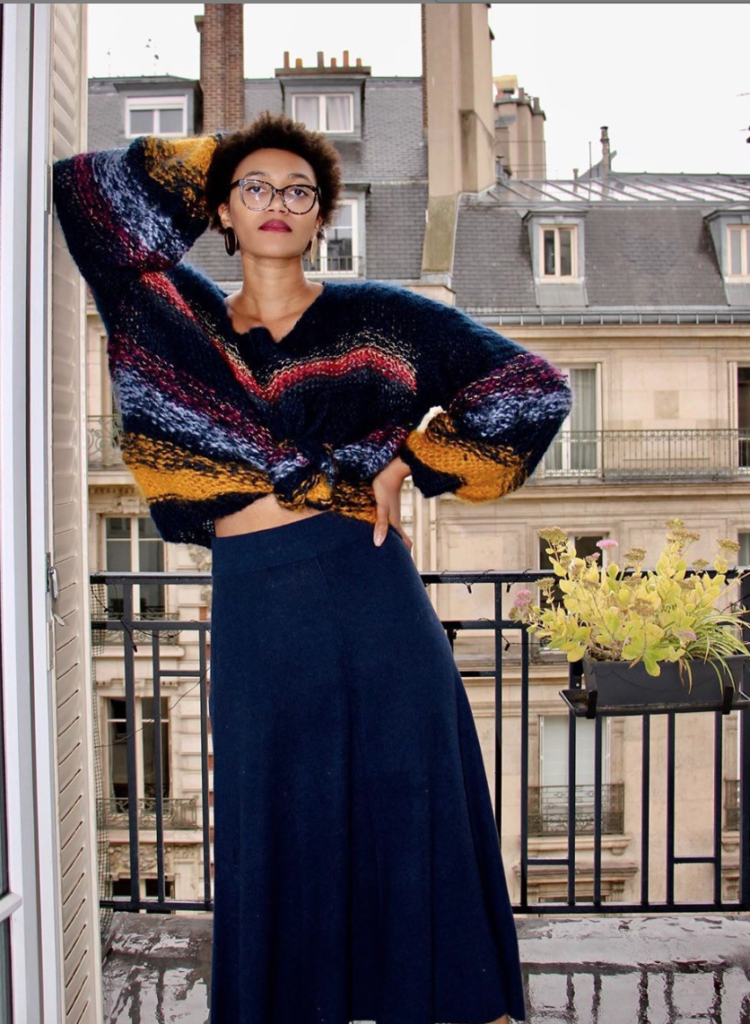 Lena Farl is ingenious and knotted the bottom of her large sweater instead of tucking it.
You could tuck the whole sweater around, but beware to put just a little bit of fabric inside in order not to create any "faux rolls".
2/ Roll the sleeves
Showing your wrists will lighten the outfit while enabling you to wear bracelets or a watch.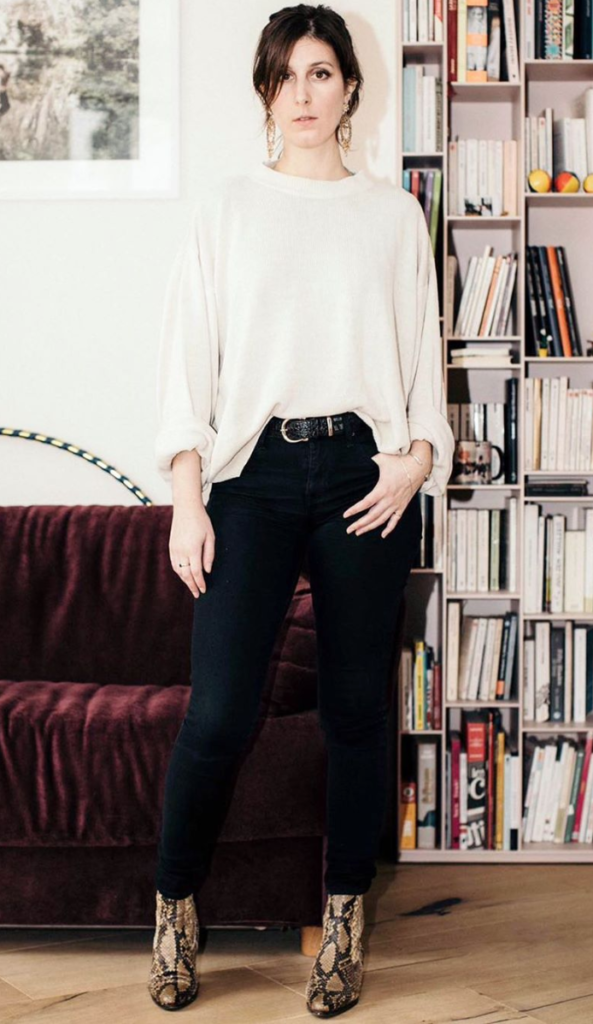 Myself, performing sleeve rollings, tucking and belting over skinny jeans.
3/ Add statement earrings, a statement necklace or a brooch
The big sweater can feel like a little plain, so pimp the rest!
Add nice jewels and accessories.
In the ballet skirt outfit, Juliette is using a brooch.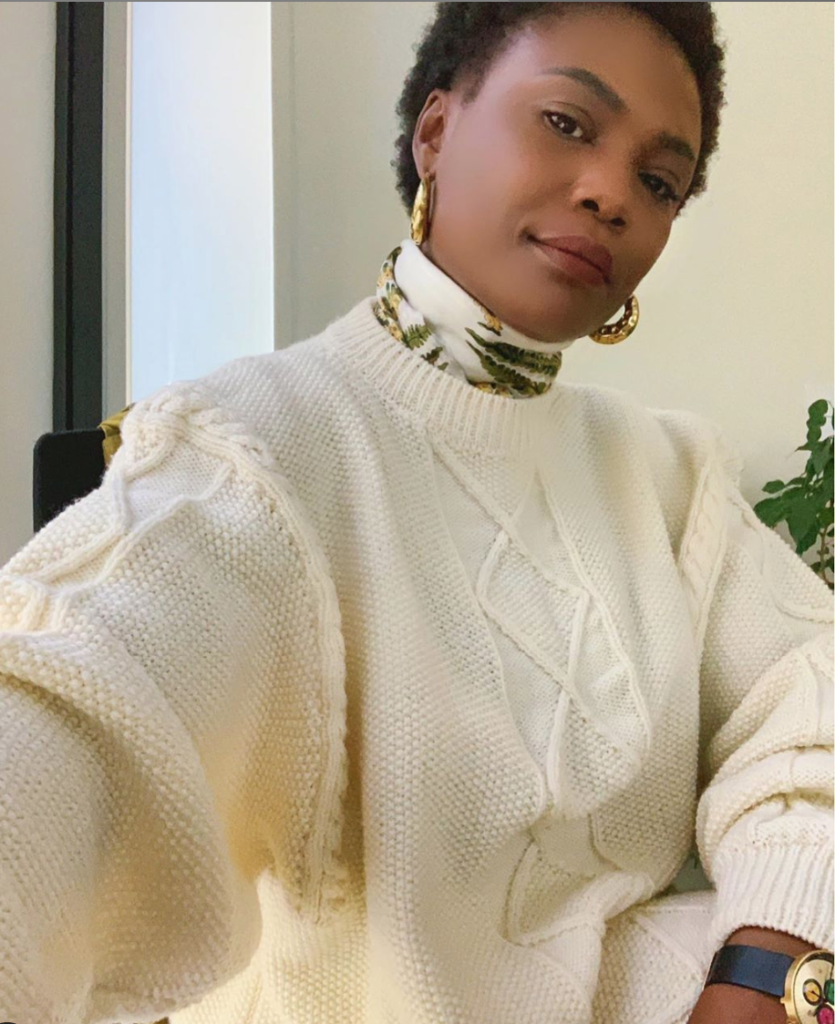 Fran Fynne, with bold gold hoops, a silk scarf, and a funky watch
4/ Add a scarf or a collar
Again, the purpose is to spice up the sweater area.
You could also show the sleeves around the sleeves.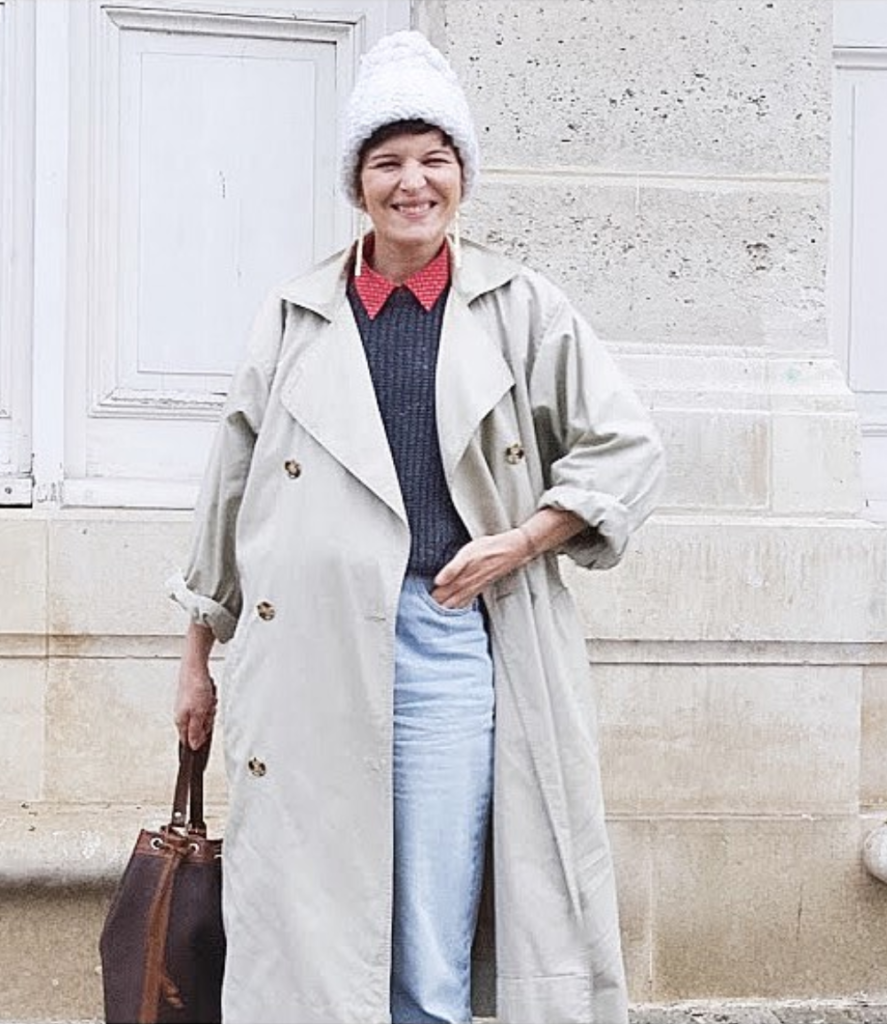 Elodie, contrasting red dots with the vertical lines of her knitted sweater. Notice how many different interesting fabrics she uses in one single outfit.
5/ Belt it
You can wear the belt in the regular placement or over the jumper.
Again, you want to highlight your waist!
If you have a naturally thin waist, you can place the belt high or low.
If you have some belly you want to flaunt, aim for a low placement.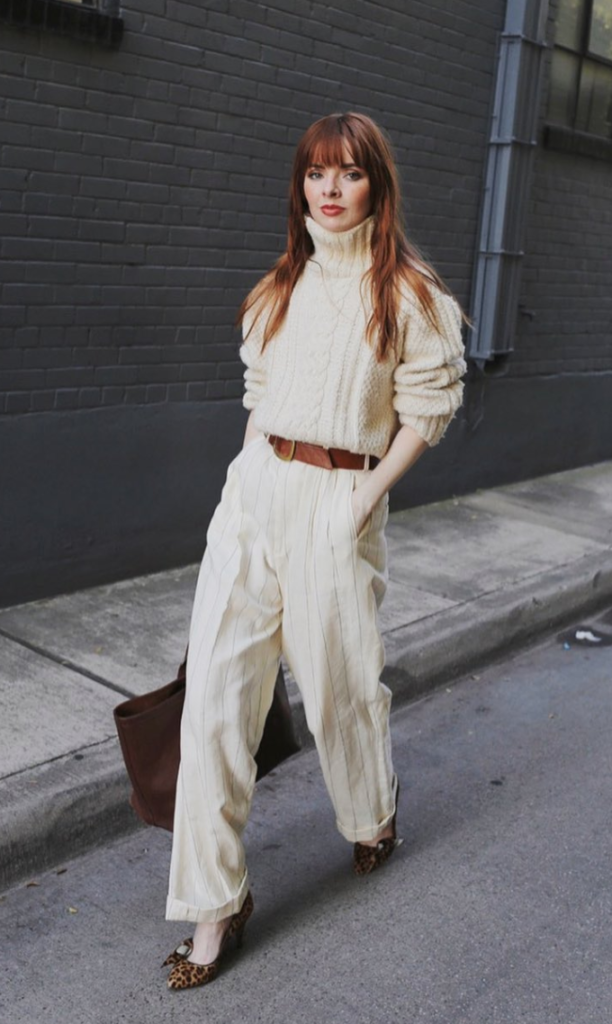 Jane Aldridge, mixing textures and patterns in the same hues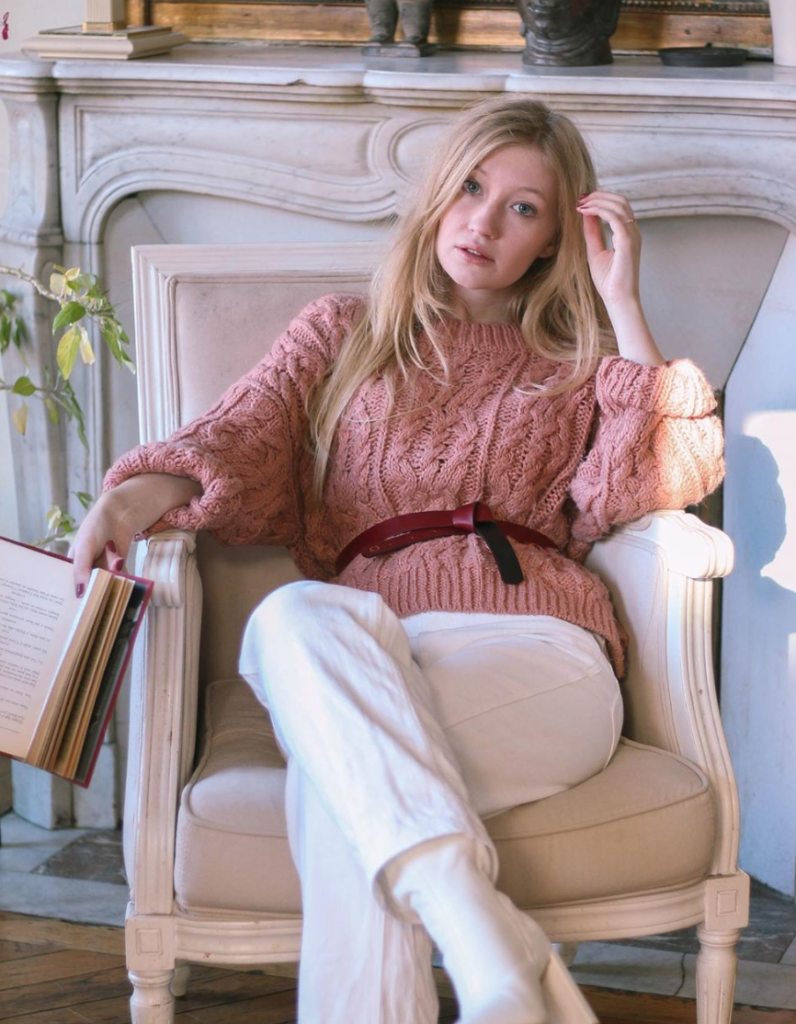 Mathilde Clauzet, belting her sweater with a darker version of the same shade
6/ Show skin somewhere else
You want to balance the silhouette.
Try something tight or/ and short on the bottom.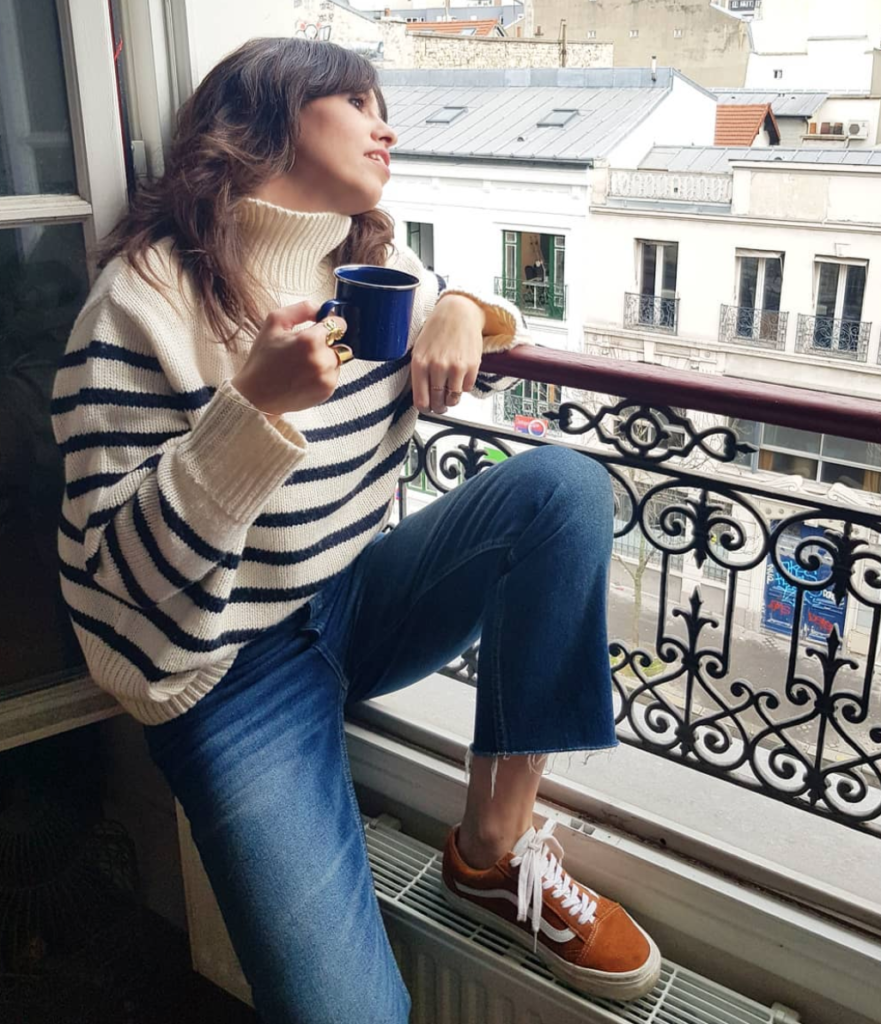 Myrtille balancing her large chimney Breton sweater with cut-of jeans
And you? Do you wear large jumpers? 
Bises de Paris, 
Aloïs
Cover collage: Alexandra Golovanoff (who owns a luxury sweater brand) and I