How to wear a belt?
Do you wear belts?
Since most pants and skirts are fitted to our frame, wearing one is now often more a style choice than a practical choice.
And therefore is not the easiest accessory to master.
On what outfit should I wear a belt? Can a belt help my look be more stylish? What kind of belt would suit be best and where should I wear it?
Here are my tips to help you be stylish with a belt
1. When and why should I belt my outfit?
a. To shape up your outfit
The belt will underline a narrow point on your figure.
Therefore it will make you look your best worn with something that is larger than itself, either on top, on the bottom or on both.
If you wear it with an integral bodycon outfit, the belt will become the larger point of your outfit, which is often not a good match.
– Loose top, and close-fitting bottom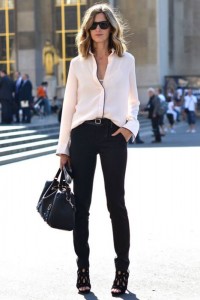 Amanda Brooks
Here the belt emphasizes the limit between the oversize half tucked blouse and the skinny pants.
– Close-fitting top and large pants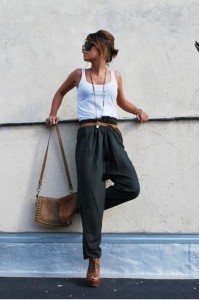 This boho look would look sloppy without the thin belt that adds structure to those harem pants.
– Loose top and bottom
Loose does not necessarily mean oversize but doesn't have to be form-hugging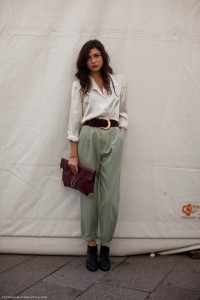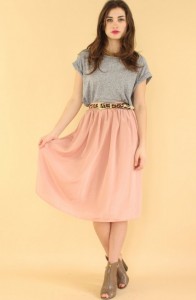 Yo vintage
Don't waist a total bodycon outfit because there is nothing to belt and therefore looks odd
– DON'T create a double waist
If you wear low cut pants or skirt, do not add a second waist. That will tear your figure in pieces.
Also avoid overwriting an already complete outfit like here, adding a belt on a buttoned up skirt.
b. To spice up your outfit
Just as a necklace or a scarf, a belt can be a very stylish accessory and even be the main player of your look.
Adding a belt to a basic outfit will instantly style it up.
You can choose amongst a very wide variety of shapes, colors and prints.
Changing of belt is a great way to style the same clothes in a different manner
Be creative and have fun!
– Scarf as a belt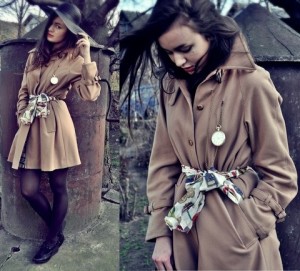 Found on Beyond retro
– Shiny belt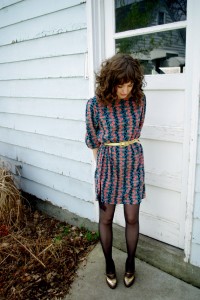 The perfect accessory to "cut" an outfit and avoid looking like a tapestry
– Statement golden belt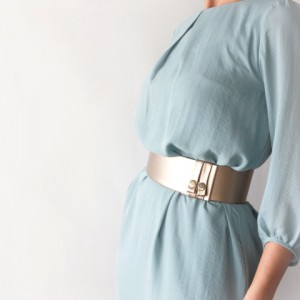 Found on Keep.com
Transform a simple dress into a designer piece with a statement belt
– "Add a color" belt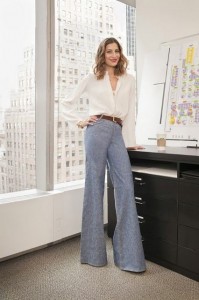 Sylvana Ward Durett
This great outfit would look kind of dull without the darker shade of the belt.
2. Where should I wear my belt?
Either around your waist aka at the narrowest point of your bust (and not below, or you'll look larger than you really are)
Or on your hips, aka on the hip bone.
What will look best on you depends on your body shape.
– High slung belt
If you have a defined waist, and especially if you have an hourglass figure, a belt will emphasize this narrow point.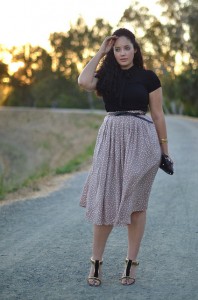 This curvy blogger has hips and boobs and… a very tiny waist, that she loves to belt (and is damn right about it).
If your waist is not thinner than the rest of your bust, it is better not to underline it.
If you have short legs, wearing your belt higher will elongate them.
– Low slung belt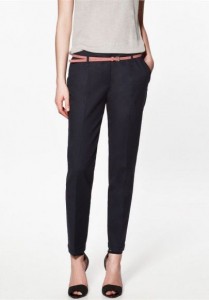 Low slung belts are a good option to structure your figure if you have no defined waist.
Women that have a defined waist can also use that style, but those who have significantly large hips should avoid it.
If you are short waisted, this is also a clever way to elongate your torso.
3. What kind of belt should I choose?
As seen it the first point, there are many different belt styles.
They all give your outfit a different allure.
Depending on your bodytype, some will suit you better than others.
– Thin belt (finger large)
Perfect for high slung style.
If your waist is only slightly defined, use a thin belt on a fluid outfit to create the illusion of a thin waist.
In that case, a belt of the same/color, fabric as the outfit is a good option because it doesn't make your waist become a focal point.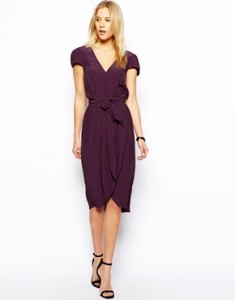 Asos
Thin leather belts often give an office look to pants, skirts and dresses.
– Medium belt (pants loops large)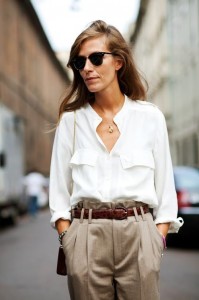 Aurora Sansone
The perfect classic belt for pants.
Can also be worn higher.
Cool and effortless.
– Thick belt (do not fit in pants loops)
Very sophisticated and feminine.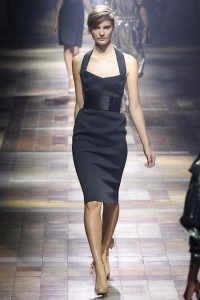 Lanvin 2014
They look more modern when worn higher.
If you wear them low slung, the result will be very seventies (even though I like the seventies).
Only try large belts worn high if your waist is super thin.
You can go for solid fabrics such as leather or go for fluid ones in the Japanese obi/style.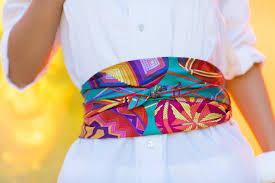 Et voilà!
And because I have no clue on how to conclude my post today, I leave you with a french song called "la ceinture" which, you guessed it, means "the belt".