How to warm up your dress for early spring?
April challenge: dress in the morning when it is chilly and keep the same clothes until the afternoon when it feels like summer.
For months you have been dying to wear you little summery dress.
And there, when you finally put it on, you feel like a flower in the flowers, the sun shines through the window, you go outside and boom, cruel reality hits you. It's only 8 degrees (46 F°).
You go back in your closet and look for something to warm it up but what?
1. Something for outside
Wear your outerwear opened to add more style to your outfit.
You can complete with a scarf to warm up your neck.
You could use:
a. A biker jacket
I love to break the femininity and sometimes innocence of a dress with a biker jacket.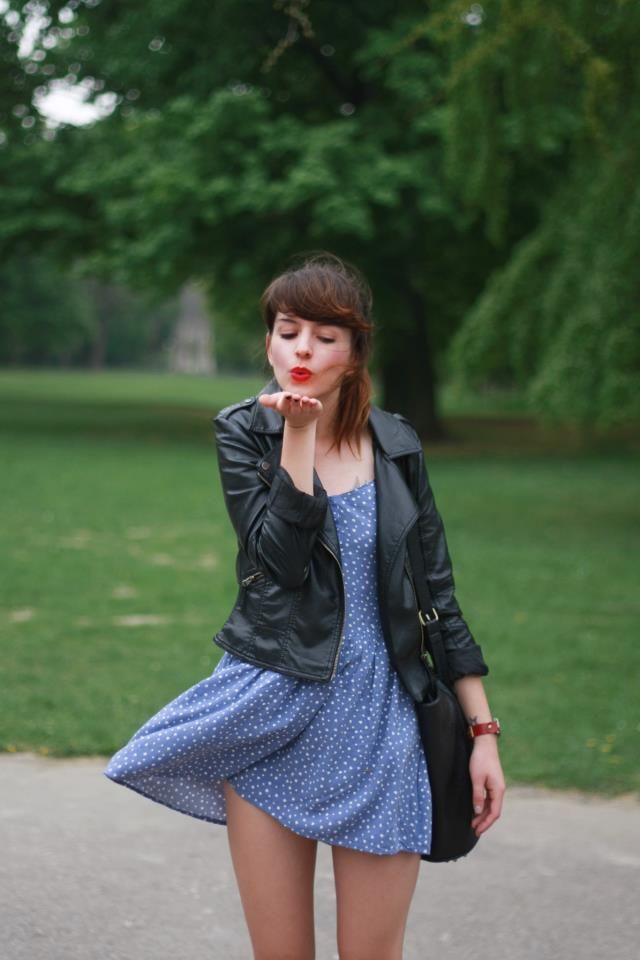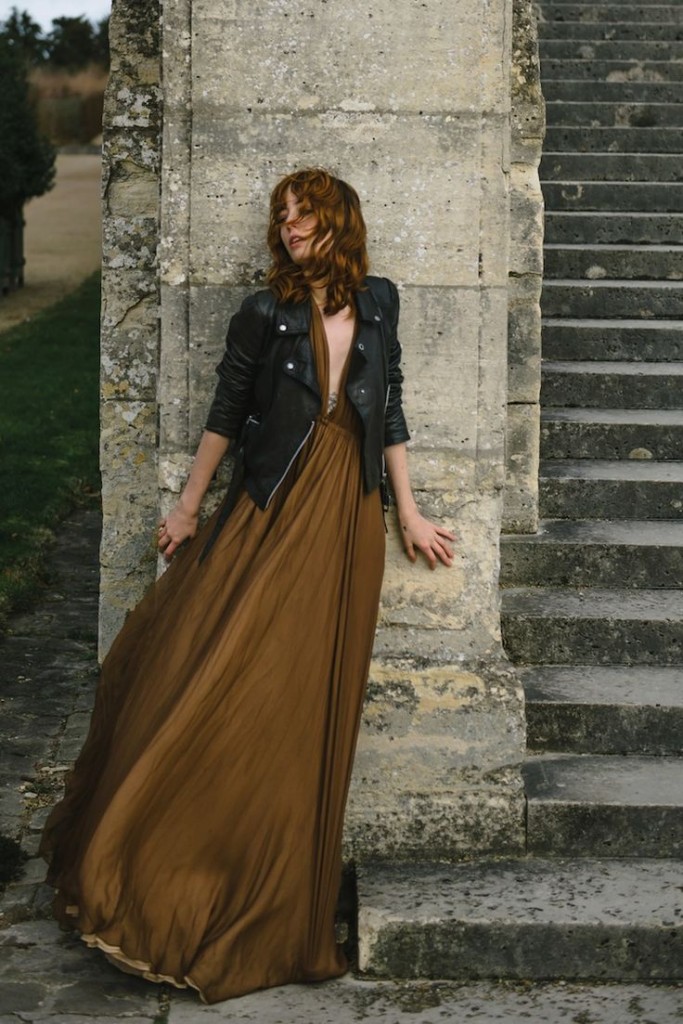 Just pay attention to the volumes. Avoid to wear a bulky biker jacket (there are some very tiny ones) with a stiff skater or A line dress. Volume + volume leads to a inelegant result I think (make your own mind with pretty Emma Watson, not at her best).
Therefore:
– with tight and/or flowy dresses uses larger biker jackets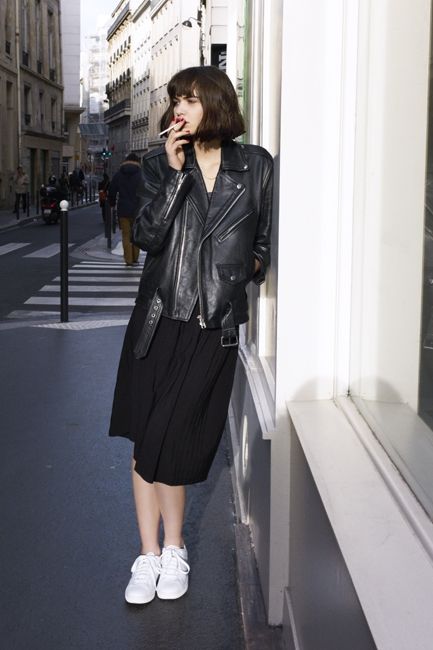 Mischa by Louise Enhorning for Oyster mag
– with voluminous dresses use tighter biker jackets
If you want to add a spring feeling to your moto jacket, try different colors and fabrics: suede, pastels, etc.
b. A bomber jacket, a jean jacket, an army jacket, etc

My recommendations for those jackets are the same than for the biker jacket.
They all look very cool and therefore are for casual days.
You can also use them to break a very feminine outfit.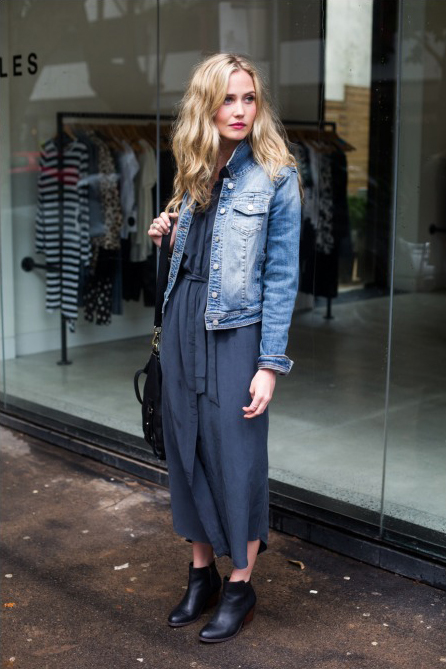 The little things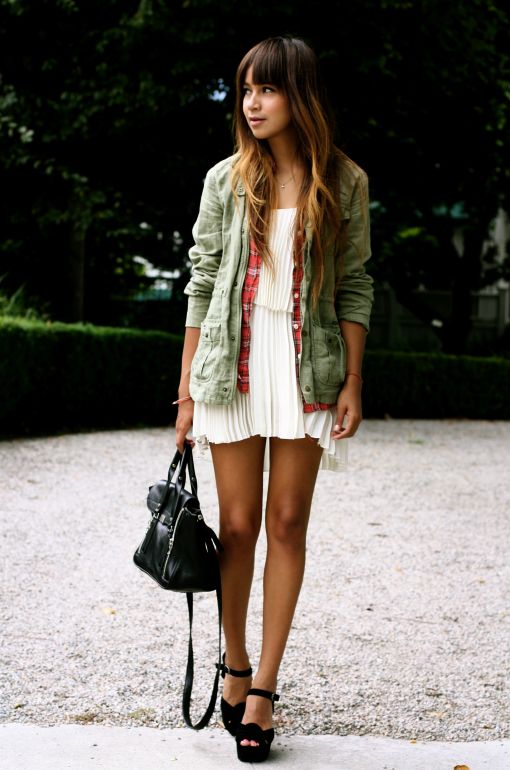 c. A trench
A trench on a dress with bare legs is always effective.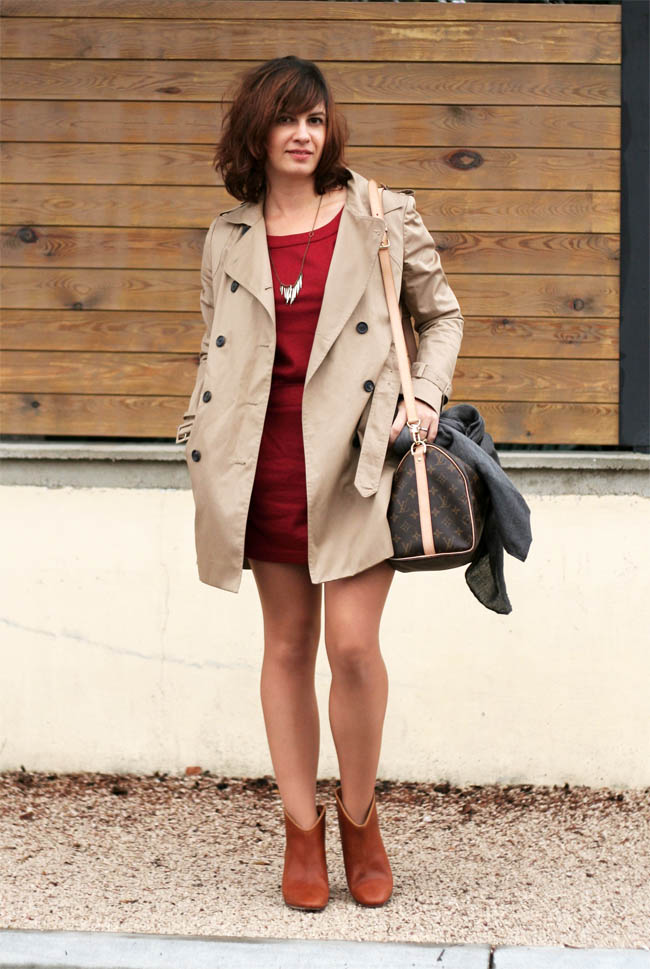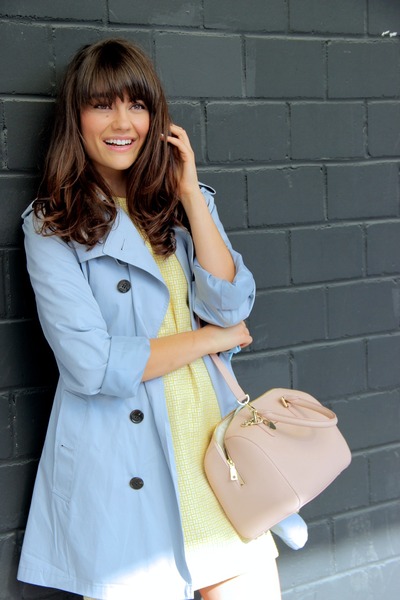 You can of course opt for longer versions if you need to/like to.
d. A summer coat
Meaning any coat made from a lighter fabric. Usually cotton.
It can be stiff or fluid. Shape can be straight, A-line, boyfriend, etc.
This season it comes in lots of different prints, colors and fabrics. Perfect to make early spring feel happy!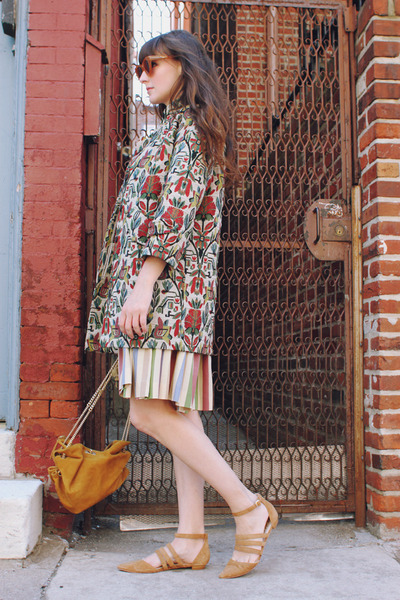 2. Something for inside
I advice to wear your opened tops opened.
1. A blazer
Always chic.
Be careful, if you choose one that is too stiff and too cinched, your outfit might look very square.
I recommend fluid versions and/or the ones that fall straight, creating vertical lines.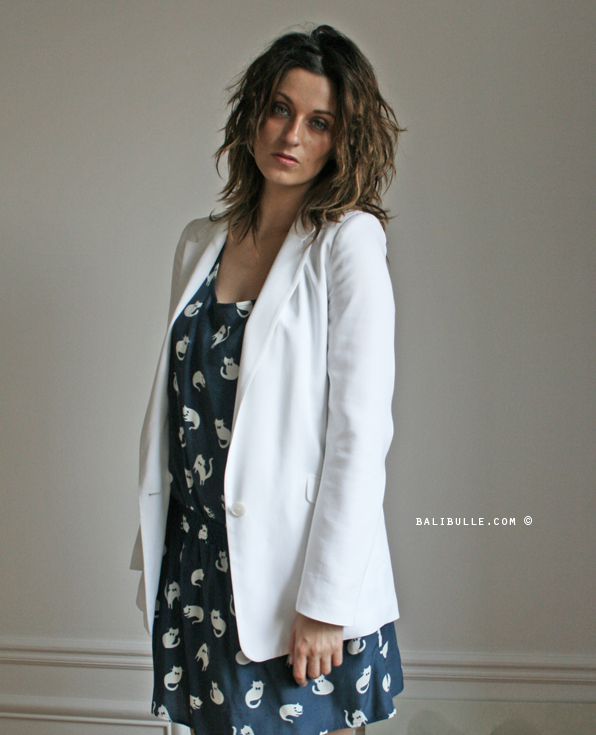 The problem with the blazer is that they do not always fit under the aforementioned outerwear.
2. A cardigan
The issue with the cardigan is that it can look mumsy.
To avoid that my tips are:
– to choose a cardigan without (or with few and bigger) buttons
– to choose a rather long version (waist lenght at least)
You can also
– choose a color that contrasts with your dress
– choose a very long version with a boho feel (therefore not very good for some offices)
And last but not least: do not close it, even with a belt on top… (I have seen that on pinterest a lot, for me it looks old stylish.)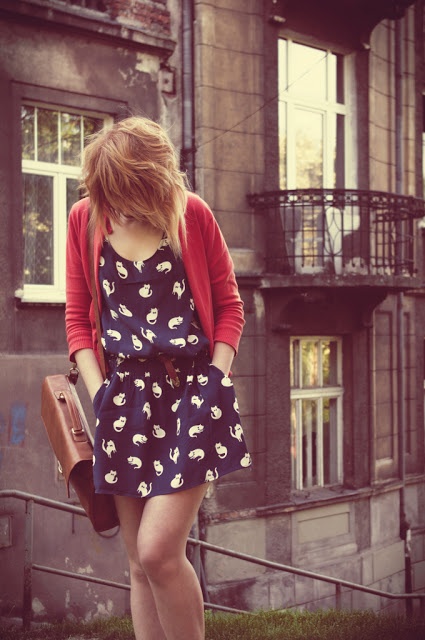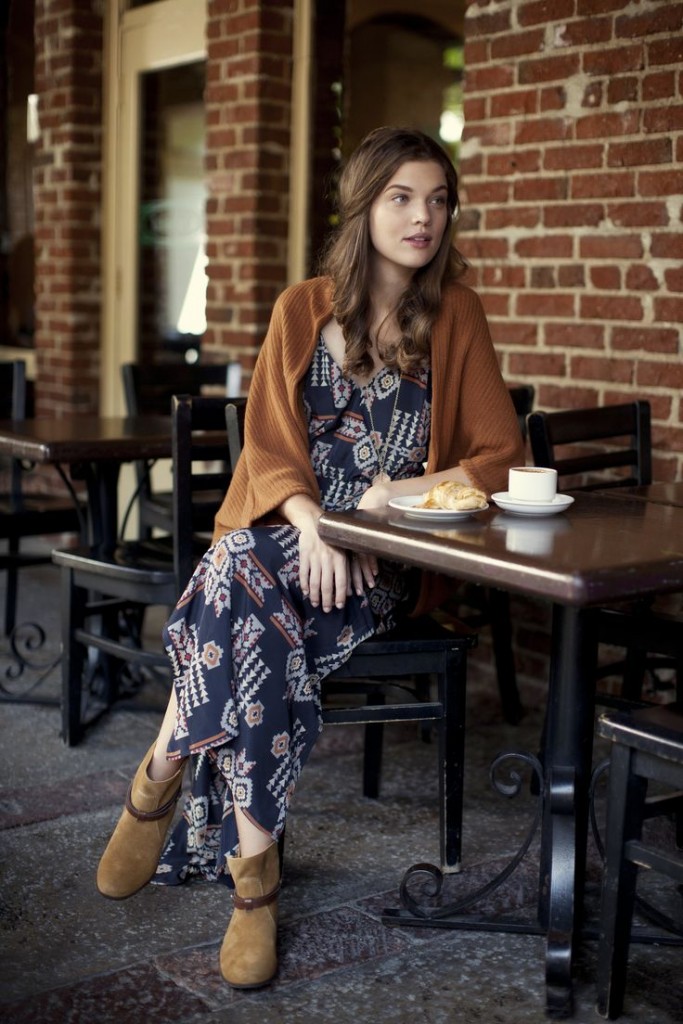 Unknown
The cardigan is a perfect layering option
c. A shirt
You can wear it either opened, closed or knotted.
It can be oversize or more fitted, fluid or stiff.
If you want to make it office ready, go for a neat fabric and avoid the knot option.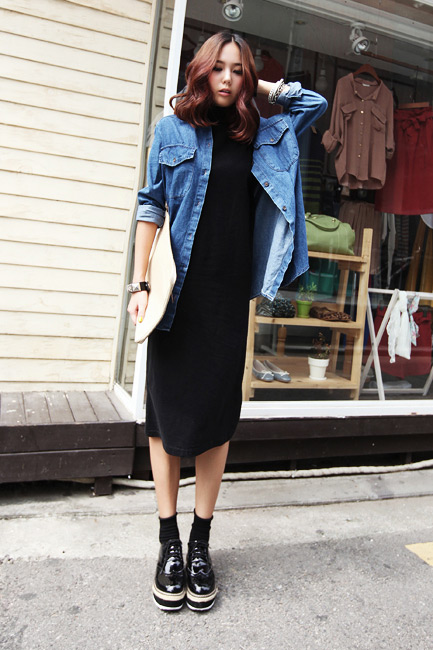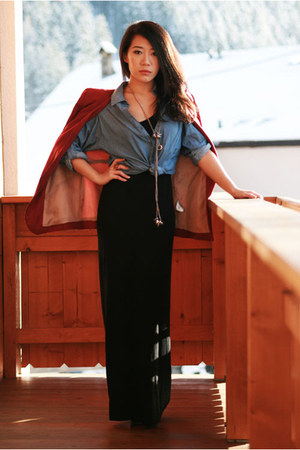 The shirt is a perfect layering option.
d. A sweater
I use this option a lot.
It transforms your dress into a skirt but you can remove it later in the day and it has the advantage of looking modern.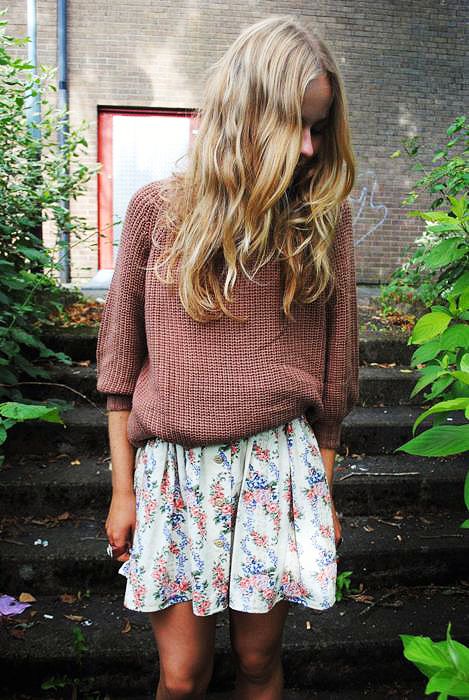 Unknown
The above look is very laid back but you can make it work with a little black dress and a chic minimal sweater.
The sweater is a perfect layering option
e. The kimono, the light bomber, etc…
Think different shapes and different fabrics! Fashion is fun!
Alors? Ready for dresses?