How to tell wheter a trend is going to last or to be outdated?
Nowadays, I'd say that fashion world is evolving in to different directions
– The industry, replacing one trend by another at a super fast pace. And those who subscribe to this system, replacing their own clothes at an equally fast pace.
– People who realize that this system is not viable and try to have a more responsible clothes consumption. And brands who aim to create pieces that are meant to last.
Since fashion became an industry, the replacement of trends keeps going faster. First there where only two collections a year: one for each season. Today we are talking minimum four collections a year: pre-fall, cruise, capsule… Nearly impossible to follow. It feels like fashion week is every week!
Not to mention the fast fashion retailers which inject new stuff in their shops every week…
As a result trends have an accelerated turnover.
Therefore, fashion designers have to come out with fashion items that stand out in order to be noticed.
No matter if actually elegant or not.
That's how, each year, I have the feeling "street" style is getting more and more ridiculous.
Most bloggers an fashion editors have no independence anymore. They are offered the pieces of the season. And wear them.
Do not get me wrong. I think those ladies (and guys) are genuinly happy about their presents and wear it because they enjoy it and like it.
The reason why they like it may not be about esthetics though. It would more relate to belonging to a group of happy fews. A kind of fashion aristocracy. Meaning: "I got the shoes as a present, therefore I am someone important in fashion world. "
And the crazy thing is that after seeing those crazy stuff, regular fashionista will actually begin to crave for those stuffs.
This post was inspired to me by two things:
– clients of mine asking me if stuff where going to be outdated next year or if they would be able to wear them until they die (the clothes not them, you silly)
– this post on Man repeller. I kind of think the girl is crazy. Actually craziness is kind of her trademark. I even think she exagerates her crazyness as a brand statement. Anyway. She's fun indeed. But she is a true trend junkie. Totally deconnected from real life people. And what looks crazy to me is that there are others like her out there. Loads of. Just check her comments. What also surprises me is that she positions herself as a rebel to the established "good taste" – which would be to look "man appealing". But dressing as a "man repeller" the way she does it is actually committing to other rules. Those of fashion industry. Not sure which is best.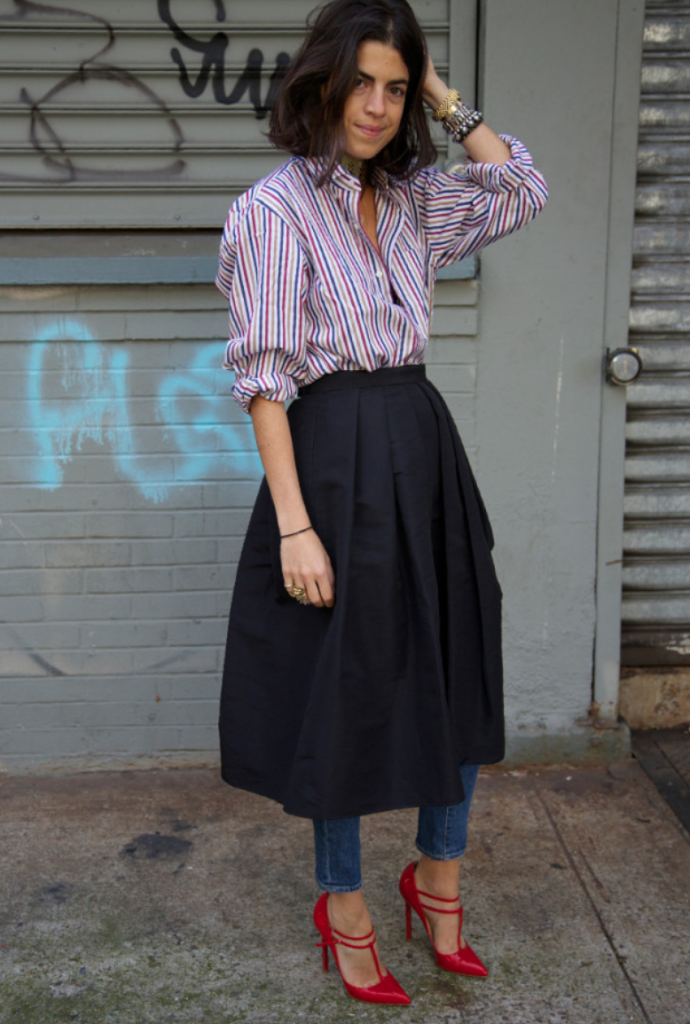 So in the above stated post, she shows that she (and I think she is a very clever girl indeed), is totally aware of the fact that following a trend means trying to "fit in" this fashion aristocracy.
But she also says that she does own the shoes. Those Gucci fur loafers. And that this is an enlighten choice of her. And not simply her being a "fashion victim".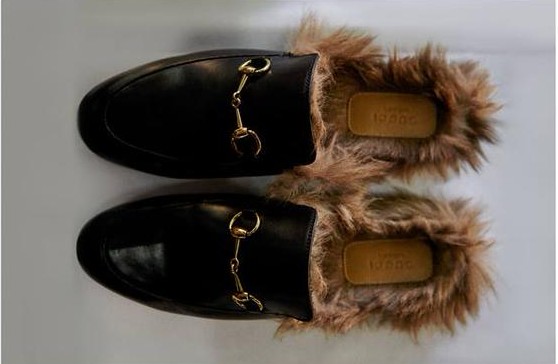 Not only are they ugly, they kill baby kangaroos.
Ok. Fine with me! But my question is "for how long are you going to be in love with those shoes you just bought (maybe not, well that's not the point)?A week? THE fashion week. Then what? Walking in them will quickly appear as overseen and they will just be a waste of money but also a waste of materials. Made of animals. And chemicals.
I am no extremist of "being responsible". I still work in the fashion industry. Still buy leather. But when I do. I want to make sure I am going to wear the thing. Until it dies. At least I try.
And I would like my clients and readers to be able to do the same.
So here are a few tricks to help you tell if an item is going to look ridiculous before it actually gets be worn a lot.
1. Is this an atemporal?
Atemporals have simple line, cuts, nice fabrics and colors.
No superfluous details. It feels like they have always been around.
They are keepers.
If the items stands out due to shape, print, fabric: a mix of all, then you should wonder if it will get outfashioned soon or if it won't.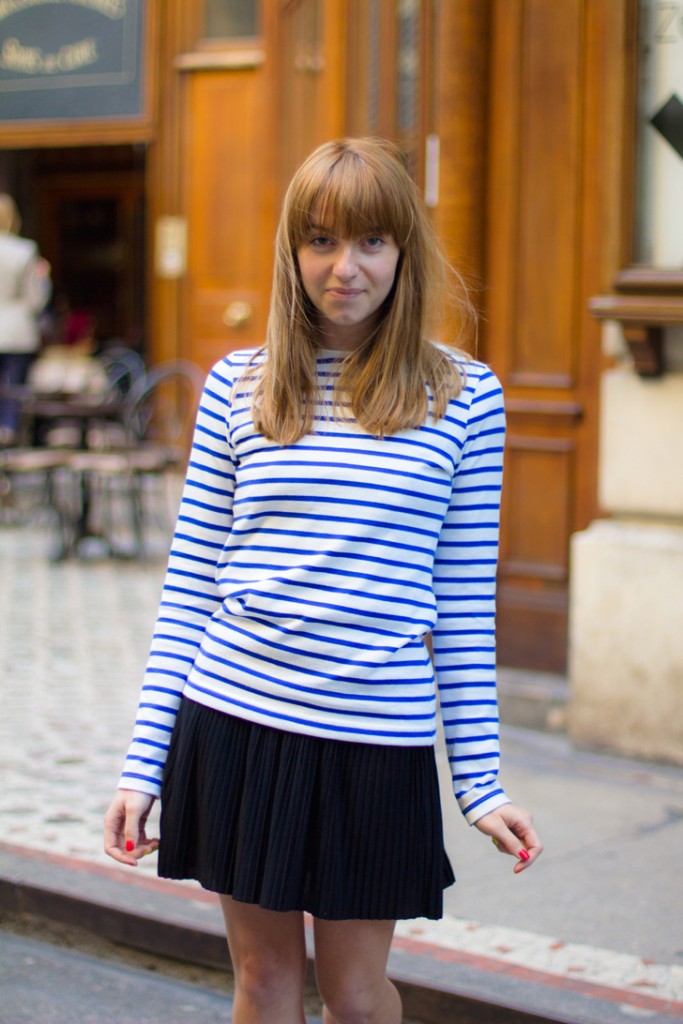 Eleonore Bridge in an atemporal breton top
2. Can you tell just by its look when the item was released?
Fur Gucci loafers? Spotted!
Valentino studded heels? Last season.
Victorian blouse? Indeed.
Flare pants? Not so sure.
If your answer is yes, refer to question 7.
3. Have you seen this particular item all over the place and noticed it?
Let's say… Stan smith?
I think they actually are an atemporal.
But the fact that they are basically everywhere make them belong to a special timeframe.
Therefore they may appear as outdated even though they look like an atemporal.
4. Is it somehow ridiculous?
Gucci fur loafers again? Kind of, admit it.
Overfringed cropped flare jeans? Probably.
Pharell's hat? Yes sir. Even if Pharell.
The ridiculousness of an item may be hidden by a fashionable veil, but be sure you'll never dare wear it when the veil will be fallen.
So that I recommend you pass.
5. Is it somehow ugly?
Kind of same as above actually. Did not think about this before writing the bullets.
Ugly is one of the possible reason for ridiculous.
If the reason is not point 6.
6. Does it flatter the silhouette? (at least some silhouettes)
Do you really look good (I mean REALLY good) in culottes? Yes? You like them? Then go for them girl.
But if you like them BECAUSE they are fashionable (veil on your eyes hiding you the horrible truth of you looking like you have a flat and large bottom with thick short legs) then forget about them. Next year the veil will fall and you'll toss them away. Or will keep them into your closet forever, taking room storage.
This point is actually the trickiest. My advice? Either you hire a personal shopper who is here to tell you the truth (in a kind way I swear), or you go shop with an honest friend (lucky you) or a patient boyfriend (he may not be the most fashion forward adviser but knows for sure whether your butt looks good or not).
On this very last point.  I have to say I prefer being man appealing. Probably my celibacy speaking. More seriously, I like to be "me appealing". Meaning I like to find myself attractive in the mirror. And attractive will always win over fashionable as far as I am concerned. I apply the same principle when it comes to my clients.
7. Have you seen this item or something similar in the past?
The fact that something is making a come-back is proof that is somehow looks cool.
Flare jeans? Yes! Ok then.
Victorian blouses? Seen that long ago. Go for it.
Gold and animal printed loafers? Not precisely but in other colors yes! You get them.
Wax printed trench? Trench I saw. Wax I saw. Looking good together. If you like, then buy.
Gucci half cut furry loafers? No. Never seen that UFO (unidentified fashion object) before.
8. Do you picture yourself wearing this item in… say 3 years?
Gucci fur loafers? Ah ah ah (hope my fashion forecasting sense is functioning because I am engraving my prediction into the internet's stone.)
But flare jeans, victorian blouses, funky loafers and wax trench, hell yeah!
9. Does this item come from a fast fashion brand?
Great print, great price. Where is the problem?
First fast fashion is not really a realistic way of consuming fashion.
Second, ethical considerations set aside: you may find thousand ladies wearing the exact same print as you do and regret you bought it.
I experienced it with a three years old Zara scarf. Overdosed from it.
Still would love it otherwise.
Conclusion: Zara mass production is the reason I stopped wearing it.
10. Does this item get a lot of media coverage?
Editorials, streetstyle, blogs, etc.
Same as the above. You may get bored of it quickly.
Simple math: the more you wear an item, the less appealing it becomes to you (most of times).
Seing the item everywhere feels like you worn it a hundreds time already. Even if you just bought it.
And you? Do you care about how your clothes will age when you get them? 
NB: this is not a pamphlet against fun pieces. I like fun pieces. But nice fun pieces only 🙂
PS: Even more "reasonable" bloggers like Garance Doré (and team), have kind of lost track about what is realistic street style.