How to pimp your neck with pussy bows?
Victorian collars, chockers, and now the pussy bow ties are making a come back on the catwalks!
Talk about fashion always recycling old gimmicks!
But as, the french say, old pots cook the best jams.
Get them before Zara starts making their owns and everyone is wearing one again. (I was very surprised not to see any on their website to be honest, but shhhh).
The first time I saw them again was on the Saint Laurent SS 19 catwalk. The models were proudly wearing them in a dandy chic manner.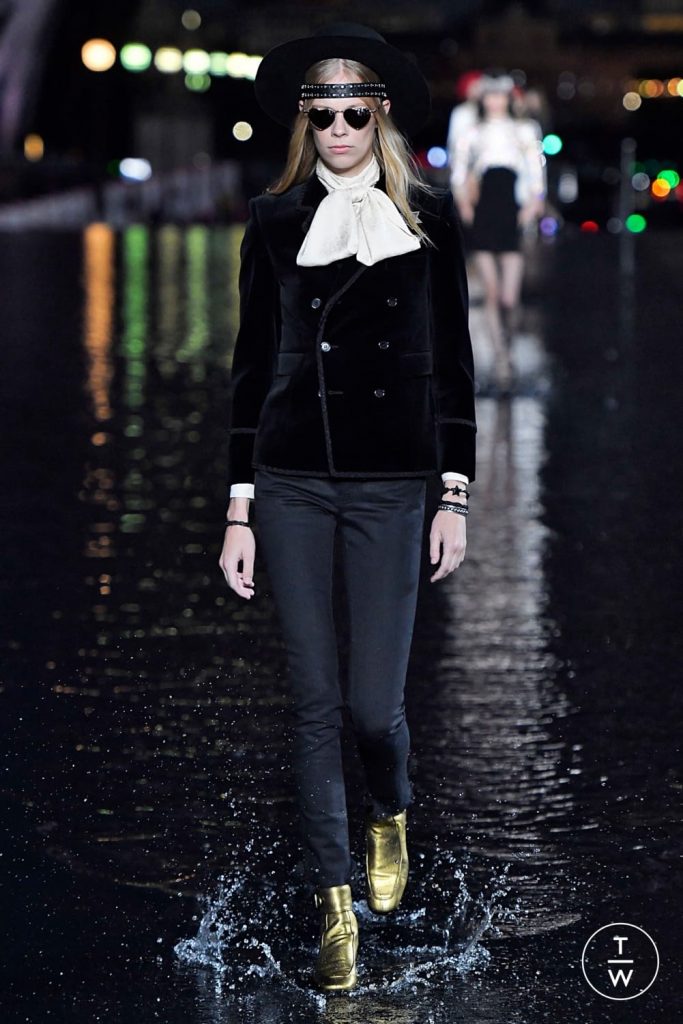 Saint Laurent SS 19 (Tagwalk)
What an easy style trick to reproduce did I think.
Apparently they were quite a hit. There are none available anywhere. Saint Laurent website: zip. Net à porter: same. And even on Vestiaire collective you have no jump on them.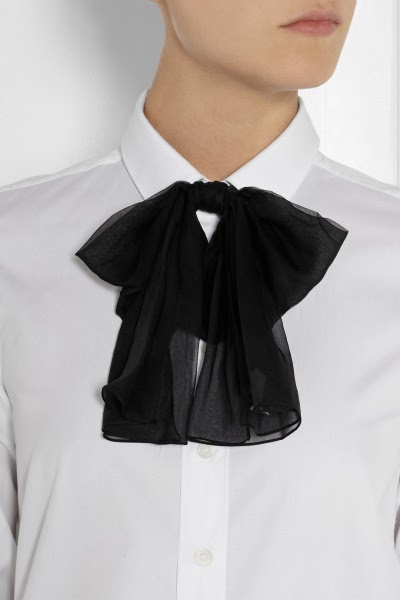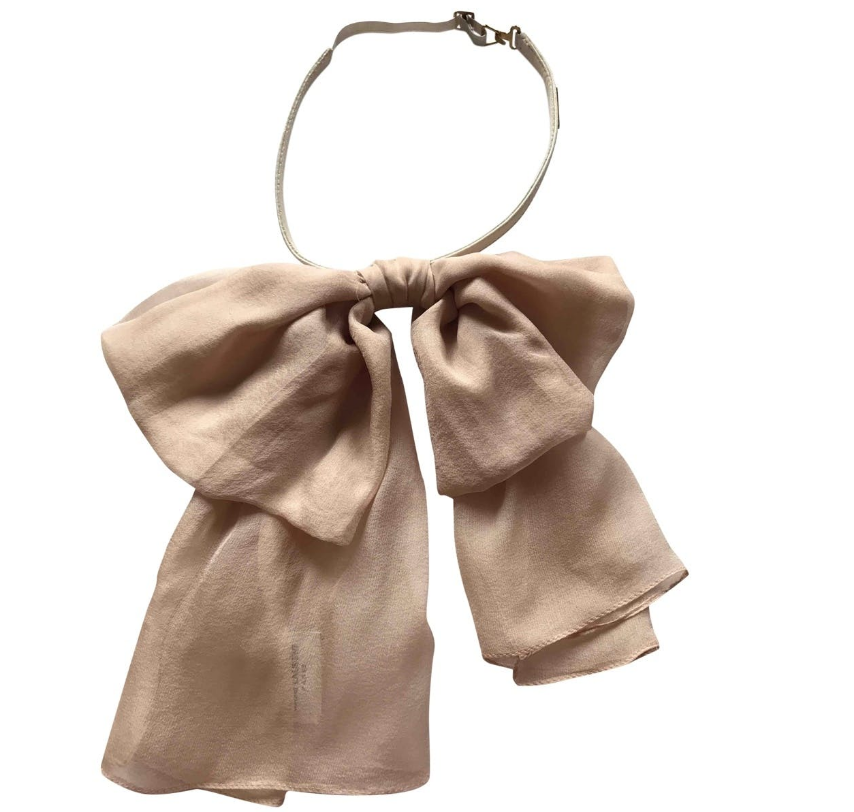 The Saint Laurent it-bow
However… Rejoice dear readers! You can easily reproduce the trick without having to hunt a Saint Laurent floppy bow. (And without spending the inherent costs).
Here is how:
go to a vintage store and buy a pussy bow (lavallière), which is a rather thin and long ribbon of a silky fabric (it can vary in width and lenght)
buy a ready made pussy bow on etsy (I did put several links in this post)
Create your own ready made bow (vintage DIY from 2011)
I/ Color and fabric
Black is more evening wear, white more dandy, and other colors can give your outfits an eccentric twist.
If you are aiming for the floppy effect, get silk chiffon, velvets or satin, if you want a stiffer bow, go for organza.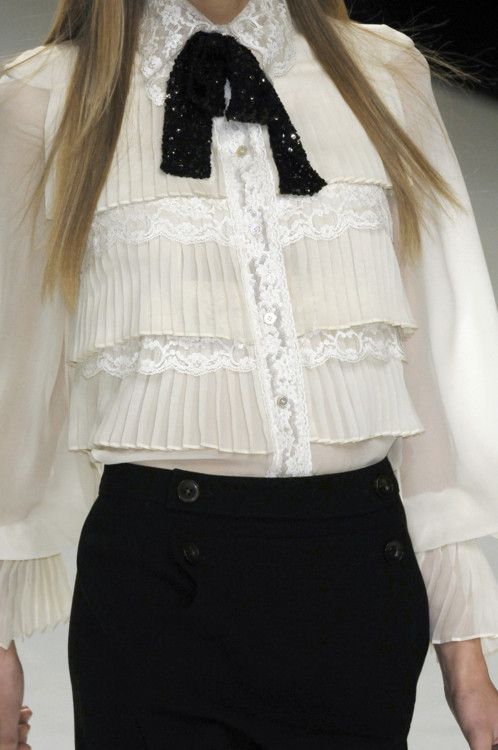 Black evening sequins pussy bow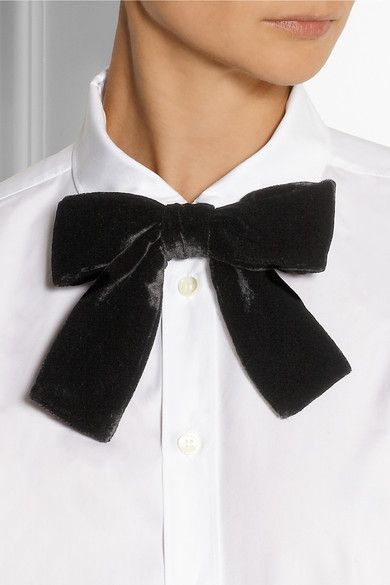 Velvet Saint Laurent pussy bow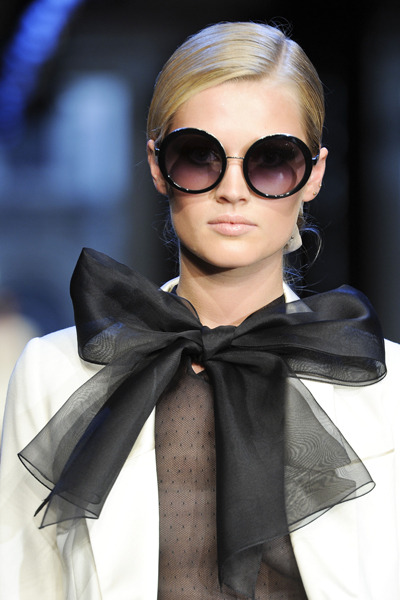 Chanel organza pussy bow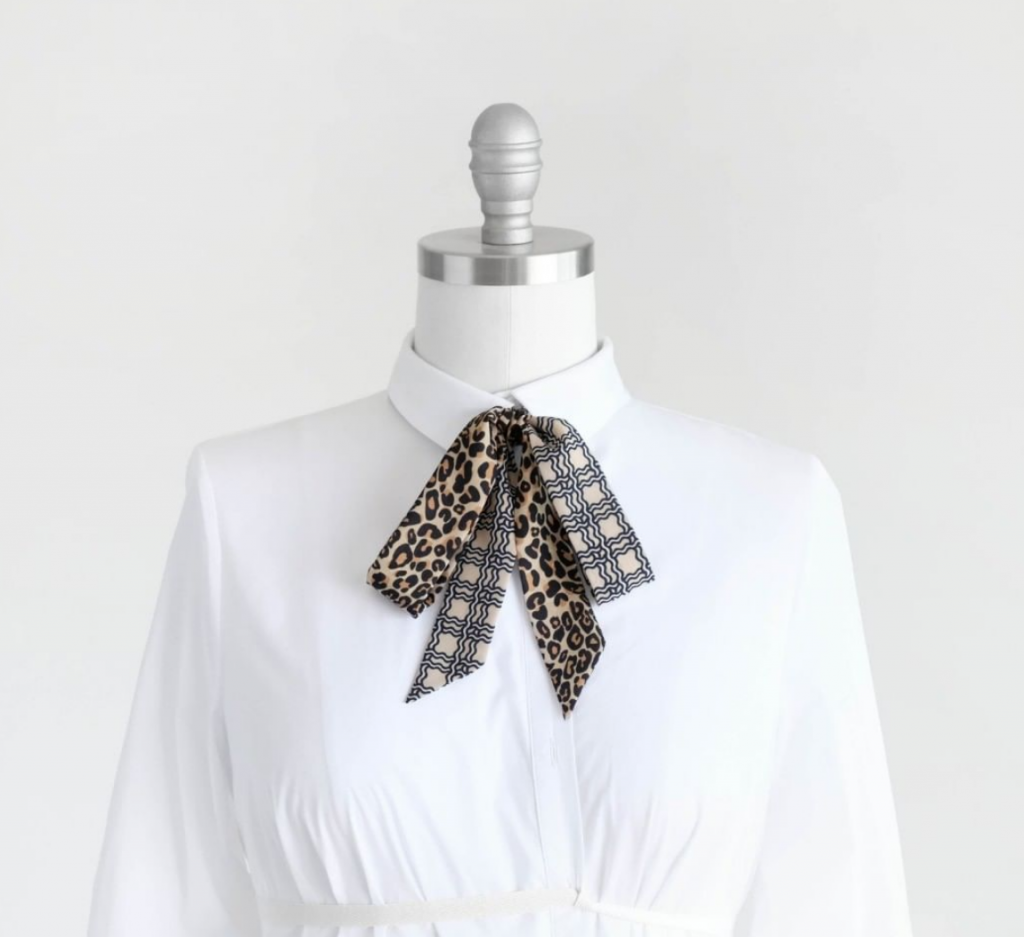 Recycled fabrics by Cbanningaccessories
II/ What to wear the pussy bow with? 
1/ A shirt
As you already have noticed with the above outfit selection, a shirt, furthermore, a white shirt, is one of the best pairing with a pussy bow.
This is the perfect feminine twist on the "hard bow" tuxedo style inspiration.
You can choose a minimalist shirt or emphasize the aristocratic vintage inspiration and get one with embroideries, flounces and other lace inserts.
The monochrome lavallière is an excellent idea for a (mildly) low profil look.
Why not try black on black?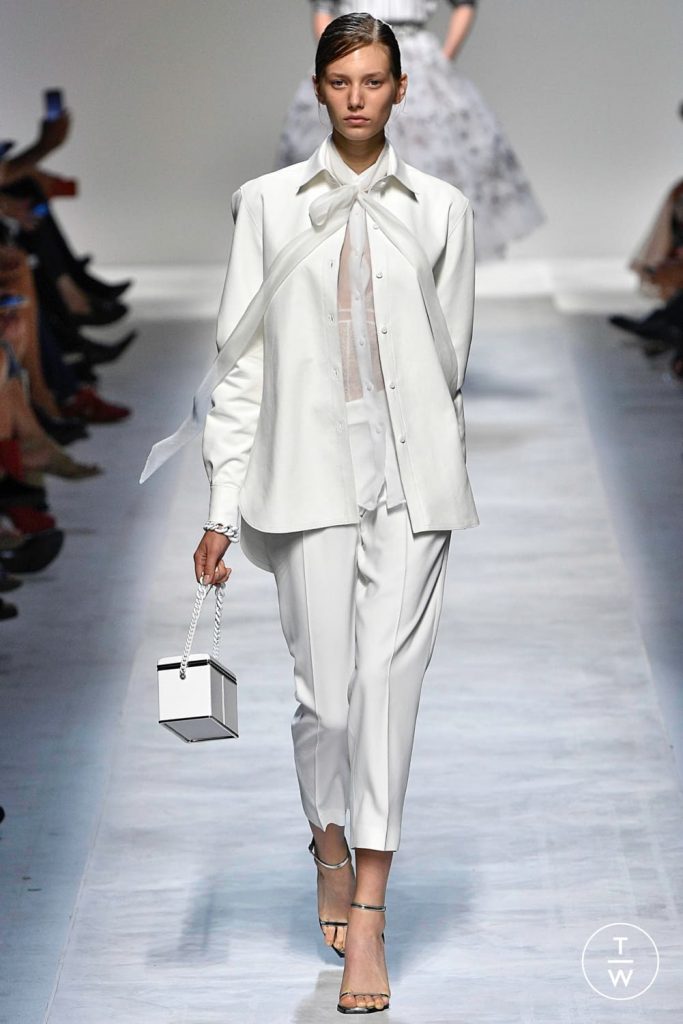 Or the opposite. Ermanno Scervino SS19. Tagwalk.
Yes, I have seen that the above pic is an integrated pussy bow. You can also do this.
As a true modern time dancy, you can lift up your shirts collar and tie your pussy bow around.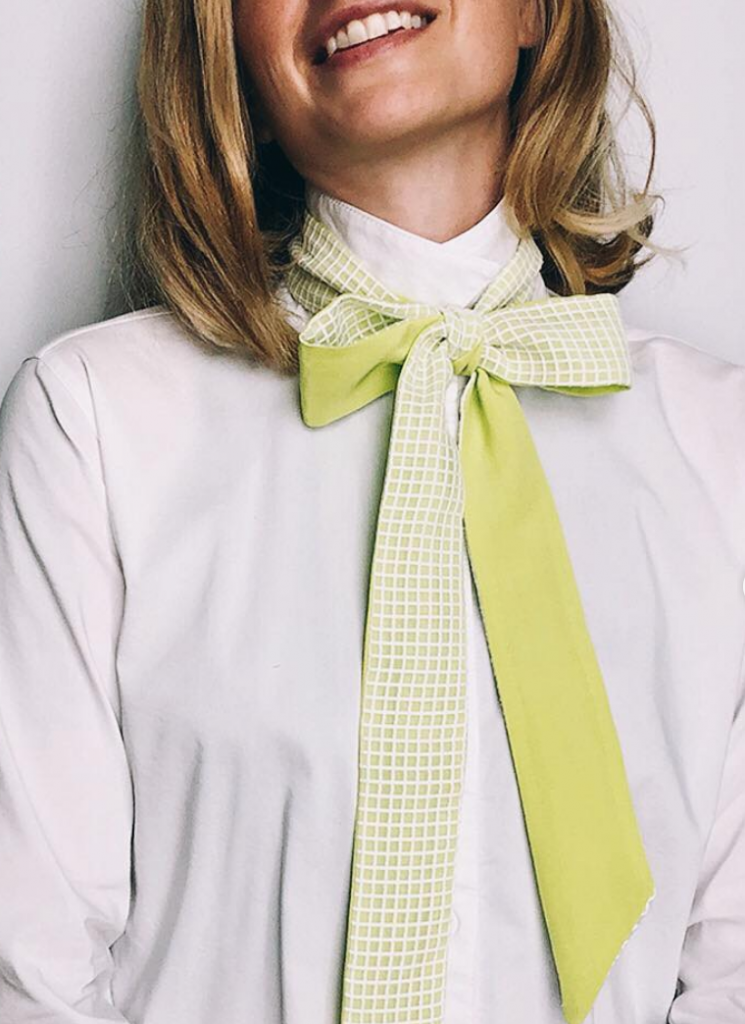 Andie Anderin showing one of her creations. 
2/ A top or a dress with a collar
The good thing about the collar is that you can hide the pussy bow underneath.
So proceed to do just like with a shirt.
If you own a "ready made" bow, the collar is still necessary to make it look "plausible".
3/ Anything with a crew neck (even a chimney or turtleneck one)
When there is no collar, you have to use the real "ribbon type" pussy bow as there is no hidding.
I recommend you to tie the ribbon in the continuity of your outfit. There shall be no skin showing in between the top and the pussy bow, nor shall the pussy bow stand in the middle of your top.
On the opposite, I encourage you to tie the pussy bow around high necks, dandy style.
III/ How to tie the pussy bow
1/ On the front
The perfect bow for shirt, this is the one you will use with "ready made" bows.
You can tie it straight under the collar with a buttoned to the top shirt for an uptight look.
Petitasla instagram
For a more relaxed style, open a few buttons of your shirt and tie the bow loosely, following the V.
2/ Side bow
I love this option with sweaters and crew necks, it gives them an instant "precious" twist.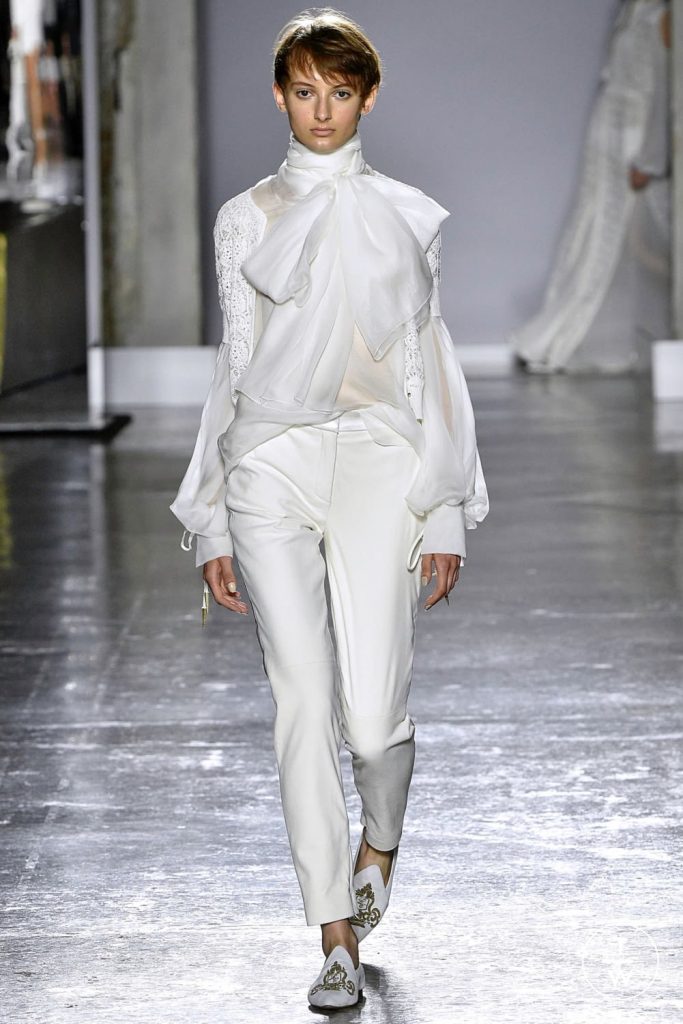 Les copains, SS 19. Tagwalk
3/ On the back of the neck.
This is a darling look straight inspired by aristocats it-kitten Marie.
Perfect on night outfit like a bustier or a crew neck top.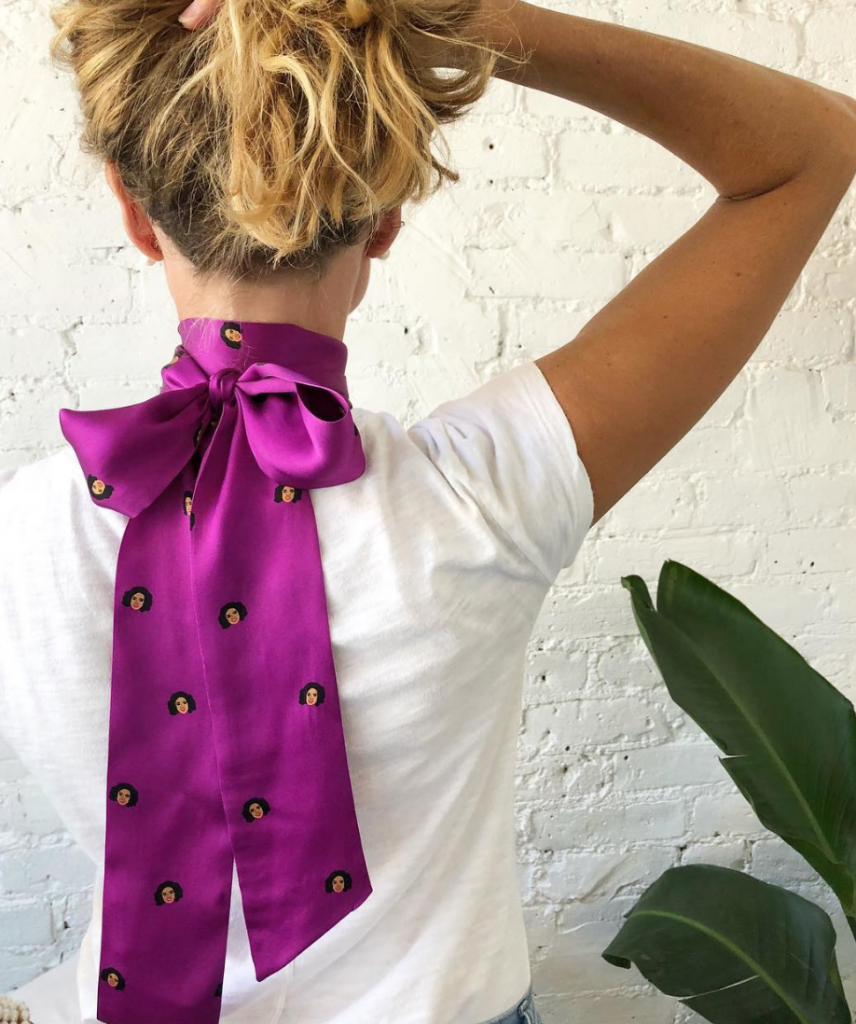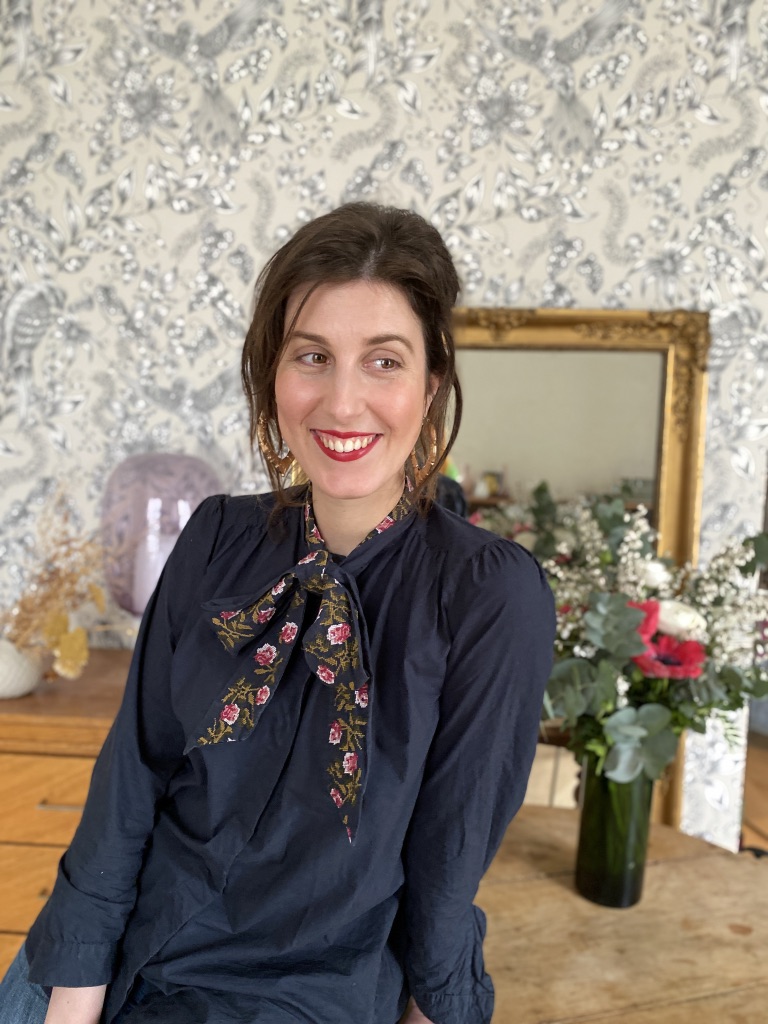 Me and my pussy bow, 2020
Find your own pussy bow mes chatons!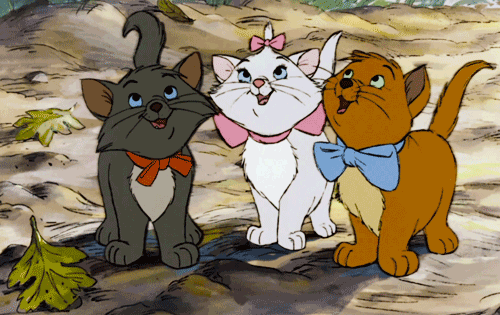 Cover collage: Brigitte Bardot, Andie Anderin