How to match colors
A successful look often results from a successful color mix.
But when we look at aaaaaall the colors available in stores, some of us can get a little confused and opt for a raven like look in order not to make any mistakes.
Let's have a little mixing lesson. Careful, you might become a color addict.
1. Mix colors and neutrals

Color shot on a plain black outfit can quickly look like Maya the bee.
For more subtle color mixes, add some varied neutrals next to bright colors.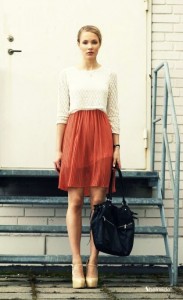 Photo: She inside
Here red is paired with 3 neutrals: white, black and beige.
By neutrals, I mean the colors that can be associated with any other color.
Which are black, white, grey and beige. I'd personally include navy blue (especially the one of the jean) and often natural leather.
Neutrals are a great way to add more shades in your look because they do not count in the well-known no-more-than-3-colors-in-an-outfit rule.
By mixing several of them with only one bright colors, you easily can create outfits that look very colorful and fresh.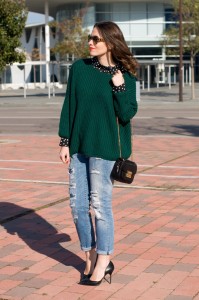 Photo: Macarena Gea wearing a rich green with neutrals.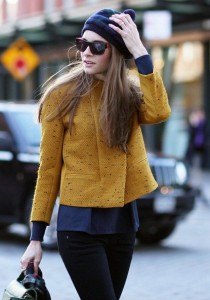 Photo: Marina Munoz. She mixes mustard with navy blue and black. The navy blue softens the black/yellow contrast.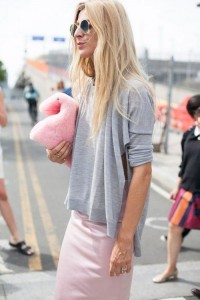 Photo: Found on pinterest. With pastels, pale neutrals such as grey or beige, create a soft harmony while pushing away the risk of looking like a macaroon.
Photos: Pinterest, Variacje. Pale neutrals are also great with neons.
But  I do not recommend the total beige outfit with a splash of neon. Always stay subtle. To be chic, mix different neutrals together like this young woman above, adding a leather belt to her outfit.
Even though all the looks I have just shown contain only one bright color, keep in mind that pulling of a neutral piece is also a great way to "break" a very colorful look.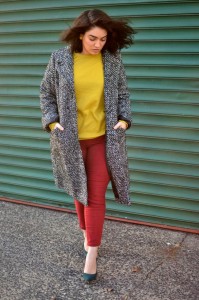 Photo: Nadia Aboulhosn. The three colors combo, which could be too much is softened by her grey tweed coat.

2. Associate complementary colors

I know you know what they are. Your school teacher taught you that… hum, long ago.
So, as a reminder: they are the colors located at the extremities of the color spectrum.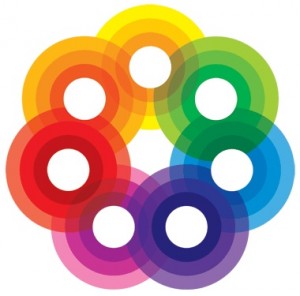 Each of those color make the other one look brighter.
The better way to mix them stylishly is to add a glimpse of one into an outfit containing mainly the other.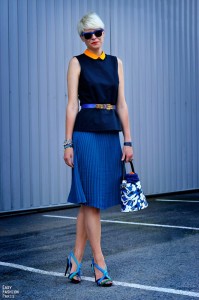 Photo: Elisa Nalin by Easy Fashion Paris
Here, great color master, Elisa Nalin, wears a blue hue mix highlighted by two little touches of orange.
If you wanna go for the color block I advise you to keep it low profile by choosing one of the colors less intense than the other.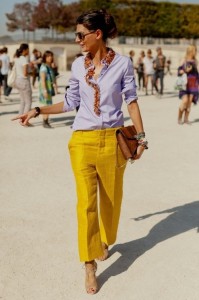 Photo: Giovanna Battaglia
Here fashionista Giovanna opted for mustard yellow mixed with a paler complementary purple.
Unfortunately, color blocks with colors the same intensity is almost always a caricature.
Colors the same intensity are colors that reflect the same amount of light in a way that, on a black and white photography they appear to be the same shade.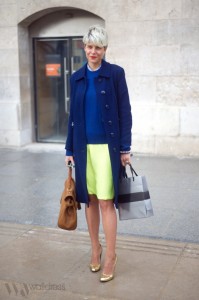 Photo: Elisa Nalin by Walldress
She pairs her neon yellow skirt with a darker blue. As an example, a bright cyan blue would have been a bad idea here.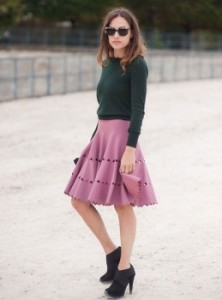 Photo: Anna Laub by Vanessa Jackman
Deep green and paler pink are an adorable duo.

3. Associate different hues of the same color

You can play it on the entire outfit or only on a part of it.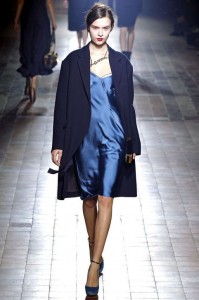 Photo: blue shades outfit by Lanvin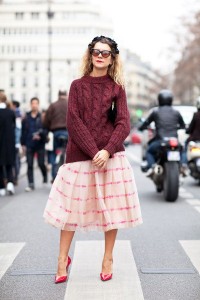 Photo: pink shades outfit weared by Natalie Joos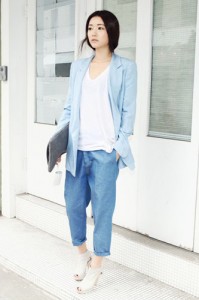 Photo: Found on refinery 29. Two shades of blue paired with neutrals.

4. Associate "neighbor" colors

I call some colors "neighbors" if one of them enters the composition of the other.
Example: green is blue + yellow. Therefore blue and green or yellow and green are neighbor colors that can be worn next to each other.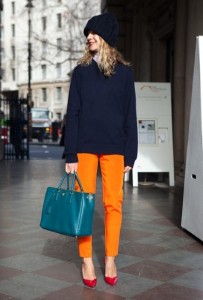 Photo: Natalie Joos. She mixes red and orange with skill and even adds two complementary colored blue pieces of different hues (that is called an expert, ladies).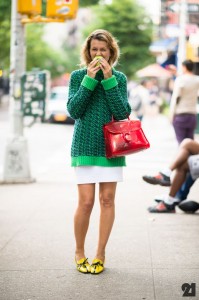 Photo: Natalie Joos. Here she opts for a green and yellow mix.
May the rainbow force be with you.
Cover collage: Tuula vintage, Elisa Nalin, Balibulle