How to layer?
In French we use the idiom "dressing like an onion" to say we layer clothes in order to stay warm.
Wondering why? Google onion pics.
The problem is that no bulb has never been acknowledged as a chic icon.
How to be a stylish onion? Let's find out!
Before we begin let's agree on the fact that layering means that we will be able to actually see the layers.
And I chose to speak only about layering the upper part of your body because, except, for the skirt/pants combo that recently attempted a come back, I do not have a lot to say.
1. Which way?
There are two kinds of layering:
– Vertical layering
Where you wear your different layers opened so they create vertical lines.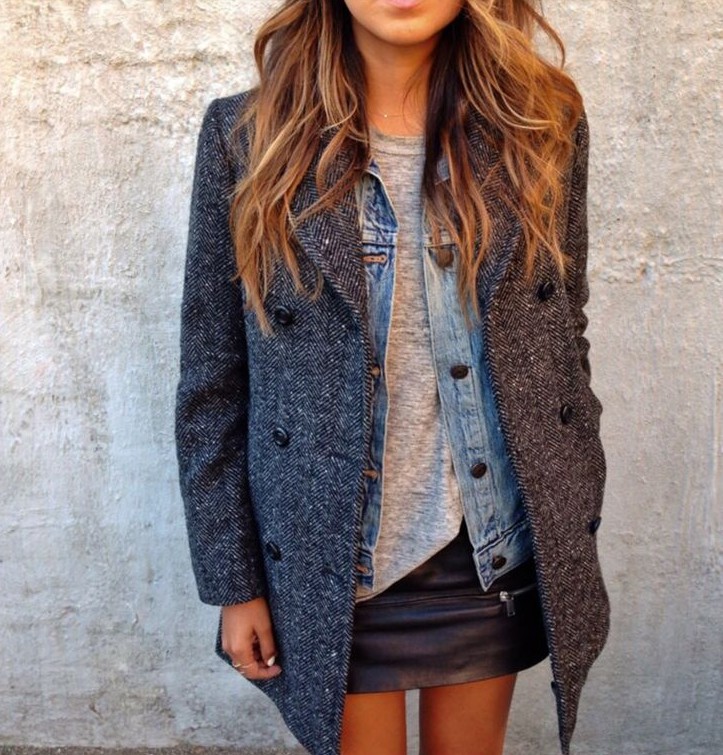 This is a great way to slim your figure (if you do not use chunky fabrics).
– Horizontal layering
Where one layer is longer than the other.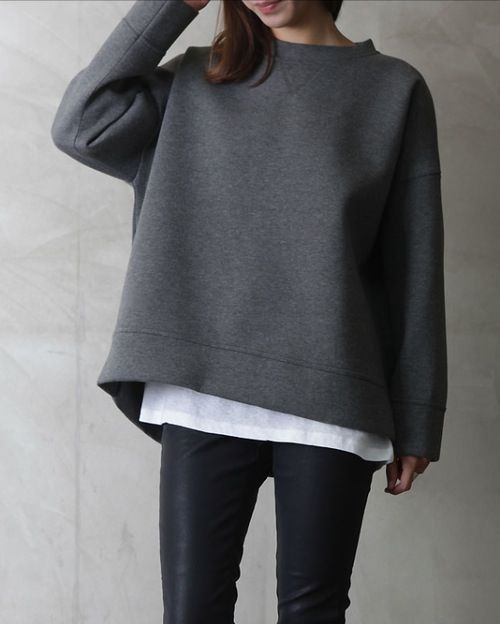 Layering can be very subtle
2. Cut
– When worn opened vests, blazers or cardigans should fall vertically and not draw a trapeze shape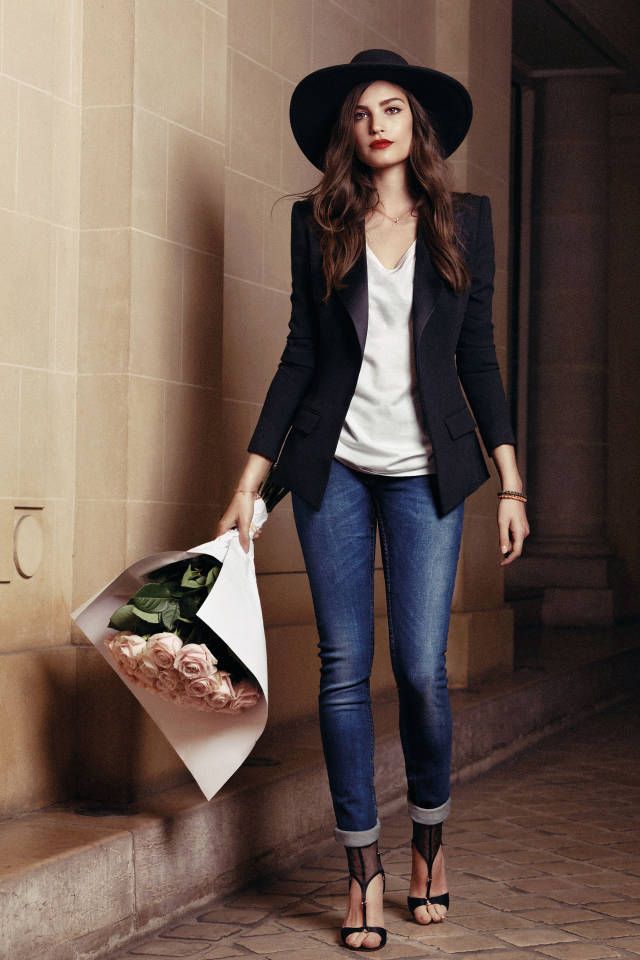 Alma Jodorowsky for Lancôme
For instance on this busty girl here, the jacket escapes on the sides drawing the trapeze I was referring to.
– Any classic piece such as a perfecto or a trench is always a good layering option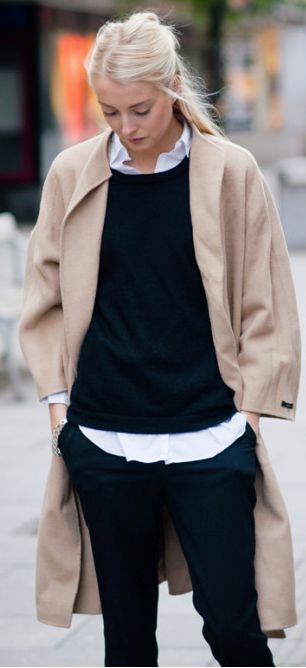 – A blouse showing collar and sleeves under a sweater add some twist to any look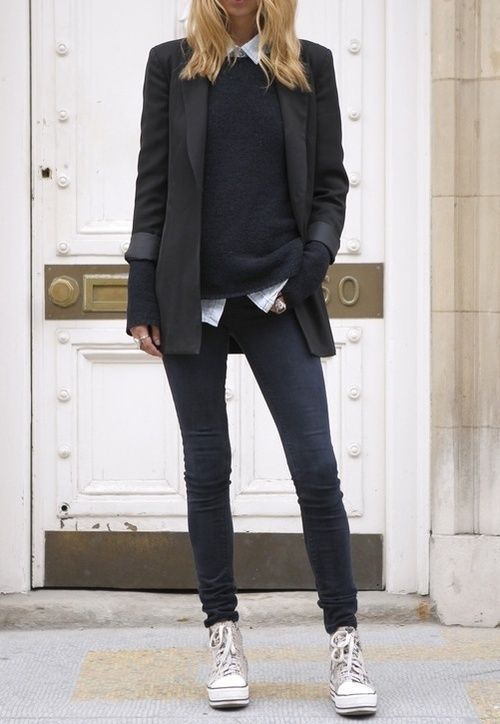 – Match the necklines
Do not ruin your V neck with a round neckline showing off
– To warm up your summer dress prefer dressing on top of it than under it
Two reasons: the stuffs UNDER the dress could create odd shapes and volumes and you will look like a school girl.
Prefer to wear a cardigan/ a blazer over it and a large scarf to keep warm.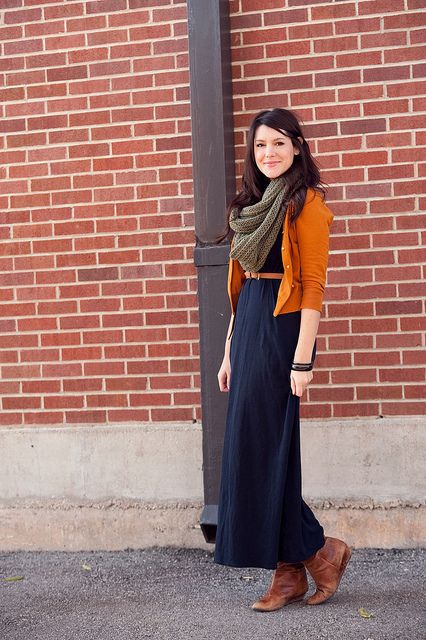 3. Fabrics
– The thickest piece of clothes should be on top
Otherwise you can look like a stuffed teddy bear.
(See here,  how her stiff jean blouse, makes her fluid top look odd?)
– The fabrics should look different from each other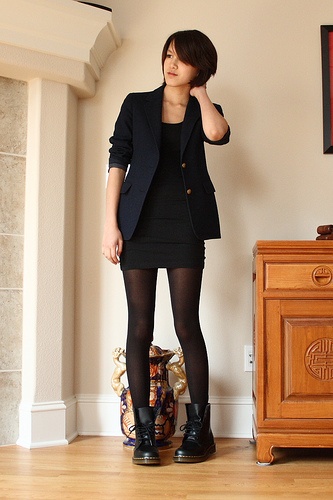 Here, she wears her skin tight jersey cotton dress with a stiffer blazer
– Layering transparent fabric creates great outfits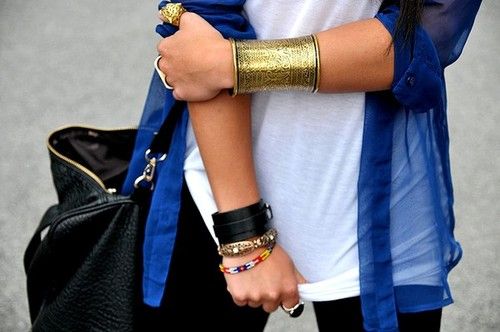 – If you have round shoulders prefer layering fluid fabrics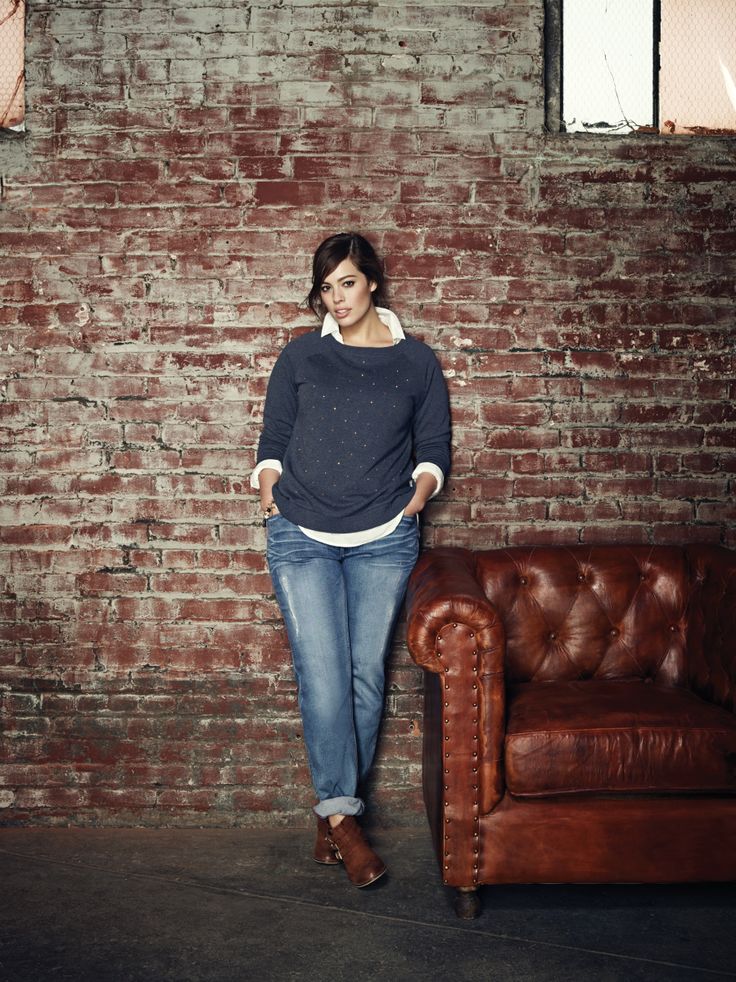 – If you are thin, layering thick fabrics is a good way to shape up
4. Lenght
– The top layer can be longer than the one underneath (classic)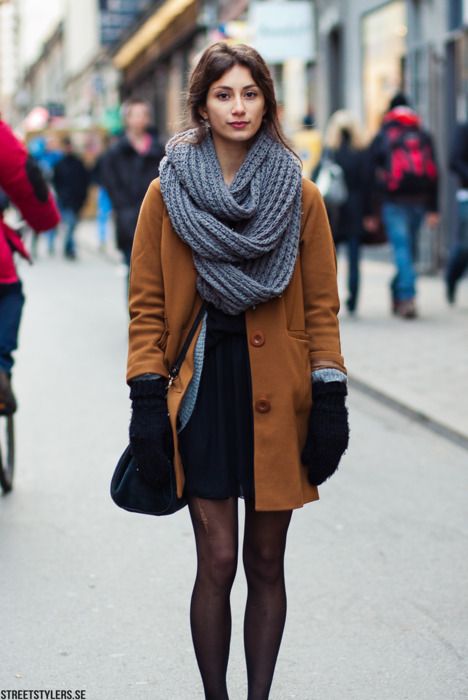 Streetstylers.se
– A shorter top layer is a great fashion statement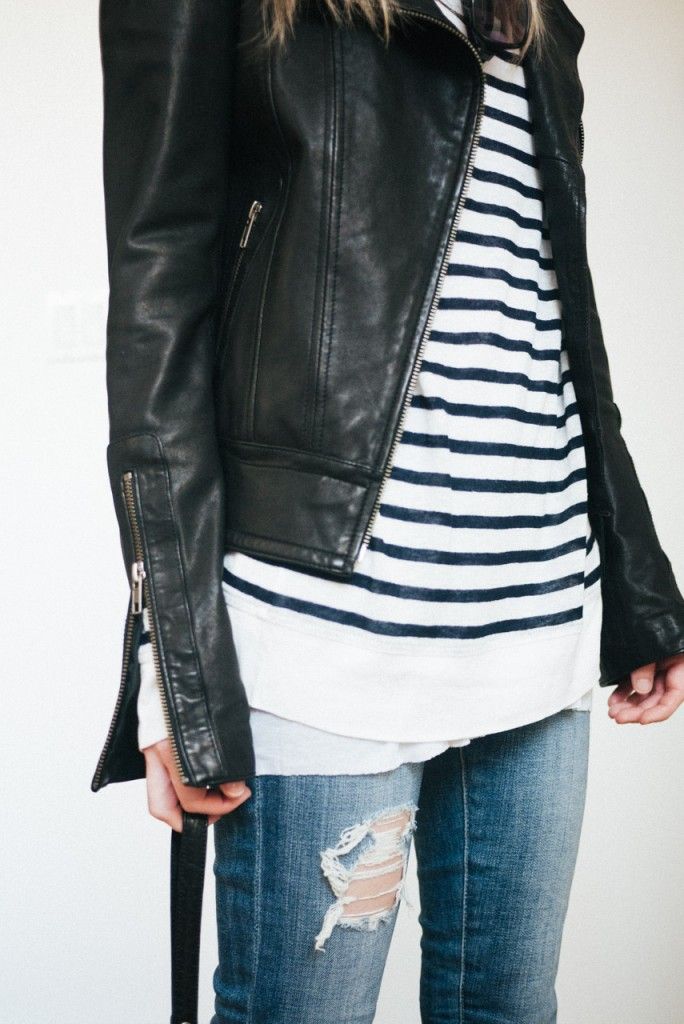 Erica Wilson
Be careful though, if the hemlines do not match, that will look strange, like here with the match of a jean blouse showing under a Chanel like suit blazer.
5. Colors and prints
– Layers of different colors always work great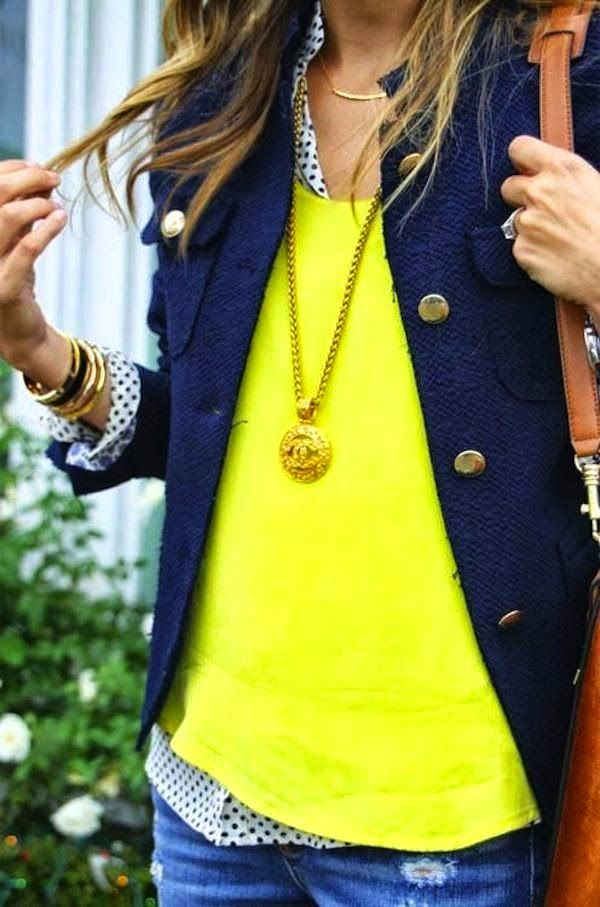 – Layers of the same colors shall have a different fabric (see 3.)
So you actually notice the layering effect.
– Layers are a great way to add a pop of colors and/or of prints into your outfit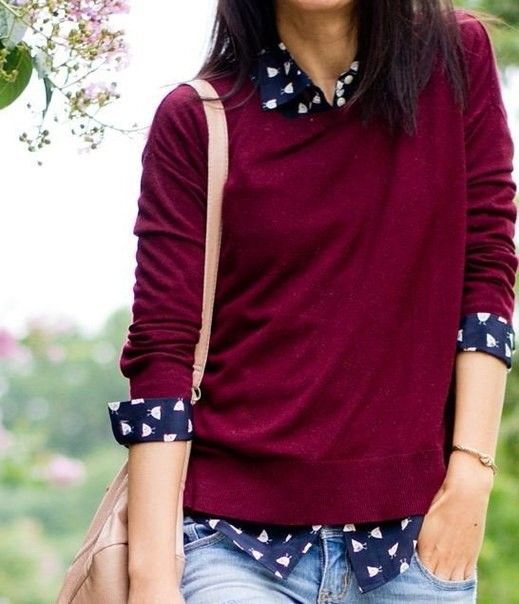 – For a slimming effect, use one of the layers in a darker shade than the other
5. How many layers?
I recommend two or three, four being a maximum.
First layer: the thinnest = dress, T-shirt, blouse, knit, sweater, etc.
Second layer: Opened blouse, cardigan, crew or V neck knits, jean jacket, etc.
Third layer (can often be the layer "too much") : jean jacket, cardigan, etc.
Fourth layer: the coat layer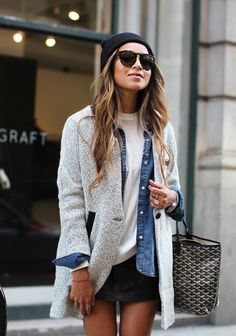 Sincerely Jules wearing three layers
7. Details
Beware that the details of the different layers match each others.
Here the buttons of the cardigan do not match the zip of the motorcycle jacket for instance
8. Why layering?
Not only is layering stylish, but it is also a good idea to adapt to every moment of the day: the first layer is for the office, the second to warm up inside and the third to go out.
It can help you use your thin clothes like dresses, blouses in colder weather.
And you? Do you layer?
Cover collage: Harper and Harley, unknown