How to choose your lipstick
The choice of your lipstick is very important: not only does it enhance your beauty features, it also completes your outfit as an accessory. To me, the color and texture of your lips has as much effect on your global allure as the shoes or scarf you choose.
To begin with, I will not speak about every colors available on the market cause, even though you can success in making bright barbie pink look great…  in general it's never really chic.
I also won't speak about natural tones (light pinks, beige, etc) which only enhance the beauty but are not a fashion accessory.
I decided to set the focus on 4 color families:
– Red (as in bright red)
– Burgundy
– Coral (and all shades with a hint of orange)
– Pink (Raspberry/ Fuchsia)
1. What lipstick for your beauty?
1.1 Color
Basically, I think that any complexion can wear any color.
Useful advice huh?
Of course, some colors will enhance the beauty of a person better than another, but I prefer to speak about the general allure and do not like to restrict possibilities when it's not necessary.
All the colors I'll speak about have different hues. To choose the one that suits you, the best way is to try it on and check out.
You can even ask a friend or boyfriend or hubby or kid, or cat, or goldfish for advice.
To show you what I mean, check out how this very different ladies pulling out great looks with various shades of lipsticks
– Bright red
Very pin-up! For blondes, brunettes, brown/dark complexion, asian/latino complexion, redheads, etc.
– Burgundy
Dramatic, and sultry. Seen on blondes, brunettes, dark complexion, asian/latino complexion, redheads, etc
– Coral
Fresh and fun. Looks great on blondes, brunettes, dark/brown complexion, asian/latino complexion, redheads, etc
– Pink (Rasberry/Fushia)
Ladylike and flirty. Looks great on blondes, brunettes, dark/brown complexion, asian/latino complexion, redheads, etc
The only thing I do not recommend is for women with thin lips to wear darker colors on their mouth. I will make it appear smaller.
1.2 Effect and application
Lipsticks come in different textures: creamy, matte, glossy and sparkly.
If you have thin lips, go for the textures that add volume like creamy, glossy or sparkly.
If you have big lips, avoid the glossy and the sparkly effects, and be careful with the creamy (not to shiny).
Also, choose your lipstick's texture according to the style you are trying to achieve. Matte is very sophisticated, glossy is fresh, creamy is glam and sparkly, well not my favorite, to be honest.
When applying your lipstick, you can contour and fill it with a pencil to have a defined shape. It has to be the same color as the lipstick. I beg you not to contour it with a darker color.  The filling part is important in case the lipstick goes out. And always follow the shape of your lips, cheating will always be cheap.
If you prefer to more natural "bitten lips" effect, go for the blurry application: put a little bit of lipstick in the center of your lips and spread it with your fingertip.
1.3 Associated make-up
As always, the best is to create a flawless complexion. Of course, you should always stick to your natural color and never try to create any fake tan. When using statement lipstick, be quite light on the blush, the fresh pop of color of your mouth already enlightens your face.
Regarding the eyes, you can skip the makeup for an edgy result, add  mascara for a fresh style, a black liner for a pin-up allure or a smokey eye for a sultry look.
Generally, avoid using a different makeup color for your eye as you can quickly look like a parrot. But if you really want to try, think complementary: a thin green liner with raspberry lips, a dark blue smokey with coral lips, etc.
Jessica Chastain wearing burgundy lips and purple eyeshadow
For the eye makeup effects and texture, I advise you to contrast it with the mouth. Golden and sparkly looks great with matte lips for instance when glossy and shiny can often be too much.
Lastly, I recommend you not to match your nails with your lips. It's a bit vampy and old fashioned. Prefer to think in terms of complementary colors. Bare well groomed nails are also a great option.
Now that you know how to choose your lipstick according to your face and to the rest of your makeup, let's see how to pair it with the rest of your outfit.
Want personalized style advices? Reach me for distance styling or personal shopping!
2. What lipstick for your outfit?
2.1 Lipstick as the color statement of your outfit
Lipstick is perfect for days when you don't feel like getting dressed.
A very casual outfit like jeans + white shirt will take a whole new dimension after the addition of a statement lipstick.
For that use, I think bright red lipstick does the best job.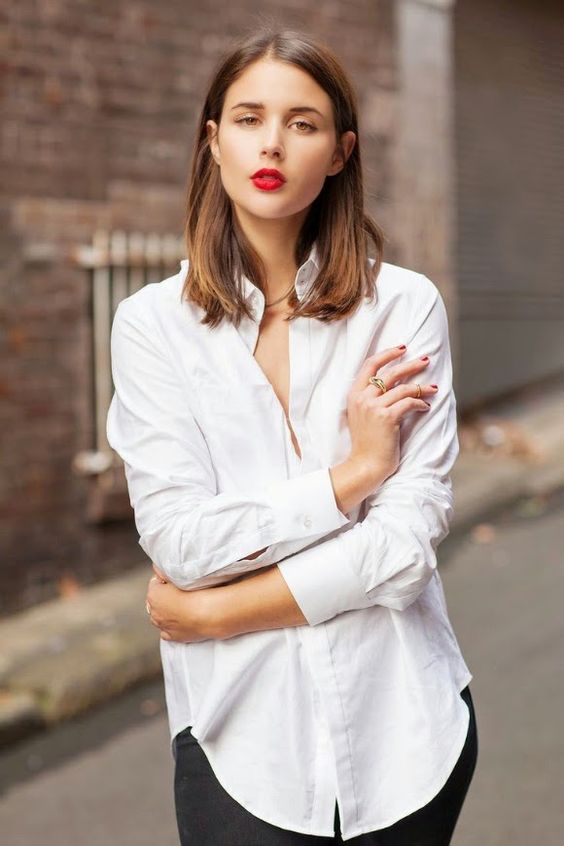 But neon matte coral, or raspberry pink could work too for instance. Anything bright that pops!
2.2 Lipstick as a complementary color of your outfit
Pair the lipstick with your look as you would pair any clothe.
And remember that with neutrals (like in the aforementioned example), everything matches.
When you are wearing colors, pay more attention. For instance, flashy coral does not match a winter harmony made of burgundy and purples. And raspberry is not that good with baby blue.
To nail it, think complementary colors and think contrast.
Inspiring clothes/lipstick combination:
– Pink lips green top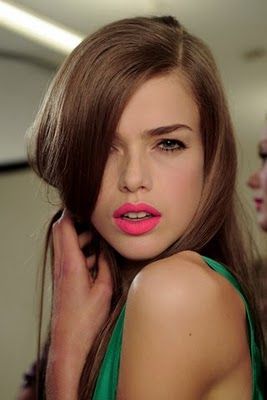 – Coral with blue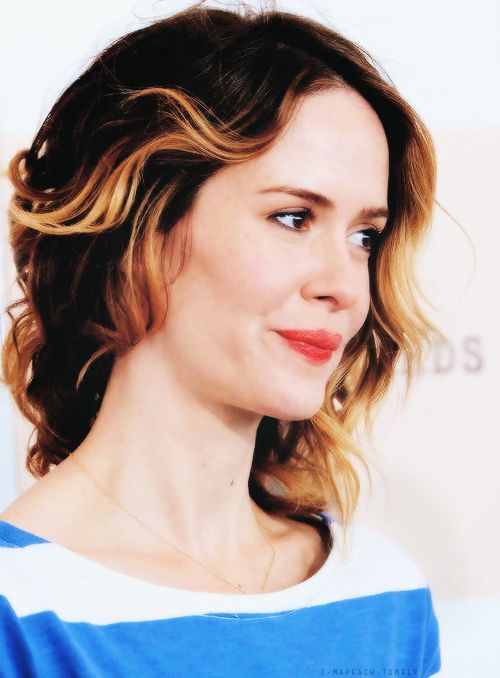 – Dark lips pink top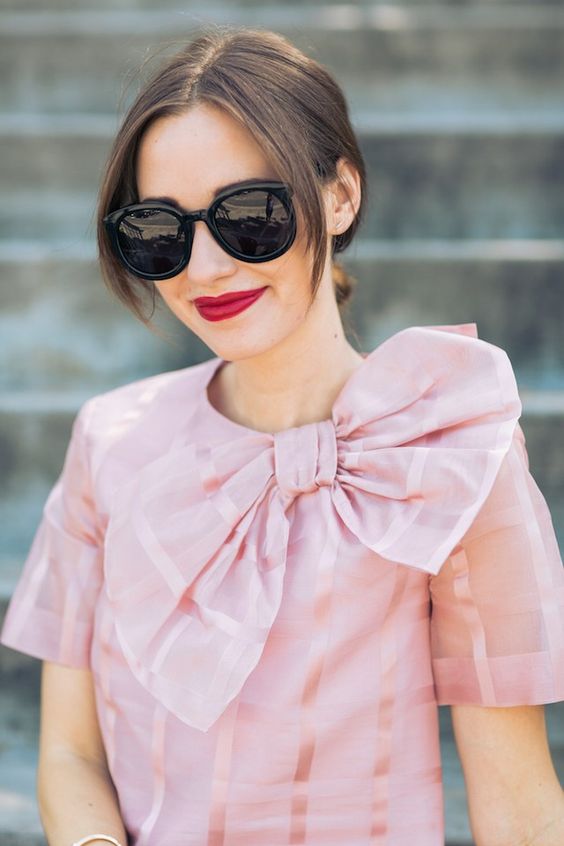 2.3 Lipstick to emphasize the mood of your outfit (or to contrast)

Lipstick tells a style story.
Glossy pink = I am a lolita
Bright matte red = I am fashionable
Creamy burgundy = I am sexy
So you can either make the style of your lipstick match with you look to emphasize it or choose a lipstick that clashes with your clothes for a very stylish effect.
– Matching lipstick inspiration
– Black pin-up dress + creamy red lips
– Fresh floral dress + innocent coral lips
– Clash inspirations
– Boyfriend jean and white T with creamy red (pic above)
– Sweet pastels and dark burgundy lips (pic above)
I hope this will inspire you to use lipstick as a stylish accessory.
And you? How do you wear the rouge à lèvres?
Bisous de Paris!
PS: For the best tips on makeup, go check out Lisa Eldridge's tutorials.