Enhance your style with earrings
After spending the beginning of the decade adorned with huge necklaces, earrings are now the lead of the game.
There are lots of benefits to wearing "high up on the face" jewels. Even the days you have to hide under layers of coats, scarves and beanies, they'll nicely peak out. And no need to match them to the shape of your collars.
Though your hair have to be considered. If you are the lucky owner of gorgeous thick hair… it is possible that, just like a voracious plant, they swallow any earrings. On the opposite, short hair wearer will have an easy task.
The shade of your hair, of your eyes and your outfits are also factors that will help you choose the ear adornment of your day.
I/ Earring size
A/ Miniatures
By miniatures, I mean all those that are not mobile and stay close to the ear: studs, mini hoops and other tragus or helix piercings.
Those are like or default embellishments.
By the way, if you have pierced earlobes, I recommend you to always have something in them even the days you are not wearing anything because the tiniest of studs that won't even be noticed is always better than an empty hole.
If your hole is stretched, reach for "dot" studs, that will cover accordingly.
(Note that I am not bodyshaming anyone here: just giving tips on how to be elegant).
If you have several piercing or plan on having, get them assymetrical. (but I guess no one would spontaneously do symetrical piercing …).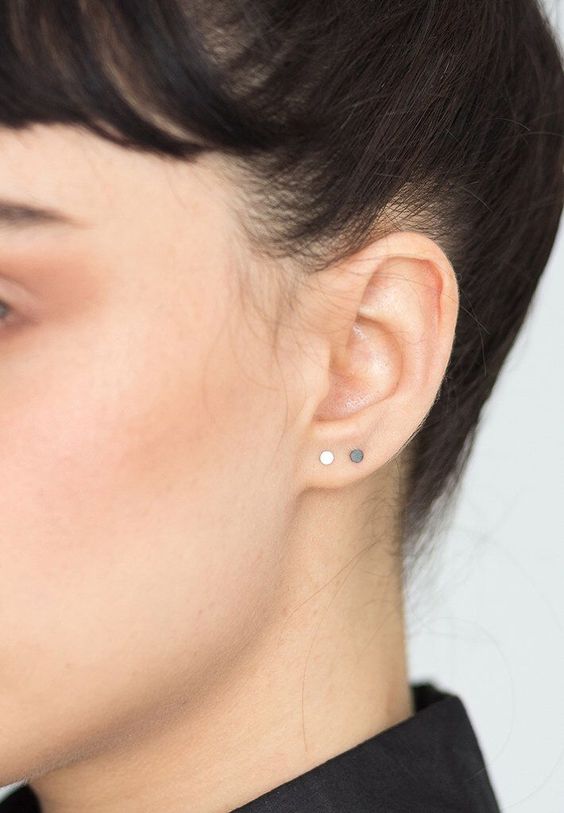 Dot studs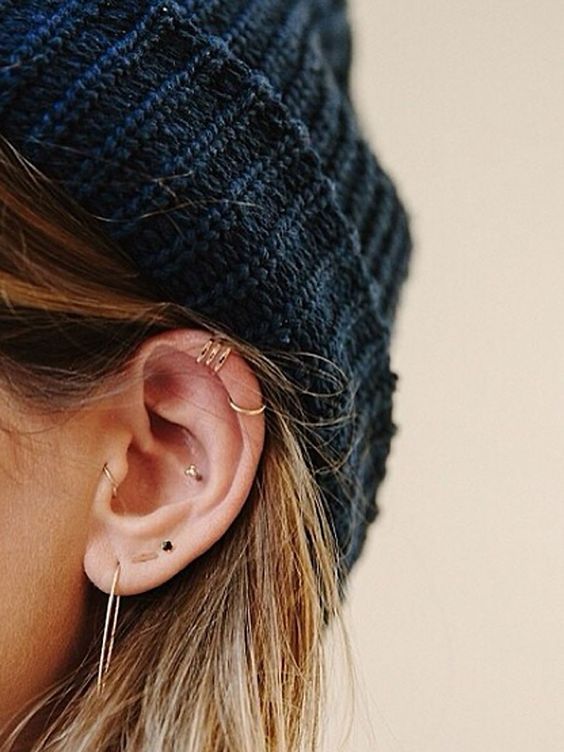 Everyday constellation default adornement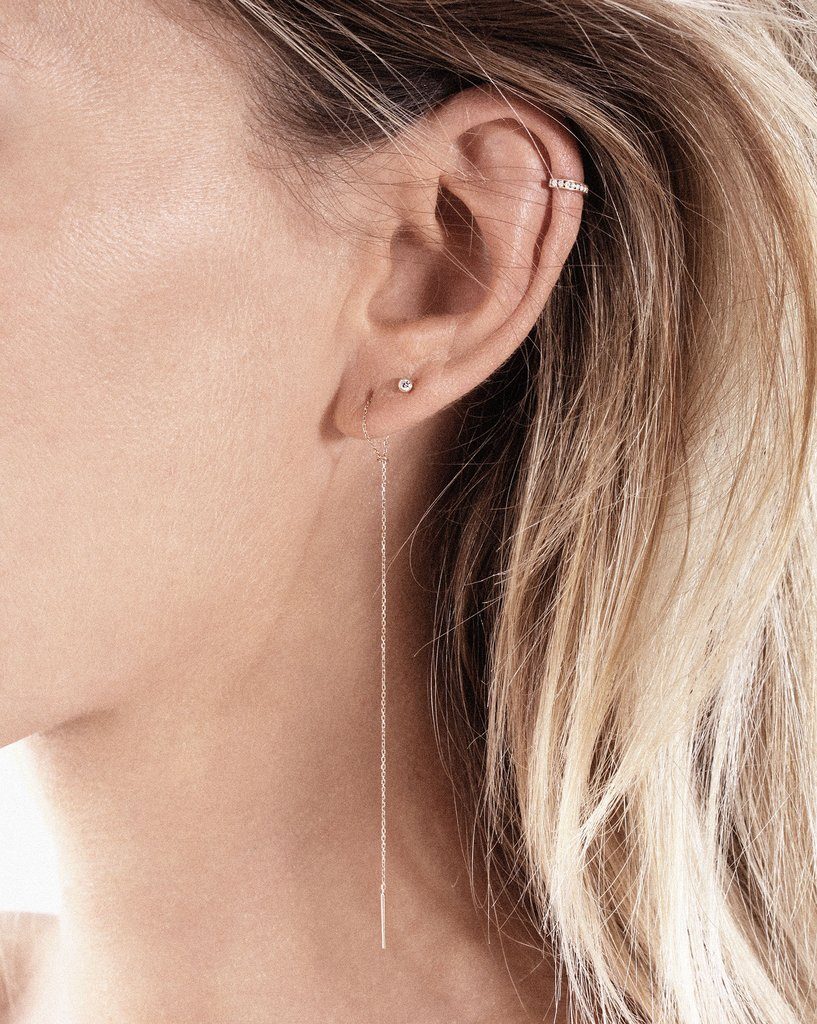 Longer miniature earring by Vanrycke
For what hairstyle? For what faceshape? 
Super thin earrings will suit everyone.
They will be noticed more on any haircuts that expose the earlobe of course.
Even if they are not seen by everyone, you now they are there and elegant. It is like wearing pretty underwear.
B/ Oversize
Oversize earrings are an efficient statement to upgrade any outfit, even the simplest.
Whether you pin them or clip them you'll find them in a wide range of shapes, materials and colors so they do not have to be heavy.
a/ Close to the face
Stars of the eighties, they are making an applauded come back.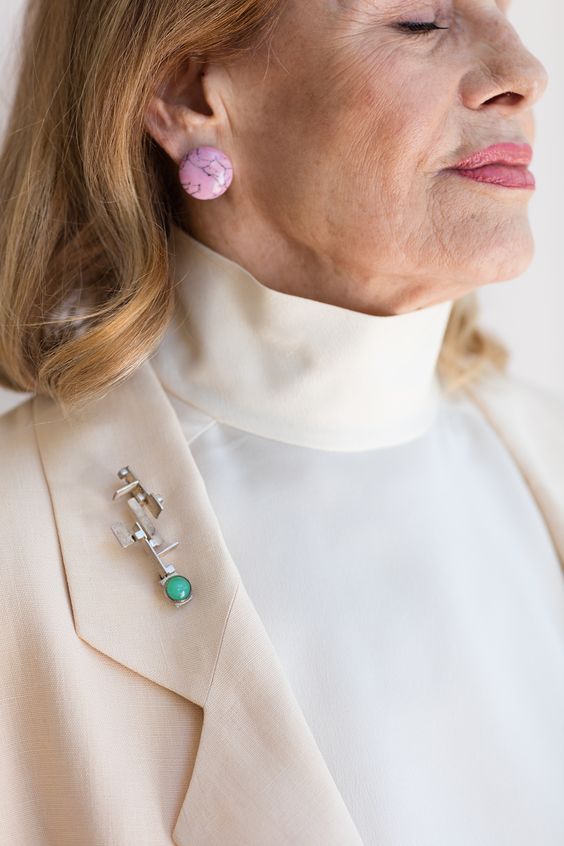 Classic here…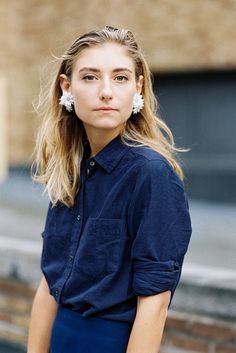 Funky on Jenny Walton
As Jenny, I like oversize shapes that "swallow" the lower part of the ear.
If you are looking for some, turn to vintage! You'll find loads of eighties YSL and Chanel.
For what hairstyle? For what faceshape? 
They will be noticed with tied hair, pulled behind the ears, mid lenght, bobs and short hairs.
Get them round if you have sharp jawline.
b/ Pendants
Oversize pendant are the ultimate "look at me" earrings.
Especially if you get them thick, shiny or bright.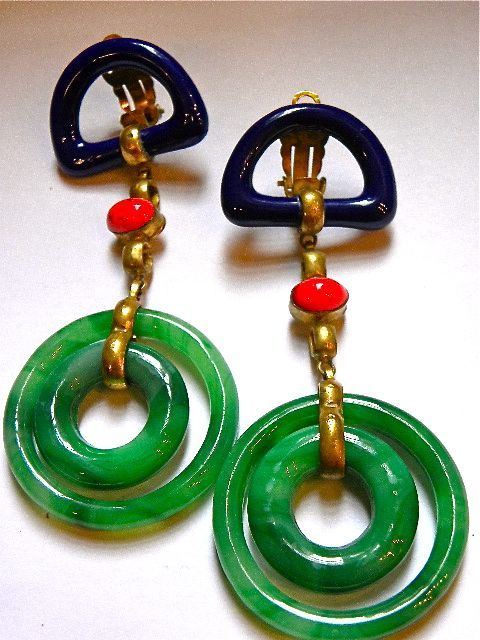 Vintage Chanel from the 70's
If they are dangly, they'll create a nice movement around your face.
If you worry about the weight of those divas, choose acetate or thin yet noticeable structures.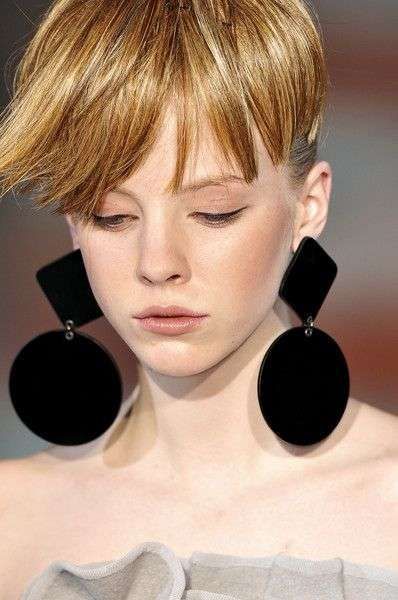 For what hairstyle? For what faceshape? 
They give volume to short or pulled hairstyles when the hair lacks. They also balance a thin face and long neck.
The longer they are, the more you need to have a long neck to pull them off.
If your neck is on the short size opt for medium lenght.
To make the earrings less impressive, you can always untie your hair if they are long.
If your hair is massive, choose them in a contrasting fabric/ color to give them a chance to be noticed.
If you have stretched earlobes, go for oversize earrings that do not pull too much and hide.
Last advice: try them on! Notice better than a real life check since fashion is no exact science.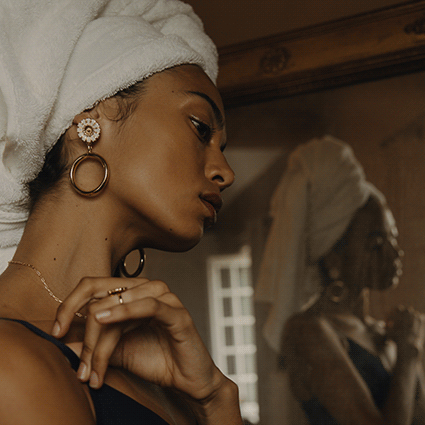 Earrings that hide the earlobes by Louise Damas
C/ Medium sized
Perfect if you are looking for that style boost of statement earrings without being too loud.
Middle sized earrings are the most common in european costumes and many classic shapes come to mind.
If you are looking for a modern twist on your look, prefer modern versions.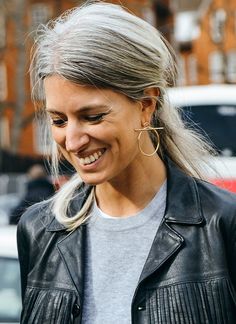 Pretty Sarah Harris with creative medium sized earrings
For what hairstyle? For what faceshape? 
Sometimes medium sized earrings appear undersized on longs necks or large faces. Get the right balance.
II/ Fabric and color 
Some skins cope better with gold, others with silver, yet, in my experience as a stylist having worked with a variety of women with a variety of skintones from dark black to super fair whites, I think most ladies can cope with both!
You can even wear both intricated as does talented jewelry designer Charlotte Chesnais.
– Gold
Warm and luminous gold earrings will give a soft glow to your face.
– Silver
Colder, silver earrings may appear harsh on the face.
Perfect for those aiming for rebellious or minimalist looks.
C/ Turtleshell
Warm and soft, turtleshell warms up the blondes, and echoes hazel and reds.
Yet does not work so well on really dark and cold hair colors.
Not to match with your glasses.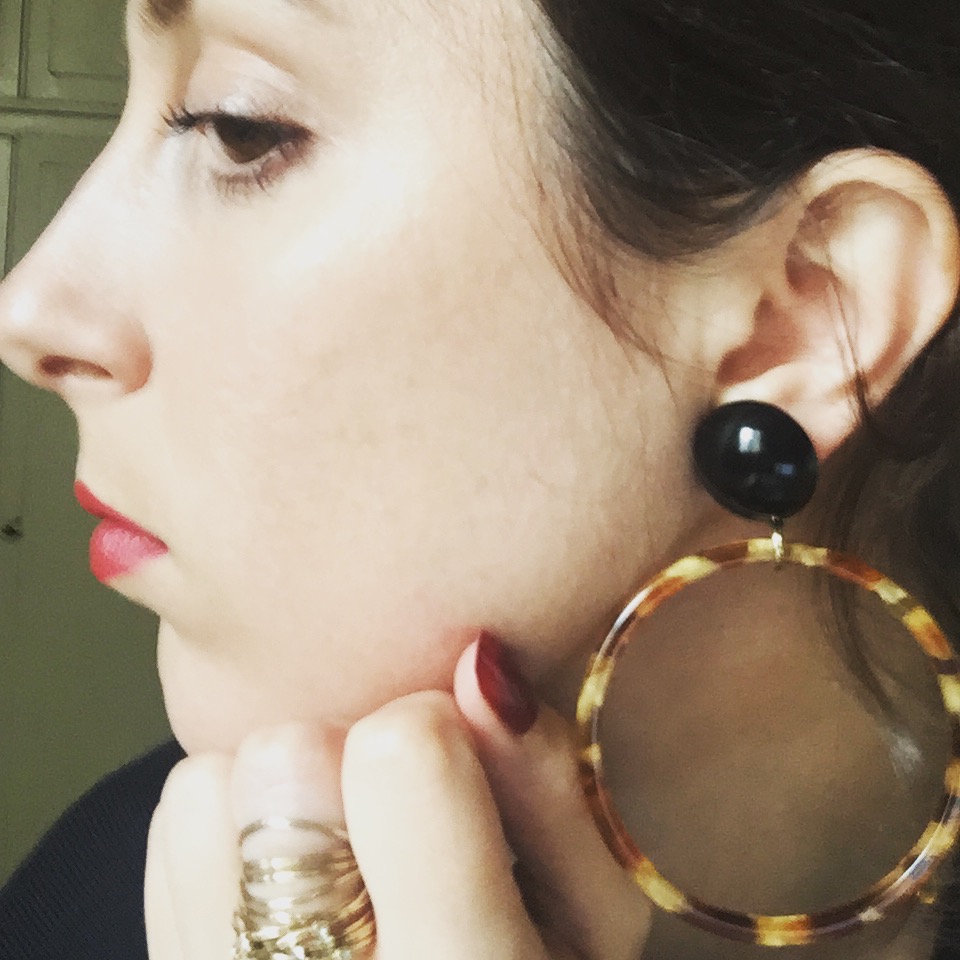 D/ Bling and diamonds
Any bling radiates even more light than gold!
Perfect to light up your face on gloomy days.
I love to wear them with casual or even grunge clothes.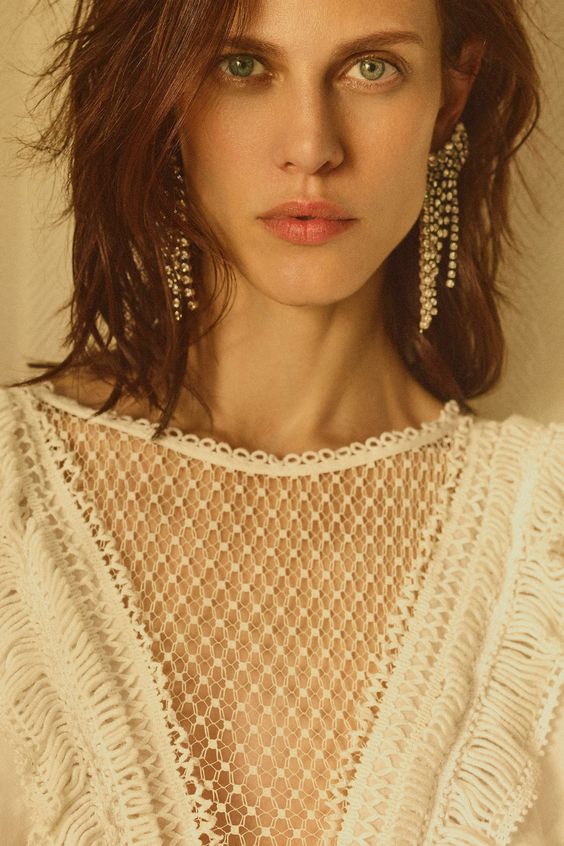 Isabel Marant <3 with unkempt looking hair
E/ Mother of pearl
The earring celebrated by Vermeer makes a great come back with natural irregular shaped pearls.
They give a soft glow to the face.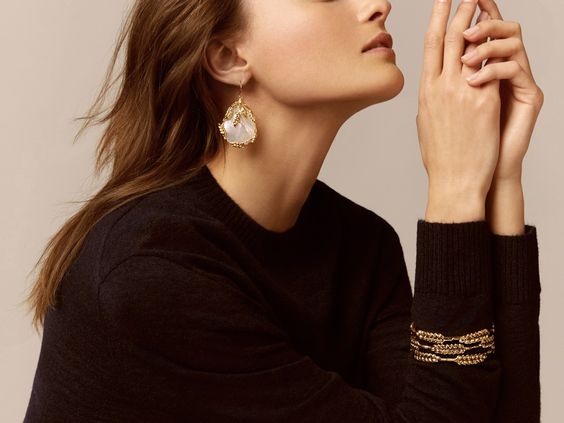 F/ Colors
For a lively glow without lipstick or blush, opt for red earrings!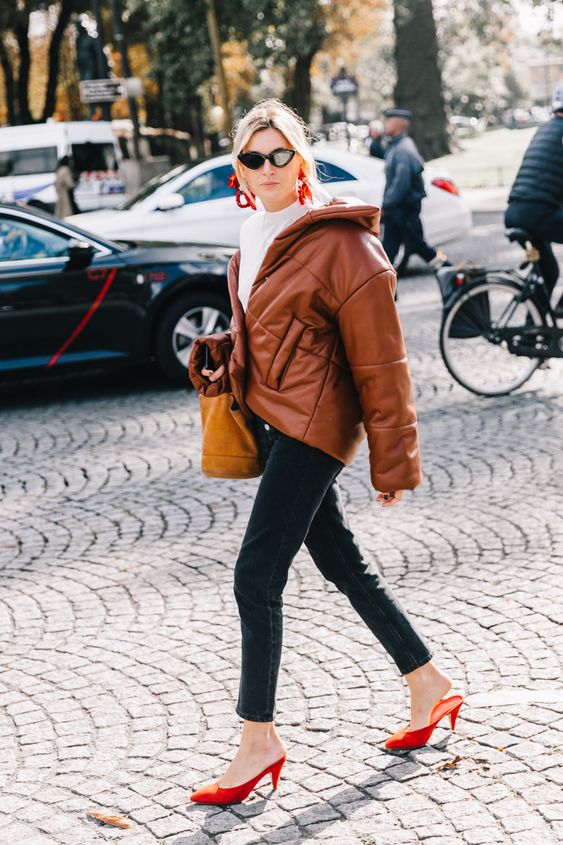 Here Camille over the rainbow has paired them with her mules. 
For other colors, try to match them according to the complimentary color or shading colors theories that I explain on my blog and in my book. 
For instance green or blue in red or blond hair. Or against ebony skin.
Yellow on brunettes or black skins.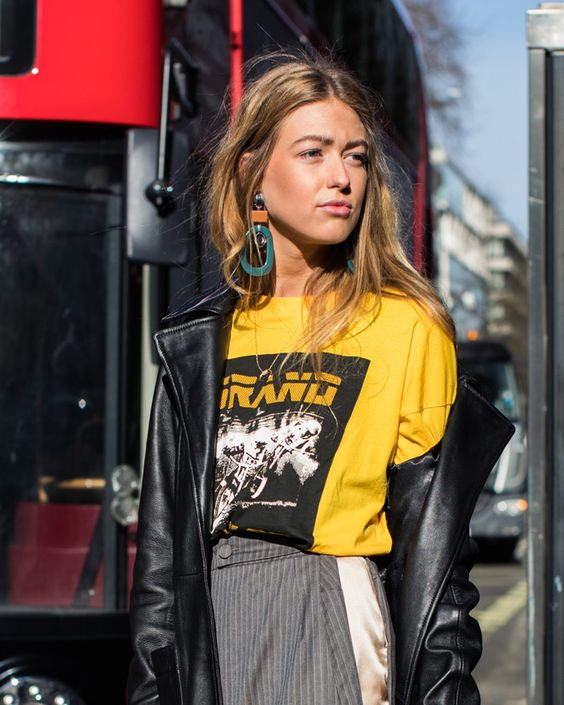 Green on blond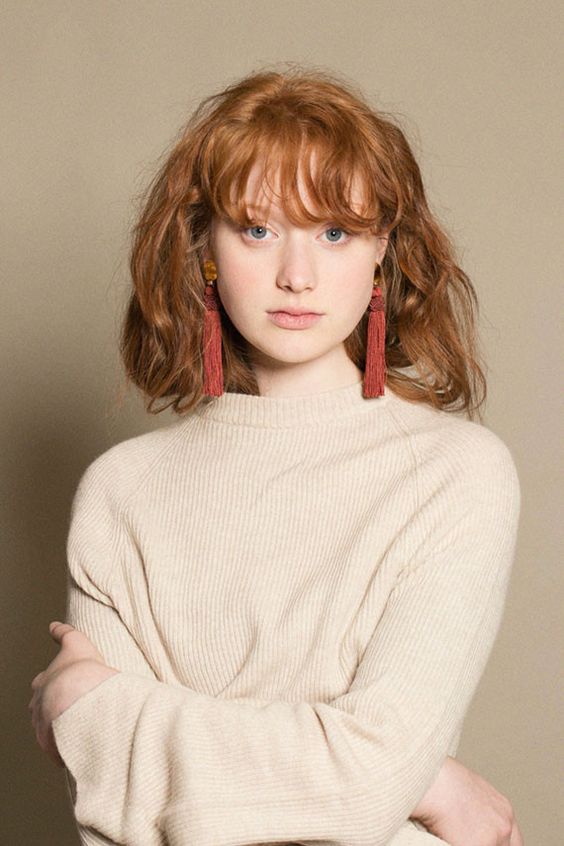 Subtle shading
III/ Earring style
A/ Simple
Simple earrings keep it low key.
They can be miniatures as aforementioned or bigger yet classical shapes like big hoops.
B/ Arty
Get an unusual shape or fabric.
At the moment, some earring ressemble Calder mobile!
Do not shy away from assymetrical. Some earrings are so bold one is enough.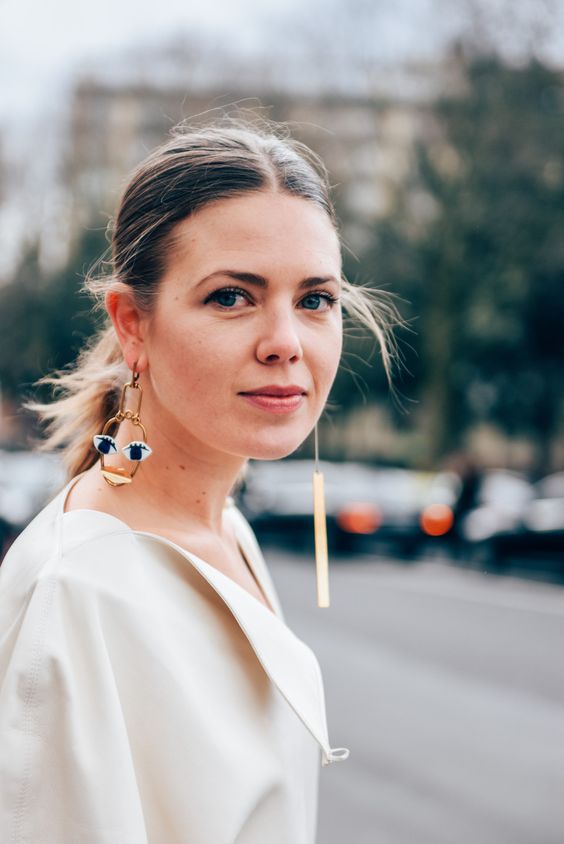 C/ Baroque
A style that raises the glorious time of the european royalty.
Find your match by searching vintage Lacroix.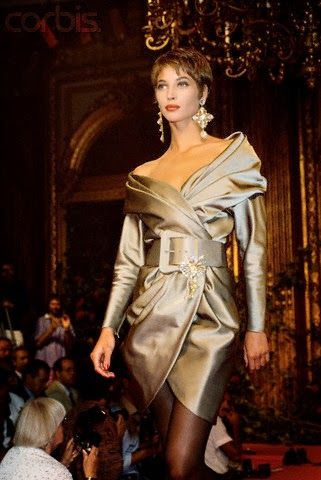 Beware, they are heavy!
I like the idea of wearing them with a simple or even quite grunge style.
D/ Punk ou futuristic
Atypical wears are developing. They look like piercings without the need of additional holes.
The backside earring has been seen a lot, for instance with the mise en Dior double pearl.
I recommend you to wear these on one side only.
Luckily, almost all of them are sold by the unit now.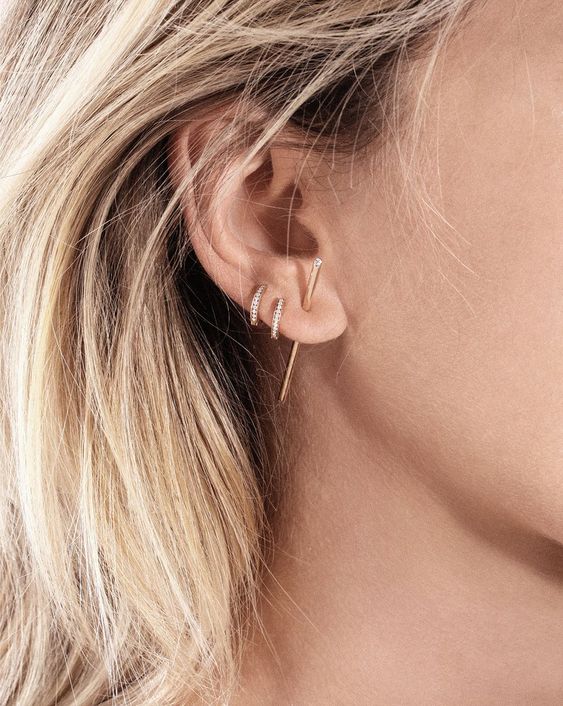 My fav, the Massaï by Vanrycke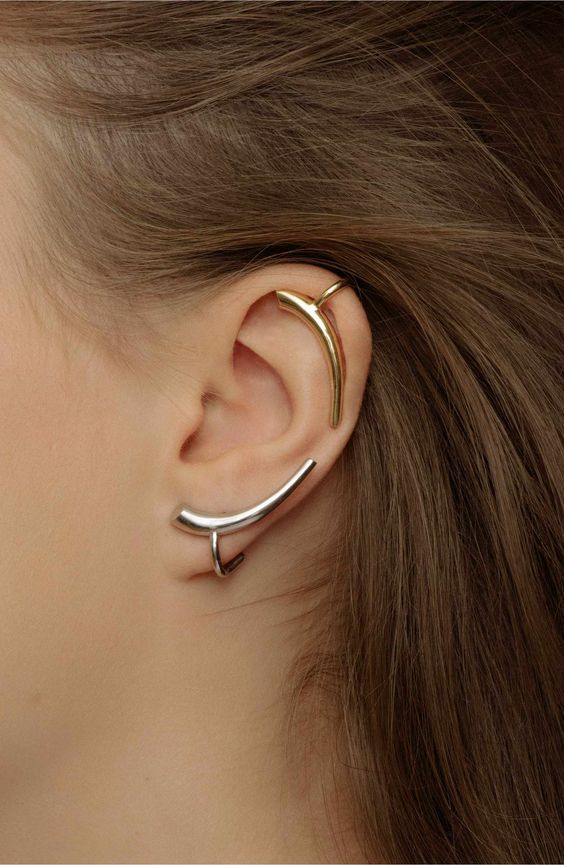 Fusion metal ears by Charlotte Chesnais
Ready to be daring? 
Cover collage: Jujumade and Sophie Buhai