Are the French's outfits in Emily in Paris accurate?
I recently binged  Emily in Paris. As everyone apparently.
It both entertained and annoyed me at the same time. Everything is SO CLICHE.
Yet fun, I can't deny!
Anyways, let's focus on the costumes. Not Emily's, but the french women in the show.
Is this really what french women would wear in real life?
My french stylist point of view on Sylvie and Camille's outfits in Emily in Paris.
SYLVIE
She is a 50 something woman at a head position in a posh marketing agency working with upscale clients in a super fancy neighborhood.
Therefore she is not our average Parisian which shall be considered when appreciating the reality of her looks but a Parisian with similar lifestyle.
Let's decipher!
Black pencil skirt, classic white large cotton shirt, sexy designer's heels
All timeless french staples with a hint of sexyness. Totally believable. Maybe except for the height of the heel, but hey that's fiction, let's keep some dream component.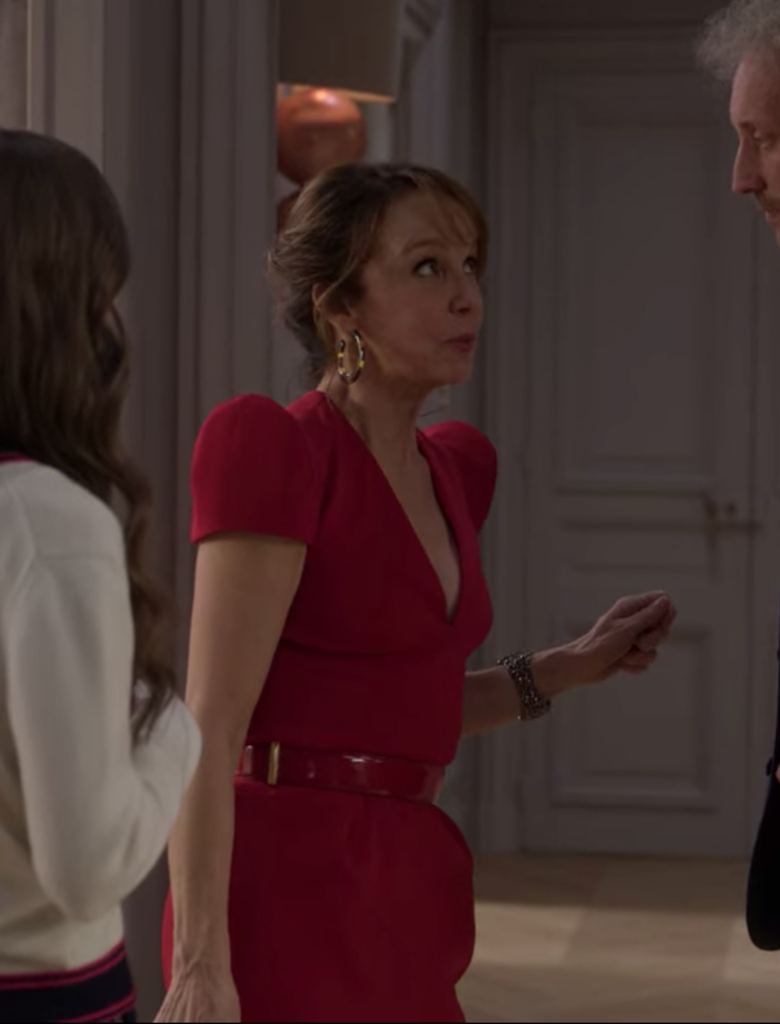 Red designer dress… with a matching belt and tortoise hoops
Works for me. Red is a classic color, the shape is designer yet timeless and the jewelry accessorizing is typically french.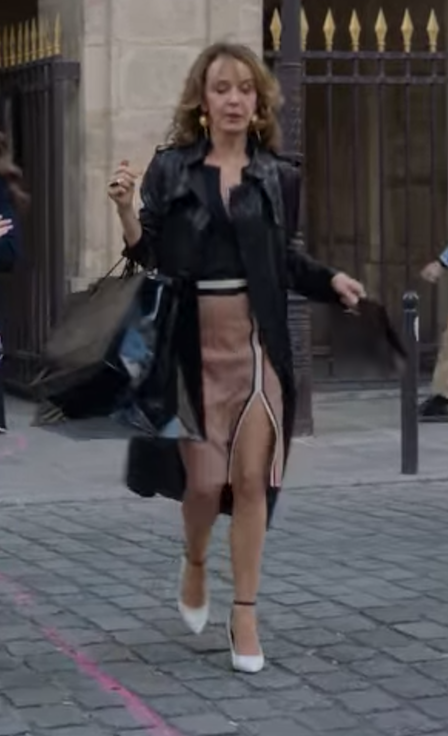 Leather trench coat, black shirt, graphic pencil skirt, gold earrings and white pumps
Timeless colors are Parisian. So is a trench coat and some designer element like the skirt.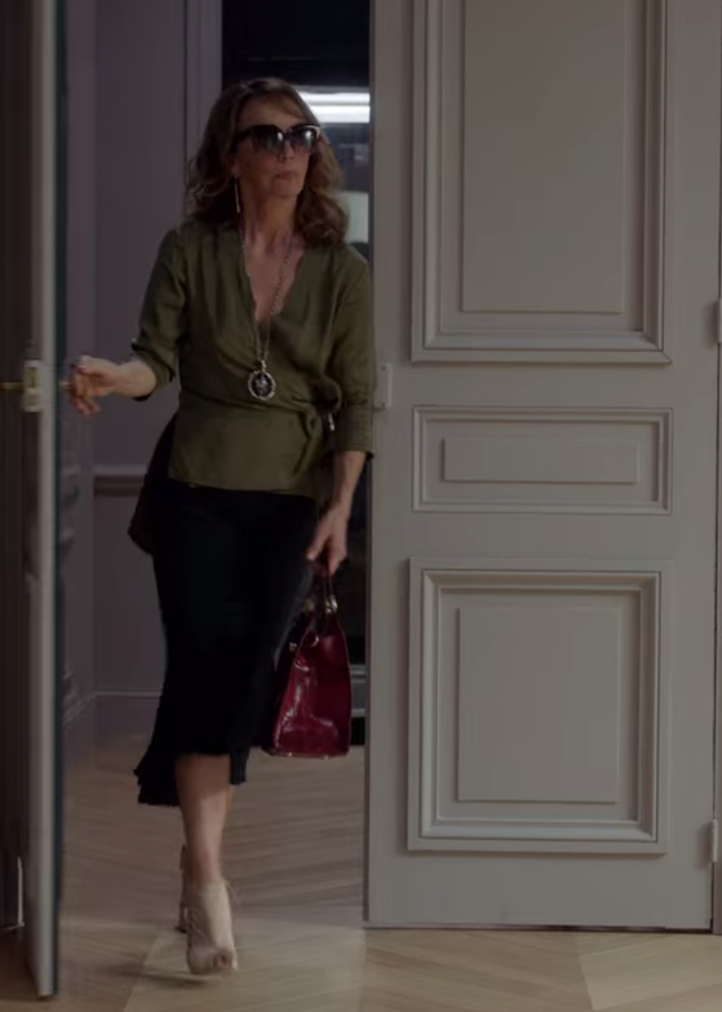 Kaki wrap top, black skirt, beige boots, pendant necklace, burgundy bag and designer sunglasses
All classic shades and shapes topped with designer accessories. Parisian indeed.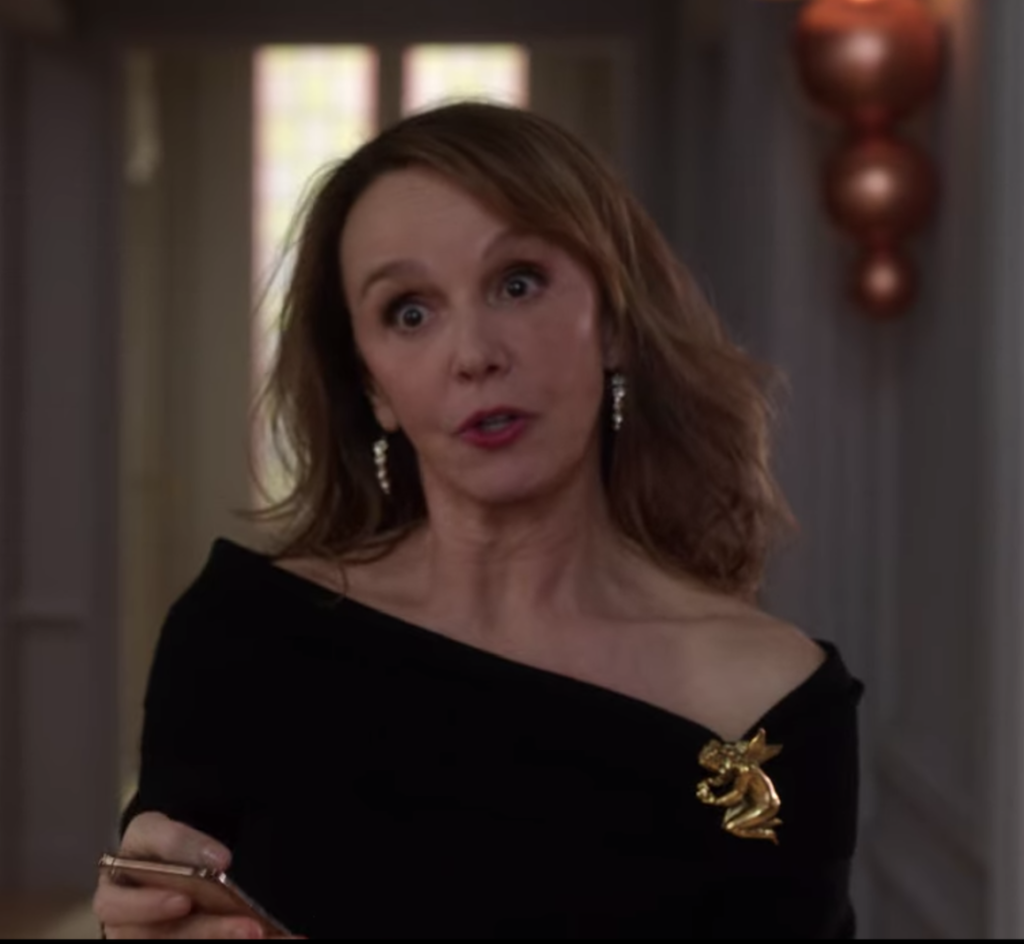 Designer black dress with a gold brooch and silver artsy earrings. 
Again, timeless yet creative shapes paired with daring jewels is very french. This dress is a little over the top for daytime, even by Sylvie's standards.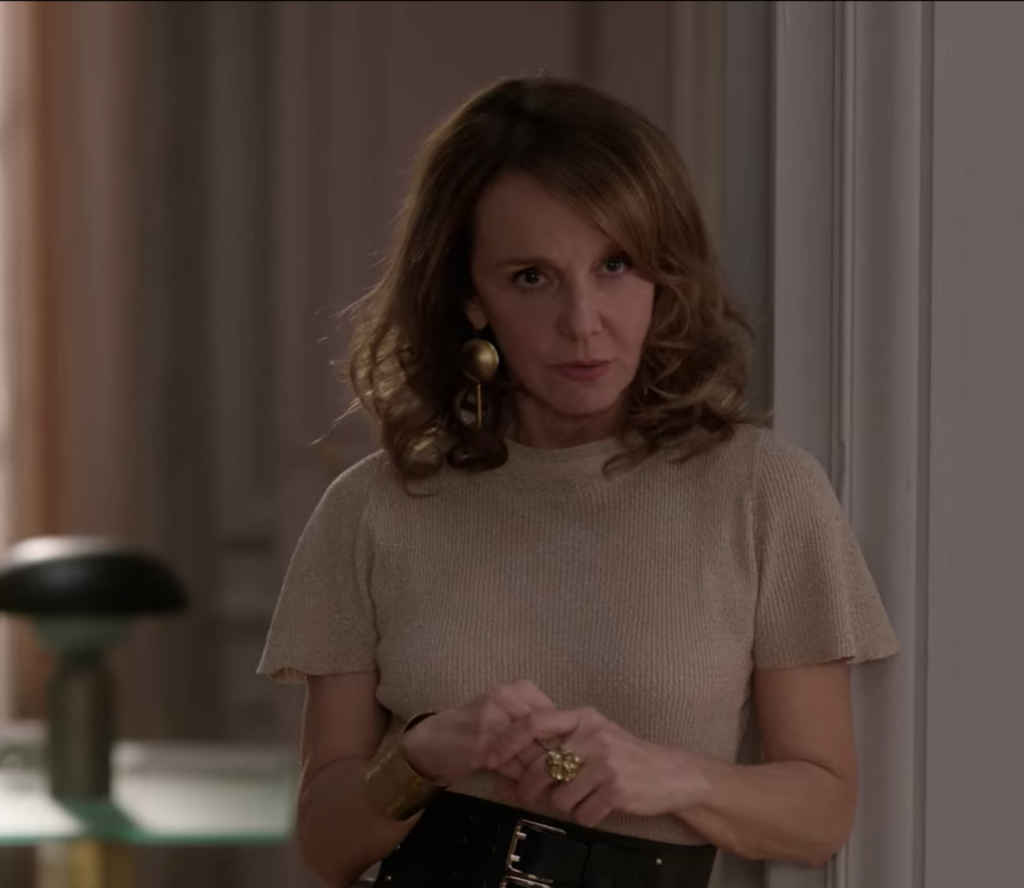 Simple short sleeves thin beige jumper, statement belt and gold jewelry
Impeccable basics, statement jewels: totally french (and totally Sylvie).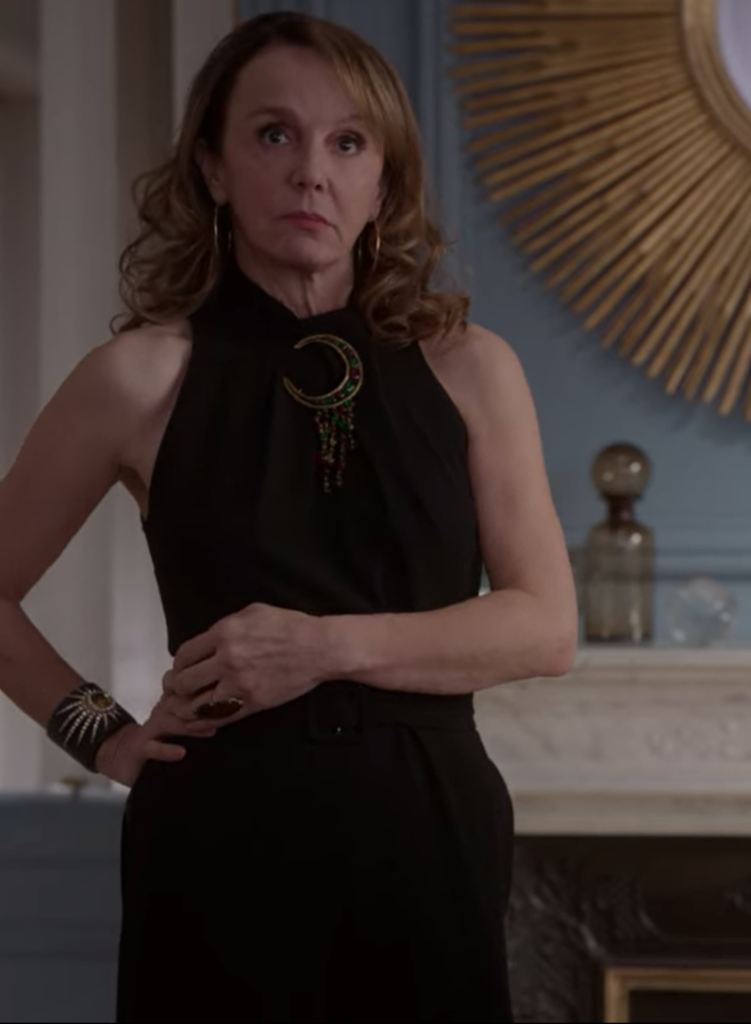 Little black dress with coordinated brooch and cuff
Too dressy for daytime but très french. And you get it: impeccable timeless clothes with statement jewelry.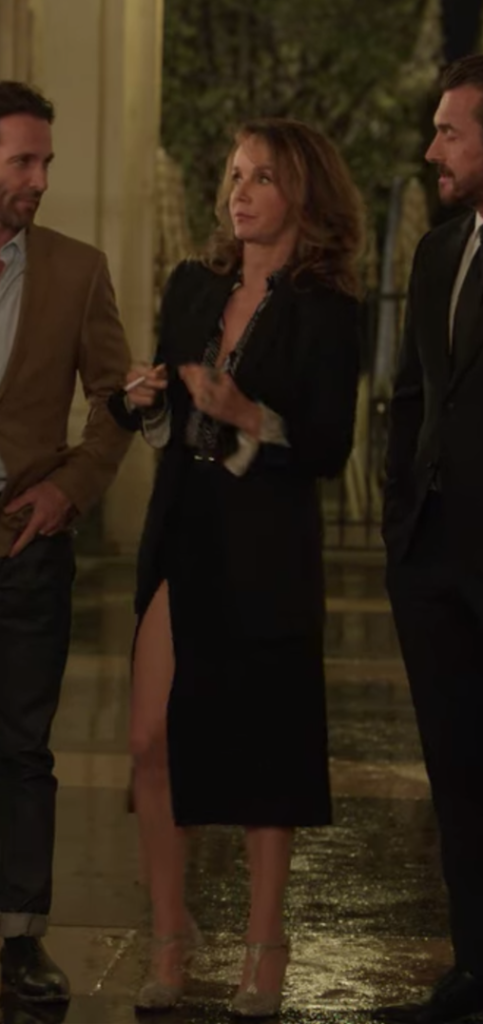 Snake printed blouse, tailored jacket, pencil skirt and high heels
Typical style for a night out in a fancy restaurant. Sexy parisian women are keen of animal print they wear in an understated way. Look at how Sylvie cuffed her jacket to make it more casual.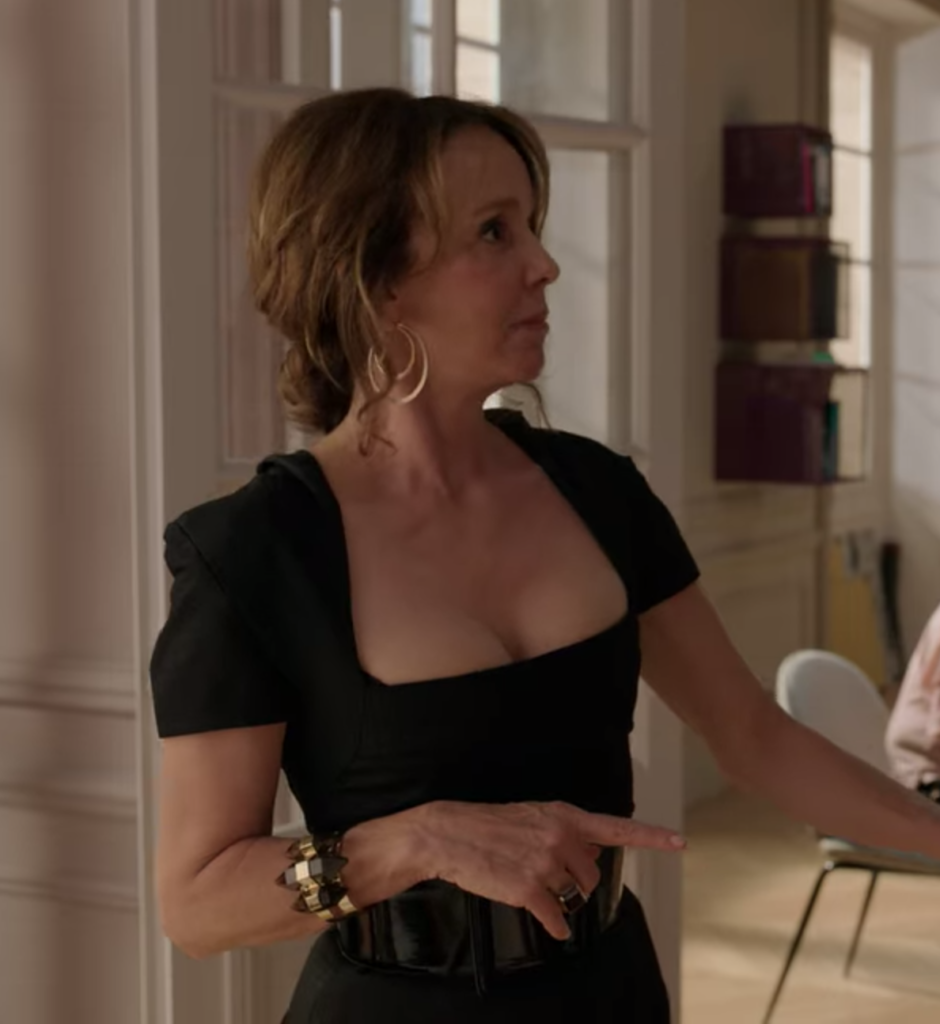 Designer dress with a very low cleavage
Guessed you went over the top with the cleavage here Sylvie. Versailles is over.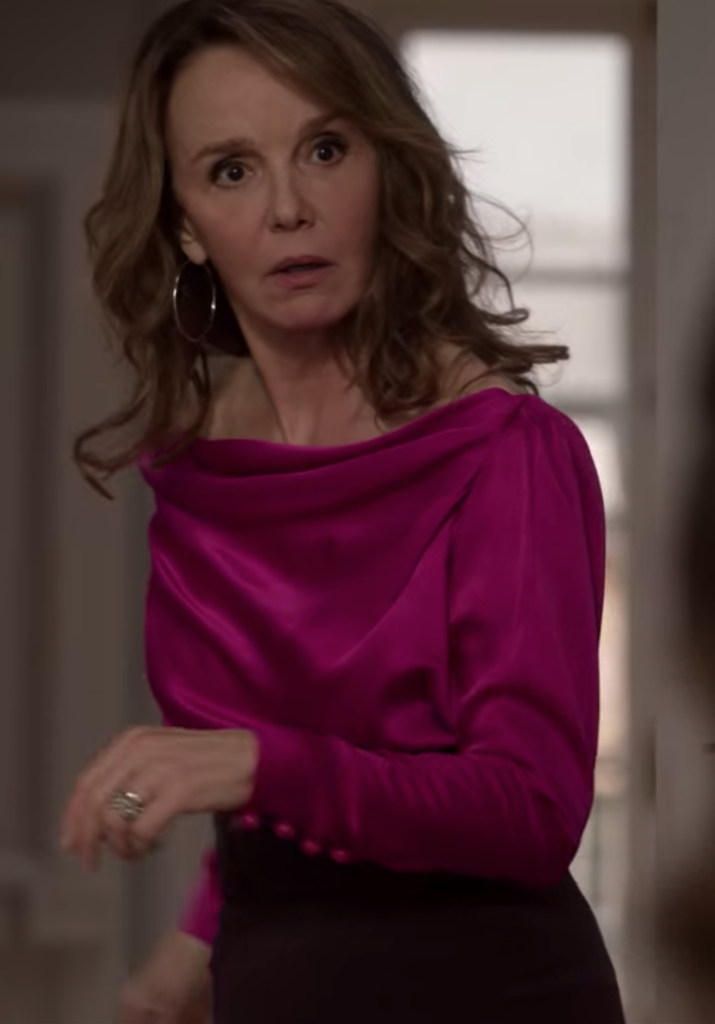 Silk fuchsia draped blouse and plum pencil skirt
Oui! Très bien!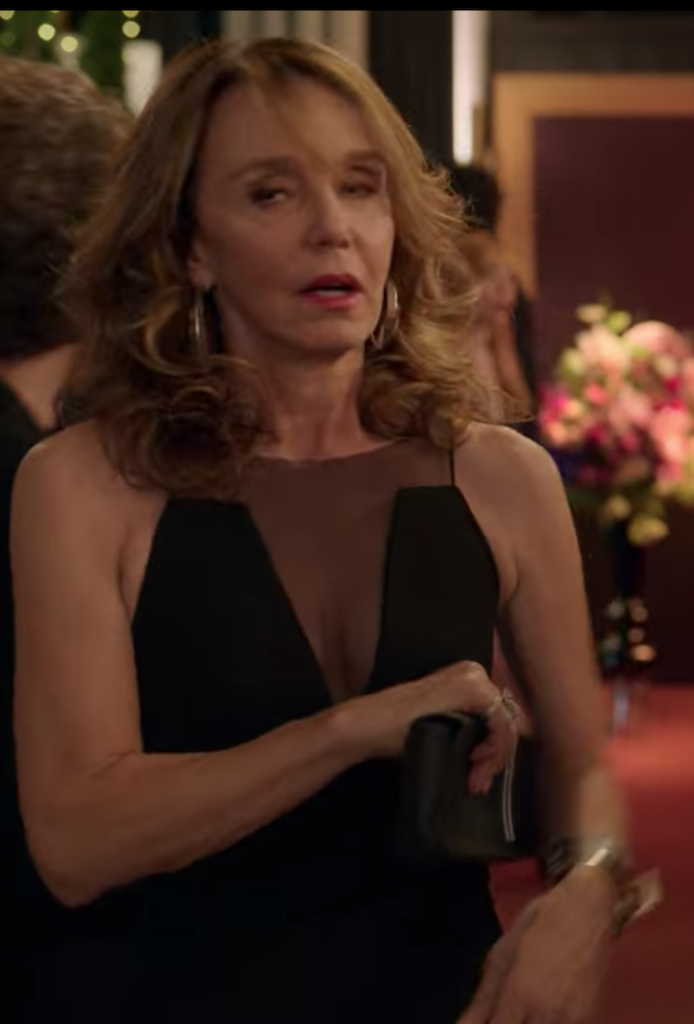 Designer all black jumpsuit for a fancy party
Sexy yet classic. I agree.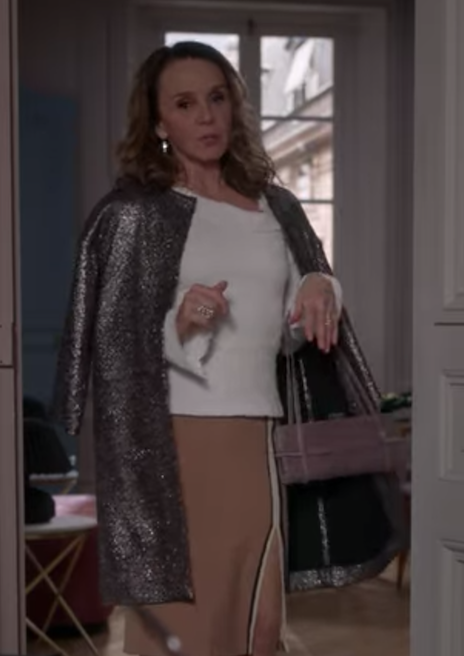 Classic shiny coat on a daytime neutral-colored outfit
We love daytime shine indeed!
Silk printed bodycon dress
Wonderful! French women do wear prints. Notice how Sylvie toned down the accessories game with this necklace reminiscent dress? The dress IS the jewel.
Olive green evening gown, strappy sandals topped with a beige trench-coat
The shade of the dress is very chic and that's usual to top your evening outfit with a daytime trench-coat. Oui to this look!
Sequined top with matchy earrings
I buy this outfit as well. Sequins worn in an understated manner are a Parisian's evening staple.
Which famous Parisians does Sylvie dresses like? 
Rachida Dati, a right-wing politician who loves couture
Catherine Deneuve and Isabelle Huppert, actresses
The actress Philippine Leroy-Beaulieu's own character in the french TV show 10% (on Netflix, I recommend!)
CAMILLE
Camille is in her late twenties and comes from a bourgeois family.
We mainly see her outside of her job (in an art gallery).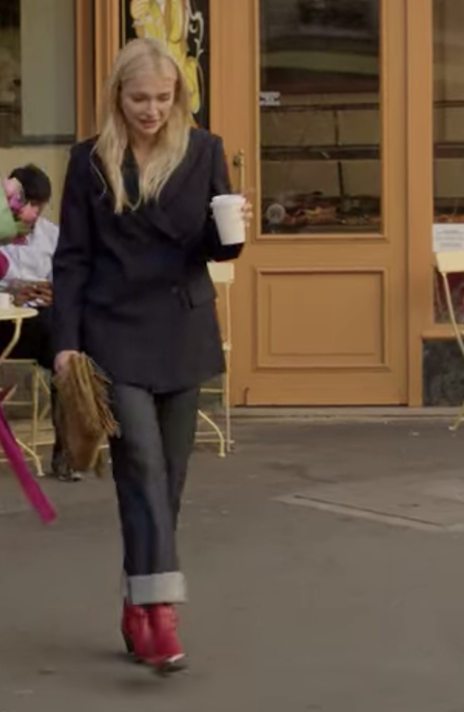 Navy blue oversized blazer jacket on wide legs cuffed dark blue jeans, a brown fringed bag and red santiags
You cross girls ranging from 25 to 55 yo dressed like so every day in Paris.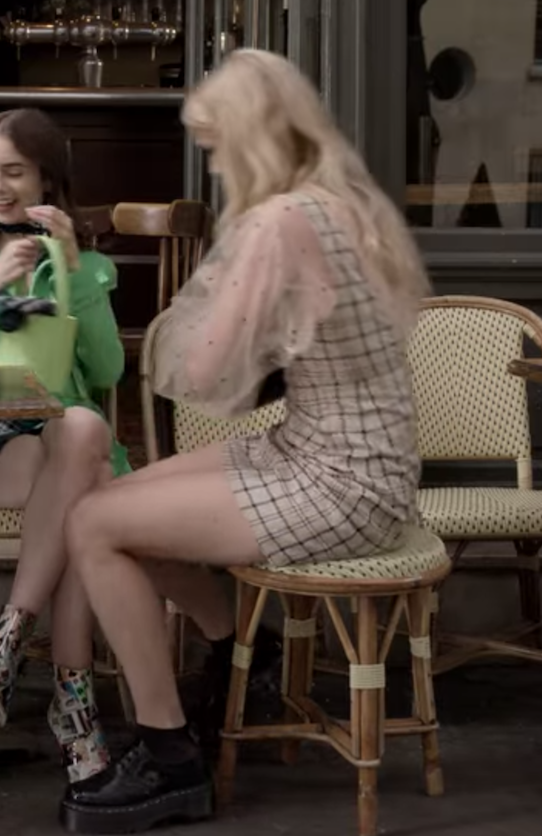 Fashionable beige plaid mini dress, platform Doc Martens and socks
The dress is probably to much for most Parisian. But remove the tulle puff sleeves and that's a typical outfit. The add of chunky Doc Martens that take away some of the the sexiness of the dress is a classic Parisian move.
At night she throws on an oversize black biker jacket over it which is also totally normal.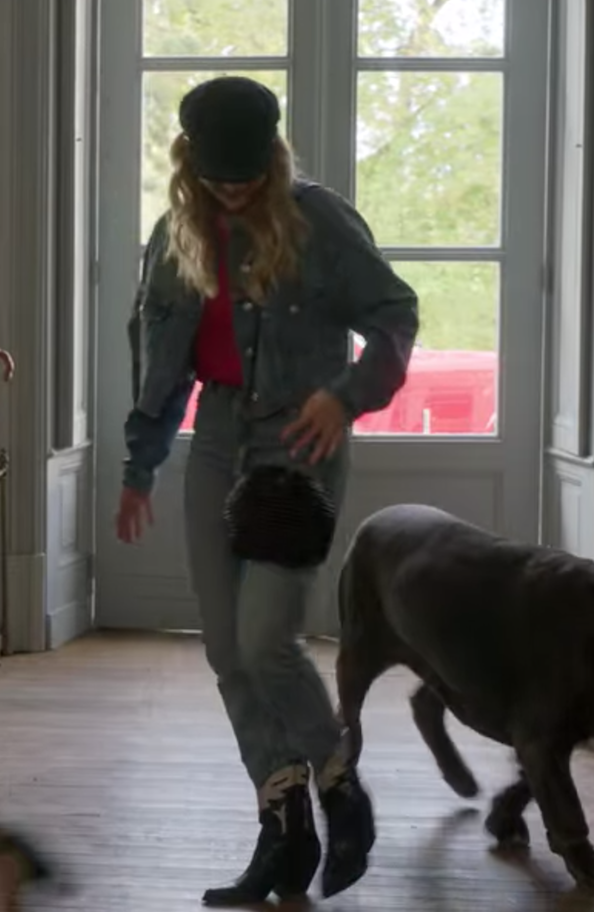 Mom jeans tucked in santiags, matching cut out denim jacket and red jumper, captain hat.
I would dress like so on a weekend. So oui. That's french.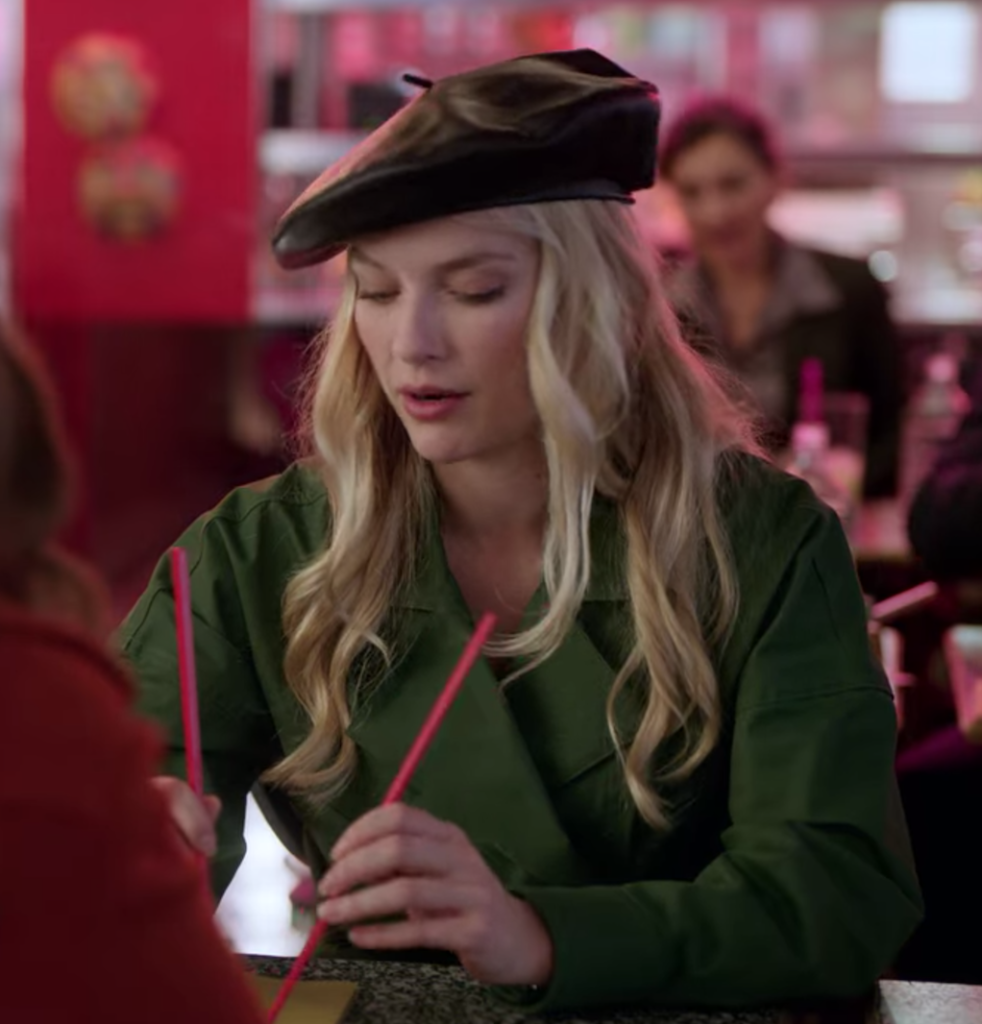 Khaki trench coat and huge leather beret
We DO wear beret eventually. Yet this one is too big. Camille, I can see Patricia Field is behind all this.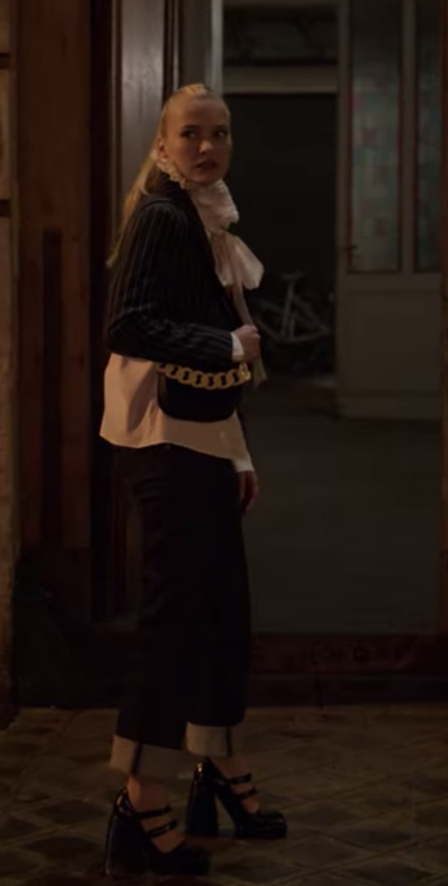 Oversized victorian flounced pussy-bow white shirt, cropped black jacket, wide-legged dark blue jeans, designer bag, and designer shoes
I absolutely LOVE this outfit. Yet you would see no girl wearing this except at a fashion show. But hey, all the french DNA is here and I'd dare it if I had these designer clothes. So that's a oui too.
Which famous Parisian does Camille dresses like
The rock chick outfits feel like what Caroline de Maigret or Lou Doillon would wear
THE OTHER PARISIANS
Camille's mom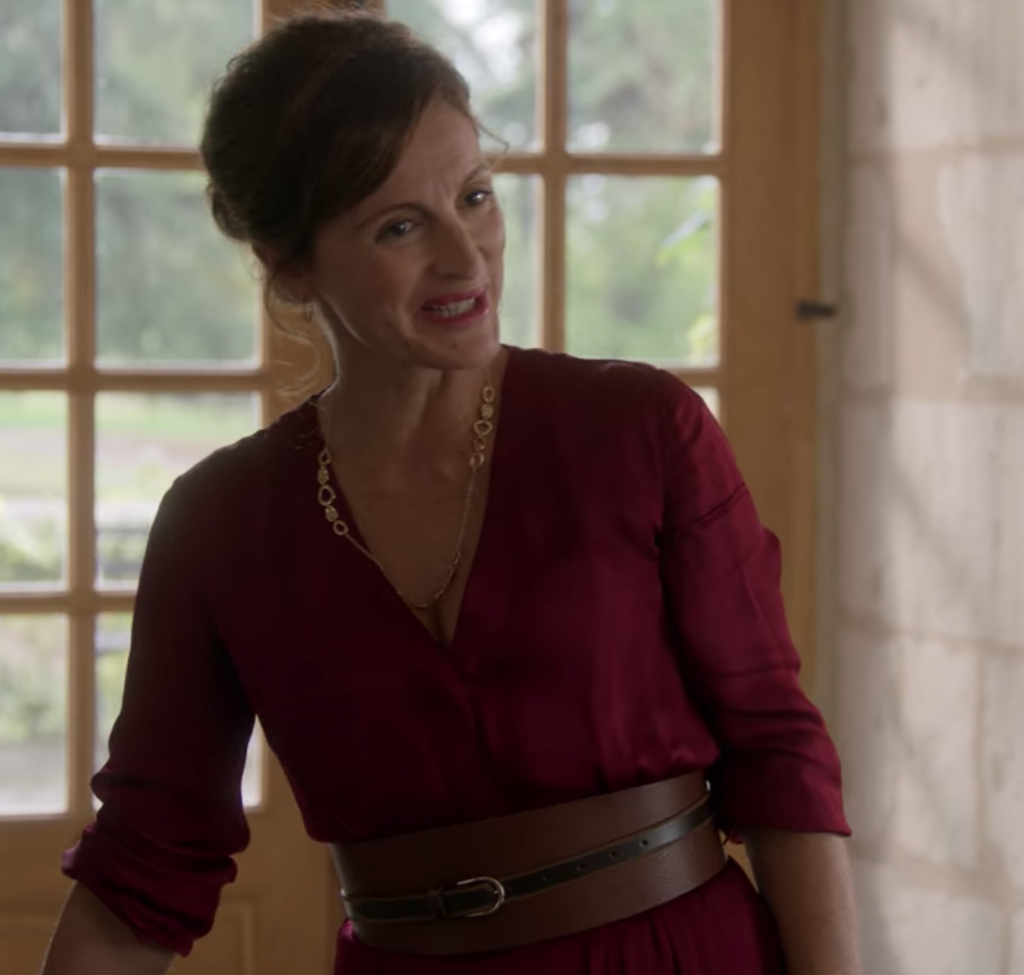 Burgundy dress, brown belt and gold necklace
Everything classic, everything chic, nothing too loud… That's how a conservative posh mom who owns a chateau would dress.
Pierre Cadault's assistant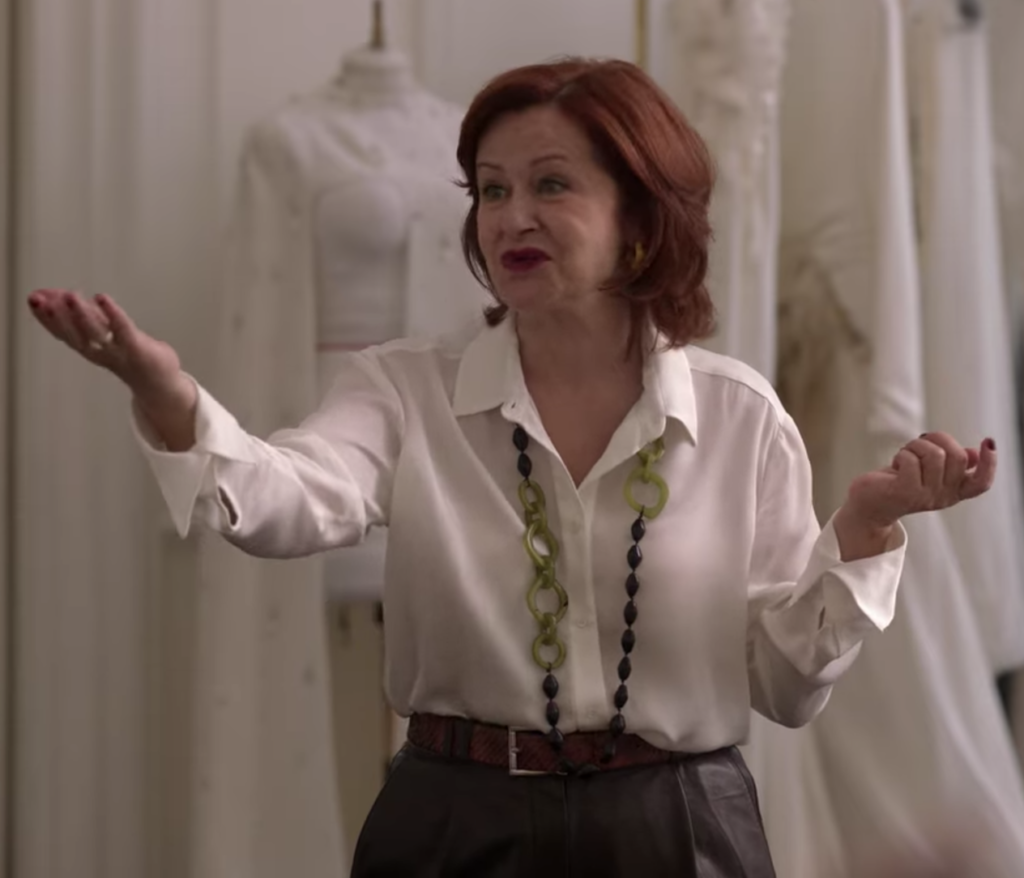 White shirt, carrot leather pants, brown belt, statement costume necklace
Basic pieces topped with loud accessories plus burgundy lips and nails is a classic look
Head of a rival agency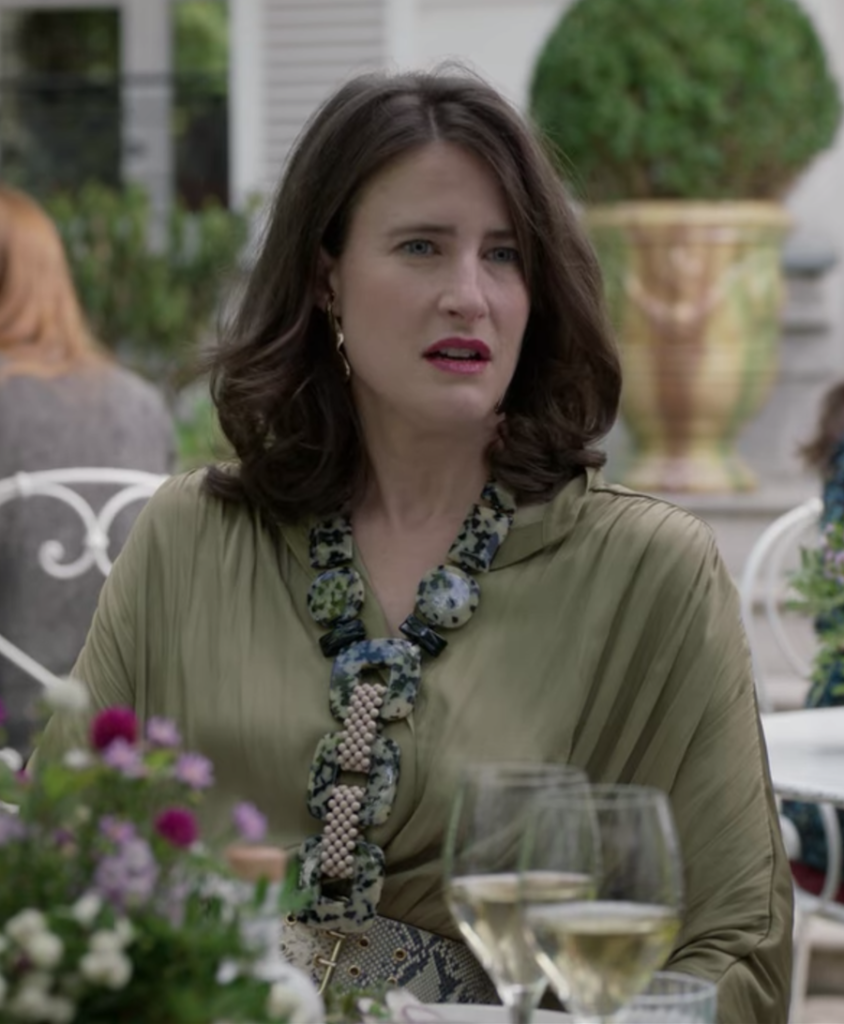 Statement accessories on timeless canvas with strong lips
Again! This necklace seems a bit dated on this young woman though, yet she feels bourgeois so that's not absurd.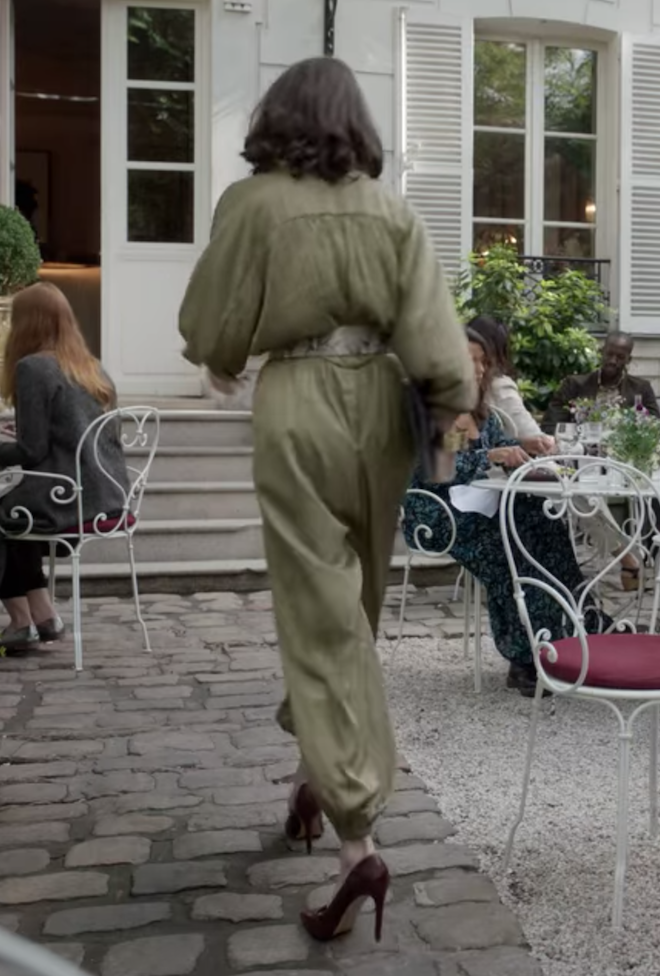 The daytime jumpsuit and statement belt, oui. The super high heels on pavements? Never!!!
Non-french speaking coworker Patricia
Striped tight jacket, statement clip-on earrings and glasses
Patricia is supposed to be a true "ringarde" (which is french slang for "old-fashioned" instead of "basic as said in the show)… and she dresses like one. I believe it.
Antoine's wife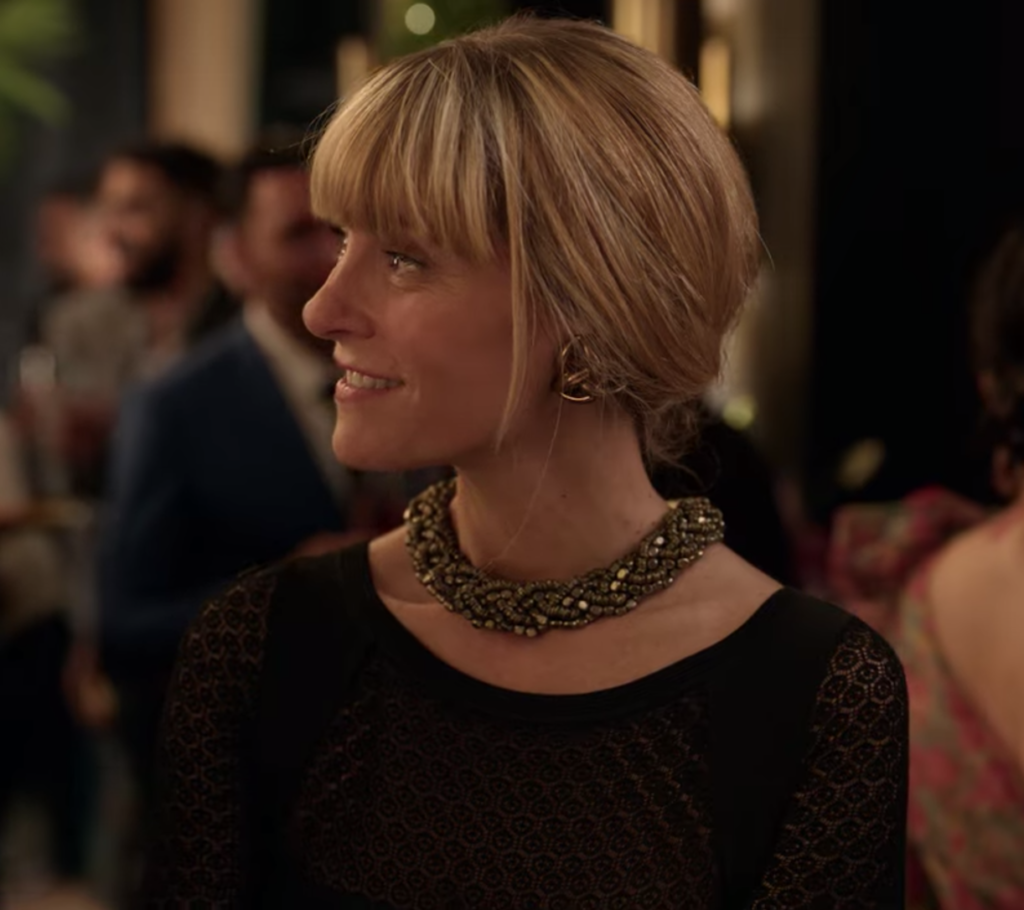 Little black dress with statement necklace and earrings
You get it, right? Pay attention to her hair which is arranged in a very French manner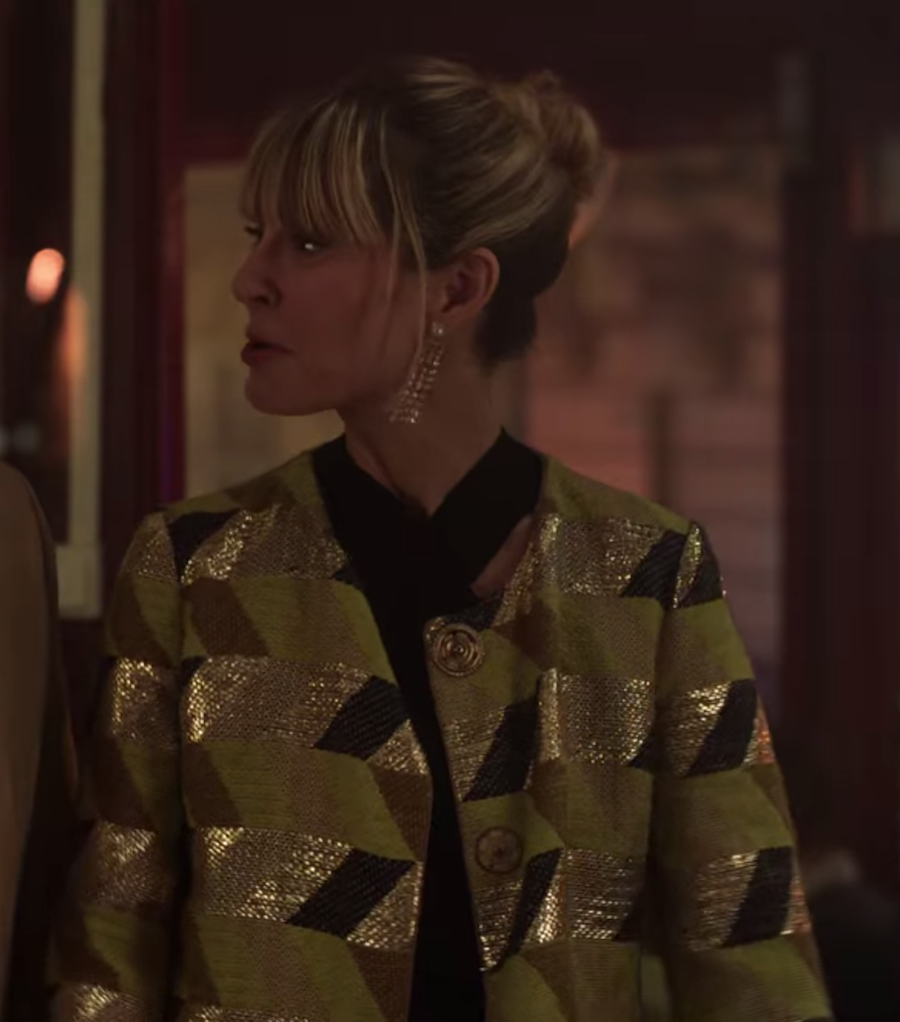 Graphic coat with gold and chandelier earrings
I would not be surprised to run in ladies dressed like this in Paris
The french teacher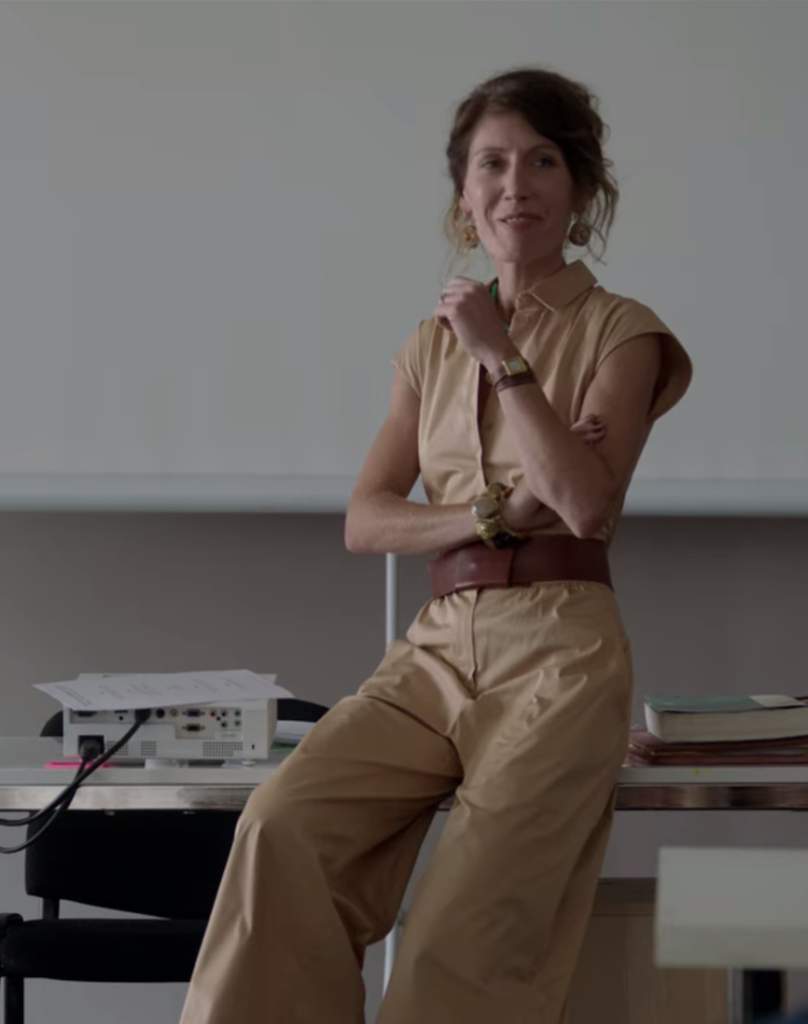 Beige jumpsuit, brown statement belt, gold earrings
The teacher is stylish in a daytime "normal person" manner which makes sense. Notice her hair which are the same as the former… in a messy way which is typical here.
I wear my hair like this all the time.
Camille's brother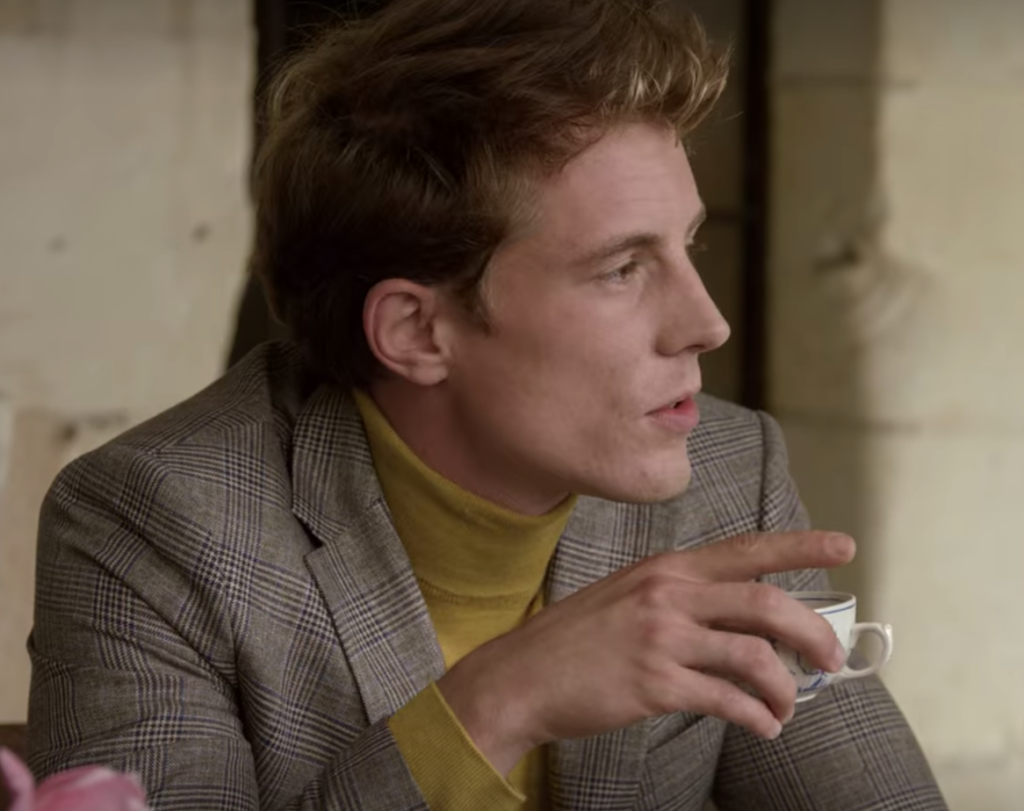 Prince of wales jacket and mustard turtleneck
The only man's look I noticed in the show. Could totally see a posh guy dressed like so.
CONCLUSION
If you want inspiration to dress like a Parisian, the show is surprisingly good!
But not as good as my books Dress like a Parisian and Why French Women wear vintage
Bises de Paris
Aloïs
Cover: that time when Emily and Sylvie dress alike in the last episode