What shoes and what outer covering to wear with an evening gown?
Reader's question:
I would like to know how to wear a floor length dress/evening

gown.

What sort of footwear would be appropriate? And what sort of outer covering? 
First, I have to tell you this is a very american question cause french women really rarely wear long evening floor length gown.
The french style being all about never looking overdone, on of the only occasion you would see those dresses is on the red carpet. Cannes for instance. And even there, lots of french actresses prefer the short dress.
Even for weddings or very dressy parties it is super unusual to see a woman with a long gown.
That said, I personally like the long dress that really makes you look like a gorgeous woman in a very spectacular way that is totally different from your everyday you.
I think Blake Lively (and her stylist) is really american and super good at picking red carpet gowns. She always looks glowing. Super sophisticated dresses and a make up full of light.
But I also like the french attitude to long dresses which is to wear it like it is not a big deal.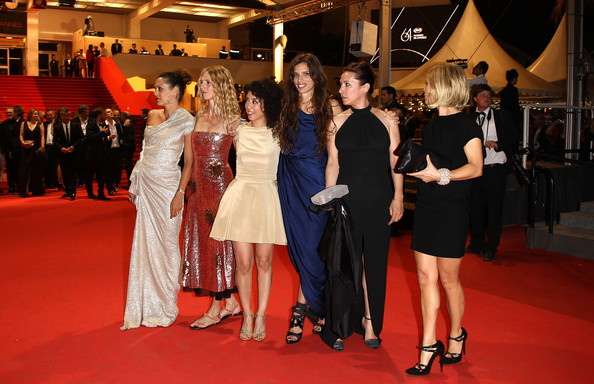 Therefore the french actresses, when they choose one long dress for the red carpet tend to balance with a rebel attitude like unkempt looking hair and natural make up (see Maiwenn, above in the blue dress ).
But I must confess, lots of them often look very ill-at-ease, like little girls disguised as princesses, in their gown cause they never wear those.
Well, I talk talk and do not answer your question… 🙂
So here would be my choices to match a long dress
Shoes:
Anyway… they'll be hidden right?
I'd advise heeled sandals or pumps to lengthen the leg. Maybe a bit rebel style and instead of classic to break the dressy dress like Maiwenn did. But if you are tall and have got super long legs, you can go for flat precious sandals that'll give you a dancing gipsy walk.
I'd avoid those super high pumps with a platform in the front that we saw all over the place on the US actresses feets a few years ago. Eva Longoria, who is super petite, uses a lot of those. I think it looks quite tacky. You can use a front platform to be taller of course, it can look good, but do not go stripper high. Plus you'll end up walking like a robot which is not elegant.
Shoes I like:
Outer covering:
Well actresses never get cold obviously.
But we, as real human being, do.
Instead of a shawl, that looks a bit mumsy to be, I'd pick a blazer that will give a boyish twist to your outfit which, you remind, is very sexy.  Check out SJP's look.
Blazers I like: