How to wear my yellow dress at a wedding with theme "colorful"?
Hi Aloïs,
I like to read your fashion tips.
I would have like to know if you could help me complete an outfit for a wedding.
It takes place in Berlin in september.
Theme is "joyful, festive and colorful".
I have started designing my dress myself.
Yellow, low back, skater shape mid-tights.
Could you tell me what shoes, what accessories, nailpolish ou jewels I could pair with this dress?
I am a french 24 yo architecture student. I like what is simple, colorful but do not want to look like I am going to a carnival fair.
I would say my look is made of basics – in Germany, where I study, they say my style is very french – but I always like to have a colorful or unusual detail.
Hope you can inspire me 🙂
Hi Alizée,
I really like the dress you designed (Alizée did attach a drawing to her email), it looks very "french" indeed.
Since I do not have it in reality, I picked similar dresses to compose the possible outfits.
Hope you'll like them 🙂
Up to me, the secret not to look like a parrot is to add just the right amount of color.
For accessories, you can dare bold colors.
But for bigger pièces, I recommend you to go for lighter colors that can be either paler or darker.
I chose mustard and buttercup yellows in the outfits but you could as well go for a pastel yellow.
1. Eccentric aristocrat in mustard yellow, eggplant and a touch of gold
I like this mix which is both classy and joyful.
The deep purple shade of the Salome sandal completes the yellow of the dress.
With such a chunky heel, there shall be no problem for walking and dancing.
I chose a clutch and a bracelet that are both arty and sophisticated.
2. Pin-up innocente en bouton d'or, pois blanc sur fond bleu et framboise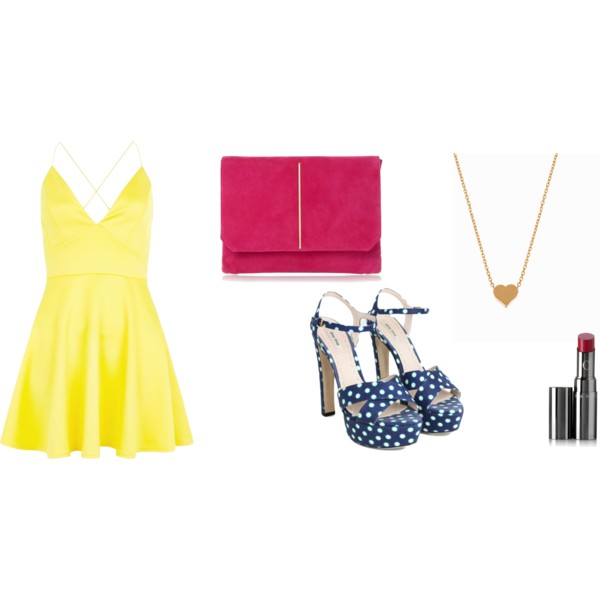 Le framboise et le rose se marie à merveille si on procède par touches. Ici, j'ai choisi une pochette et un rouge à lèvre gourmand un rien transparent pour un look tout en fraîcheur.
Des sandales haut perchées mais stables au coquin imprimé pois sur bleu jean (couleur complémentaire du jaune) allongent la jambe avec espièglerie.
Pour le bijoux, on se la joue low profile avec un très fin collier cœur ultra girly et un rien kitsch eighties.
Un look malabar bigoût revisité pour un résultat super gai!
3. Imprimés animaux noir et blanc pour look qui a du chien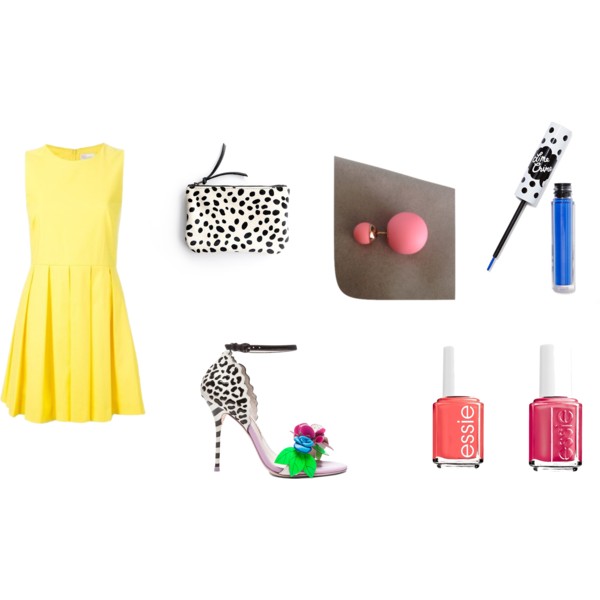 Tu connais les chaussures Sophia Webster? Ce sont celles que j'ai choisie pour ce look. Un grain de folie English comme un cocktail acidulé que l'on aurait décoré en abondance avec énormément de goût. Bref j'adore.
Elles sont carrément hors budget mais rien  n'empêche de rêver ou de leur trouver des facs similés.
Ici donc j'ai choisi d'égayer le look avec des imprimés pétillants… noir et blanc. Ainsi, on apporte de la gaité sans faire exploser le bilan couleur.
Côté détails colorés, j'ai encore opté pour du rose, à dépareiller sur les mains et sur les pieds, une unique BO tribal de Dior (ou copie) et un trait de liner funky bleu pétant. Avec ça on se passe de rouge à lèvres of course.
4. Chaussée comme un Arlequin, on garde la classe en noir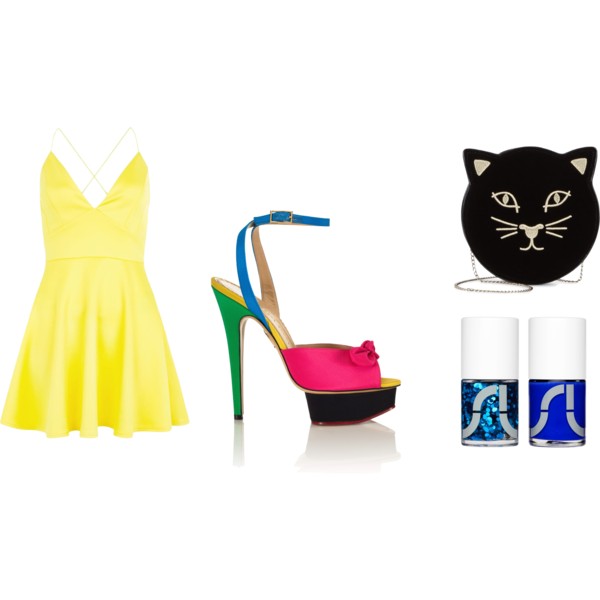 Encore une fois j'ai opté pour une paire de sandales on ne peut plus excentrique mais tu saisis l'idée.
On joue les excentriques loiiiin du jaune de la robe et on se calme après. Donc à toi de choisir une alternative chaussante à ton goût.
Côté pochette, j'ai choisi la sobriété avec le noir et le second degré avec le chat.
Sur les ongles, une touche de bleu qui rappelle la sangle de la chaussure.
J'espère que mes propositions t'inspireront et j'attends les photos 🙂