How to wear my mint green coat?
Bonjour,
I have been reading your blog with interest since I accidentally found it while I was looking for advices about tights. 
As I love colors, two years ago, I purchased a green mint coat with a peter pan collar. It is super nice but I have no idea how to wear it. 
I find no scarf or bag that match it well. 
What color could I wear with it as I am a brunette with blue eyes? 
Looking forward to read you, 
Thanks, 
Eugénie
Bonjour Eugénie,
Thanks for being a faithful follower of my blog!
With this retro feminine coat, your dark hair and your blue eye, I imagine you with innocent outfits à la Zoey Deschanel.
First good point: you chose your color perfectly! Pastels are adorable on blue eyed brunettes.
For the style, you could either completely embrace the retro feminine style of the coat or give it a twist.
For the colors, here are some options:
– remain in a soft color palette
– create a color pop with a bold complementary color (violets, pinks, reds)
– break the softness with black
All options can be combined.
1/ Sporty softness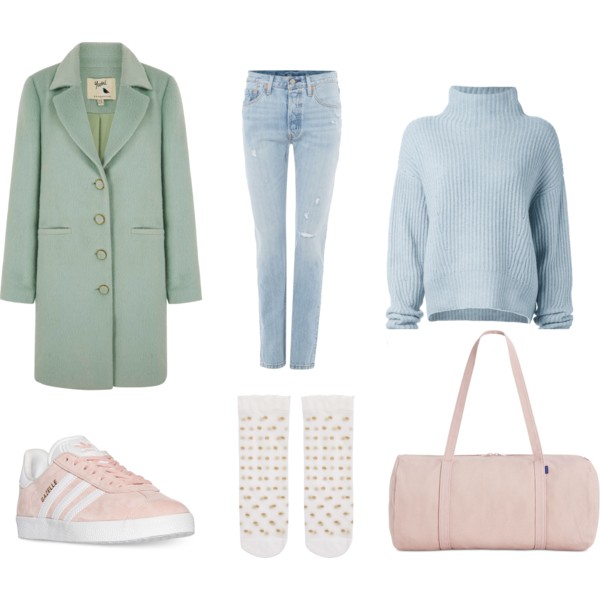 For this first outfit, I went for a super soft color palette.
Even though the shapes of the items are sleek and sporty, the result is super sweet and feminine thanks to the choice of fabrics and colors.
I added a bit of light to it with the sparkly socks that you could match with gold or mother of pearl earrings.
2/ Like a doll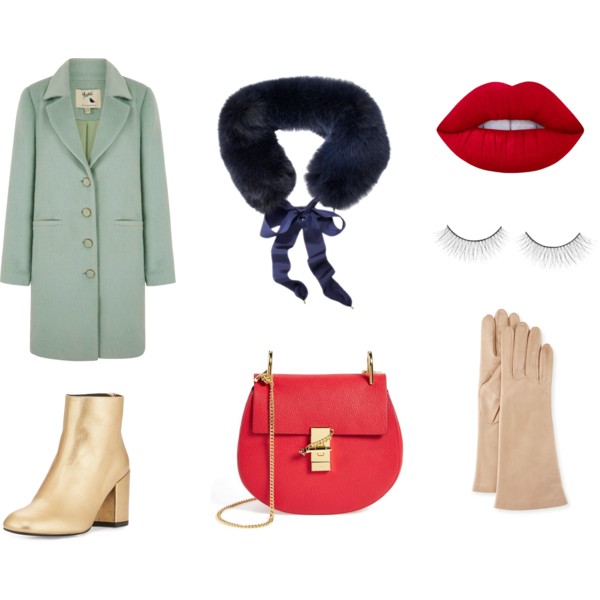 I must confess I love doll outfits…
So I enjoyed creating this one a lot. It is perfect for a date!
I focussed only on the upper layer of the outfit, considering that the coat would be worn closed.
In between the coat and ankle boots, I picture transparent blue tights, or nude or red fishnets.
This is a four colors look featuring two soft colors: the green and the cream/gold as well as a bold cold and a dark color.
Note, that this is a cold red, I tried it with a red with a yellow undertone at first and it was not working at all!
I imagine this outfit worn with half a ponytail à la Catherine Deneuve in the umbrellas of Cherbourg.
3/ Minty minimalism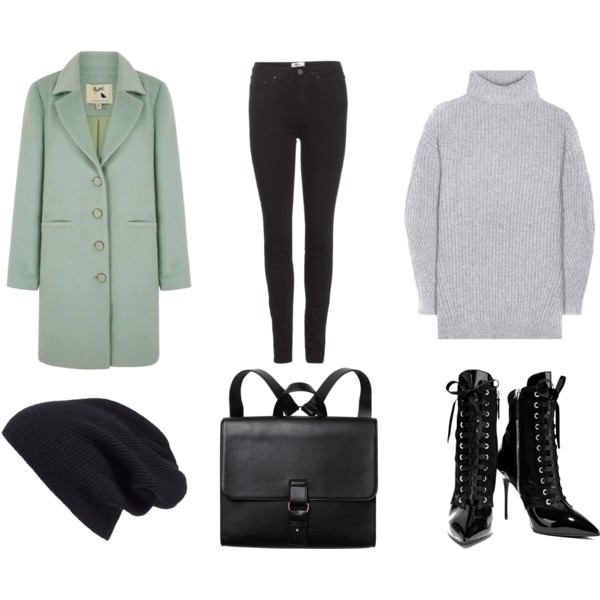 With this third outfit, I wanted to escape all the softness induced by the coat and went for a big dose of black.
However I wanted to remind the retro style of the peter pan collar of Eugénie's coat (yes not the one in the pic) so I picked a SM version of ice-skating boots and a sleek version of a schoolgirls backpack.
All of that with the most simple a quite boyish combo of a skinny, an oversize turtleneck and a black beanie.
A pair of minimal silver earring would be good looking with this outfit.
4/ Comme un dandy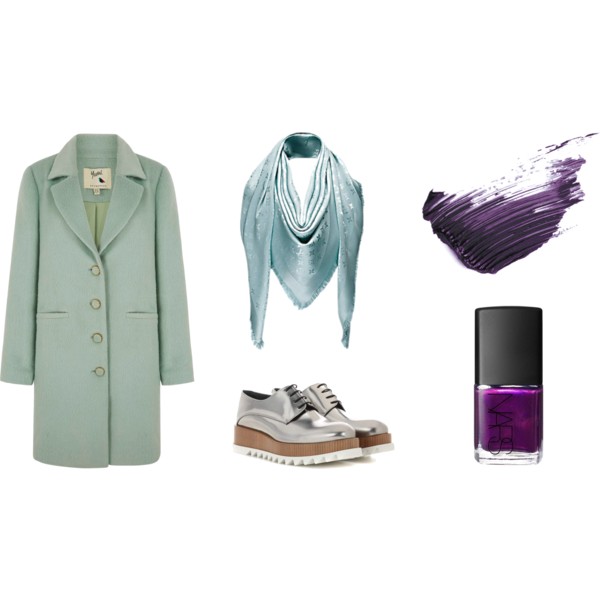 Here, I thought it'd be nice to play on a masculine feminine retro vibe.
And then make it all modern. So derbies yes, but metallic and with a platform.
The chale's ice blue color feels like a close hue to the coat and the purple makeup make the whole look unexpected.
I imagine this style with purple transparent tights or black transparent tights.
I hope that you have found inspiration to wear your coat here!
Aloïs