How to wear my linen ruffle black skirt?
Bonjour Aloïs, 
First, I wanted to say how much I love your blog, and I was hoping you could give me some advice. I just bought a black linen skirt. I know it should be a classic summer piece, but I am feeling a little uninspired. All I can think of wearing it with is a linen tee, so I was hoping you could help me with some more creative outfit ideas. I have attached a picture of the skirt, if it helps.
Thanks!
Tiffany
I love this Isabel Marant ruffled skirt you picked!
You are right, a linen tee is a great idea because the fabric is the same but the texture is différent.
With linen, I recommend you to mix other natural fabrics such as cotton, silk, leather, rope, wood, etc…
This skirt is both frilly (due to its shape) and casual (due to its fabric).
You can choose to accentuate either of those sides.
1/ French girl in Rome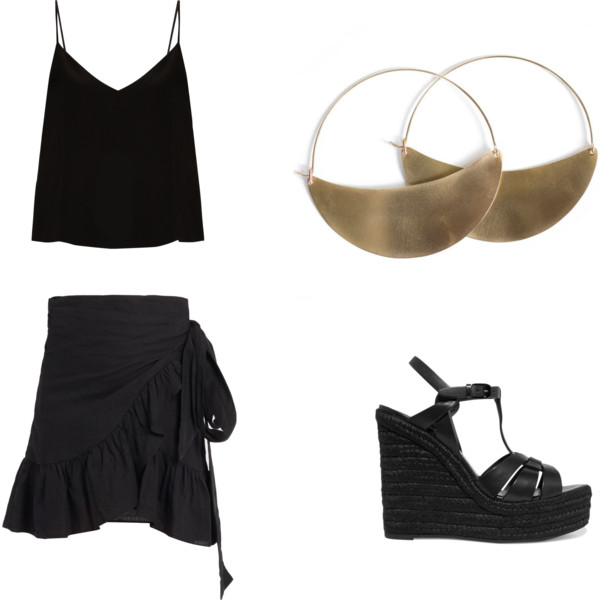 I love how they do sexy summery full black outfits sicilian widow style at Dolce and Gabbana.
Here I created an appealing daytime style with a light silk camisole, black rope platform sandals and sophisticated earrings.
I picture this look with no makeup or just black khol so that it remains suitable for daytime.
Alternatives: 
2/ French girl in Miami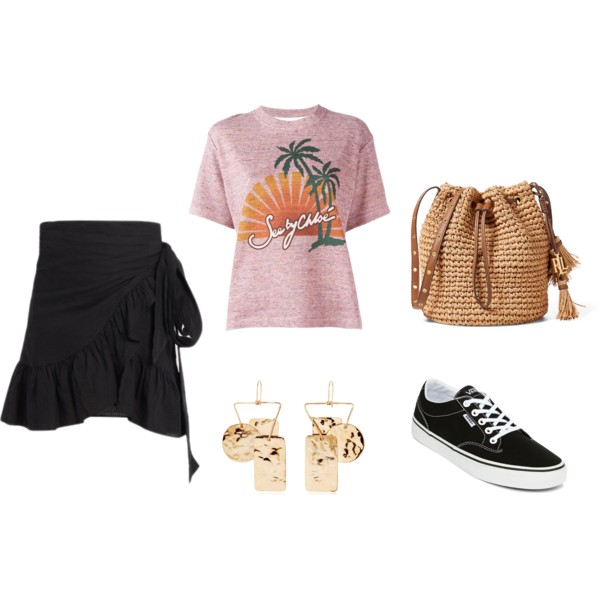 This sporty tee has a vintage look that matches the uneven texture of linen.
I paired it with sporty cotton vans, a summery rope back and arty earrings.
Perfect for the midst of summer.
Alternatives:
3/ French girl in Paris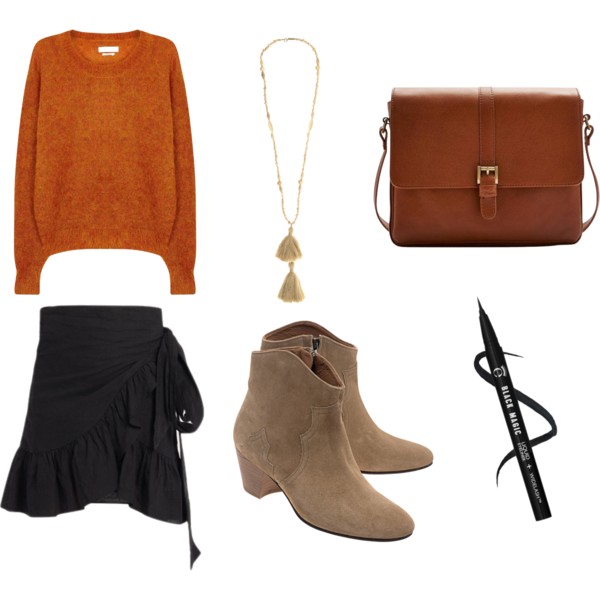 This one is for september in Paris, I picked a very light wool jumper and suede low boots in soft warm colors that I paired with a natural leather satchel and a gold pendant necklace.
Draw a cateye and voilà!
Alternatives: 
AND MORE: 
You could also were this skirt with:
– a stiff coton shirt (sleeveless or with rolled sleeves)
– stiff printed cotton tops (vichy, wax…)
– jeans tops or shirts
– chunky wool knits with tights in autumn
– a trench
– an oversize jean jacket/ military jacket
Hope those outfits will inspire you, 
Aloïs