How to dress in a colorful manner as a corporate lawyer?
Hello,
I just happened upon your site and am enjoying it. It's particularly useful as I am in the process of transitioning my style to harmonize my off-work style which is more colorful with my work as a corporate lawyer style which needs to be more conservative as I am now working more directly with the executives at my company and others. 
Bonjour,
You can easily wear lots of colors at work as long as your outfit remains empowering as a corporate lawyer.
Even though I'd like to say that this is the only thing you should care about there are other as your job is a representation job.
Therefore, the choice of your outfit are partially decided by the way you feel in them, but also by what you are actually allowed to wear for your job and by the way the people you work with and for perceive you from the way you dress.
According to this I composed 5 outfits that I think are true to your love of color and are stylish but also are adapted to  job as a corporate lawyer.
1. Square yet stylish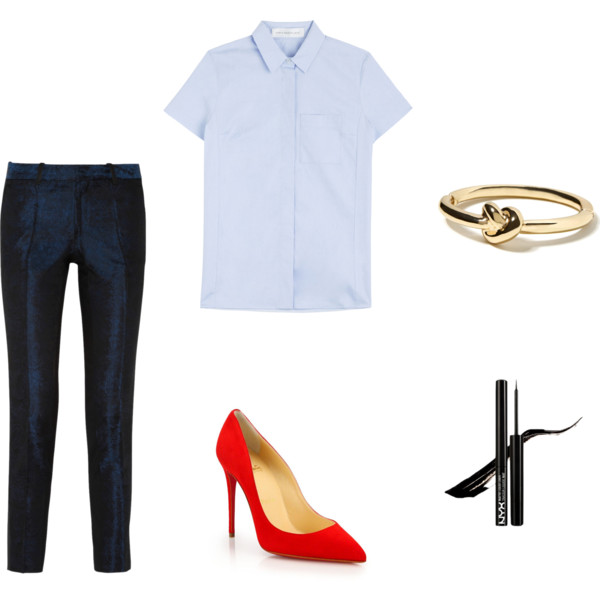 As you noticed, tailored pants are ones of my office favorites. As they immediately say "professional". therefore, you dare in a variety of colors and prints on them. Here I picked slightly shiny navy blue.
On top a very strict tight baby blue blouse, follows the corporate spirit of the look. If cold, you could switch for a longer blouse and eventually top it with a shorter jumper which could be grey or non shiny navy).
As accessories I picked lipstick red pumps. If you prefer pumps in a more classic color, then go for the  red nails or lips to add this touch of bright color.
A gold or silver statement jewel will stylishly finish the look.
2. Soft and though feminity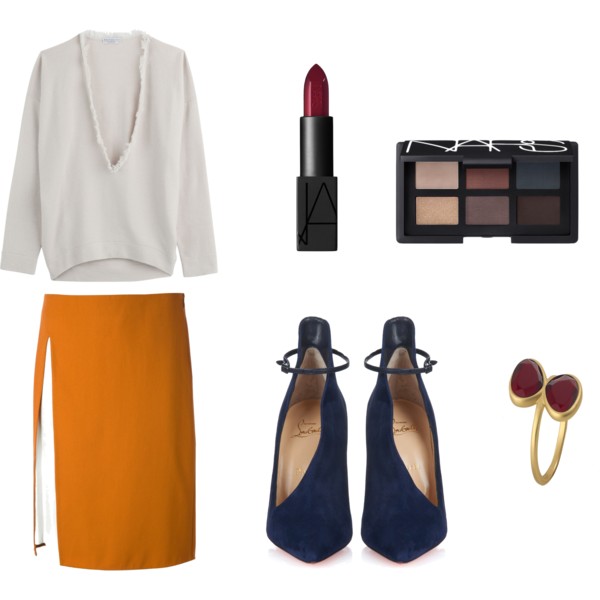 Just like her tailored pants friends, the pencil skirt is immediately associated with the professional field. You can therefore choose it in a variety of colors and prints. Maybe not THAT opened on the leg though (erm).
On top I went for a V neck beige jumper (that could be way less low of course unless you wear something underneath.
Not so classic navy pumps and burgundy accessories and makeup are perfect complement to this orange skirt.
3. Marni-esque yet serious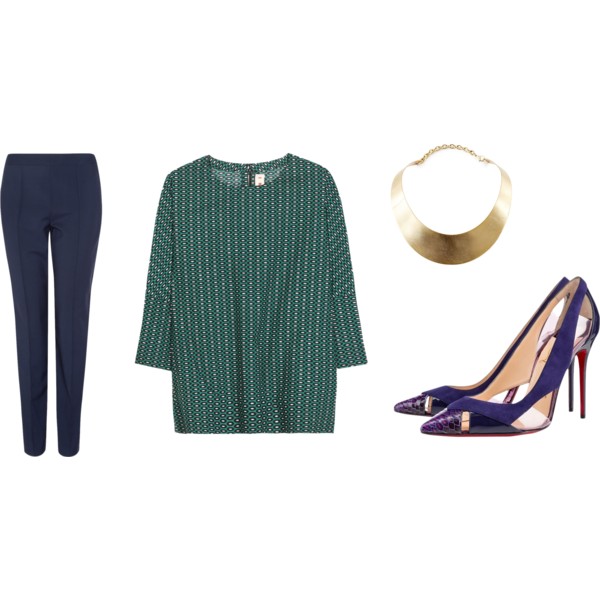 Marni has this boho eccentric look that I love. If you wear their prints and statement necklace with classic navy blue cigarette pants and graphic pumps, the result will be both playful and professional.
4. Soft colors strong shoulders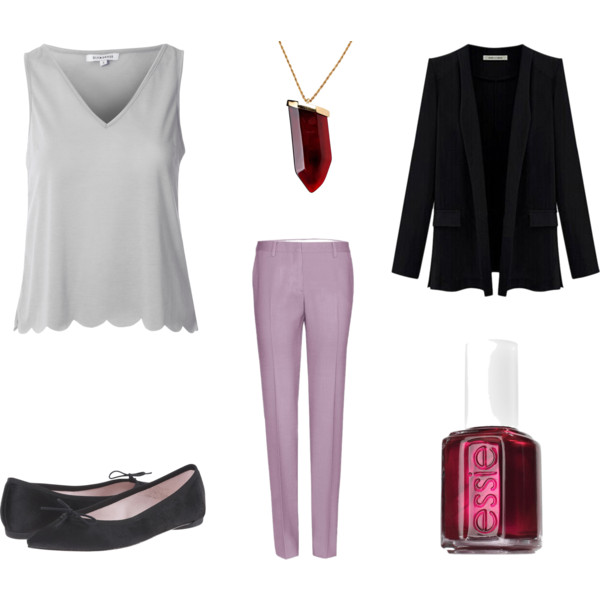 Soft colors and sweet details may be associated with a lack of power.
But if you pair those with straight cuts, that will make a nice balance.
In this outfit the shape of the pants, the black jacket, the crimson nails and rock necklace balance the scalloped top, the ballerinas and the pants pastel color.
5. Youthful with experience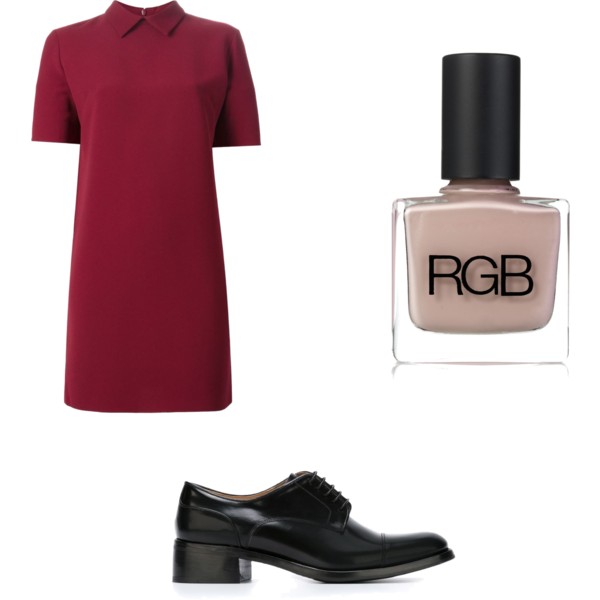 This dress  both have a very grown up style and a college girl style. Paired with semi-opaque black tights, a pair of heeled derbies or classic black pumps,  and a polished haircut, you'll look 100% professional
In case you wish to mix and match colors at work without having to thing too much about it, I recommend you stick with classic colors for the bottom part, and have fun with tops and dresses.
Bises de Paris,
Aloïs