How to wear corduroy
After months of (non hollidays but hard work) being away, I make my comeback on the blog. "C'est la rentrée!" as we say in France. I am just being 2 month late, but hey, with global warming it is like fall has just begun (blaming it on the climate).
Today, I'd like to speak of a comeback that started more than a year ago: the corduroy. I think you've spotted it by now. Maybe you digged one or two jackets from the nineties or from the seventies out of your closet's (or of your mum's) or you bought yourself a new piece in stores?
Maybe you have not yet. If this trend appeal to you, I am going to share a few tips on how to choose and how to wear corduroy.
1/ Choose your corduroy
A/ Width of the ribs
a.Thin ribs
The easiest to wear. Easy to master both on top and on bottom on form fitting or structured clothes.
This type of corduroy is easiest to wear in mild temperature as do not feel too warm.
Kind of classic when chosen in a classic color and cut combo they can be matched with fun garments.
b. Large ribs
Tastefully eccentric, large ribbed corduroy make colors glow.
As it is such a statement fabric, you have to build the whole outfit around.
Worn on the bottom, the wide ribs tend to enlarge both butts and tights, so avoid if this is something you prefer not to do. If you are super tiny and seek for volume, corduroy is your best ally. Note that the mini skirt, being less form fitting, is easier to master.
On the top, large ribbed corduroys are less complicated to wear. On blazers, jackets and other coats, they'll spice up your allure in no time.
To balance the chunkyness of the ribs, elongate your silhouette with more fitted pieces and lift it up with chunky block heels.
And have you considered large ribbed corduroy as an accessory?
B/ Colors
a. Like a librarian
I don't know about you, but when I hear corduroy, I think sexy Indiana-Jones-like teacher or gentlewoman-taking-care-of-her-house-in-the-english-countryside.
The colors palette they would wear goes from woody neutrals like beige, brown, taupe trough field greens (moussy, olive) to dusty flowers shades.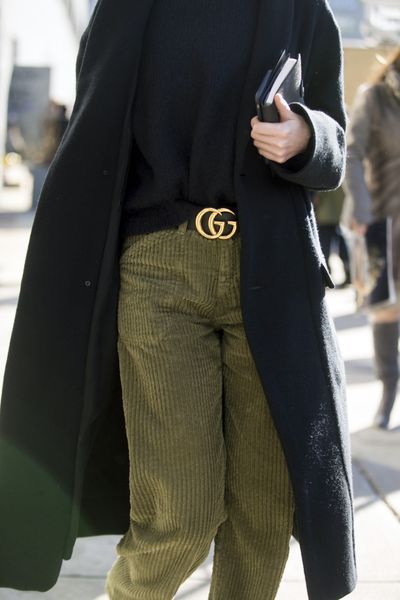 A perfectly cut black coat and a luxurious belt add structure to this vintage large olive thick ribbed trousers
The more neutral the shades, the more the clothes are likely to appear as "boring classics". In order to avoid putting others to sleep, wake those cosy corduroy pieces with heels, sexy jeans and fitted coats up.
If you really want to play it like a "teacher", insert something short, something fitted or heels in the outfit, like cropped pants, a mini skirt… Beware of the too bourgeois style.
b. Pastel cosyness
The teddy-bear and childish feel of ribbed velvet works wonders with pastel colors.
You can play it totally vintage and wear those shades on "teenage" garments such as jackets, bell bottom jeans and backpacks.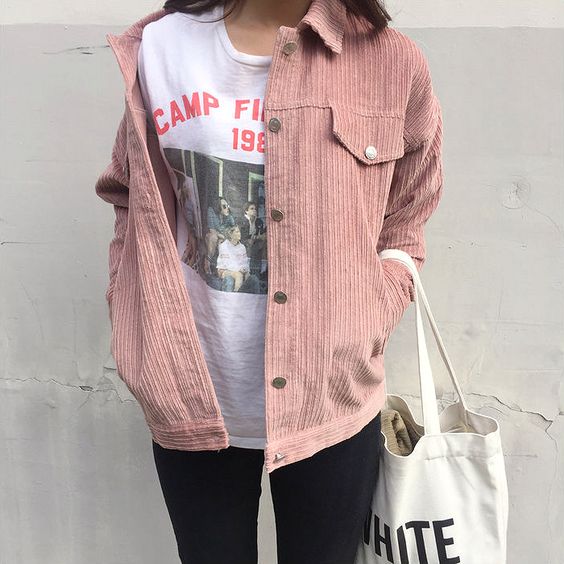 If you feel like you are "too old for this", try wear those shades on atemporal outfits, keeping away the "retro" nature of pastel ribbed velvet.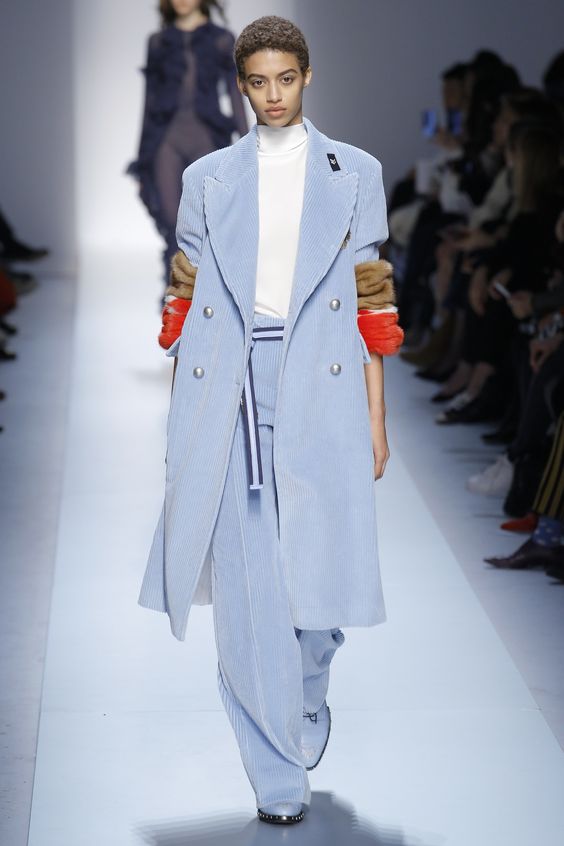 A very pure look at Ermanno Scervino 
c. Shimmery candy
To transcend daring colors, I recommend you the cosy shine of large ribs which makes turquoise blues and candy pinks glow their best.
Next to those statement pieces, wear neutrals or understated shades if you want to keep it a bit down.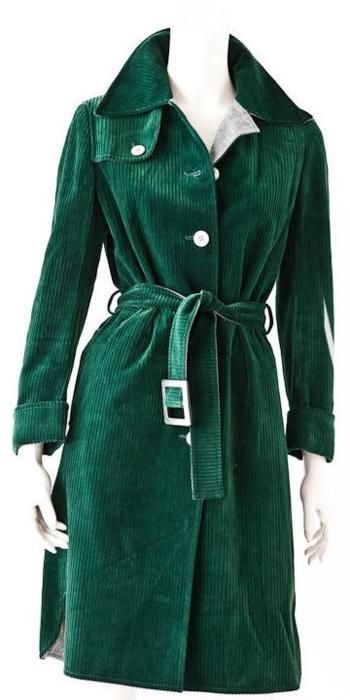 A gleaming emerald green for this vintage Valentino trench…It would be perfect with semi transparent tights and black patent block heeled Mary Jane pumps. 
d. Parisian classicism
Navy blue and black thin ribbed velvets remind of a well-behaved parisian schoolgirl.
For a real "boarding school style", pair the dark corduroy with white shades (like a white shirt with a short A line ribbed navy blue skirt). For a more adult style, pair dark shades together (like a navy blue knit on black ribbed flare pants).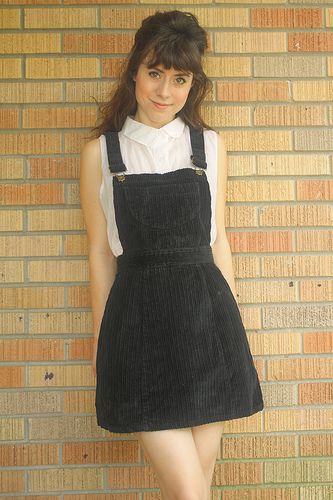 Beware of grey ribs that can create "sad looking" outfits.
2/ What to wear corduroy with? 
Ribbed velvet convey a casual feel that makes it more appropriate to day that to night outfits.
The inherent quality of the velvet has to be sided by equally qualitative materials like denim, leather or coton. Most of the time synthetics are off the table. Also forget about linen and everything that would look too summery and would contrast too much with the warm feel of velvet.
As they are cousins, smooth and ribbed velvet get along pretty well.
3/ How to style corduroy? 
All depends of the color, the rib size and the nature of the garment.
Here a few pairing that work…
a/ Classicism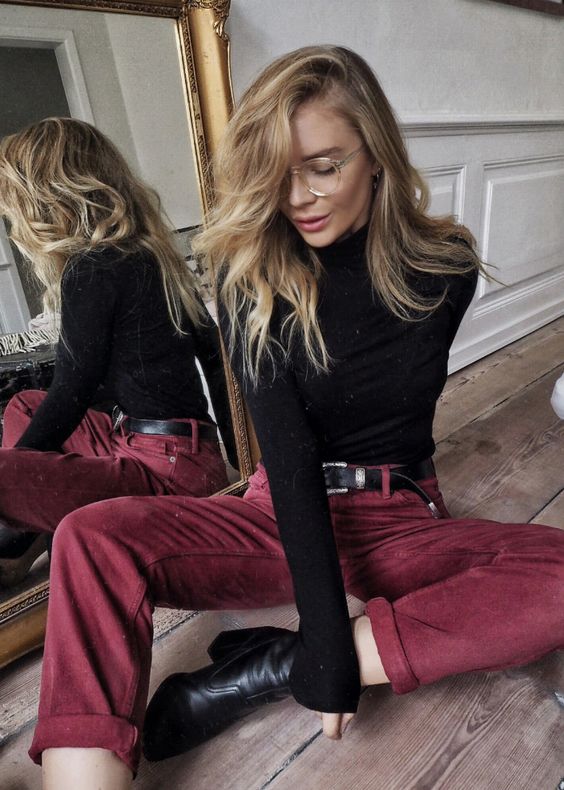 This slightly retro outfit is constructed around the thin ribbed cherry corduroy pants. Next to it, black turtleneck, black leather belt and black booties are playing timeless sidekicks. 
b/ Preppyness 
The well-behaved student again.
Think of short allover dresses, little knits, cute shirts, tassel loafers and black Mary Janes.
c/ Rock
What about a slightly oversized blazer worn with fitted pants and high heeled booties?
d/ Librarian
Think corduroy pants, high waisted skirt or blazer worn with retro shoes such as knee high boots or laced booties.
To be a bit "over the top" why not add a victorian collar?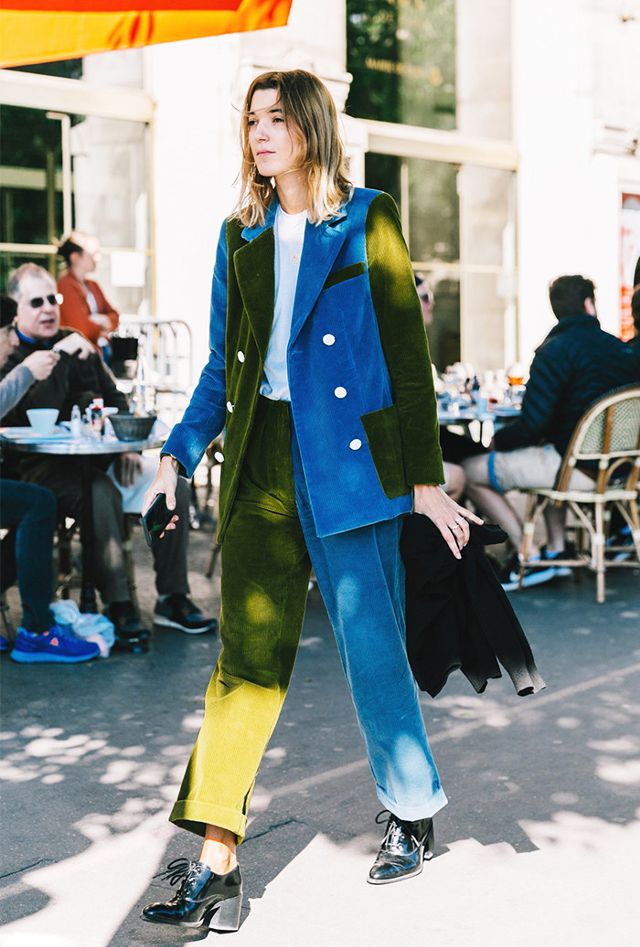 Retro heels
e/ Androgynous
You could try wear a corduroy cropped tuxedo with derbies… or block heels.
f/ Sportswear
Pants or corduroy skirt are perfect with sneakers.
4/ What corduroy garment? 
Whether flare or tight, long or cropped corduroy pants make the butt and tights look fuller. And the larger the rib the fuller the look.
If you pair them with heels, they shall be thick.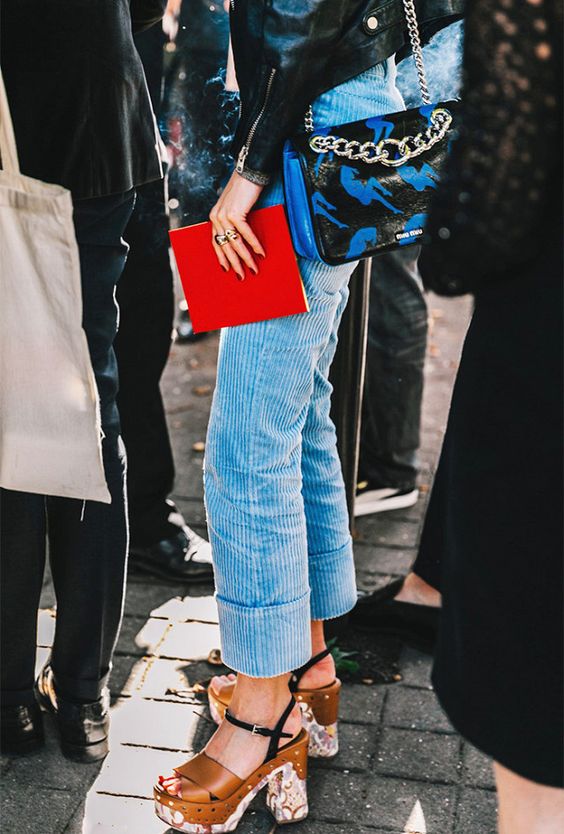 Easier as an high waisted mini skirt than in a midi lenght that can easily make you pass for a grandma.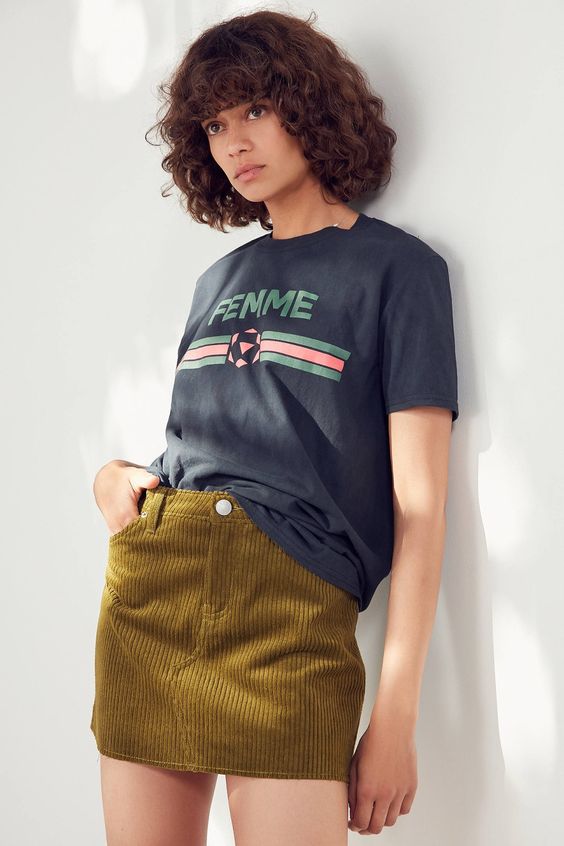 A corduroy dress will always convey a girly schoolgirl style if short. Even if the style is somehow couture.
If long it may look clumsy.
Somewhere between the little girl and the sunday worker. Wear it with sneakers or flat shoes with a chunky sole.
Typical from the nineties, the corduroy blazer shall be worn in a modern way. Therefore avoid the big buttons in the center, brownish altered shades and wide lapels.
Instead, go for double range of buttons and a thin lapel.
Because why not a corduroy bag?
Ready for the corduroy come back?