Poisson d'avril!
Today is april's first and as a tradition in France we make jokes.
Instead of saying "April's fool", we say "poisson d'avril" which means "April's fish".
No, it I am not fooling with you! We really use that. You're fishy today are you? (Well we should all be indeed).
Indeed the most popular joke amongst french kids is to stick a paper fish in the back of someone without him noticing.
This tradition is born when, long long ago, in medieval times,the king decided that the year would begin January the first instead of April first. As it was tradition to offer food presents for the new year, people began to offer fake food present to make a fool of those who forgot that the new year was a few month before. And since it was forbidden for Christians to eat meat until Easter, people offered fake fishes as jokes. Then they began to stick those (and even real fishes erm), in each others back. And that is why the day of "poisson d'avril", you might encounter french people wearing fish on their back…
To celebrate I decided to make rehabilitate the fact of wearing fish and make it a fashionable statement. I myself am wearing a lobster top and a starfish necklace today.
1. Fish printed skirt outfit
See how the shoes and bag's colors meet the skirt's print's ones? And neutrals to complete the outfit.
You could also go for this Kenzo fish top on a black canvas (try it with a leather skirt or black pants). Or even for this discreet printed black on black Kenzo sleeveless shirt.
2. Fish printed scarf
Yes, yes this are fish on the print. Come on, I would not be fooling around, not today. I mixed its soft yellow and blue colors with other shades of the same colors.
3. Sea creatures necklace
I love Bimba and Lola surrealist necklaces. I paired it with nautical inspired stripes and  blazer as well a a tan skirt that matches the coral detail of the necklace.
I have been sea shopping a bit for you. Here are some other sea jewels you could use.
Fish necklace: Wear it on a plain top (white, grey, navy, etc) or on nautical stripes.
Macon et Lesquoy Jellyfish brooch
Vintage Saint Laurent brooch and earrings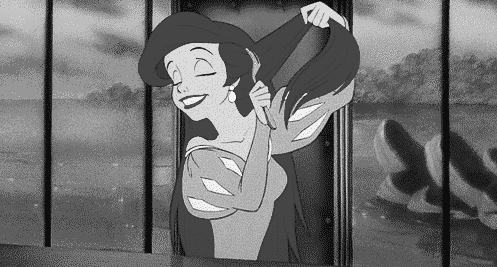 Arielle's hair tutorial