How to choose your tights
Bonjour!
Here in Paris, the sun is shining but it is freezing!
A perfect weather to wear skirts and dresses… with tights 🙂
When it comes to tights, most of us think plain, black tights. They are indeed great cause they match with everything and slim the leg, but tights can also be the statement accessory of your outfit!
And a great one: it is so cheap that you can have a different pair for everyday of the week.
So let's begin with the choice of the classic black tight.
1. Black tights.
Black tight are not meant to be noticed and are just used to complete the outfit (and not catch a cold).
When in doubt go for opaque black which always looks good on everyone

Transparent black tights are more sexy and therefore not to be worn with a combination of sexy clothes and accessories.
The lady with the blue skirt rocks her tight with doc Martens and the lady in red has a dress that is floaty enough to allow the transparent black tights.
Note that transparent tights are not flattering on curvy legs.
2. Colored tights
2.1. Colored tight with black
Colored tights can turn an all black look into an edgy and fresh outfit.
In the street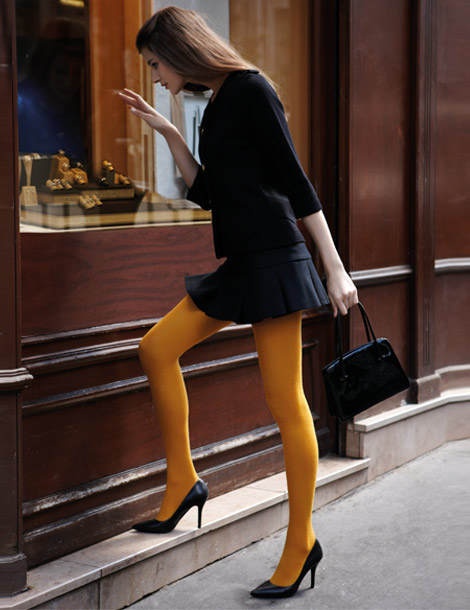 DIM MOD tights
Or on the Dior Runway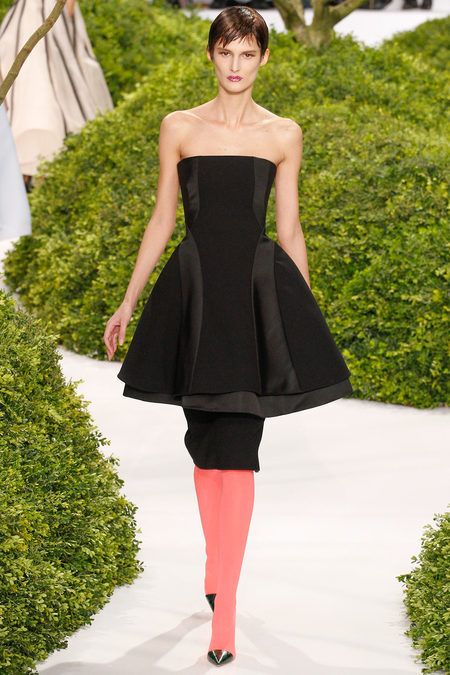 Dior
2.2 Colored tights in color harmony
Tights can be combined with other colored items to be inserted into a color harmony
Automnal/classic harmony: navy blue dress + burgundy tights + leather
Why is it a match? Because marine and burgundy are complementary colors (complementary colors are the opposite colors on a color spectrum). White and leather are neutrals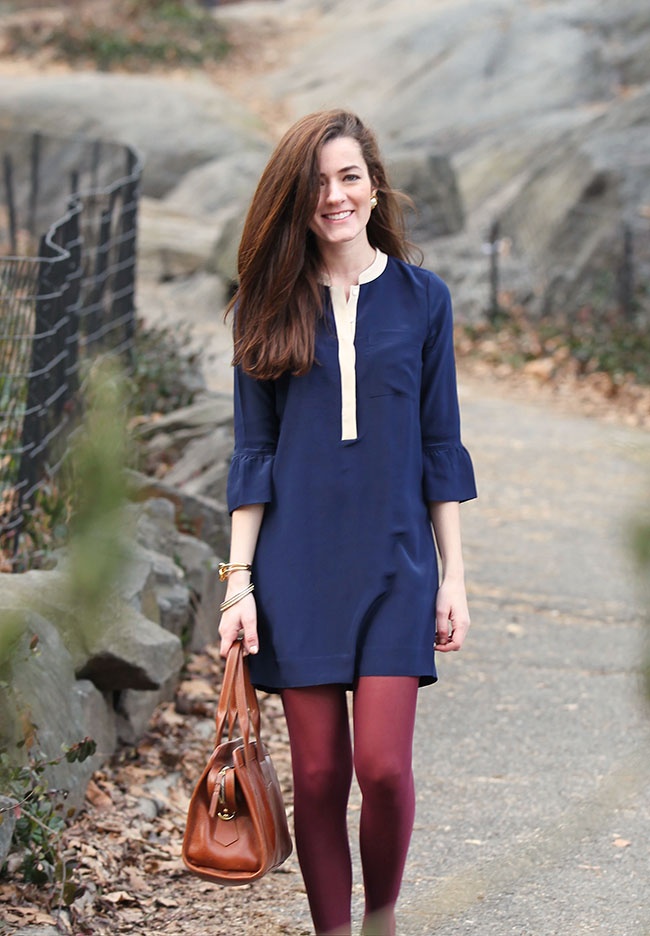 Arty/boho harmony
Ecru top with colorful prints + mustard scarf + purple skirt + olive tights + leather booties + red lips + pale blue nails
Maybe  you've heard about the "not more than 3 colors rule?" I think it is an helpful  and good rule for most people but that when you got a talent for matching, you can break it.
Why is a match?The top is the key: its printed ribbons come in yellow/orange that matches both the scarf and booties, in purple that matches the skirt, in red that matches the lips, in pale blue that matches the nails and in olive green that matches the tights and the top itself is ecru which is a neutral color. Congrats to this lady!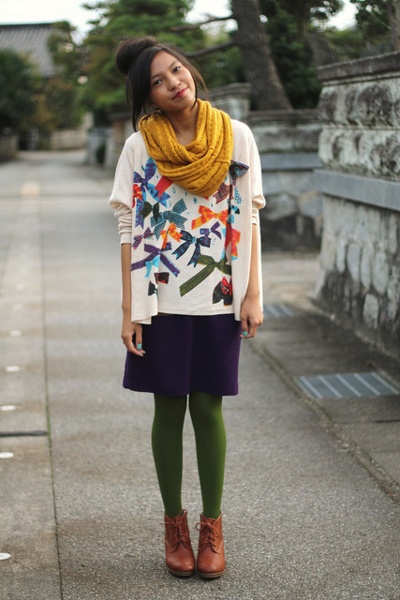 Ok, this one was expert level, let's go back to easier matchs.
Camel autumnal harmony
Camel coat + other shade of camel dress + brown leather bag + havana leather boots + burgundy tights
Why is it a match? As I always, say, neutrals go with everything, so you can wear as many as you want and add a flash of color. With colored tights for instance!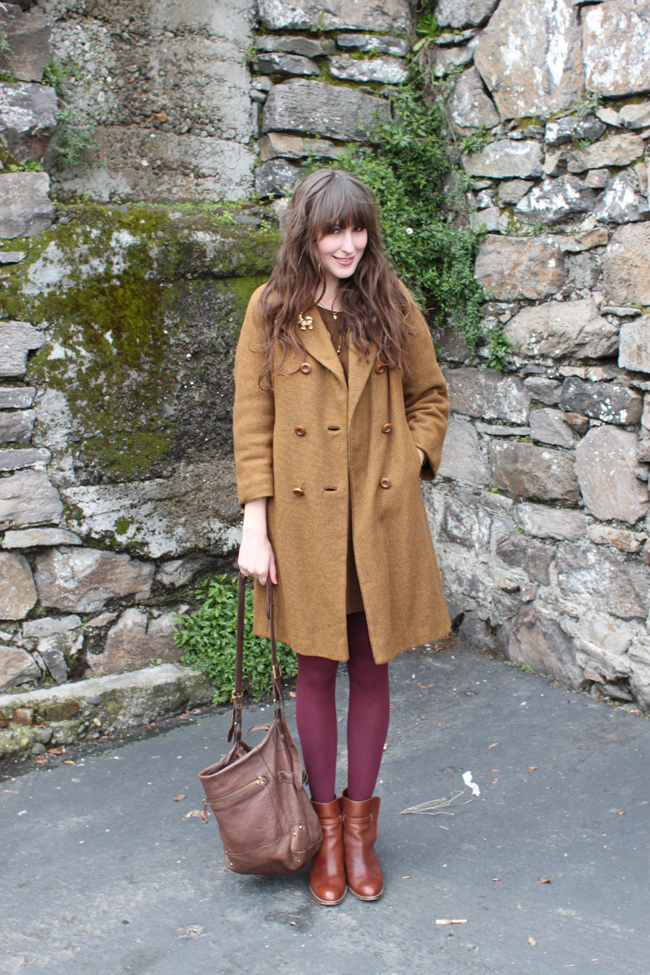 Want personalized style advices? Reach me for distance styling or personal shopping!
Automnal fresh harmony
Camel coat + light grey top + darker grey beanie + camel bag + brown leather and white wool boots + navy skirt + mint tights
Why is it a match? Because neutrals! And yes, I consider navy blue being a neutral (cannot think of a color it does not match with but, if I do one day, I'll keep you updated). The surprising color of the tights really enlighten the outfit here and make this lady stand out.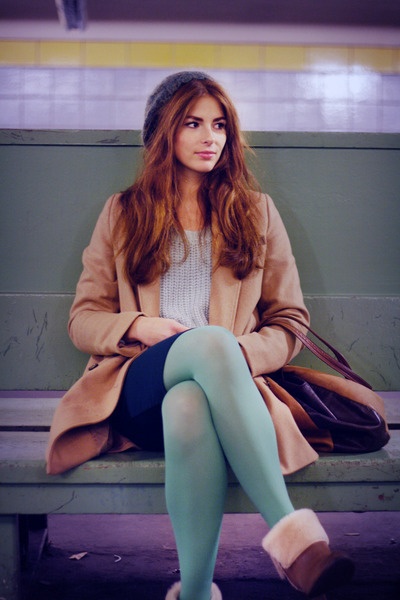 When green grass was yellow on pictures
Preppy harmony
Navy dress with white dots + grey cardigan + black boots + mustard tights
Why does it match? Sure you can tell the answer by yourself after reading the previous ones. Tell me your opinion in the comments!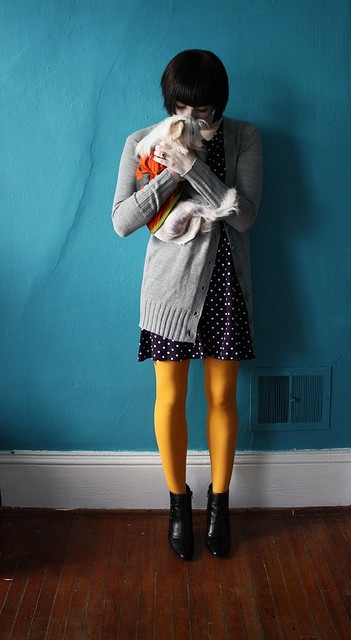 And a few bad color matches for you to avoid
–  Wohooo! Too much bright colors at a time! (athough they are complementary and no more than three, it a big NO for me)
– Peter Pan is it you? Green near almost the same green is a no.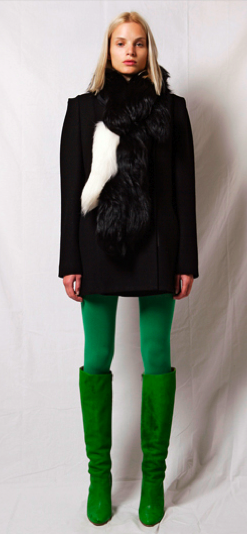 – Quite elegant jolie madame… but yellow top + yellow tights kind of give the feeling that you are wearing a unitard to me. And as far as I am concerned I think she should add some neutrals to the mix.
– More subtle but too matchy, you cannot tell the difference between the color of  shorts and the color of the tights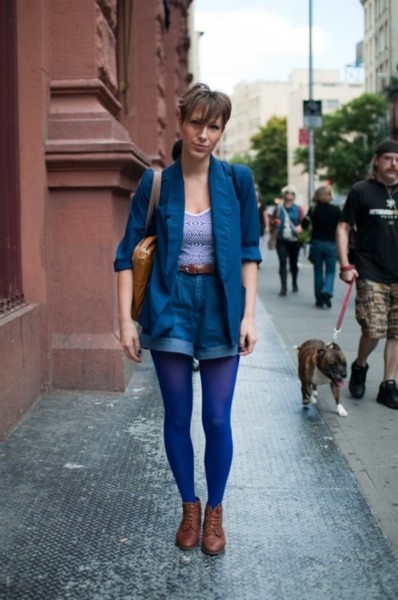 3. Effects tights
Whether they are black or colored, refer to 2 and 3.
3.1 Back seam tights
I like to think of them as follow-me tights.
They are inspired from the seam of ancient stocking.
Back in the time, this seam was such a symbol of feminity that, during world war 2, ladies used to draw a fake couture marks on their legs to give the illusion of stockings!
Today, they are still a turn-on.
Because they are very sexy, they should be worn with elegant clothes to avoid being tacky. Like a trapeze skirt for example.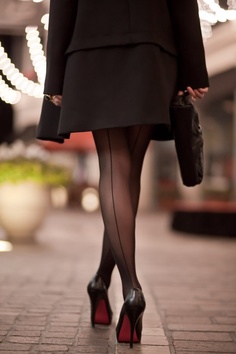 I think this lady below has got every tacky item possible on her. Aïe aïe aïe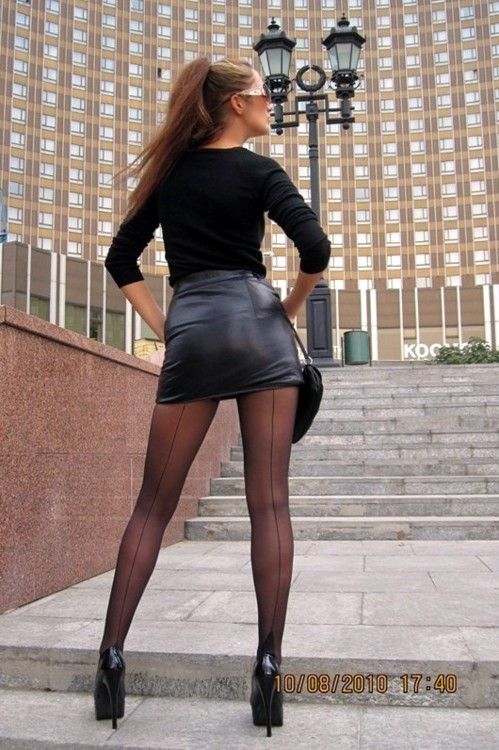 3.2 Fishnet tights
Same as the back seam: be careful, they can quickly appear tacky … or grunge in a bad way.
So either you go for an elegant and classic outfit, or you break the sexy with a boho attitude.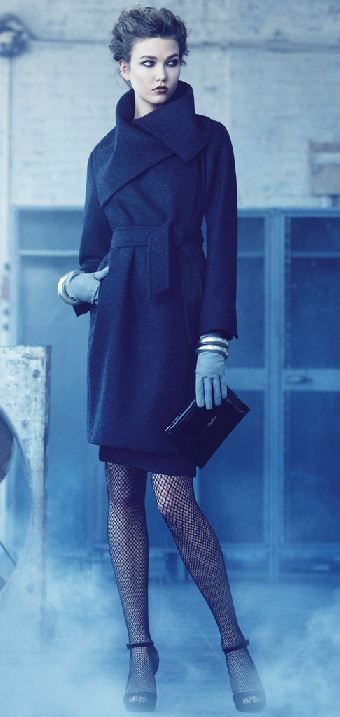 Max Mara
Miley, what did I just say about fishnets?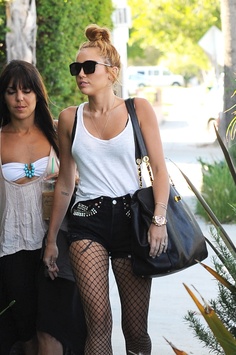 And bonus, the nude fishnet, which I think looks adorably retro with a ladylike outfit. Plus they create beautiful legs (they are used by the Moulin rouge dancers)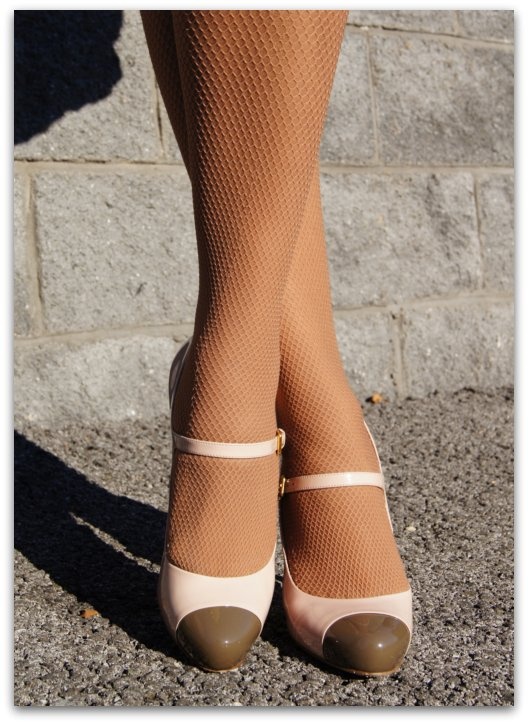 3. 3 Creative effects
Tights with creative effects can totally rock an outfit. I personally wear a lot of them.
Trick is not to mix them with other patterns. Just like blogger miss Pandora.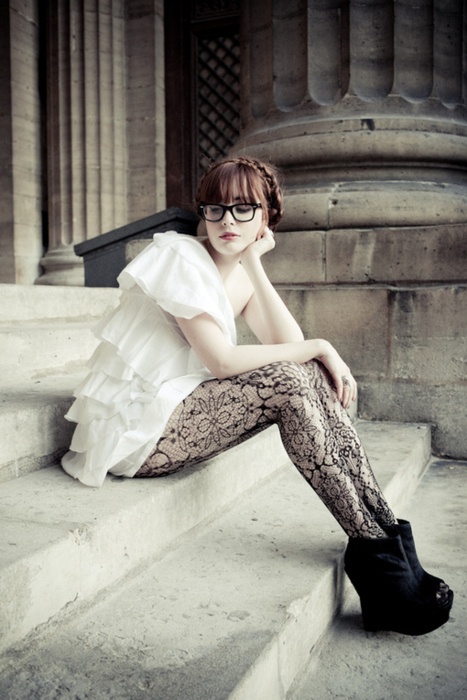 Miss Pandora
Or like on this fashion shoot (siren effect? looove it!)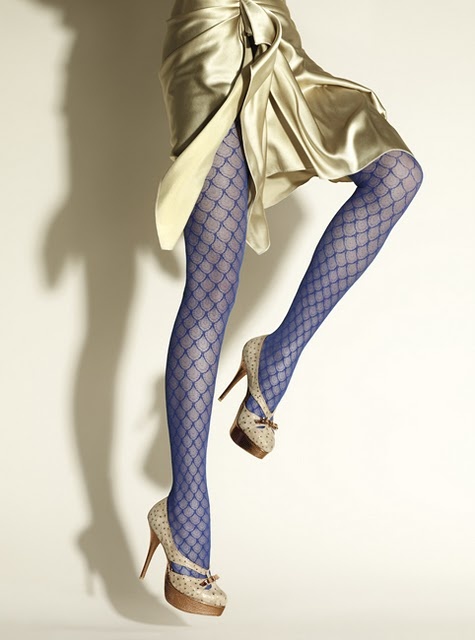 Adding pattern tights to an outfit containing patterns  is almost never good, sorry Blair (at least to me).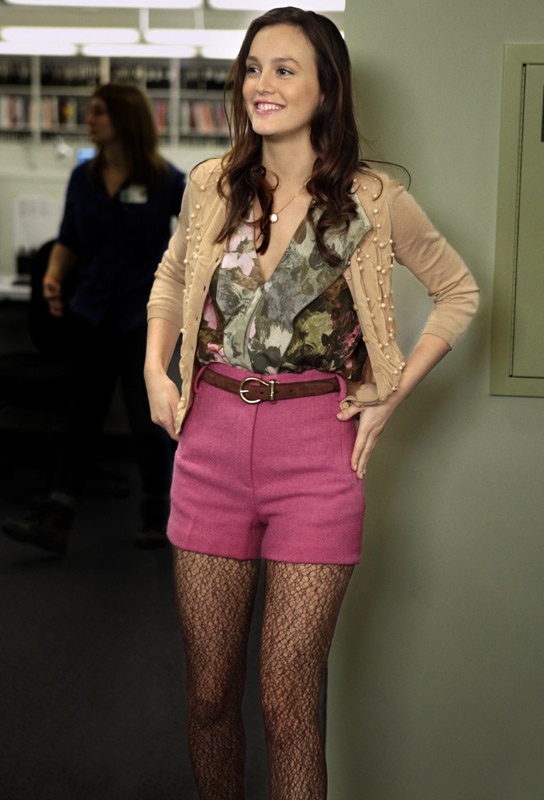 3.3 Prints
The smaller the print, the lighter the leg
Heart plumetis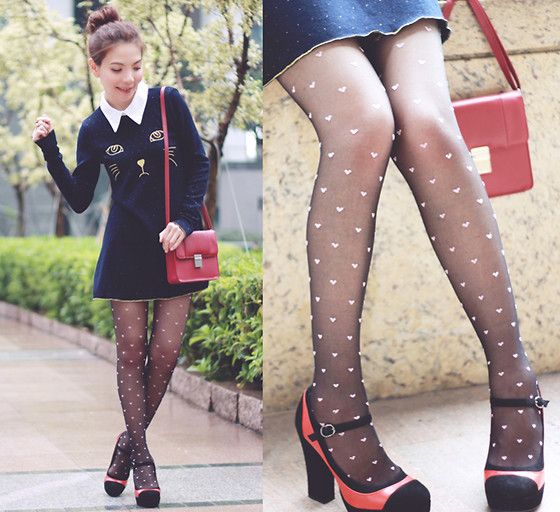 Classic small plumetis

Bigger dots work with thin legs, but enlarge them a bit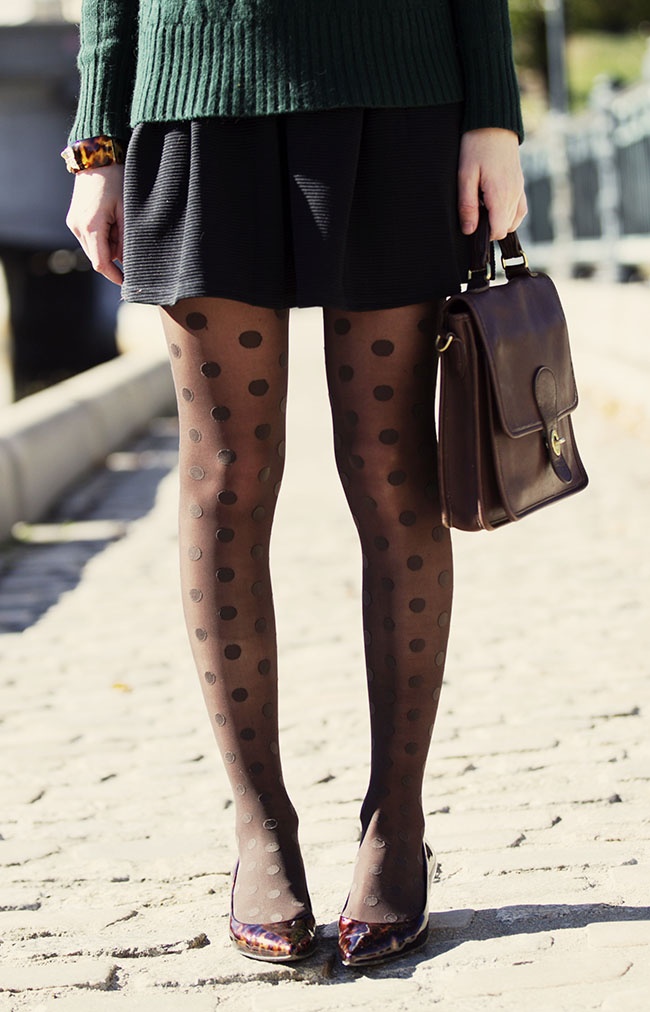 Below, the print is so big that it blurs the shape of the leg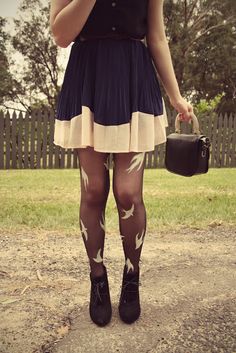 Suspenders effect is great and subtly sexy! But only if you keep the rest of the outfit elegant and casual.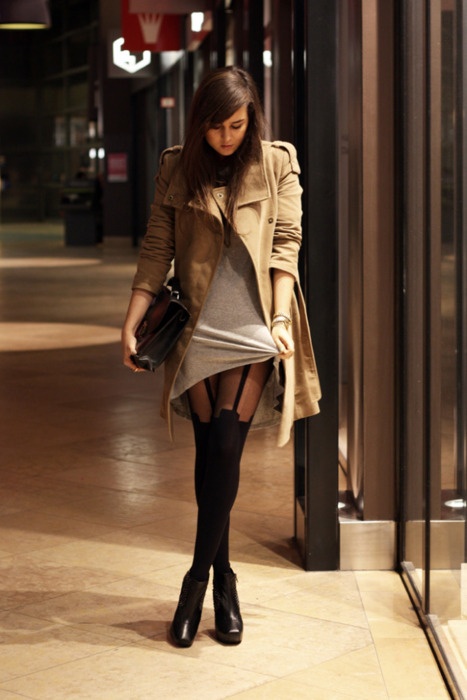 This second lady is well dressed, but I think her jean shorts are a bit too small for those kind of tights.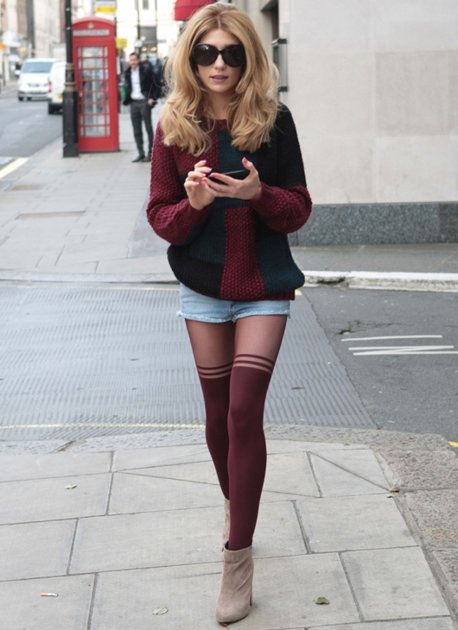 Nicola Roberts
Et voilà!
I hope this article helped you find your way into thights jungle.
Bisous de Paris!
Aloïs
Cover pics: trendy taste on the left, could not find the others…